Cross Sell Popup template for website
Suggest complementary products, related accessories, or upgrades—make customers buy more with the Cross Sell Popup template. Turn the tables for your business and become strategic when it comes down to sales.
Works on 99.9% of websites
Features
12 Custom Content Blocks
Email Notifications via Form Submission
5000+ Integrations
Modal, Slide-in, Pane Layout Styles
Engaging Popup Opening Button
Frequency Popup Display Settings
Exclude or Specify Pages for Displaying
Timed-Display Trigger
Scroll Trigger On-Element or On-Click
Exit Intent Technology
Set Up Popup for Multiple Mobile Devices
Call-to-Action Button
Coupon Code & Redirect Link Creation
HTML & iFrame Fields
Image & Video Upload
Mobile Optimized
Page-Speed Friendly Lazy Loading
Tech-Free Customization
Language Localization
Custom CSS & JavaScript Editors
Template Catalog
Need a Different Template?
Check out more ready-made templates for any use case or build your own!
Create a popup template and encourage online shoppers to complete their purchases.
Create an attractive popup widget to prompt users to add items to their carts with a few clicks.
Add a popup template to your website and offer exclusive coupon codes or discounts to online shoppers.
Add a discount popup to your website to draw attention and motivate users to make a purchase.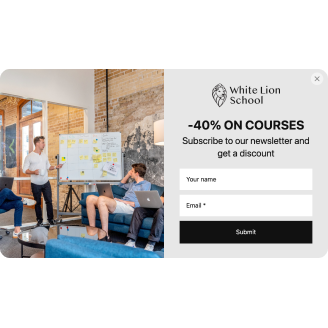 Create an engaging popup widget and start offering the best deal for your online customers.
Create loyalty among the website customers by giving away exclusive Amazon discounts with this popup.
Add a popup widget on your web page to boost the average order value and double the outcome.
No Suitable Template?
You can easily assemble the widget you need using our simple-to-use configurator.
Here's what people say about Elfsight Popup widget
I have had the pleasure of using the Popup widget for a few weeks now, and I can confidently say it has been the optimal journey. With Elfsight, I can seamlessly integrate into client websites to fulfill the required functions, even with no need for coding skills.
The user-friendly interface for designing personalized widgets has saved me from the time-consuming task of writing code for certain elements on my HTML website. Initially, I anticipated the flawless performance of the product. However, I was pleasantly surprised to receive the exceptional level of service and support. I highly recommend their services!
I have implemented the Cross Sell Popup on my website and encountered no problems at all. The level of customer support I have received has been exceptional. They've proven to be so informative with any inquiries I've had and delivered answers within hours.
FAQ
How to create the Cross Sell Popup template for the website?
If you want to make the Cross Sell Popup for your HTML website, take these steps:
Access the Cross Sell Popup template.
Adjust the elements and features to align with your branding goals.
Verify your Elfsight dashboard.
Receive the installation code.
How to add the Cross Sell Popup template to the website?
To embed the Cross Sell Popup on your HTML website, perform the following actions:
Customize the appearance of the Popup widget to match your aesthetics.
Sign in to your Elfsight admin panel or set up a free user profile.
Get the auto-generated embedding code.
Go to your website.
Paste the shortcode into your website editor. You're all done!
For a more in-depth guide, we advise checking out our post about how to embed Popup on a website.
Do I need to have coding or programming skills to embed the Cross Sell Popup?
No. You are not required to have any coding skills. You have the full capability to create and add the Cross Sell Popup to your website without any specific background or knowledge.
Can I set up the popup to open automatically?
Certainly. Pick a trigger while designing the Cross Sell Popup template to display it at the precise moment on your HTML website. Below are the alternatives: on-page load, within a specific time spent on a page, on scroll, on scroll to element, on click, and on exit intent.
Can I use the Cross Sell Popup template for free?
Of course. There is no need to hurry and start with the paid options straightaway. Elfsight operates on a tiered subscription model that includes Free, Basic, Pro, Premium, and Enterprise plans. Take your own pace and discover all the functionalities without limitations with our Free tier. Just remember, upgrading and unlocking additional extras is always an option!
Can I add a call-to-action button to the Popup widget?
Absolutely, you can! To get started, follow these steps:
Launch the Popup builder.
Locate the "Blocks" menu option.
Insert the "Button" element.
Define a call-to-action message, click action, and visuals.
What email integrations or tools does the widget support?
The main advantage of this HTML widget lies in its capability to seamlessly connect with third-party apps such as Mailchimp, Zapier, and Google Sheets. You can go above and beyond and be confident that no collected data will be lost.
Where can I add the Cross Sell Popup on my website?
This choice rests with you. There are no strict regulations to meet. Nevertheless, make sure it is logical and strategically positioned in the highest traffic area, such as the homepage or product page.
How to customize the Cross Sell Popup?
The sky's the limit-customize the look and feel of the whole widget to showcase your brand standards and achieve rapid conversion growth:
Popup details
You can layer things up and create an array of limitless content blocks: title, text, CTA button, link, coupon, form, image, and video. Additionally, to optimize visual aesthetics, you can include spacing, separators, and custom HTML and iFrame fields.
Display settings
Elfsight provides three alternatives: frequency, pages, and devices. Clearly state all the necessary preferences to maintain a high level of quality.
Custom elements and features
And there's still plenty to explore: triggers, custom CSS, custom JS, redirect link, layouts, close buttons, background visuals, alignments, etc.
To prevent confusion and problems, get in touch with our Customer Support Team to resolve any questions!
Help with Cross Sell Popup Setup and Website Installation
If you require more details regarding the plugin templates or guidance, take advantage of the following resources:
Support
If you encounter any unresolved issues, we recommend you to reach out to the Elfsight Support Team or find relevant posts in the Help Center.
Forum
Connect with business peers and join ongoing events in our dedicated community for additional assistance.
Wishlist
Submit your fresh concepts, functionalities, and plugins through the Wishlist.