Elementor Video Popup template
Enhance user engagement on your Elementor website with our Video Popup template. With its sleek design and easy-to-use customization options, you can create a stunning widget that will impress your visitors. The responsive design ensures that your content looks great on any device. Give this template a shot and witness the transformation for yourself!
100% Elementor compatible
Features
12 Custom Field Elements
Mailchimp Email Notifications
5000+ Data Export Integrations
Modal, Slide-in, Pane Layout Styles
Sticky Popup Opening Button
Frequency Popup Display Settings
Exclude or Specify Pages for Displaying
Auto-Opening Trigger after Time Spent
Scroll Trigger On-Element or On-Click
Exit Intent Technology
Set Up Popup for Multiple Mobile Devices
CTA Button
Coupon Code & Redirect Link Creation
HTML & iFrame Fields
Image & Video Upload
Optimized for All Mobile Devices
Page-Speed Friendly Lazy Loading
Free-Coding Editor
Language Localization
Custom CSS & JS Editors
Template Catalog
Need a Different Template?
Check out more ready-made templates for any use case or build your own!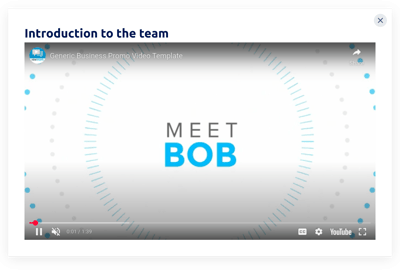 By means of Elfsight Popup you'll manage to create eye-catching widget that your audience won't miss.
Creating a loyal YouTube subscriber base is easy with this popup template for websites.
Create a popup widget for your website to promote and drive more followers to the Twitch channel.
Create a popup template to broadcast your interactive video content from YouTube.
Add a popup widget to showcase your Twitch live streams or recorded videos directly on your website.
Adding the Vimeo videos in a visually captivating way on your website can be easy using this popup widget.
Creating appealing video demonstrations of your products is the key using the popup template.
No Suitable Template?
You can easily assemble the widget you need using our simple-to-use configurator.
Here's what people say about Elfsight Popup widget
Over the past few weeks, I have been utilizing the Popup widget, and I cannot emphasize enough how phenomenal it has been. With Elfsight, I can effortlessly install on client websites to fulfill the needed operations, even without the need for tech skills.
The user-friendly interface for developing personalized widgets has saved me from the time-consuming task of programming various elements on my Elementor website. I had anticipated seamless functionality from the product. Yet, what truly took me by surprise was the exceptional level of service and support. Highly recommended!
The Video Popup has been successfully embedded on my website, and I have not encountered any difficulties whatsoever. The level of customer support I have received has been amazing. They've proven to be so supportive, swiftly solving all my inquiries within a short span of time.
FAQ
How to create the Video Popup template for the Elementor website?
To create the Video Popup for your website, perform the following steps:
Open the Video Popup template.
Adjust the elements and features to align with your branding goals.
Log in to your Elfsight account.
Get the installation code.
How to add the Video Popup template to the Elementor website?
If you wish to add the Video Popup to your Elementor website, take these steps:
Personalize the look of the Popup widget to complement the design style of your site.
Log in to your Elfsight dashboard panel or set up a free user profile.
Get the auto-generated embedding code.
Navigate to your website.
Insert the code into your website builder. You're done!
For more information, we advise checking out our post on how to embed Popup on a website.
Do I need to have coding or programming skills to embed the Video Popup?
No. There is no need for any coding expertise whatsoever. You have the full capability to create and add the Video Popup to your website, regardless of your prior background or knowledge.
Can I set up the popup to open automatically?
Definitely. When you're in building mode, opt for a trigger that will ensure the Video Popup template displays at the appropriate moment on your Elementor website. You have several options available: on-page load, within a specific time spent on a page, on scroll, on scroll to element, on click, and on exit intent.
Can I use the Video Popup template for free?
Absolutely. There is no chase to jump right into the paid alternatives right away. Elfsight employs a tiered subscription model that consists of Free, Basic, Pro, Premium, and Enterprise plans. Take your time and enjoy exploring all the features without limitations with our Free tier. Remember, upgrading and unlocking additional benefits is always an option!
Can I add a call-to-action button to the Popup widget?
You can definitely do this! All you need to do is follow these guidelines:
Open the Popup editor.
Go to the "Blocks" menu.
Include the "Button" element.
Set up a call-to-action message, click behavior, and visuals.
What email integrations or tools does the Elementor widget support?
The primary perk of this Elementor widget lies in its capacity to seamlessly sync with third-party integrations: Mailchimp, Zapier, and Google Sheets. Feel free to go the extra mile without the risk of losing any captured data.
Where can I add the Video Popup on my Elementor?
You have the freedom to choose. There aren't any set guidelines to meet. Just make sure it is logical and placed in a highly visited location, such as the main page or product page.
How to customize the Video Popup?
Wide-ranging options are available-personalize the visual presentation of the whole widget to mirror your brand ethics and increase conversions rapidly:
Popup details
You can stack elements and create a constructor of unlimited content blocks: header, text, CTA button, redirect link, discount voucher, form, image, and video. Furthermore, for a better visual look, you can include spacing, separators, and custom HTML and iFrame fields.
Display settings
Elfsight presents three settings: frequency, pages, and devices. Outline all the requirements to maintain the desired level.
Custom elements and features
Moreover, there are countless other possibilities to explore: triggers, custom CSS, custom JS, redirect link, layouts, close buttons, background visuals, alignments, and so on.
To exclude confusion and issues, reach out to our Customer Support Team to handle any queries!
Help with Video Popup Setup and Website Installation
If you require more details regarding the widget templates or assistance, consider these resources:
Support
If there are any unresolved issues, we advise you to get in touch with the Elfsight Support Team or find related posts in the Help Center.
Forum
Receive additional assistance from business professionals like yourself by engaging in ongoing activities in our exclusive community.
Wishlist
Feel free to submit new and exciting ideas, features, and widgets via the Wishlist.