WordPress Video Popup template
Capture attention, deliver compelling messages, and drive conversions on your WordPress website with the Video Popup template. With easy integration and customizable features, you can professionally showcase your video content and blend it well with your branding identity. Give this template a try and witness the difference it can make!
100% WordPress compatible
Features
12 Custom Content Elements
Email Notifications via Form Fill-Out
Form with 5000+ Integrations
Customizable Modal, Slide-in, Pane Layouts
Sticky Popup Opening Button
Frequency Popup Display Settings
Exclude or Specify Pages for Displaying
Auto-Opening Trigger after Time Spent
Scroll Trigger On-Element or On-Click
Exit Intent Technology
Set Up Popup for Multiple Mobile Devices
Call-to-Action Button
Coupon Code & Redirect Link Creation
HTML & iFrame Fields
Image & Video Upload
Mobile Optimized
Page-Speed Friendly Lazy Loading
Free-Coding Editor
Language Localization
Custom CSS & JavaScript Editors
Template Catalog
Need a Different Template?
Check out more ready-made templates for any use case or build your own!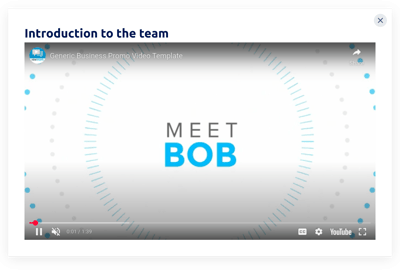 By means of Elfsight Popup you'll manage to create eye-catching widget that your audience won't miss.
Creating a loyal YouTube subscriber base is easy with this popup template for websites.
Create a popup widget for your website to promote and drive more followers to the Twitch channel.
Create a popup template to broadcast your interactive video content from YouTube.
Add a popup widget to showcase your Twitch live streams or recorded videos directly on your website.
Adding the Vimeo videos in a visually captivating way on your website can be easy using this popup widget.
Creating appealing video demonstrations of your products is the key using the popup template.
No Suitable Template?
You can easily assemble the widget you need using our simple-to-use configurator.
Here's what people say about Elfsight Popup widget
I've been actively using the Popup widget for a couple of weeks now, and all I can say is it's been an unparalleled experience. Elfsight enables me to create a plugin with no need for any tech skills, which I can effortlessly install on client websites to cover the required tasks.
The effortless usability in designing custom widgets has saved me from the time-consuming task of coding various elements on my WordPress website. I had great expectations for the product to work seamlessly. But what pleasantly took me by surprise was the top-notch service and support. I strongly recommend it!
The Video Popup has been successfully embedded on my website without any hiccups. I'm thoroughly amazed with the customer support as well. They've proven to be so supportive, promptly resolving all my questions within hours.
FAQ
How to create the Video Popup template for the WordPress website?
To create the Video Popup for your website, follow the steps below:
Select the Video Popup template.
Modify the elements and features to align with your branding goals.
Sign in to your Elfsight account.
Obtain the installation code.
How to add the Video Popup template to the WordPress website?
If you want to embed the Video Popup on your WordPress website, follow these steps:
Customize the appearance of the Popup widget to reflect the design style of your site.
Sign in to your Elfsight dashboard or set up a free account.
Receive the generated installation code.
Access your website.
Insert the code into your website editor. Done!
For a more in-depth guide, we recommend checking out our article on how to embed Popup on a website.
Do I need to have coding or programming skills to embed the Video Popup?
No. There is no need for any coding expertise whatsoever. You have the full capability to create and embed the Video Popup on your website without any specific background or knowledge.
Can I set up the popup to open automatically?
Certainly. When you're in building mode, select a trigger to showcase the Video Popup template at the appropriate time on your WordPress website. Here are your choices: on-page load, within a specific time spent on a page, on scroll, on scroll to element, on click, and on exit intent.
Can I use the Video Popup template for free?
Sure. There is no need to hurry and start with the paid alternatives straightaway. Elfsight follows a tiered subscription model that consists of Free, Basic, Pro, Premium, and Enterprise plans. Take your time and test out all the features without restrictions with our Free tier. But remember, you can always enhance your experience by upgrading and enjoying extra benefits!
Can I add a call-to-action button to the Popup widget?
Absolutely! Here's how:
Launch the Popup editor.
Locate the "Blocks" tab.
Insert the "Button" element.
Arrange a call-to-action message, click action, and appearance.
What email integrations or tools does the WordPress widget support?
The main advantage of this WordPress widget lies in its ability to link with external integrations like Mailchimp, Zapier, and Google Sheets. You can go the extra mile and be confident that no collected data without worrying about data loss.
Where can I add the Video Popup on my WordPress ?
You have the freedom to choose. There are no specific guidelines to adhere to. However, ensure that it is logical and strategically placed in the most popular location, like the main page or product page.
How to customize the Video Popup?
Limitless creative possibilities-customize the entire widget's visual presentation to showcase your brand norms and achieve rapid conversion growth:
Popup specifics
You have the option to layer elements and build a constructor of unlimited content blocks: header, text, call-to-action button, link, discount voucher, form, image, and video. Furthermore, for an improved visual appeal, you can insert gaps, dividers, and custom HTML and iFrame fields.
Display settings
Elfsight provides you with three options: frequency, pages, and devices. Clearly outline all the criteria to maintain the desired level.
Custom elements and features
And there's still much more to explore: triggers, custom CSS, custom JS, redirect link, layouts, close buttons, background visuals, alignments, and so on.
For more clarification, get in touch with our Customer Support Team to solve any queries and avoid misunderstandings in the future!
Help with Video Popup Setup and Website Installation
For more info regarding the plugin templates or assistance, take advantage of these resources:
Support
If there are any unresolved issues, we suggest you get in touch with the Elfsight Support Team or search for related topics in the Help Center.
Forum
Receive additional help from like-minded business owners and participate in ongoing initiatives in our dedicated community.
Wishlist
Send your innovative concepts, functionalities, and plugins using the Wishlist.