Videos transfer information really fast. Thus, this type of media can be used effectively for engaging web audience. Elfsight team is watching trends and has recently developed the Weebly version of
YouTube plugin Yottie
. And today we are going to explain how to set up attractive video galleries on your website.
3 Steps to Install YouTube Gallery
Implementation of social services is the essential part of any site or eCommerce store. YouTube is, for sure, one of the most important sources. That's why Yottie is here to assist you in developing your web traffic. It's very simple to start using our app due to Weebly drag & drop system. No specific skills! Just your creativity and imagination. Before we go further and clarify everything, find product's page in the app center and click "Add" 😉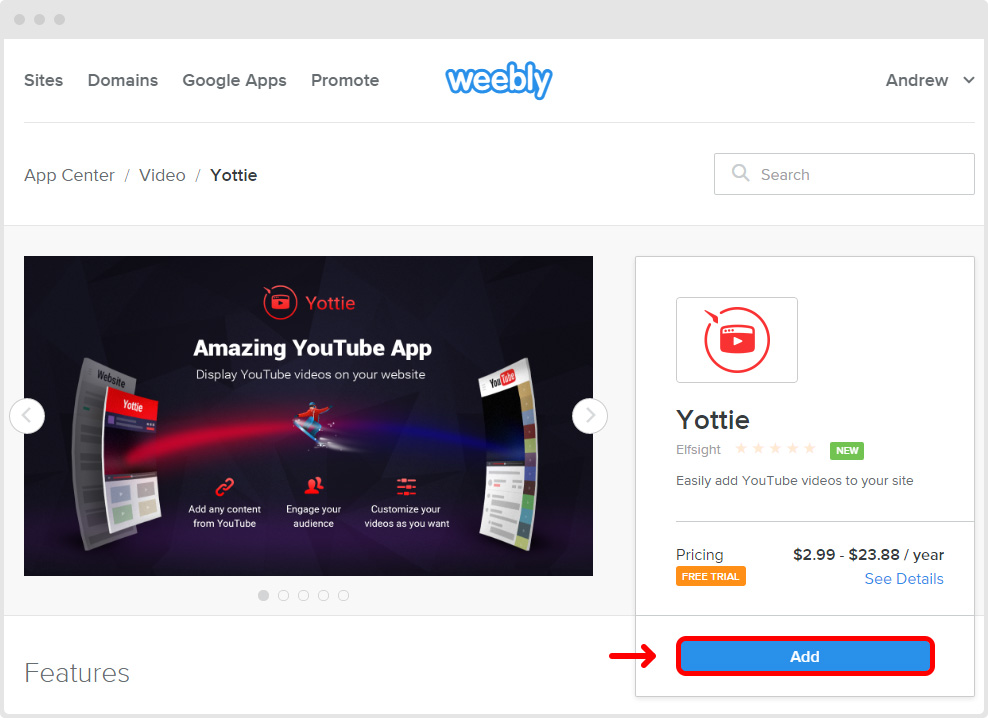 By the way, you can try Yottie absolutely for free during a 5-day trial period. So, all app's abilities will be at your service. There's only one thing left – set up your own YouTube plugin on Weebly site. And we will help you with it 😉
Video Guide
We've also prepared a video tutorial on our YouTube channel. Don't forget to turn on subtitles – they will help you install the all-new YouTube app!
1. Add Yottie to Weebly Editor
Firstly, you should place YouTube widget into Weebly editor. That's where you will be able to configure settings and launch your video gallery. In case of having two or more websites on Weebly platform, the pop-up window will appear. Simply select the required website for Yottie and press "Continue".
Then you will be notified that the app will be added to your site. The window also shows what actions Elfsight plugin can take. Is everything okay? If you agree with all statements then click "Connect".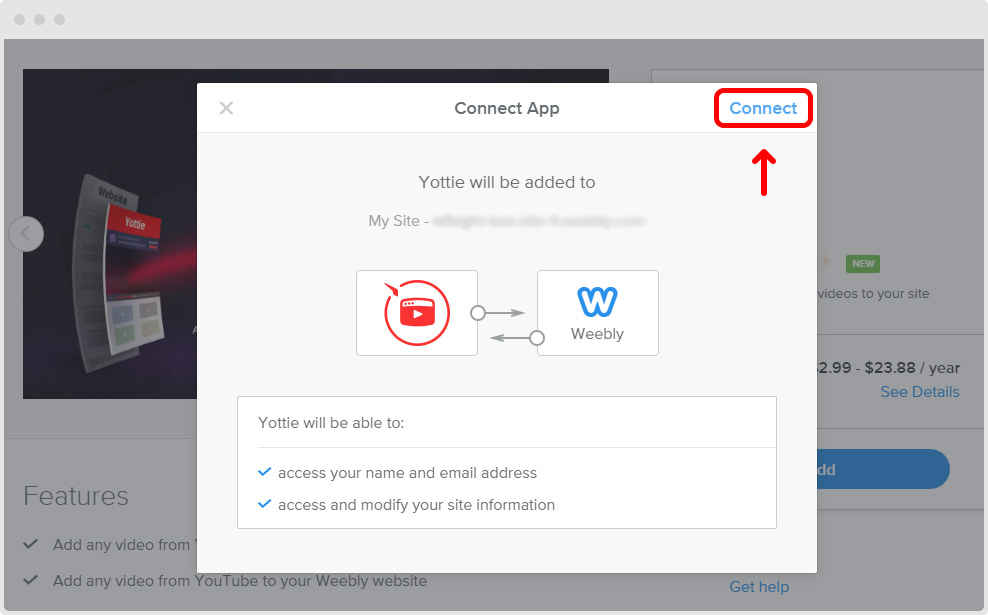 Wait for several seconds and you will be redirected to Weebly editor. Our YouTube application is already waiting for you there!
2. Place Yottie into Desired Pages
Weebly has a user-friendly editor for a clean website customization. The editor will show you all pages that you have. Start with selecting web pages, where you'd like to embed your custom video playlist. Choose Yottie icon in "Installed Apps" section and drag it to any place of the site.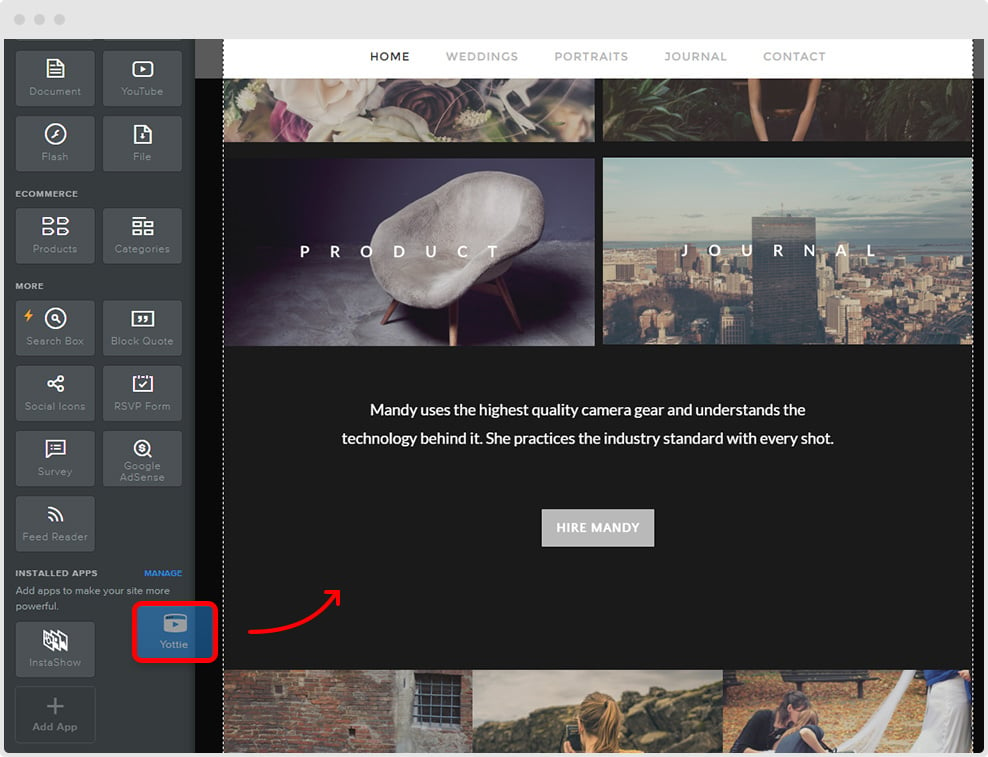 You can use different settings for each gallery.
Do you think of displaying several video plugins on one website? No problem. You can use Yottie as many times on one site as you want.
3. Customize Your Weebly YouTube App
After placing your video player into the needed location, you can personalize your feed. Make it an eye-catching design element. Just click on it and Yottie settings will appear in popup.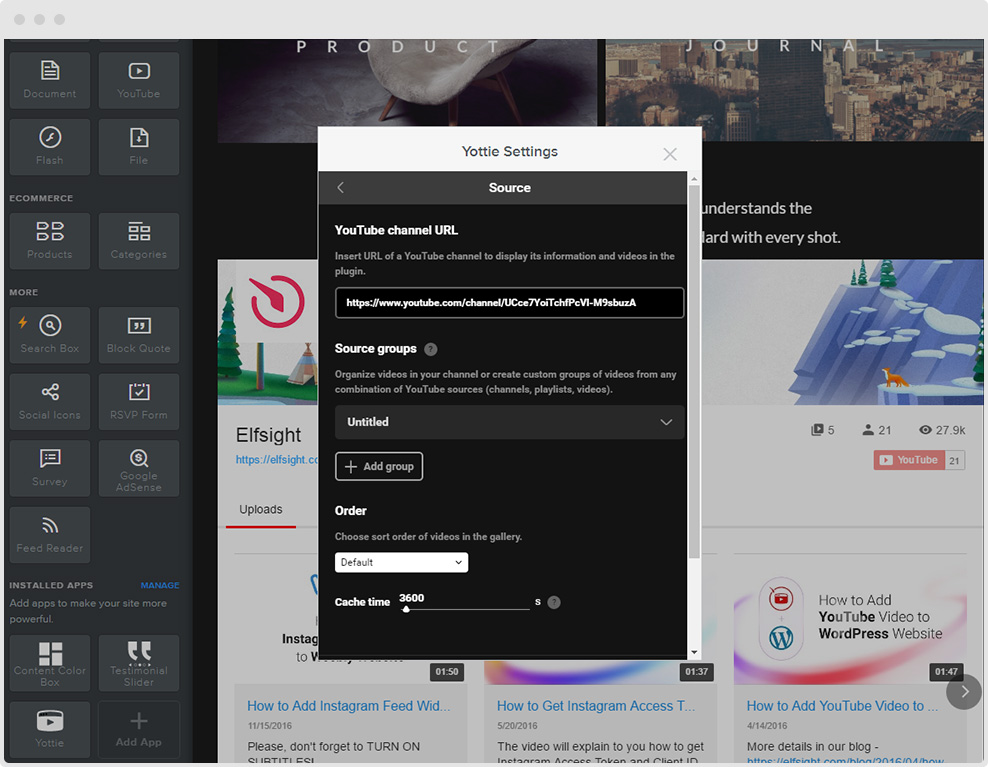 Remember that you've got more than 100 parameters to adjust, including:
Sources (channels, playlists and single videos)
UI customization
Header and video layouts
Google AdSense banners
The app will automatically apply changes and show the pre-final result. So, here it is! Don't forget to click "Publish" in order to depict YouTube recordings on your website.
Yottie Is Successfully Installed
Congratulations, you made it to the top! You've done all steps and your YouTube plugin is ready to engage the audience and draw attention to your Weebly site.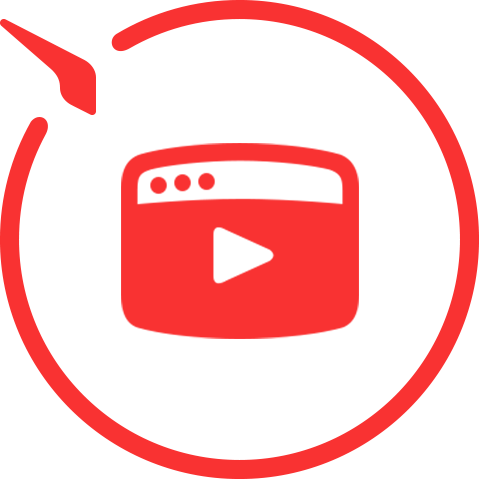 By the way, you will have a
5-day trial period
after adding the Weebly widget to your website. Then you can work with Yottie for $2.99/month or 23.88/year and evaluate all its advantages. Namely, you will get the following benefits:
Display any YouTube video on your website
Increase in audience engagement
Increase conversion of visitors into loyal followers and customers
Grab extra income by showing Google Ads
New subscribers to your channel
Pro Support Right for You
We strive to create the best plugins on the market. Therefore, when you purchase Elfsight product be sure that you'll also get:
Fast and effective support
New versions with useful features
The highest quality of the selected item
Our developers are ready to help you with any issue that arises in your plugin.
Submit a ticket
in Elfsight Support Center and our team will help you solve it. You will get the answer within 24 hours.
Learn Everything about Yottie
By the way, we've prepared the detailed manual for our app. Hence, you have the opportunity to set up YouTube Channel plugin in seconds. Master its use step by step: