Welcome to the new guide of our
YouTube channel plugin Yottie
. Today we keep expanding the product's manual. And this article will describe working principles of "Video" settings section.
Manage Details of Each Video in Yottie
YouTube is a worldwide video-sharing service that shows millions of spots created by users. And you are able to
display any YouTube video
on WordPress or other CMS. That's why the handy organization of your playlist is important for the best UX. Our YouTube channel plugin will help you achieve it in a creative manner. All data about videos can be presented in the gallery. Just decide what information should be shown on your website. Moreover, choose video layout you liked and a playback approach. So what are you waiting for? Choose "Video" tab and customize the grid!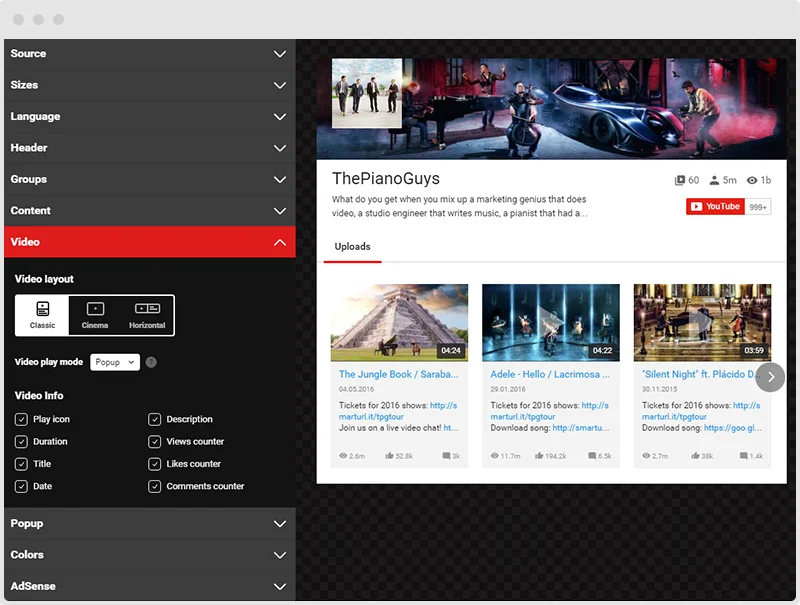 Now let's find out the purpose of these features.
After selecting the proper tab, you will see the following options:
Video layout
Video play mode
Video info
Video Layout
You might want to set up different video previews depending on how the plugin is used. Maybe you'd like to show more information during the sneak peek. Or you'd like to draw attention to YouTube content straight away. Yottie has three layouts to meet your requirements.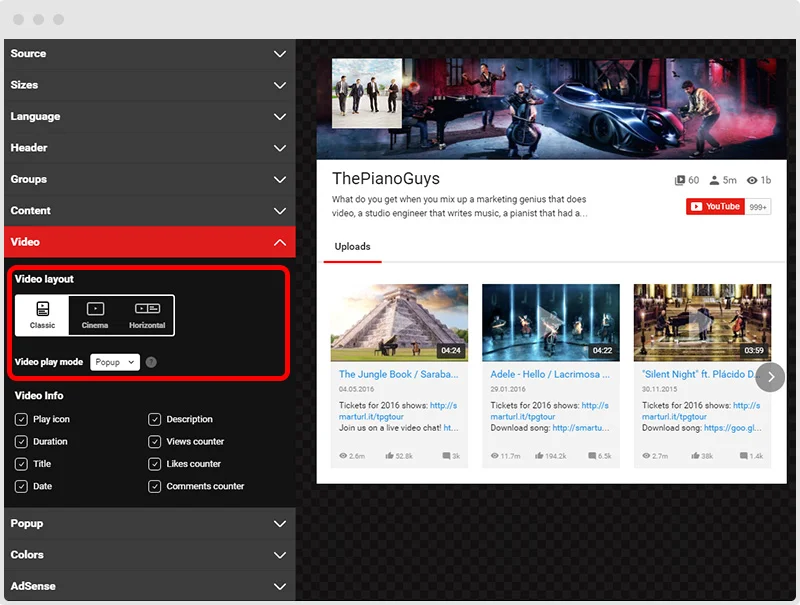 Change video previews by making the choice for:
Classic – standard vertical oriented preview. Its main goal is to pay attention to the image before playing the video itself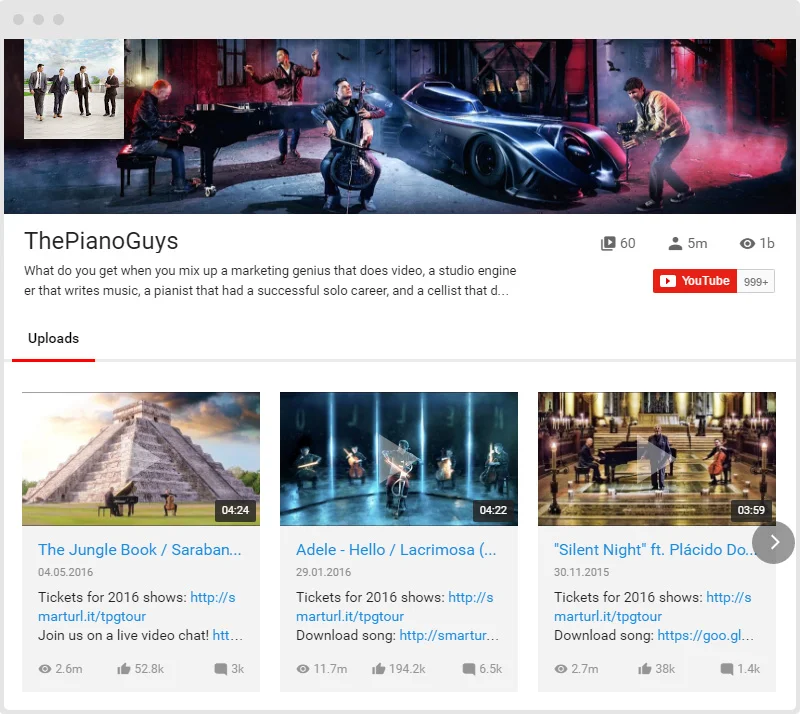 Cinema – preview images are set by default. Users are able to see info on hover while pointing at the image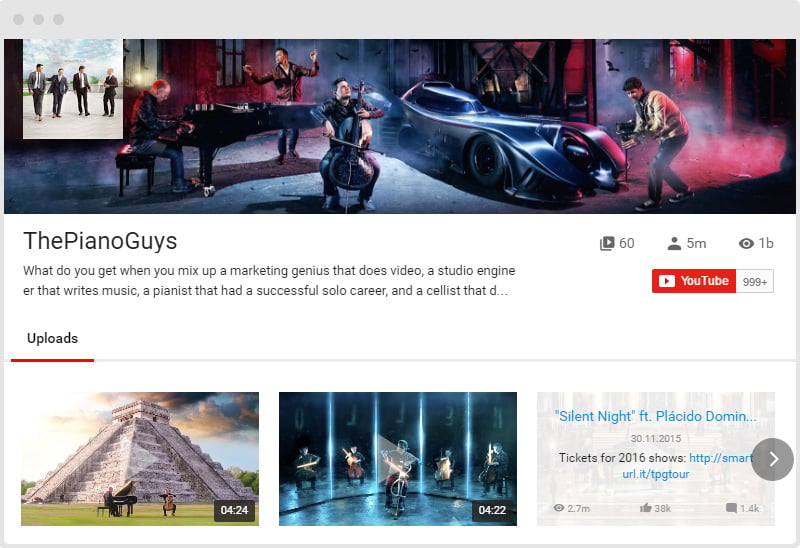 Horizontal – this layout will come in handy if you strive to demonstrate videos in the form of a list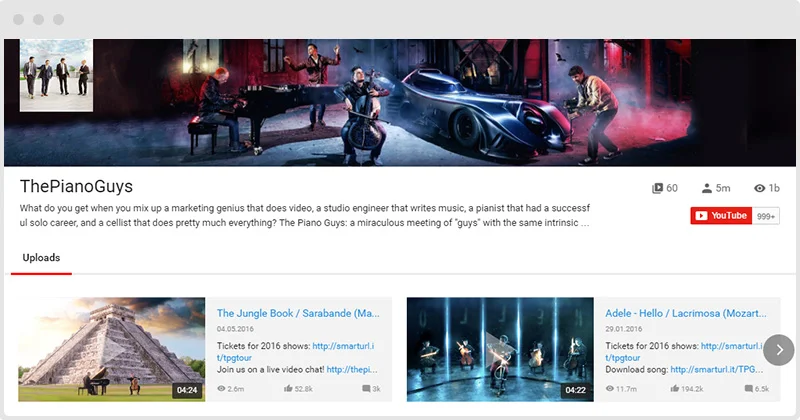 Tip: The horizontal mode will work only if the width of each Yottie columns will be more than 440 pixels. Otherwise, Yottie will show videos in the cinema layout.
In addition, our YouTube plugin for website has three ways of playing videos:
Popup – this is probably one of the most user-friendly modes. After clicking the desired video, an additional window will be opened on the existing page. Thus, your audience don't have to leave your website
Inline – the chosen spot will be opened right in your grid. It is perfect for big video previews, that is, when the plugin has only several columns and rather big size
YouTube – videos will play in a new browser window directly on YouTube
Video Info
What if your guests want to know a little more about videos before watching them? Yottie contains eight info elements, which you can manually turn on/off. Therefore, this option will let you organize the informative descriptions.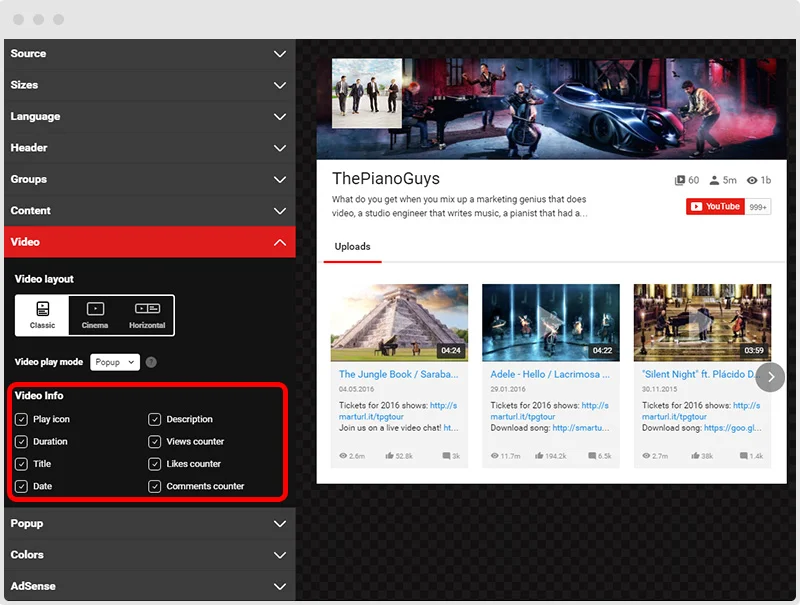 YouTube plugin Yottie allows you to show plenty of information in video previews, including:
Play icon
Duration
Title
Date
Description
Views counter
Likes counter
Comments counter
Tip: Check or uncheck data depending on sizes of the grid and previews in particular.
More Tabs
And what is more, we decided to write about other two tabs. They are rather simple and quick in installation. You can discover two tabs below Yottie "Video" tab: Popup and Colors. They are also helpful for an attractive presentation of videos on your website.
Popup
Popup is great for representing various information, especially with regard to YouTube plugin. Show videos in the gallery and place all info in a pop-up window.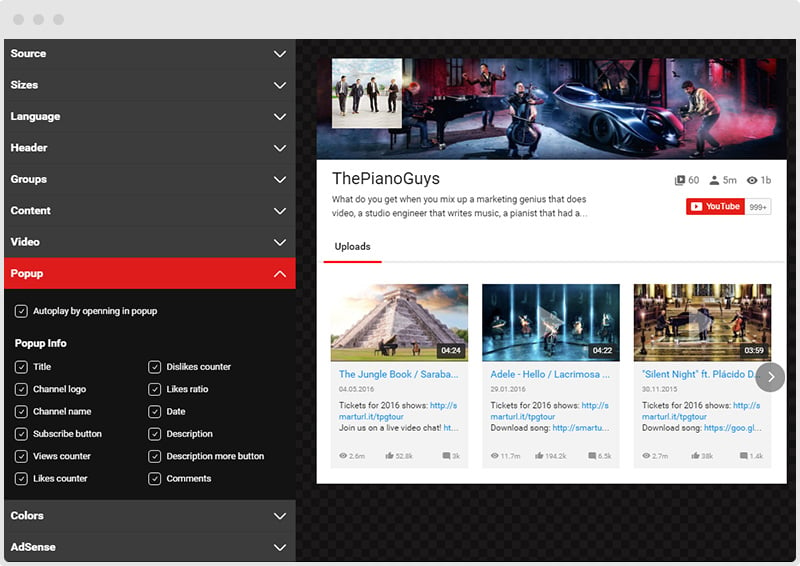 Make yourself a choice what Yottie should include:
Title
Channel logo and name
Subscribe button
Views, likes and dislikes counter
and more!
Tip: This option will only work in case of switching on the Popup mode in "Video" tab.
Give web audience the opportunity to view any video. Let them learn all information about it from YouTube without leaving your site.
Colors
Flexible color settings will let you create an uncommon style for your website YouTube plugin. Yottie includes over 60 elements to paint. Choose one of four ready-made schemes or color the plugin yourself.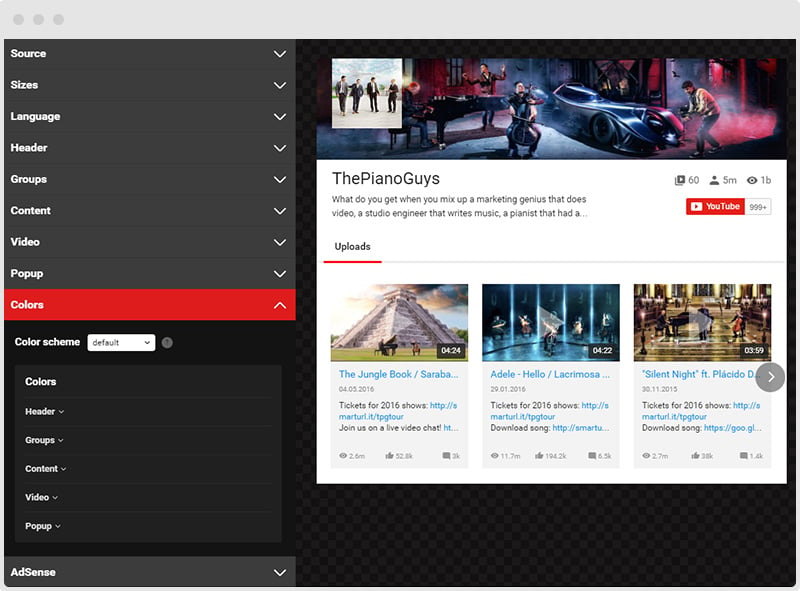 Hence, adjust colors for:
Header
Groups
Content
Video
Popup
Get Our Support
Stay connected to Elfsight blog, as we are going to publish more guides.
That's it! We've collected almost all information about Yottie. At the end of each guide you will see the list, which will help you learn each aspect of YouTube plugin. Do you have any pre-sale question about Yottie? Write us in comments below. Have you faced some issues with our Yottie plugin?
Submit a ticket
in our Support Center. Elfsight team will make everything clear!
Master Yottie Following These Steps
Yottie "Video" Tab Guide