Yottie "AdSense" Tab and How to Earn Money on Your Website
Yottie "AdSense" Tab and How to Earn Money on Your Website
The third guide relates to the tab, which allows earning extra money from showing video content on your website. Today we will describe "AdSense" settings section of
YouTube Channel Plugin Yottie
. Let's take a closer look at this useful and so valuable tab.
Manage AdSense Banners in Yottie
AdSense is a Google program that allows publishers to show
automatic text, image, video or interactive media advertisements
(or just ads), whose targets are site content and audience. These advertisements help website owners to earn money by generating revenue on either a per-click or per-impression basis. Therefore, if you have a constant traffic to your thematic blog or website there is a great opportunity to show relevant promotional banners and get pleasing benefits. We decided to go further and to
implement AdSense option in our YouTube channel plugin
.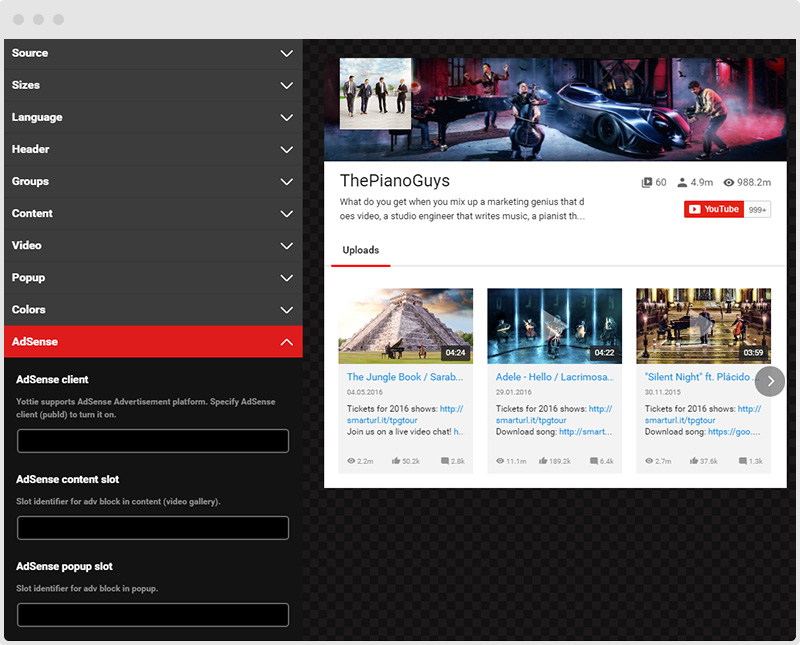 You can earn extra money due to fascinating Yottie ability to show your web audience advertisements in plugins UI.
Click "AdSense" tab and you will see the following fields:
AdSense client
AdSense content slot
AdSense popup slot
YouTube plugin's flexible customization allows you to adjust displayed advertising slots to your requirements. You will find out how to fill these data fields correctly in the next part of the article. All you have to do is to
follow our simple
steps and
you will succeed
.
1. Get AdSense Code
First of all, you have to get required
client and slot shortcodes
so that AdSense banners would function within Yottie. To do this visit
Google AdSense website
and sign in or create a new account if you haven't already had it.
1.1 Create New Ad
After signing in AdSense account you will see the main dashboard with several tabs. Your destination is
"My ads"
. There you will see the list of all ads you have. Click
"New ad unit"
to proceed further.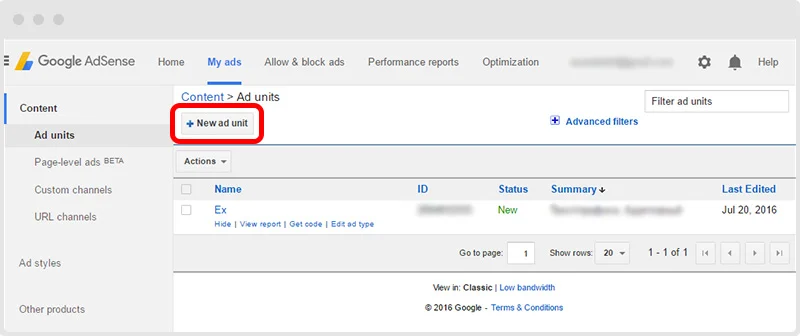 You will be redirected to the ads editor. There you can give a name to your unit and customize its size, type, etc. Adjust parameters as you wish and
don't forget to save settings
!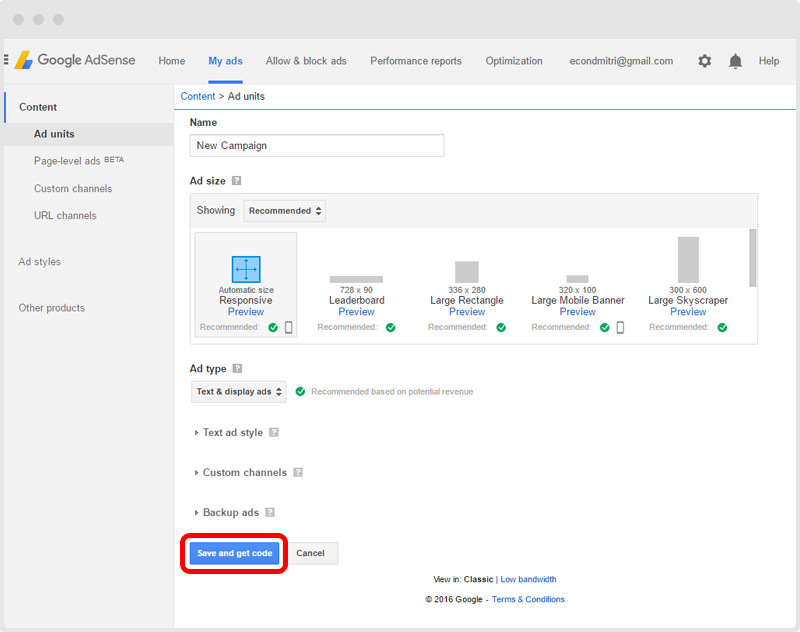 You've created your ad unit. Now it's time to learn its code and to introduce AdSense to your YouTube plugin.
2. Copy Ad Code
After saving your new ad you will see the window where you will be notified that your unit was successfully created. There you will also
find ad code
. You have to
copy the following data
:
data-ad-client
data-ad-slot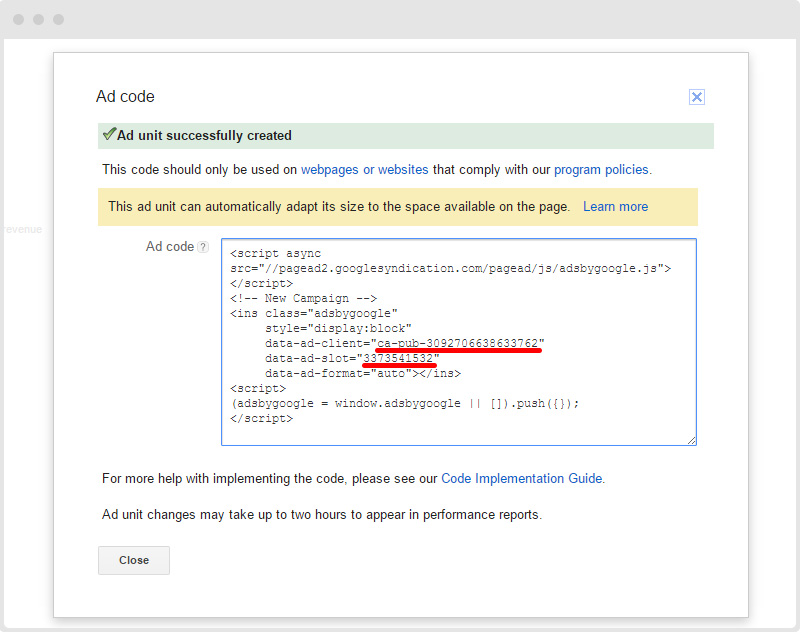 You've got everything for the final step before starting to earn money in cooperation with AdSense and Yottie.
3. Paste Ad Code into Yottie
Paste data-ad-client into the first client field in "AdSense" tab. Then you can choose either one of two slots or both where your advertisements will be displayed. Thus, you can
show ads right in the video gallery
or
in popup
while audience play any of YouTube videos.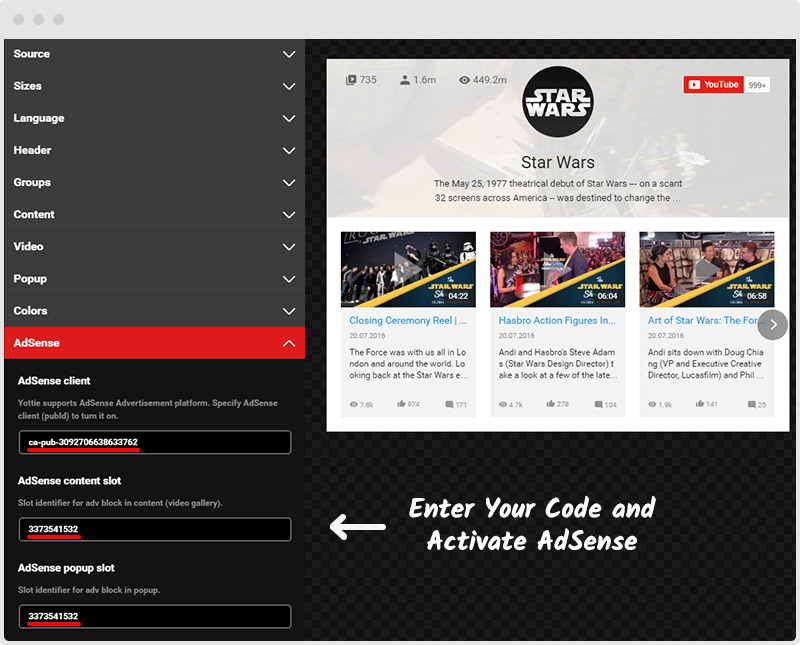 That's it! You've installed AdSense in Yottie. You can show your video content and earn money for ad clicks. For sure, our YouTube plugin gives one more source of income for you.
One more thing that might need detailed overview is how advertising banners are shown on a website. Here are
three cases of AdSense usage
so that you would have a visual presentation and understanding how it works.
Main Use Cases
Let's view several major variants of adjusting "AdSense" tab, which you can easily manage yourself on your website. Be attentive and don't give obtrusive advertising that can distract your audience from viewing the content.
Show Ads in Video Gallery
Adding AdSense to the content slot allows you to show ads in the video gallery. Your audience will see targeted advertisements right when they find your plugin on the website.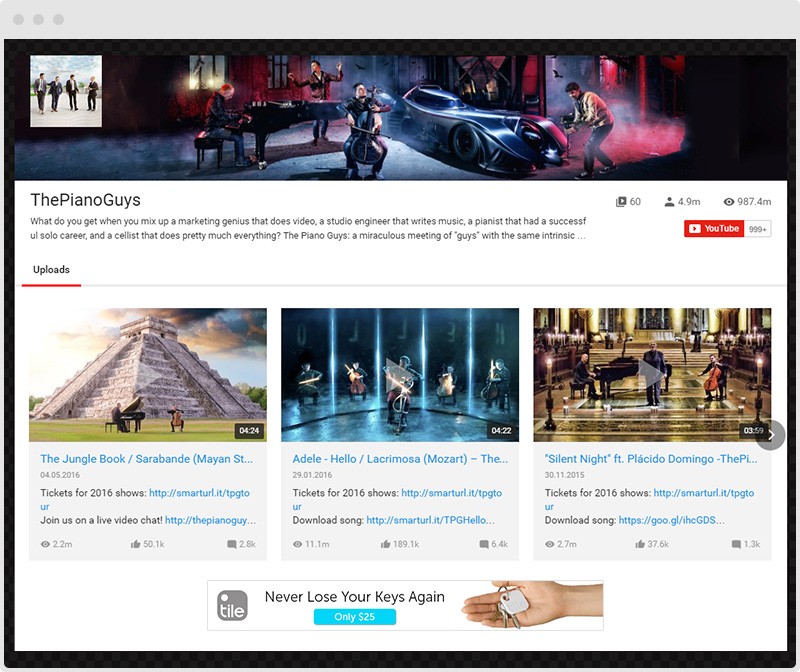 Show Ads in Popup
Adding AdSense to the second popup slot will let you display promotional banners in popup. Ads will be seen while playing any video in a separate window.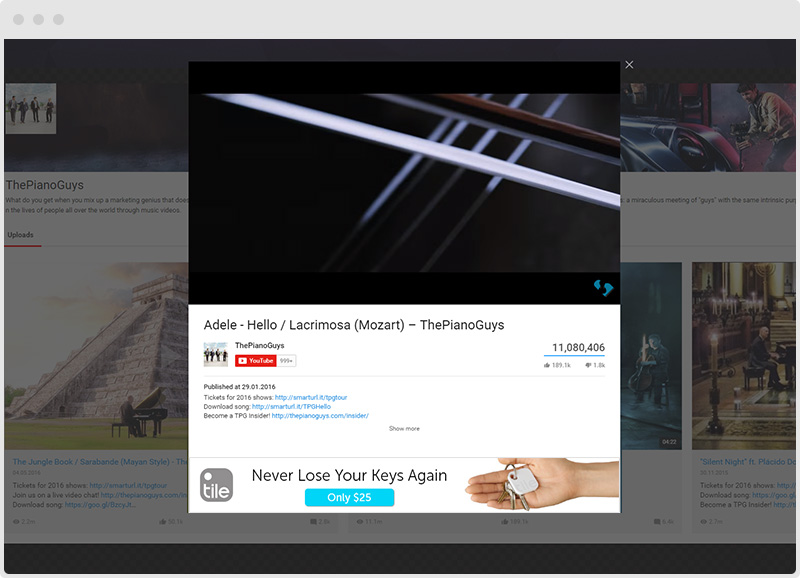 Show Ads in Gallery and Popup
Do you want to double slots? You can definitely
use both banners at a time
. Just set the same code to content and popup slots. By the way, you can also
set different banners
for content and popup slots. Just create two ad units in AdSense instead of one and copy two data-ad-slot codes.
The data-ad-client codes will be equal for them.
Get Our Support
Stay tuned to our blog, as we are going to publish more guides for our plugins.
That's all what we wanted to show you today. Hope our guide would come in handy and there will be new ways to improve your YouTube channel plugin. If you have any kind of questions concerning our YouTube Plugin or "AdSense" tab in particular, then reach us via
Elfsight Support Center
. We will make everything clear!
Master Yottie Following These Steps
Yottie "AdSense" Tab Guide