Are you concerned with using Instagram feed on Weebly? Elfsight team, watching trends, has recently developed the new version of our plugin to cover such need. It is for this reason that we are going to clarify you everything step by step with the help of
Instagram feed InstaLink
.
Let's View How to Link Instagram to Weebly
Weebly is an online website builder, which grants anyone the ability to create his own island in a global network. It could be some sort of author's blog, site or even your own ecommerce store. The service doesn't require any specific skills, just your creativity and imagination. And, of course, integration of social services is one of those things that can arise in your head. If you
embed Instagram
, it  might be very useful for any Weebly website, as well as other social media. This is where InstaShow enters the game.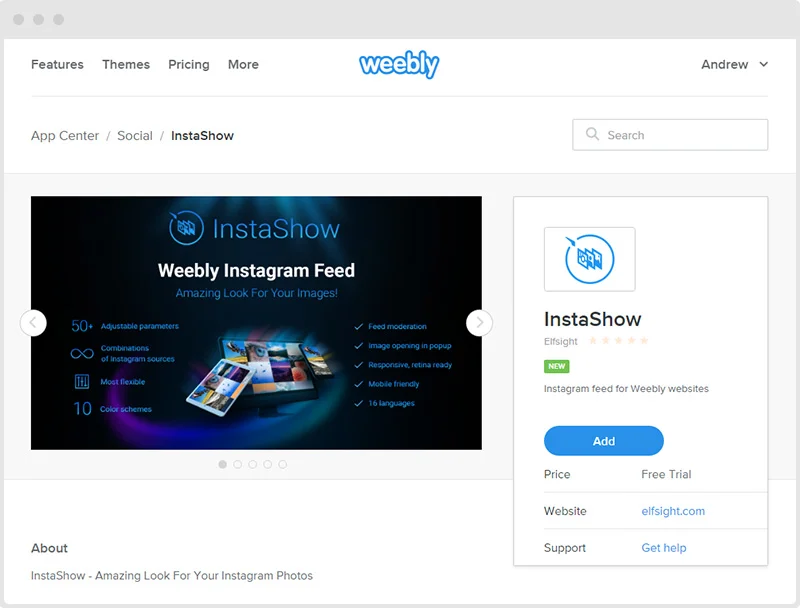 Due to Weebly drag and drop system it's rather simple to start using our
Instagram Feed Widget
. There is one so-called pre-step before we go further and describe everything. Find product's page in the app center and click "Add" 😉
After that, there are just several steps ahead to complete the task.
Video Guide
We've also prepared a video tutorial on our YouTube channel. Don't forget to turn on subtitles – they will help you install the new Instagram app!
1. Add InstaShow to Weebly Editor
The first step is to put the app into the editor so that you could manage it. If you have several websites on Weebly platform then the following window will appear. There you can choose the needed website for Weebly Instagram widget. Press "Continue" and continue in the same spirit.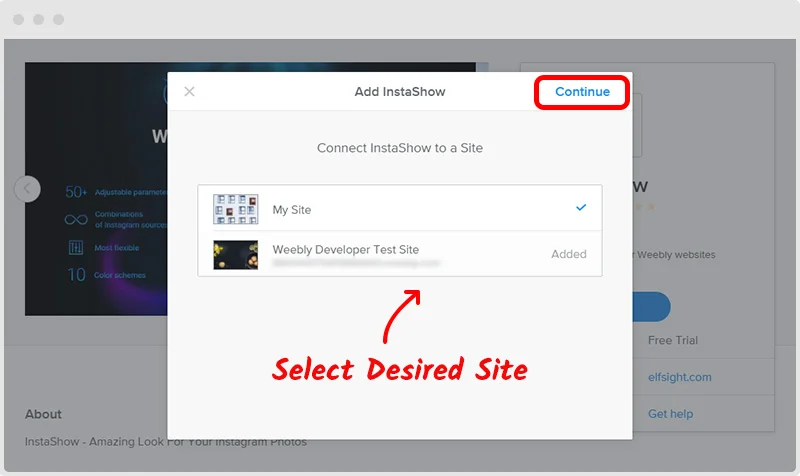 Then you will get a notification from Weebly. It informs you that InstaShow will be added to your website and what actions our app will be able to make. Do you agree with everything? In that case, proceed further by clicking "Connect". You will be redirected to the Weebly editor.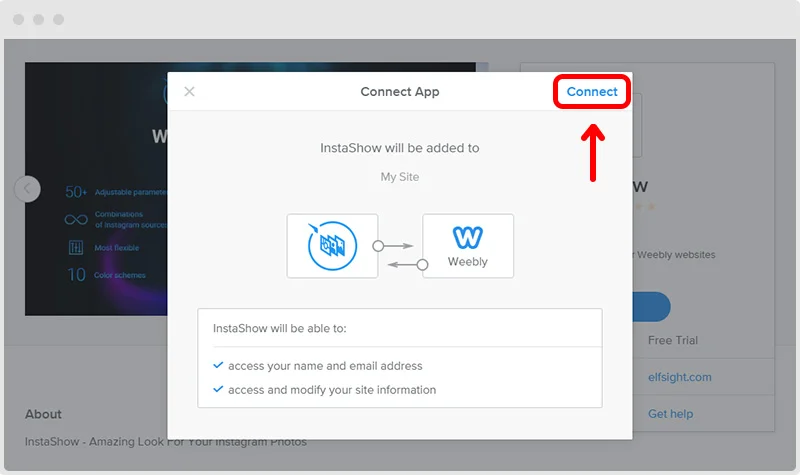 2. Add InstaShow Element into Desired Pages
Weebly has a user-friendly page editor for a
clean customization
. There you will see all pages you have on your website. Select desired pages, where you'd like to show cool Instagram feed. Choose the app icon in the third party elements and drag it to a free container.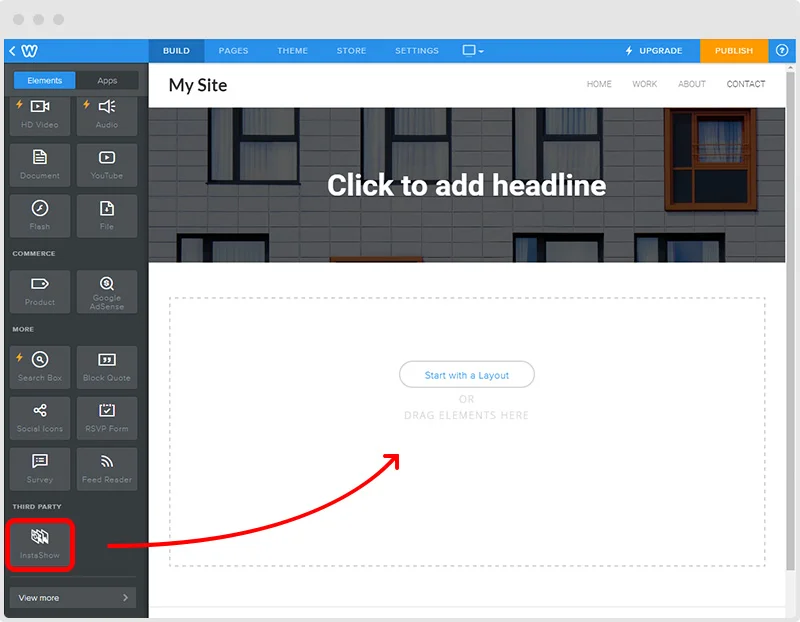 By now, you might ask us, "Hey, what if I'd like to display
several feeds
on my website?" And we answer immediately. You can use InstaShow as many times on one site as you want.
Note that you can use different settings for each new feed.
3. Customize Your Weebly Instagram Feed
After you place the feed into the necessary location, personalize your feed. Make it an eye-catching design element. Remember that you've got more than 60 parameters to adjust, including:
Sources (usernames, tags and photo URLs)
Gallery's sizes
UI customization
Popup data
Colors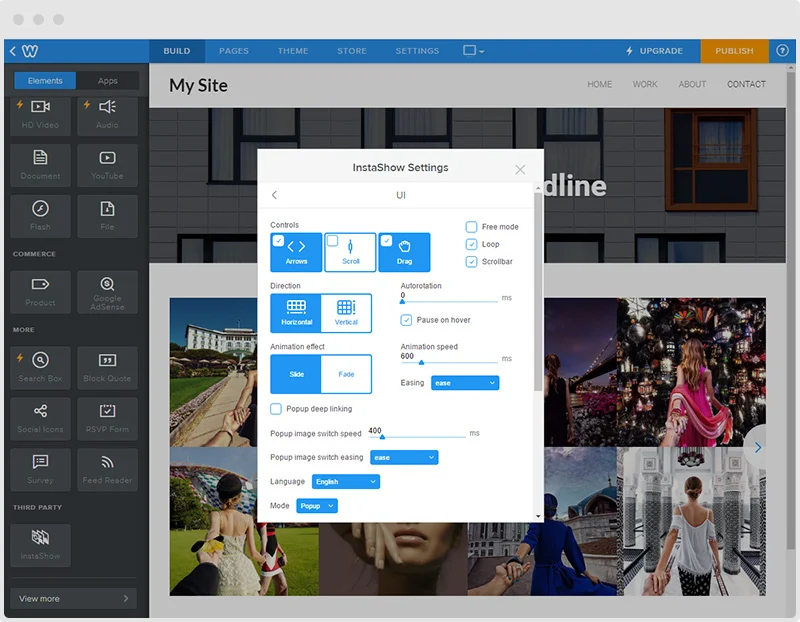 The plugin will automatically apply modifications and display the result on your web page.
InstaShow Is Successfully Installed
Congratulations, you just hit the jackpot! You've done all steps and now Instagram feed stands up for engaging the audience of your Weebly site. By the way, you will have a 5-day trial period after adding the app to your website. Then you can work with InstaShow for $2.99/month or 23.88/year and evaluate its benefits to the full extent:
Increase in audience engagement and web traffic
Growth of conversion rate
Expansion of social marketing campaigns beyond Instagram
Getting new Instagram followers
Support from Professionals
Aaand one more important thing. If there's something strange with your Instagram Weebly app and it doesn't look good. Who you gonna call? Elfhelpers!
Submit a ticket
in Elfsight Support Center and our team will help you solve any kind of issues.