Searching for an efficient and intuitive plugin to enhance your WordPress website? The Elfsight Popup plugin is the ideal choice! This plugin is expertly crafted to add interactive popups to your website, providing a dynamic way to engage with your visitors.
Add Popup to WordPress Using Dynamic Plugin
Integrate a dynamic popup feature into your WordPress website using the Elfsight Popup plugin. This user-friendly tool is specifically designed to elevate your website's interactivity and visual appeal. Customize your popup effortlessly to blend seamlessly with your website's design, enhancing the overall user experience.
With Elfsight Popup, you can easily create engaging popups that captivate your visitors. Each popup can contain detailed information, including titles, descriptions, images, and more, offering a comprehensive view of your content. Plus, you have the freedom to personalize every aspect of the popup, from the color scheme and typography to the overall layout, ensuring it aligns perfectly with your website's style.
To embed the Elfsight Popup plugin into your WordPress site, simply follow these straightforward steps:
Experiment with the interactive preview to configure your popup widget.
Once you're satisfied, save your custom popup and obtain the code from the prompt box.
Embed this code into the HTML editor of your WordPress page.
By creating your custom Elfsight Popup, you can display a range of content in a structured and visually appealing way. This plugin is not just about adding aesthetic value; it's also a practical tool for guiding visitors, promoting content, or providing essential information through strategically placed popups.
Grab your visitors' attention easily with eye-catching popups on your WordPress site!
Discover How to Elevate Your WordPress Site with the Popup Widget Plugin
For businesses in need of efficient ecommerce management, incorporating a user-friendly popup widget on your WordPress site is essential for customer satisfaction. The Elfsight Popup Widget stands out as a prime plugin for these purposes. Its intuitive interface and broad customization options enable you to create a popup that perfectly meets all your needs.
In the versatile world of WordPress, a platform known for its diverse applications, adding a popup widget is a straightforward task. Elfsight offers a Popup widget plugin that effortlessly integrates with your WordPress website.
To embed the popup widget plugin on your page, simply follow the easy steps in our video tutorial below. Experience the simplicity of adding the Popup widget to your WordPress site's HTML code. If your platform differs, our other detailed tutorials provide clear guidance on incorporating the popup widget into various platforms. Explore our tutorials and free resources to enhance your code customization abilities, ensuring you get the most out of this adaptable tool on your WordPress website.
To embed the Elfsight Popup Widget on your WordPress website to enhance user experience, follow these steps:
Log in to your Elfsight account at Dash Elfsight, or create a new account if you haven't done so already.
In your account's Applications dashboard, find and select the Popup Widget plugin you wish to add to your website.
Customize your popup to align with your website's design. You have the flexibility to create popups with various contents, including titles, descriptions, and images. Tailor the color scheme, font style, and layout to complement your website's aesthetics.
After customization, click the "Get the Code" button to copy the code for your interactive popup.
Access the HTML editor of your WordPress page and embed the code where you want the widget to appear.
Save your changes and refresh your website to see your new Popup widget in action.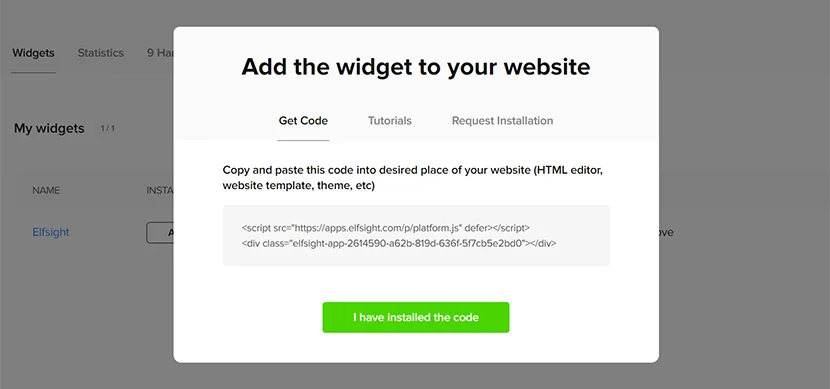 Once you've seamlessly integrated the Elfsight popup widget plugin into your WordPress website, you might consider making it available on every page of your site. This is particularly important if you want your visitors to have continuous access to features offered by your popup. Moreover, due to the varied complexities of certain WordPress themes, you may find different methods for adding this straightforward popup widget plugin across your website's pages, which could lead to variations in appearance. Let's delve into some popular methods to achieve this goal.
Add Popup Widget to Your Website Via WordPress Theme Editor

A simple method for integrating the popup widget plugin into your WordPress site is through the WordPress Theme Editor. Here's how to do it:
Log into your WordPress site and navigate to the Appearance tab in the left menu. Then, choose Theme Editor.
In the Theme Editor, find the footer.php file under the Theme Files section on the right. Insert the code just before the closing </body> tag and click the Update file button.
That's it! You've now successfully embedded the popup widget plugin on every page of your WordPress website, offering a more prominent platform for user interaction.
There are other approaches for embedding the popup widget as well, so let's take a look at some of these alternative methods.
Add Popup Widget to Your WordPress Via the Widgets Option

To integrate the popup widget plugin into your WordPress website using the Widgets feature, follow these instructions:
Log in to the backend of your WordPress site.
Go to the "Appearance" tab in the left menu and select "Widgets."
Locate the Custom HTML widget in the "Available Widgets" list.
Select one of the footers from the drop-down menu and click "Add Widget."
Paste the installation code for your popup widget into the content field and click the Save button.
Great job! You've now successfully added the popup widget plugin to your WordPress website using the Widgets feature.
There's another method to embed the popup widget plugin on your WordPress website. Let's discover how you can achieve that next.
Add Popup Widget to Your WordPress Website Via the Customize Option

To effortlessly integrate the popup widget plugin using the WordPress Customize feature, follow these steps:
Log into your WordPress site's admin panel. Navigate to the "Appearance" tab in the left menu and choose "Customize."
In the Customizer's left menu, find the "Widgets" option and click on it.
At the bottom of the menu, select "Add Widget," and from the ensuing menu, pick "Custom HTML."
Input your plugin's installation code in the content field. Then, click the "Publish" button to save all changes.
That's it! You now have the skills to boost your WordPress website's functionality by adding the best popup widget plugin, ensuring it's featured on every page of your site.
Add Popup Widget Plugin to WordPress Through WooCommerce

Many users across various Content Management Systems (CMS) prefer using a visual editor instead of the default one, as it simplifies the process and removes the need for HTML coding. WooCommerce, a leading website plugin, enables business owners to easily customize their sites. To integrate a popup widget plugin into your WordPress site via WooCommerce, here's what you need to do:
Create an Elfsight popup widget in a unified administrative panel, save it, and copy the installation code.
In the WordPress site management interface, choose the site you wish to modify.
Select "Edit with WooCommerce," accessible from either the site index or the site management page.
Drag the "HTML" component to the desired location on your page and paste in the installation code for your widget.
Click on "Update" in WooCommerce to save your modifications.
This guide can help you embed custom HTML code into any website developed with WooCommerce. Simply repeat these steps for various pages as needed, and the popup widget will quickly be visible on your WooCommerce website.
Add Popup Widget Plugin to WordPress Gutenberg
This guide provides a step-by-step approach for adding the Elfsight Popup Widget to your WordPress site using the Gutenberg editor.
Begin by opening your Gutenberg editor. Look for the "Add" button, which you'll find in the top right corner of the interface.
Enter "Elfsight" into the search bar. From the list of plugins that appear, choose the Elfsight Popup Widget.
Once you're in the Popup Widget block, use the right-click menu to paste the Elfsight installation code.
To finalize the addition, hit the Post button located in the upper-right corner, then click it once more to confirm.
Opt for the View Page option to get a glimpse of how the Popup Widget appears on a page of your WordPress site.
Voila! You've adeptly incorporated the Elfsight Popup Widget into your WordPress website, enabling your site visitors to engage with this dynamic feature.
Add Popup Widget Plugin to Your WordPress Website Through Elementor

Elementor revolutionizes the ease of modifying WordPress websites, streamlining the addition of unique elements like popup widgets. Below is a video showcasing the full process of integrating a popup widget into your WordPress site with Elementor.
Here's your step-by-step guide:
Head to the relevant page on your WordPress dashboard.
Select the "Edit with Elementor" option, which you can locate in your page listings or directly in the WordPress page editor.
Use Elementor's intuitive drag-and-drop feature to position the HTML widget at the desired location on your page.
In the left-hand menu, paste the installation code for your popup widget into the designated HTML code area.
Hit the "Update" button to confirm and apply your changes in both Elementor and WordPress.
This approach enables you to smoothly incorporate the popup widget plugin into the HTML framework of any WordPress site developed with Elementor, enhancing the site's interactivity and user engagement.
Exploring the Dynamic Flexibility of the WordPress Popup Widget
Elfsight's Popup Widget revolutionizes the way you engage with your audience on WordPress and other website platforms. This innovative plugin eliminates the need for additional plugins while offering unparalleled adaptability. You can effortlessly embed a multifunctional popup directly onto your web pages. Here are the highlights:
| | |
| --- | --- |
| Principal Attributes | Explanation |
| User-Friendly Interface | Elfsight Popup stands out with its user-friendly interface, perfect for users of all skill levels to efficiently design and modify engaging popups without the need for coding knowledge, making captivating designs accessible to everyone. |
| Diverse Design Options | Explore your artistic side with Elfsight Popup's extensive array of design choices. Harmonize with your site's look by selecting from numerous templates, typography styles, color palettes, and animation effects to craft popups that truly embody your brand's essence. |
| Sophisticated Audience Targeting | Elfsight Popup enables precise audience targeting with features like exit-intent detection, scroll-depth tracking, and timed display settings. Tailor your popup's visibility to optimize user engagement and increase conversion rates. |
| Effortless WordPress and Elementor Compatibility | Elfsight Popup offers fluid compatibility with WordPress and Elementor, ensuring a smooth experience for those using these popular website-building platforms. It integrates effortlessly, regardless of whether you are working with WordPress or Elementor. |
| Detailed Analytics and Insights | Elfsight Popup provides in-depth analytics and reporting tools to help you track your popup's performance. Keep an eye on vital statistics like view counts, interaction rates, and conversions to refine and enhance your popup strategies. |
Elfsight Popup Plugin for WordPress Usage Examples
Building on the impressive advantages previously discussed, the Elfsight Popup Widget for WordPress sets itself apart with its extraordinary customization options. This powerful plugin allows you to explore endless creative possibilities, ensuring that your website not only looks professional but also feels uniquely yours. The standout feature of this plugin is its ability to transform user-generated content into visually appealing and cohesive elements of your site. And the best part? You can achieve all of this without needing any background in HTML or CSS coding. The Elfsight Popup Plugin comes equipped with an intuitive visual editor, making customization straightforward and accessible. Here's a glimpse into the key settings that you can tweak to align with your specific needs:
Example 1: Black Friday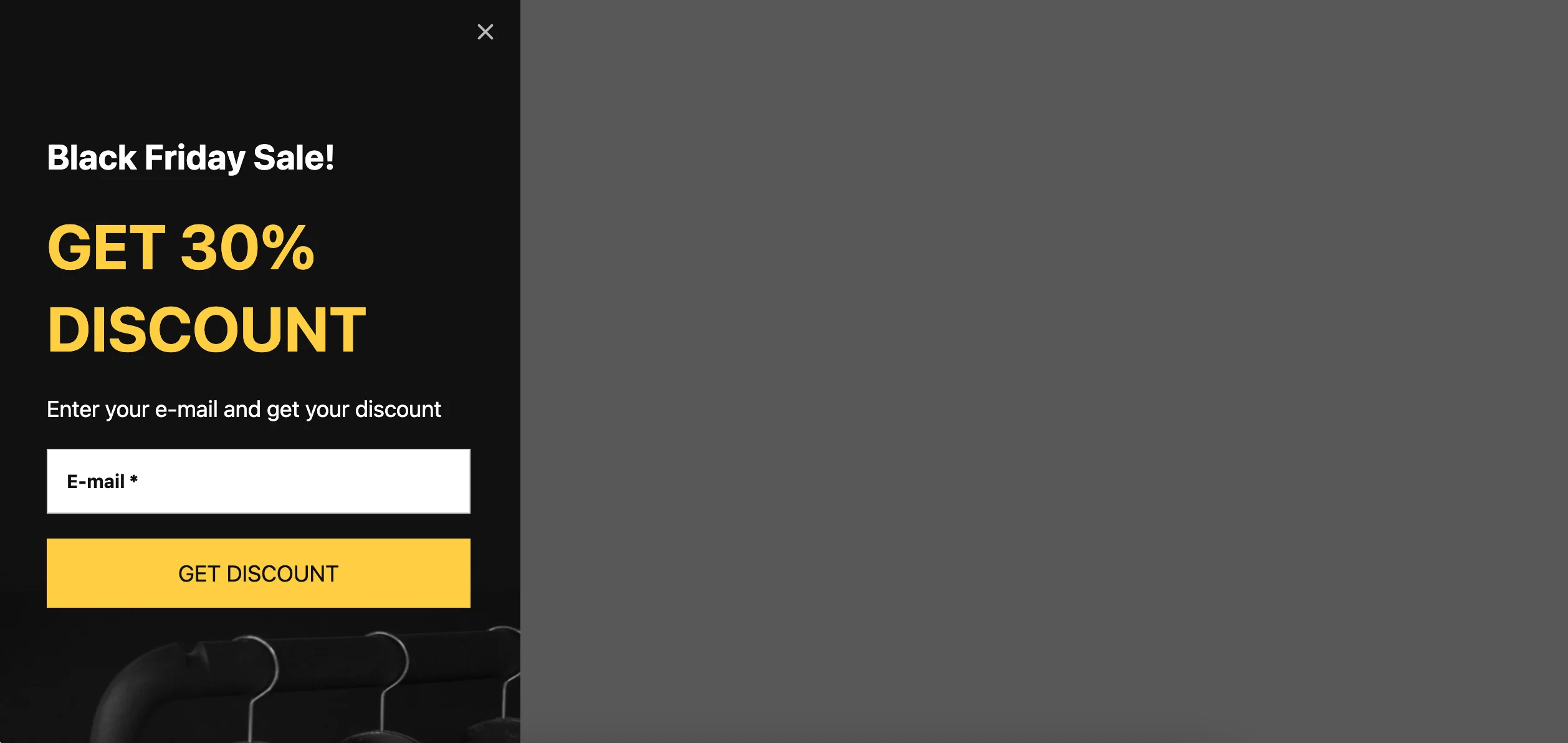 Experience the splendor of Black Friday, the world's most renowned and lucrative discount day, with a captivating popup plugin on your WordPress site. This sleek panel, gliding effortlessly across the screen, is adorned in vibrant contrasting colors and oversized text, making it impossible to ignore. Not only does it amplify the excitement of the sale, but it also serves a practical purpose. It's an ideal way to collect email addresses, enhancing future engagement and building your customer base. The popup is easy to add and embed on any page of your website, making your Black Friday promotion both effective and seamless. With this free-to-use tool, you can create a visually stunning and functional addition to your site, ensuring maximum visitor engagement during this key shopping period.
Example 2: Cyber Monday

Transform your website for Cyber Monday, a day when over 9 billion dollars are spent worldwide, by leveraging a subtle yet radiant popup widget. This elegant window gracefully appears in the lower right corner of users' screens, offering a gentle yet effective reminder of the last chance for incredible deals before Christmas. Incorporate an irresistible coupon code and a compelling call-to-action within the popup, and you're set to see a surge in orders. This WordPress plugin is incredibly easy to embed and add to your website. It provides a perfect solution for capturing the essence of Cyber Monday, creating a buzz, and driving sales.
Example 3: Christmas Sale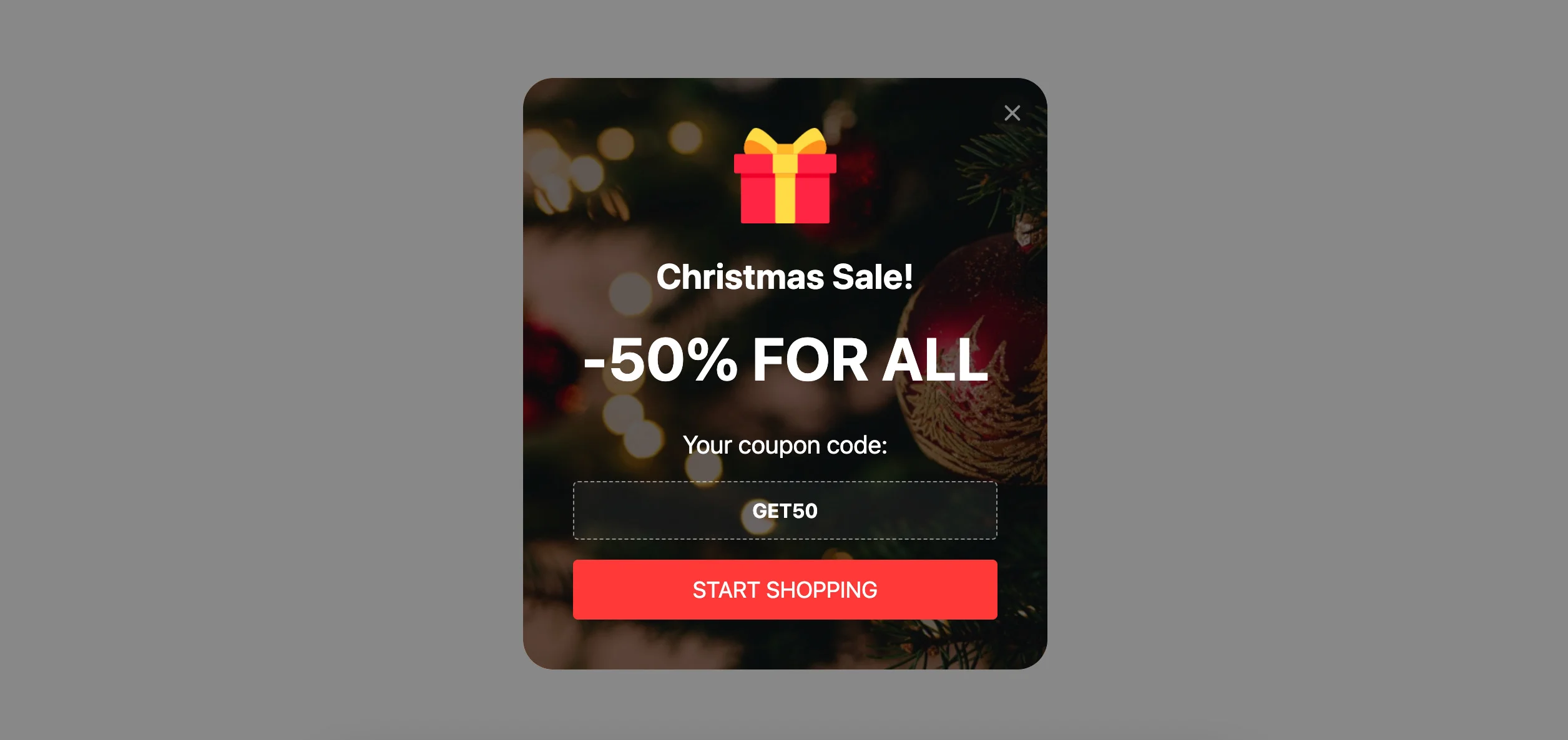 Celebrate the festive season with a Yuletide-themed popup, the ultimate promotion tool for your Christmas sale. This eye-catching popup showcases your best offers and allows easy redemption of discount coupons with a simple click-to-copy feature. The prominent red call-to-action button ensures users are seamlessly guided to your dedicated sale page. With six different popup triggers available, you can optimize the timing of its appearance, maximizing both engagement and conversion opportunities. This widget, easily integrated into your WordPress site, enhances the user experience and brings the festive spirit directly to your website pages.
Example 4: Exit Intent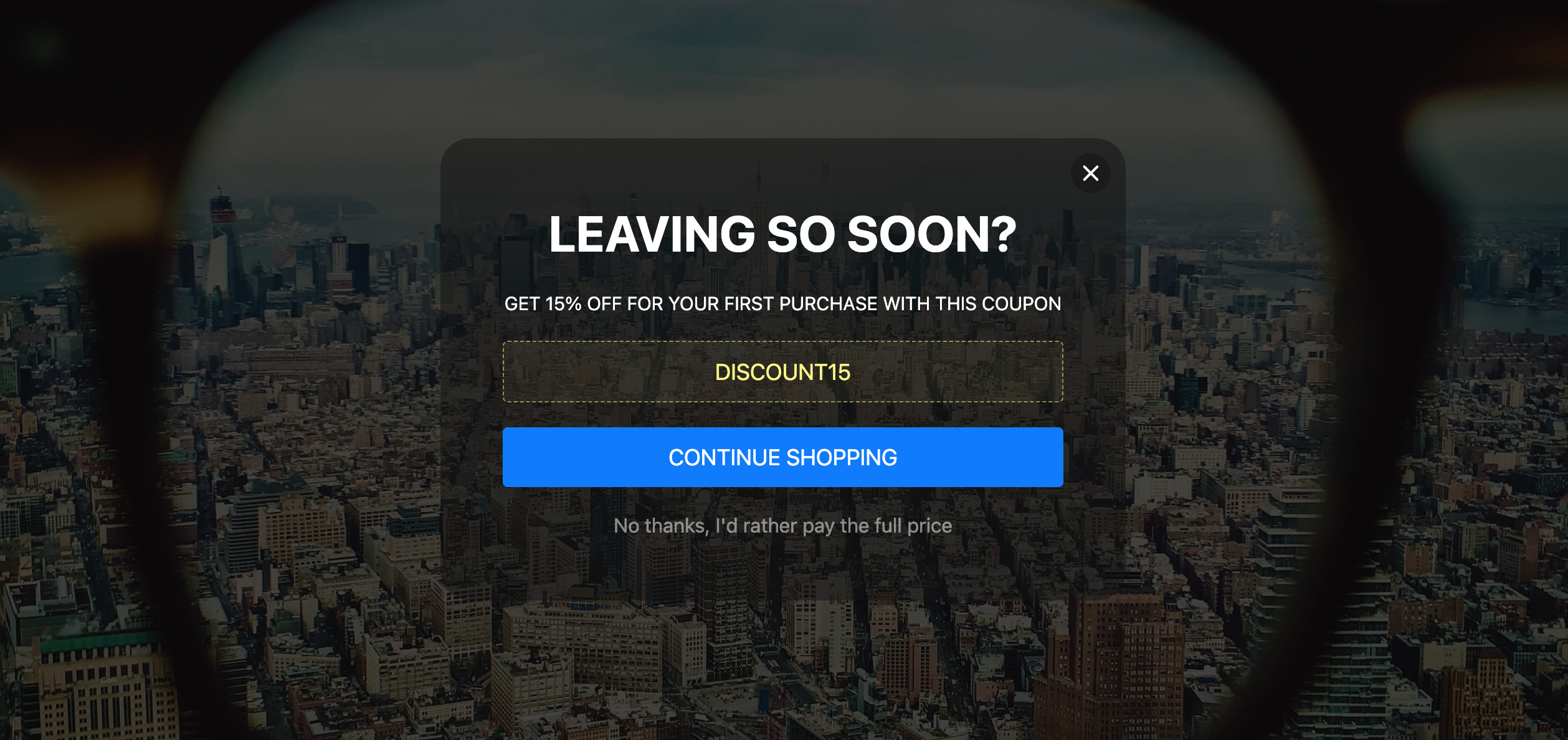 Make the most of every visitor's time on your website with an impactful exit-intent popup. This feature, part of the versatile Elfsight Popup Widget, captures users' attention just as they are about to leave the page. The popup's responsive size dynamically fills available space, creating an immersive experience. Customize it with background images and harmoniously aligned elements to create a visually appealing and engaging popup. The widget, easily added and embedded on any WordPress website, offers alternative triggers to keep visitors hooked and engaged, making it a valuable tool for reducing bounce rates and increasing user interaction.
Example 5: Valentine's Day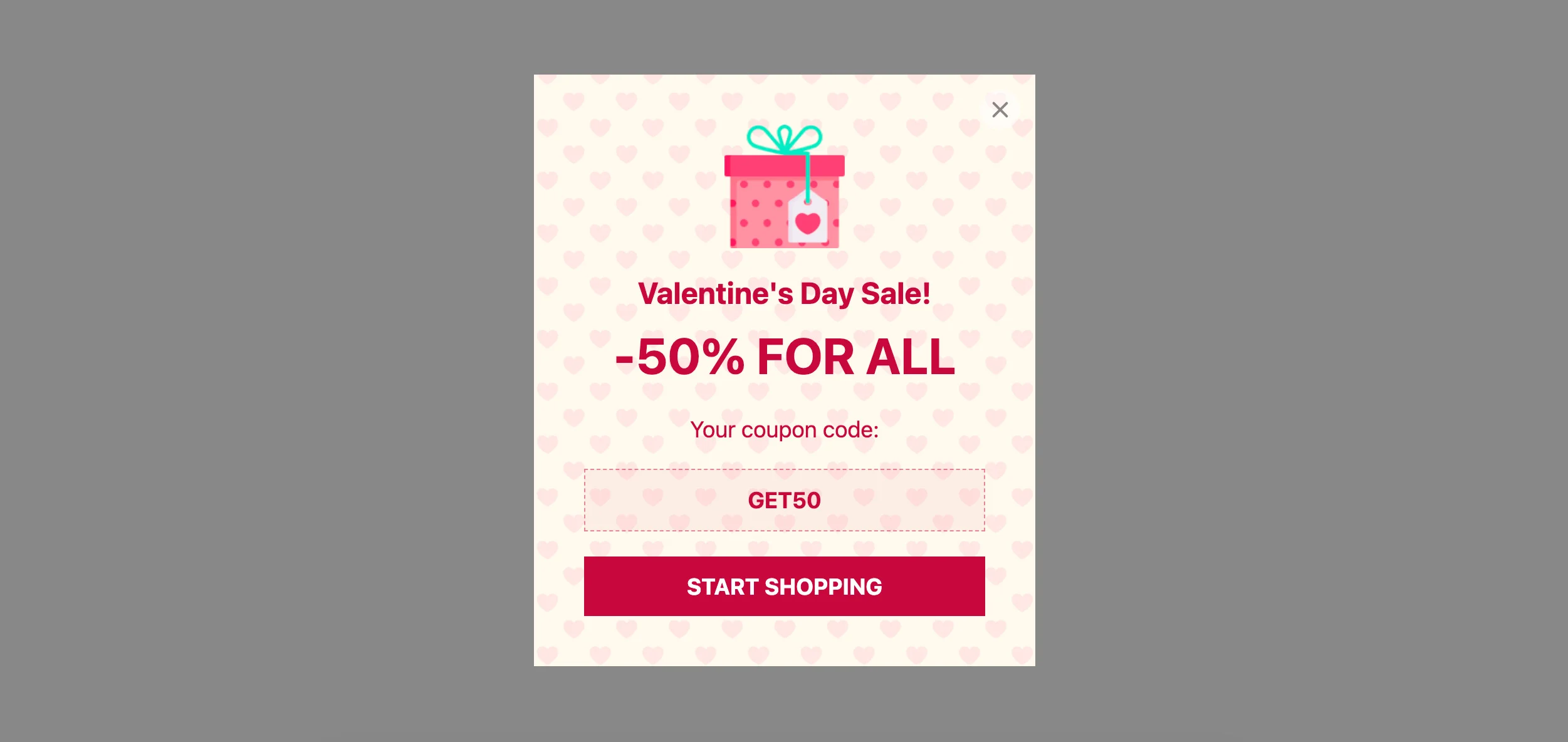 For Valentine's Day, embrace a minimalist design with your popup widget. This approach allows your offerings to stand out without overwhelming your visitors with excessive details. The popup, which is easy to create, add, and embed on your WordPress site, succinctly describes your offer, enhancing it with subtle yet effective details. This free, user-friendly tool is perfect for capturing the essence of Valentine's Day on your website, piquing curiosity, and converting interest into sales with its simple yet effective design.
Example 6: Thanksgiving Day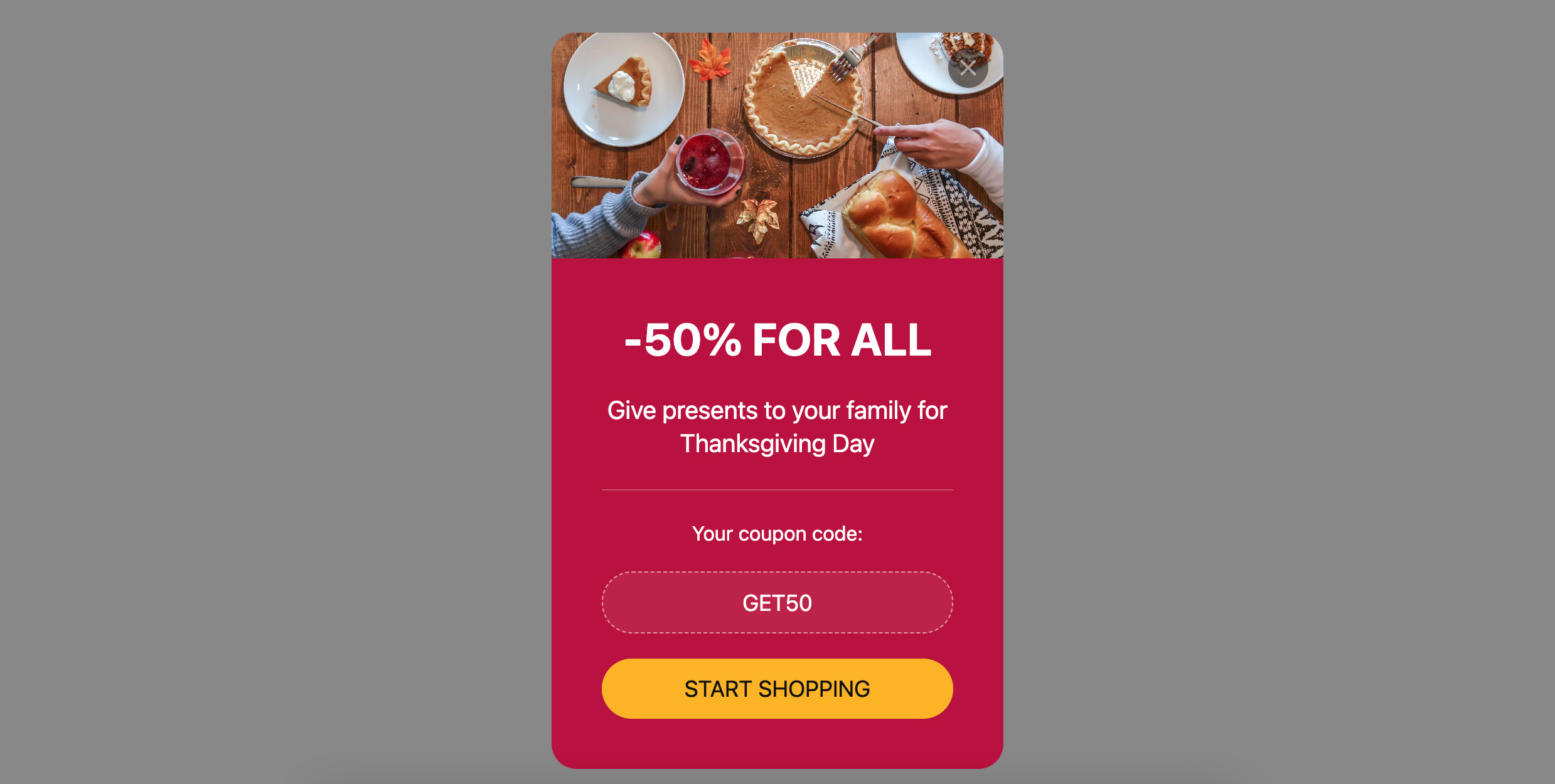 Add a touch of Thanksgiving to your website with a versatile popup box that blends seamlessly with your overall design. This stylish popup, perfect for notifying visitors of ongoing promotions and discounts, can be adorned with recognizable Thanksgiving imagery. Integrate this popup into your website by simply adding the provided installation code to your HTML. This free widget, a valuable addition to your WordPress site, infuses the spirit of gratitude and generosity into your online presence, enhancing the user experience during the holiday season.
Why Popups Are Good for Your Business
Popups, often misconceived as mere intrusive elements, are, in fact, versatile tools that can significantly uplift a business's efficiency. This article delves into why adding popups to your WordPress site is not just beneficial but essential for enhancing business operations.
Key Reasons to Add Popups to Your WordPress Website:
Direct Communication Channel: Popups serve as a direct line to website visitors, delivering important messages or promotions effectively. They allow businesses to connect instantly with their audience, ensuring key messages are noticed.
Versatility and Customization: Popups can be tailored for diverse purposes: sign-up forms, announcements, offers, or calls-to-action. Many popup plugins are available for free, providing cost-effective solutions for businesses.
Efficiency in Website Management: Automation of interactions (e.g., collecting emails, answering queries) saves time and resources. The ability to add popups to multiple pages ensures consistent user experience across the site.
Ease of Creation and Embedding: Even those with minimal programming skills can integrate popups effectively, with plenty of tutorials and code snippets available.
Improvement in Conversion Rates: Popups can persuade visitors to take desired actions, leading to increased conversions and profitability. Strategic placement on different pages guides the user journey.
Analytical Insights: Many popup plugins offer built-in analytics to track performance and understand user behavior.
In summary, integrating popups into a WordPress website is a smart move for any business looking to boost its online efficiency. These widgets not only enhance direct communication and user engagement but also contribute to automated website management and higher conversion rates. With easy-to-use creation and embedding options, coupled with free access to many plugins, popups are an indispensable tool for modern businesses aiming to thrive in the digital landscape.
Conclusion
Incorporating an Elfsight Popup Widget into your WordPress website can transform the way you engage with your clients and streamline your business processes. This innovative plugin goes beyond traditional popups, offering a range of features that can be tailored to suit various business needs, including appointment booking. The automation of your ecommerce processes through a well-designed popup not only saves time but also minimizes errors and enhances customer satisfaction.
Imagine a popup that not only catches the eye but also offers an intuitive way for clients to schedule appointments directly on your website. This eliminates the need for external systems, keeping everything centralized and easy to manage. By embedding this customizable widget on your website, you can significantly improve client retention and attract new customers, driving increased revenue.
The versatility of the Elfsight Popup Widget allows for seamless integration into your WordPress site. It's not just a popup; it's a tool that enriches the user experience on every page it's added to. Its easy-to-use interface means you can create, embed, and customize it without needing in-depth coding knowledge. Plus, being a free plugin, it offers a cost-effective solution to upscale your online presence.
Should you need assistance or wish to explore more, our support team is always ready to help. Additionally, our tutorials and Help Center articles are a treasure trove of information for those looking to deepen their understanding of this versatile tool. For a more community-driven approach, our Forum provides a platform to connect with other Elfsight users, exchange ideas, and gain further insights. With the Elfsight Popup Widget, the potential for enhancing your website is limitless.