The SaaS affiliate marketing program is one of the latest trends that gives web designers, resellers and partners a constant and predictable income channel based on high commissions and recurring payouts.
What is a SaaS Affiliate Program?
SaaS (or Software as a Service) is a model in which software is sold on a subscription basis. This recurring model makes the SaaS affiliate program more profitable than other types of affiliate programs because instead of a one-time payment, the affiliate earns a recurring commission each time the referred customer continues to pay for the subscription. Recurring affiliate programs help you to earn higher cumulative earnings.
SaaS partner program types: reseller, white-label, referral programs and partnerships
There are different kinds of SaaS partnership programs, and here are their main features for you to choose your best type:
One-time affiliate commission or recurring affiliate payouts? How to make money on SaaS programs?
The main difference between these two payment models in SaaS is how long customers wish to use the product – for a few months and pay little by little, but over a long period of time, or to get lifetime access and pay a large one-time payment for this? The trend of all well-known services shows which model shows that both SaaS companies and affiliates benefit from the recurring model if affiliates can bring in promising users who don't churn right away.
From the perspective of the affiliate, if you are on a tight deadline and don't plan to work permanently with this SaaS company, then a one-time affiliate reward sounds more attractive. However, such commissions cannot generate a steadily growing revenue.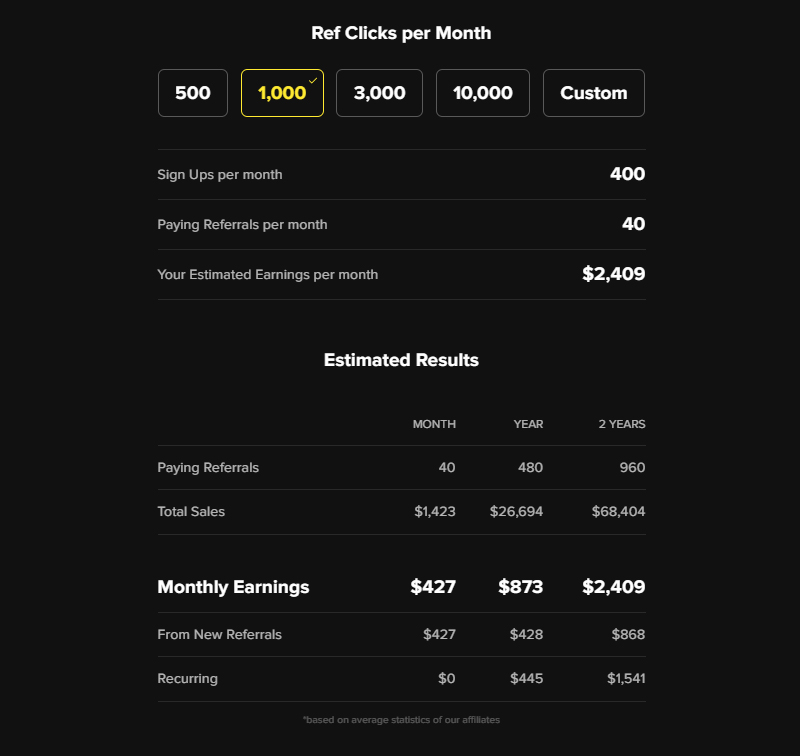 If you're planning a long-term cooperation, recurring payments are more profitable and successful than one-time payments. As an affiliate, you need to bring one paying client, and as long as he pays, you can rely on these recurring commissions. This commission structure is the closest to the perfect idea of creating an additional passive income stream.
SaaS companies are most interested in customer retention, so they build all processes to reduce the churn rate. Therefore, the recurring model is more attractive for affiliates who only refer clients and in 90% of cases unable to contact them further.
Top 10 SaaS Affiliate programs in 2022
We've prepared the list of the biggest SaaS players offering affiliate programs. Below, you can see an overview of each merchant's program and their paramount advantages to join.
Note: we have picked top SaaS recurring affiliate programs from well-known website builders and marketing tools providers.
Before you start: how to choose your top SaaS affiliate programs
There are several things you should pay attention to before choosing your best affiliate program for SaaS. You should choose an affiliate program which uses an accurate tracking system, easy way to withdraw your funds, and is trusted by users. Good affiliate program should offer the following:
High commissions. Most SaaS companies offer commission rates of 20% – 30% depending on referred sales amount. It's one of the most important things to consider when choosing an affiliate program – don't sell yourself short there.
Long-term cookie. Until cookie expires, all the recurring referral's payments (subscription renewals and upgrades) are yours, so choose the SaaS affiliate programs that offers long-term or lifetime cookie: 360 days or lifetime (while the referral remains the company customer). Don't waste your time on companies that offer less than 360 days cookie lifetime!
Tracking and performance transparency. Choose affiliate programs with handy dashboard where you can always check full and transparent statistics on your referrals
A great variety of marketing materials for any sales channels. There should be ready-made banners, video samples, product feeds, demos, email templates, email lists or newsletter templates, landing pages and other assets for your easy start.
After you've learnt what to pay attention to, you are ready to choose your perfect recurring affiliate program. Here we go!
Elfsight Affiliate Program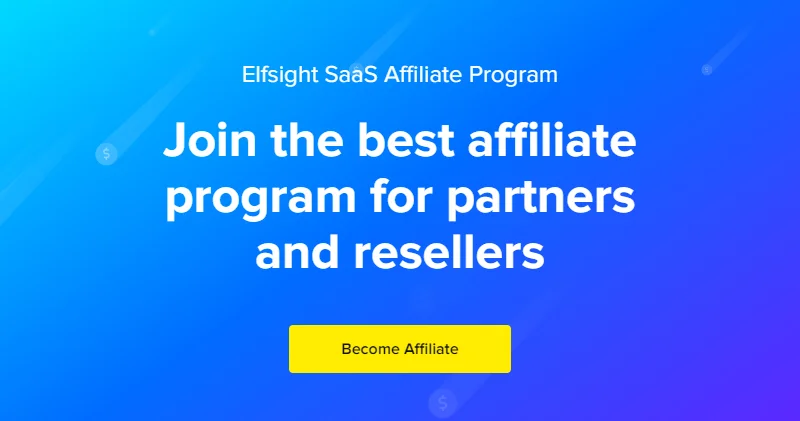 The Elfsight Affiliate program unites all the best practices and supports affiliates in the most generous way. It offers 30% recurring commissions for any transactions your referral make to Elfsight including all subscription renewals and updates. This affiliate program will help you easily create a passive income stream and enjoy monthly recurrung payouts. Also, there are prompt support, ready-made promo assets and hassle-free withdrawal to PayPal or your bank account, so you can be sure you will have everything to start with.

More info about Elfsight Affilite Program →
Envato Elements Affiliate Program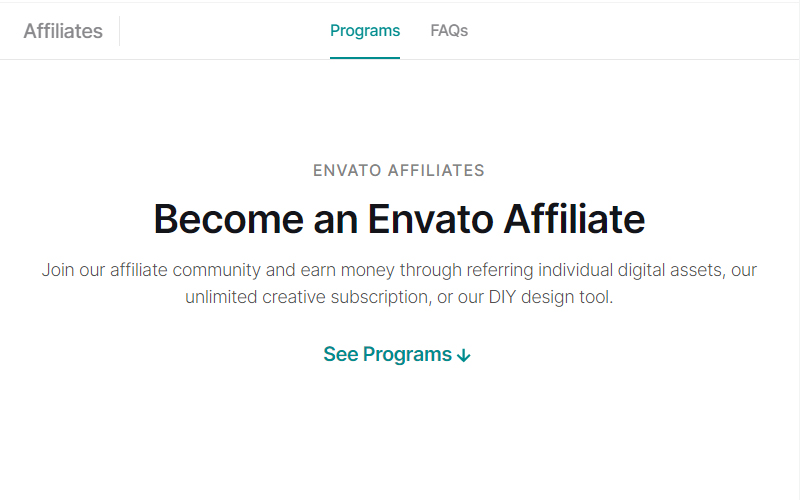 Envato Elements is all about web design and development. Their affiliate program is amazing for DIY newbies, video professionals, and site developers. Envato offers tons of site templates, plugins, stock photos, videos, Photoshop add-ons. Pretty sure, you'll find something to advertise among your audiences. You'll earn from $20 to $120 from each new subscriber – and it's a pretty nice source of side hustle.

More info about Envato Affilite Program →
GoDaddy Affiliate Program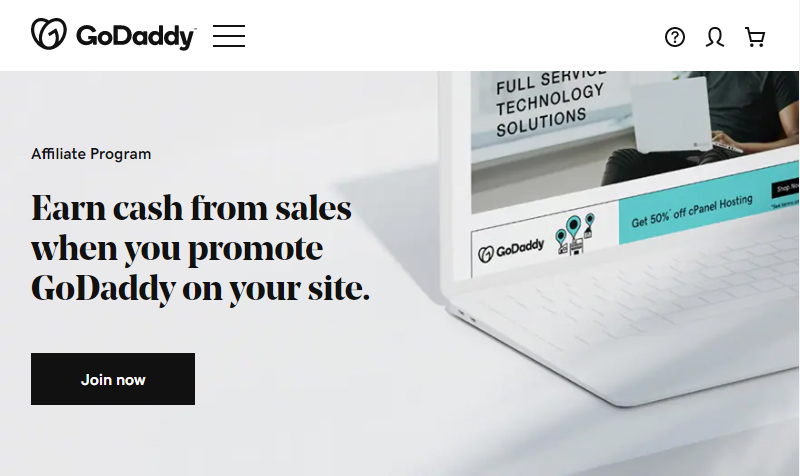 This is one of the biggest domain name registrars in the world. If you search for different platform to help you with a website, GoDaddy is an amazing option to include. They also offer hostings, a website builder and tons of marketing instruments: everything for successful website creation! They have no fees and minimum amounts – you start earning money the second you join.

More info about GoDaddy Affilite Program →
Squarespace Affiliate Program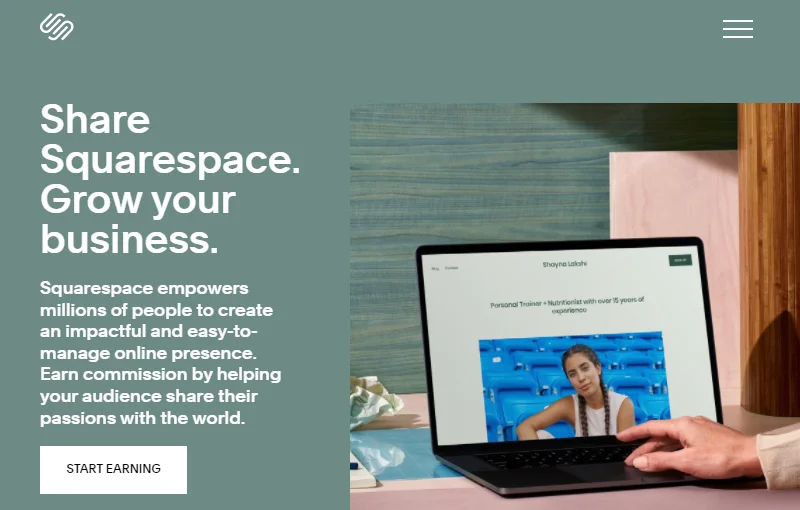 This site builder is one of the most popular in the world, allowing users to create websites in a visual editor. No need to know JavaScript and CSS – everything is at hand for both total newbies and professionals. It's perfect to promote such a merchant, for they offer amazing support and many educational materials. They have a selection of websites to join their program, but there are no fees when you enter.

More info about Squarespace Affilite Program →
Shopify Affiliate Program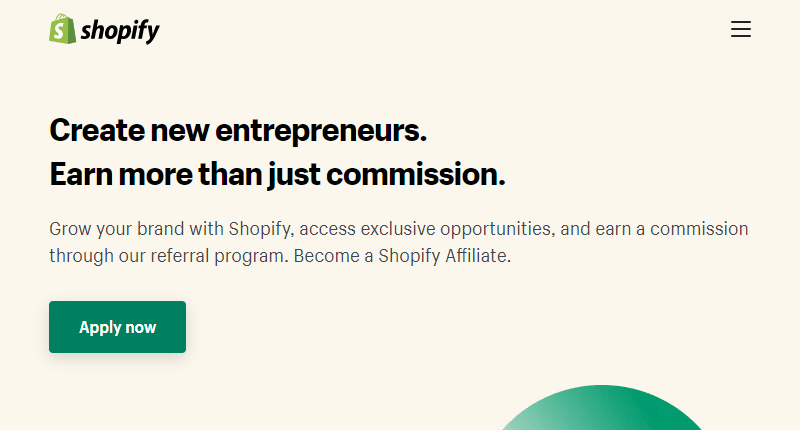 Here's another website builder, which allows people to build simple and converting ecommerce websites with blocks. If you help your followers launch successful websites, then Shopify is just perfect for you to offer. The program is free to join, and you'll be able to earn commissions from each new Shopify user you've brought.

More info about Shopify Affilite Program →
Wix Affiliate Program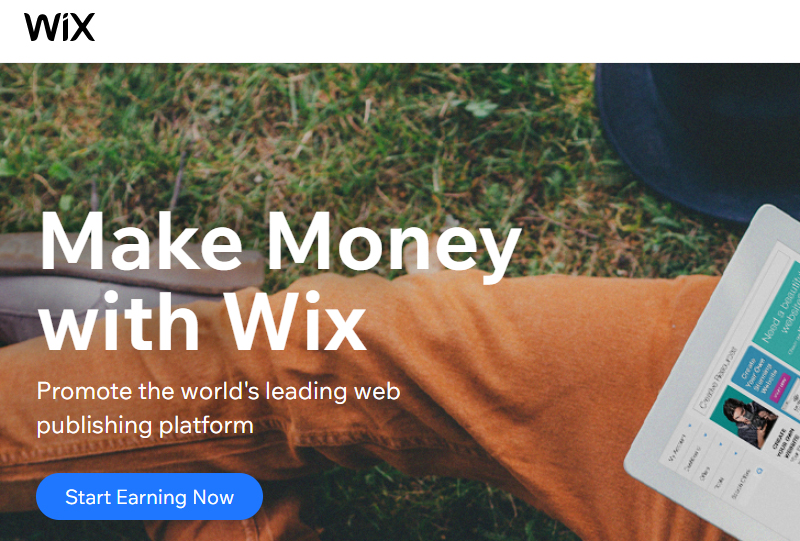 This site builder makes it easy to create websites in mere seconds in a handy visual editor. There are tons of tutorials, great support, big community, and lots of marketing materials. You'll have an opportunity to earn up to $100 from each new premium user, and their commissions are really high among other SaaS programs.

More info about Wix Affilite Program →
Gravity Forms Affiliate Program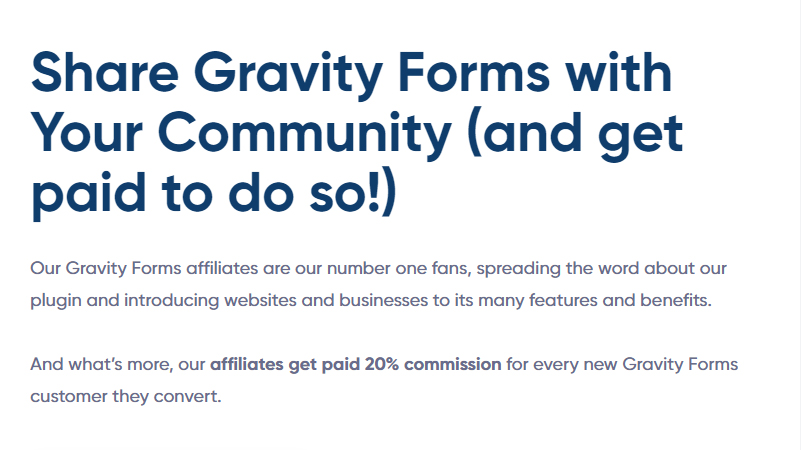 By promoting forms to the website creators, you'll get up to 20% commissions for each new customer. What is more, they provide affiliate support and share best practices with their affiliates.

More info about Gravity Forms Affilite Program →
Liquid Web Affiliate Program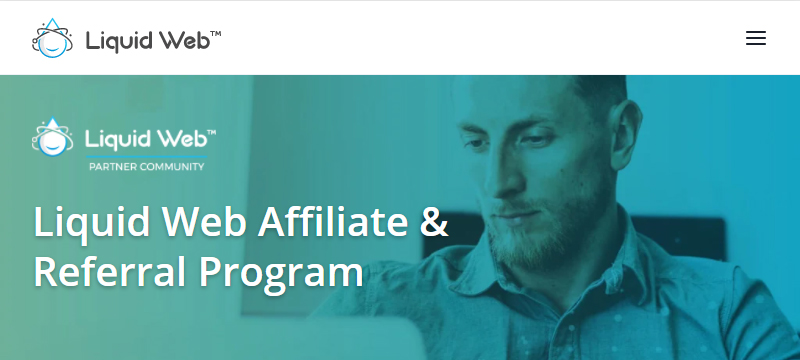 This company is a game changer among hosting providers. They have created CMS, ecommerce solutions, addons, and other amazing tools for website developers. By promoting Liquid Web you'll get a $150 one-time commission, a 90-day cookie, and masses of promotional materials.

More info about Liquid Web Affilite Program →
Leadpages Affiliate Program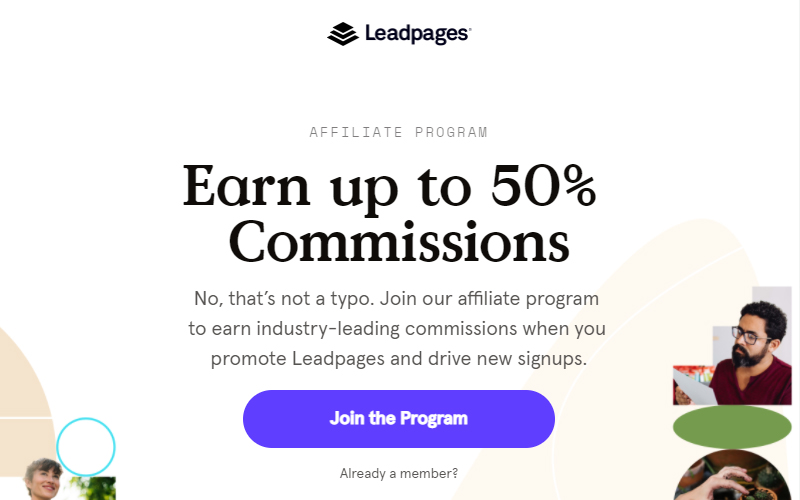 They offer a highly converting website builder, and propose from 10% to 50% commissions for different types of users you've referred. To help you succeed, they offer free content to promote, early access to features, and numerous marketing materials.

More info about Leadpages Affilite Program →
Semrush Affiliate Program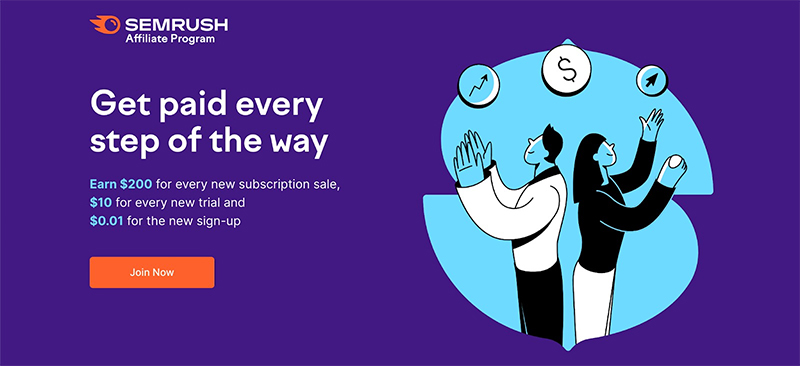 This company produces tools for big fish to improve their SEO and content strategies. It's a useful platform for web creators to track their results, and it's a great choice to advertise. They suggest up to $200 payments, last-click attribution model, and 40+ tools to promote.

More info about Semrush Affilite Program →
What is the best SaaS affiliate program?
We have collected conditions of the most successful and well-recognized affiliate programs in the table below. You can see everything for yourself:
| | Elfsight | Envato Elements | Squarespace |
| --- | --- | --- | --- |
| Average bill | $56 | $20 | $40 |
| Payment type | Lifetime recurring payments | One time | Cookie lifetime |
| Withdrawal threshold | $100 | $100 | $100 |
| Payment frequency | Once a month | Once a month | Once in 45 days |
| Commission | 30% | 120$ per new annual subscriber | 50 USD or local equivalent |
| Conversion | 11% | – | 10% |
| Support | Personal manager + Help Center + Affiliate online chat | Support team | Affiliate support team. The acceptance rate is extremely low. |
| Marketing materials | Banners, widget builder, widget catalogue, and any custom requests | Referral Links | Coupons, banners and text links |
| Tracking | Tracking dashboard with custom reports | Online portal | Tracking dashboard |
What we can see, Elfsight stands out from the others, as it offers recurring lifetime commission for affiliates. You can join this SaaS affiliate program right away and join a community of thousands dedicated web developers!
Best traffic channels for SaaS affiliates
After you've chosen your best affiliate program, it's high time to learn where to find SaaS referrals. Here, we've prepared a list of the best trafficking channels which you can use in promoting your favourite SaaS product.
Your website and SEO. This is what comes first because your blog posts are the best place to include referral links, advertising videos. Write evergreen posts which are popular among users for a long time and include banners there.
Coupon sites. Who doesn't like coupons and great discounts? It's great to find fast-deal coupons provided by the merchant and place them on popular coupon services. Your audience will be more than happy to buy an app you recommend with a discount.
YouTube and any other video platforms. Make video reviews and useful tutorials and place affiliate links to the video itself or text description. This is how you'll surely attract your target audience and promote the best SaaS products.
Google, Instagram, and Facebook ads. Use the most popular platforms to advertise what you recommend. People spend a lot of time there, and they'll be eager to consider the product they see in ads.
Guest blogging / Influencers. You can find a peer blogger writing about apps on the Internet and ask for guest posting. Write tutorials, reviews, product comparison articles and exchange them with each other.
Niche forums and communities. You can also leave affiliate links as answers and suggestions in the forum discussions. Be helpful, answer relevant questions, and everyone will hear about the products you are promoting.
Social media. You can use social media not only for promoting products with ads, but also for writing reviews and tutorials in posts. A lot of merchants offer marketing assets: video and photo templates, and you can use them to create your amazing posts.
Email marketing. Having a website, you can set an email newsletter with useful materials and weekly or monthly digests. That's where there's an opportunity to include short guides, promo-templates and bright CTAs.
Podcasts and educational courses. There are numerous platforms where you can create and publish beneficial materials about web development. Such courses are a perfect place to include promotional links and mentions of your favourite products.
Reseller program. It's great if you can find a catalogue of programs or even a demo in your affiliate promo materials. They can be placed on a website, and your users can try products you promote without moving away to side websites. For example, in the Elfsight affiliate program, we offer a widget catalogue and visual editor.
Top 3 Successful SaaS Affiliates
Now, you can read how different users promote SaaS products. Get inspired by the most successful affiliates who earn thousands of dollars by advertising their favourite tools.
Tuan Phan is dedicated to promoting instruments for one of the most popular website builders in the world. By adding product catalogues and interactive demos to his useful tutorials, Tuan earns the trust and love of his loyal fans.

Website with Squarespace tutorials, Tuan Phan
Marek adores tools that make the life of web developers easier. His valuable top-quality videos are watched by millions of YouTubers all around the world. They rely on his expert opinion and dedication to his favorite products.

YouTube channel, Marek Kamenicky
John launched his blog to help total newbies create their website without any programming. He adds affiliate links, uses promo assets and templates to create the most saturated blog for beginners, and his audience is eternally charmed by his posts.

Website + Social Media, John Doe
Conclusion
Being an affiliate is the best way to have a side hustle. SaaS is a fast-growing industry, and it's great to promote products that help web developers. After reading this article you can compare different programs, and you might observe that the Elfsight affiliate program mountain rises upon the rest. Join thousands of dedicated entrepreneurs, bloggers and content creators, YouTubers, and web developers!
Bonus: Calculate your SaaS affiliate income!
Affiliate revenue calculator – forecast your one-time and recerring commissions due your website traffic 🤑