Looking for a way to embed Instagram Feed to WordPress website? In this article, we'll discover the ways to do it using different possibilities of WordPress platform and native Instagram tools.
Create your Instagram Feed for WordPress
Instagram feed is a handy and well-built free premium plugin for WordPress that allows you to integrate an interactive feed with content from this online media on your WordPress website. You are welcome to start forming your Instagram plugin right now through the use of our active demo. Simply follow the steps below and you'll see your Instagram Feed:
Start using our active demo and build your first Instagram plugin.
Save your Instagram feed and copy the code from the popup window.
Embed the code to your WordPress website's HTML editor.
Try building your live Instagram feed right now through the use of our demo!
How to add Instagram Feed to WordPress
WordPress is known as one of the biggest sitebuilders and is among the best variants for those building a site to fulfill any need. And to embed Instagram plugin to any WordPress website, there's always a plugin by Elfsight. In case you're looking for some faster solution, then we recommend you to watch a video below on how you can embed an Instagram Feed to the HTML code of your WordPress website. You'll find all the steps you need to follow in order to get it done, and in our detailed guide we've described how you can add Instagram to other platforms.
To add Elfsight Instagram Feed to WordPress, you first need to acquire the plugin code. Here's how you can do it:
Login to your Elfsight account at Apps Elfsight.
On the Applications panel of your Elfsight account, select the Instagram Feed that you would like to embed to your WOrdPress website.
Select Add to Website option next to the name of your feed. After this, you'll see a popup window with the installation code.
Left-click on the installation code and copy the code of the feed.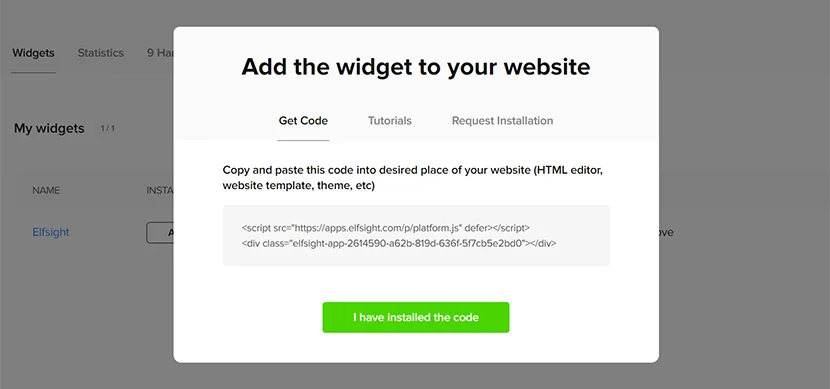 That's it! Now you've got the installation code for your WordPress Instagram feed. Now you can proceed to embedding it plugin to your WordPress website. Here's what you need to do:
Log in to your WordPress website's admin panel and find the page where you'd like to add your Instagram feed: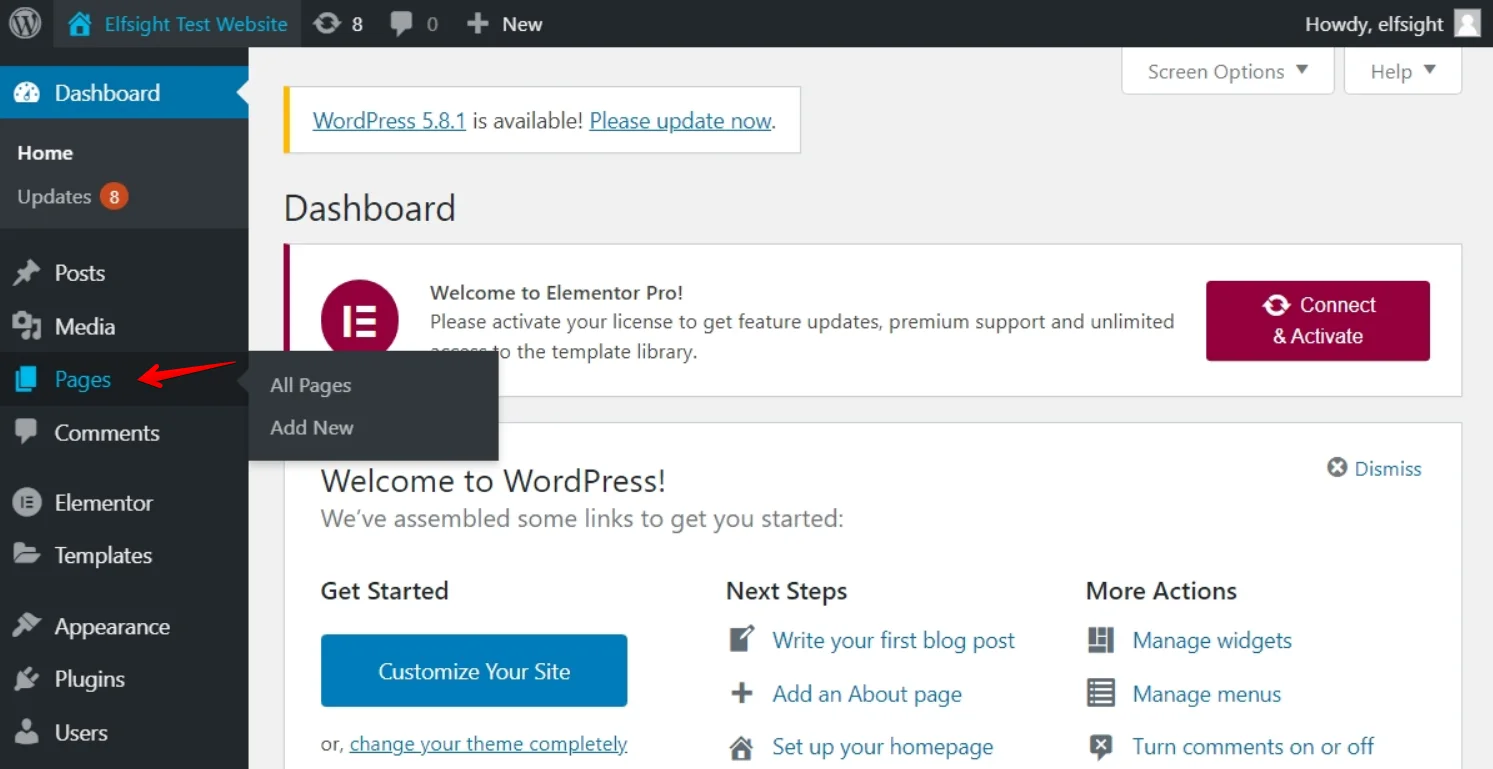 2. Hover the place where you'd like your feed with social content to be shown and click on the Plus icon: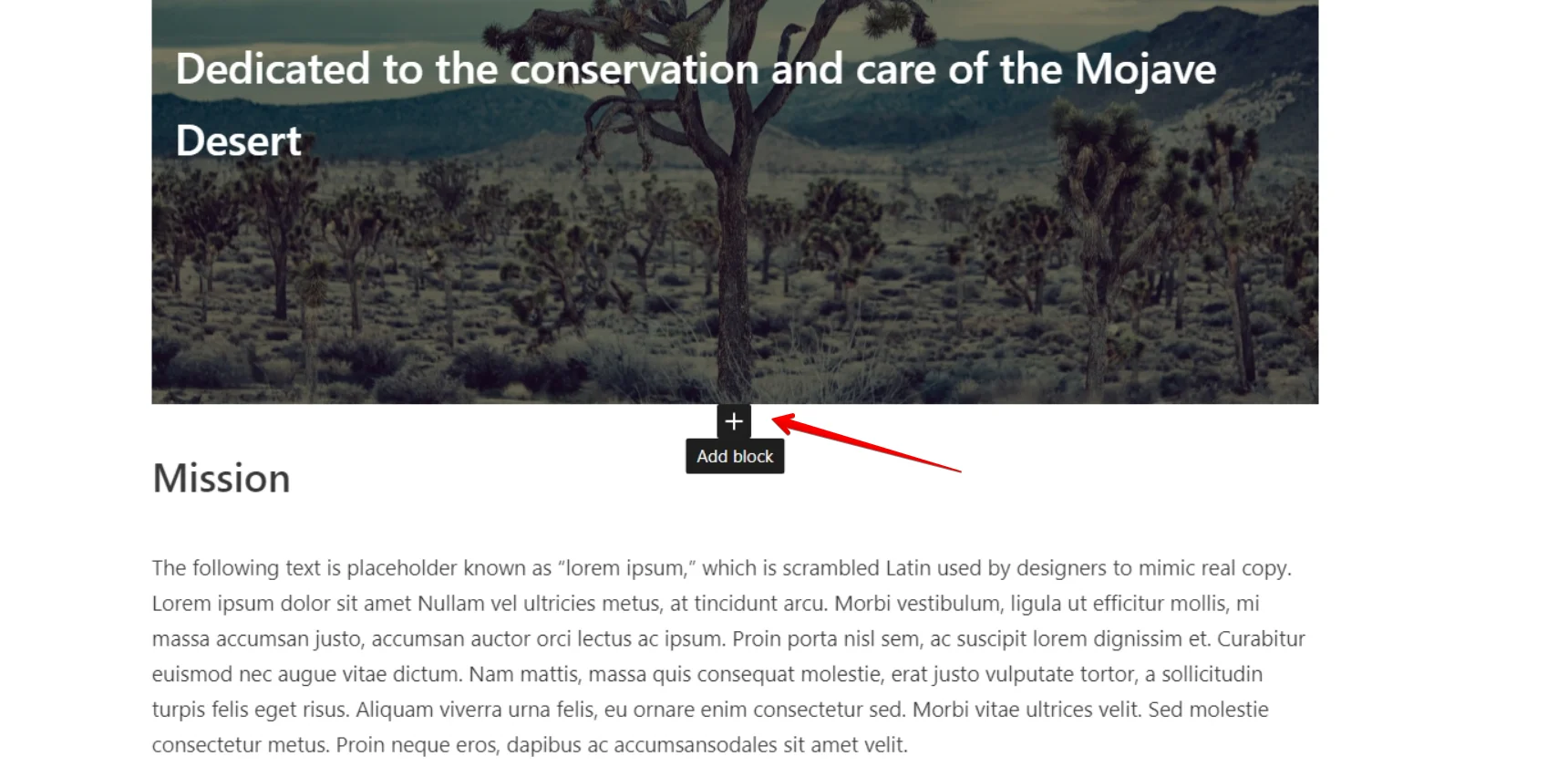 3. Select the Custom HTML in Formatting section and click it: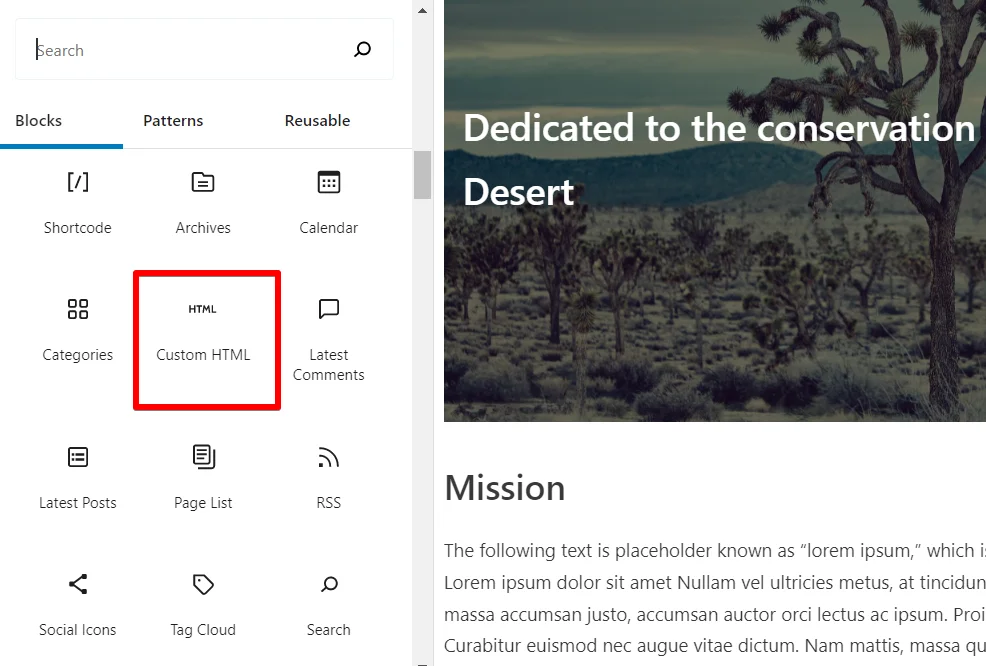 4. Put the Instagram feed's installation code in the window that comes up and click the Update button to save all the changes: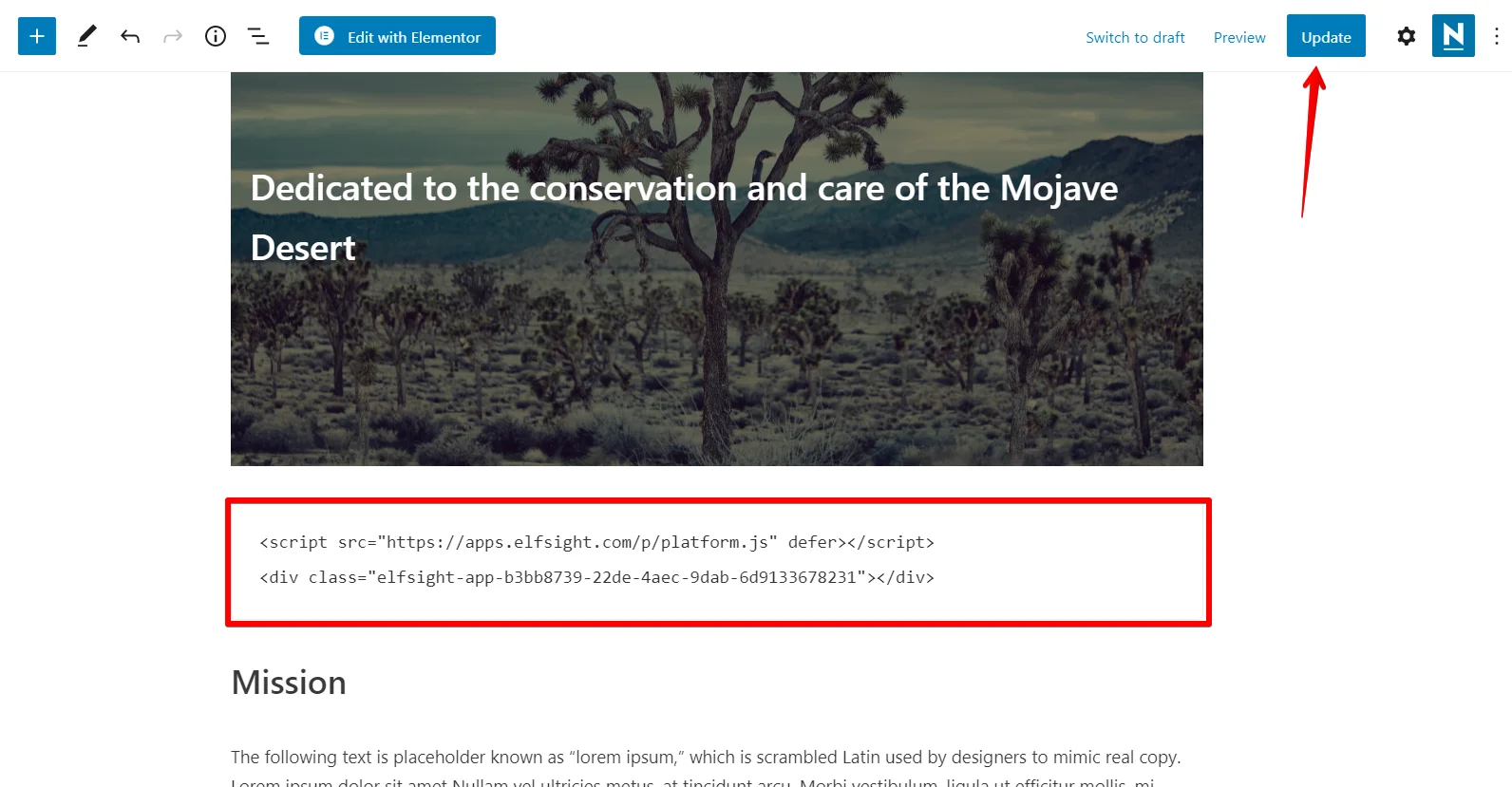 Now you've embedded the Instagram feed to some particular page of your WordPress website. But sometimes there might be a need to add the feed to all pages of your WordPress website, for instance, if you need your audience to have access to it any time they want. Also, keep in mind that due to nuances of several WordPress themes, there might be slightly different ways of embedding floating and popup Instagram plugins to all pages of your website. Below you'll see three ways of doing it.
Add Instagram Feed to WordPress through theme editor
This is the most universal way of embedding Instagram feed to your WordPress website. Just follow these steps:
Log in to your WordPress website admin panel. Find the Appearance tab in the left-hand menu and then select Theme Editor.
Discover the footer.php file in the right-hand menu of Theme Files, paste the code before the closing tag and then click the Update File button.
Done! This is how you can embed Instagram plugin to all pages of your WordPress website. And there are other ways too, let's look at them.
Embed Instagram feed plugin through widgets option
In order to apply this way of adding the social feed on your WordPress website, follow the steps below:
Log in to your WordPress website's backend. Go to the Appearance tab in the left-hand menu and clcik Widgets.
Find Custom HTML in the Available Widgets list, choose one of the Footers in the dropdown menu, for example, Footer One and then click the Add Widget button.
Embed your Instagram plugin's installation code to the Content field and click Save button.
That's it! But don't forget about the third way of embedding the Instagram feed to your WordPress website. Let's see how you can do that.
Add your Instagram Feed with the help of Customize option
Simply follow these steps to add the Instagram feed plugin with the help of Customize option:
Log in to your WordPress website's backend. Open the Appearance tab in the left-hand menu and click the Customize option.
Find and select the Widgets option in the left-hand menu.
Click the Add a Widget option at the bottom of the menu and select Custom HTML in the menu that appears.
Put your installation code to the Content field. Click the Publish button to perform all the changes.
That's it, now you're aware of how to diversify the functionality of your WordPress website with an Instagram feed plugin, adding it to each or one page of your website.
How to embed Instagram feed to WordPress Gutenberg
In this brief tutorial, we're going to explain how to embed your Instagram feed on WordPress Gutenberg.
Opent your Gutenberg editor, click the Add button in the upper-right corner.
Start typing "short" in the search bar and choose Shortcode from the suggested variants.
In the Shortcode block right-click and select Paste option.
Click Publish in the upper right corner and click Publish once more.
Choose View Page in order to see how your Instagram feed plugin looks on your website page.
Your Instagram feed is successfully embedded to your WordPress site and will now be demonstrated.
That's it! You have successfully added your Instagram Feed to WordPress Gutenberg.
How to add instagram to WordPress through Elementor
Tip: This guide also works for WooCommerce and WPBakery, so if you need to embed your Instagram Feed there, feel free to use it.
Many WordPress users prefer to use some visual editor like Elementor to add instagram to websites instead of standard WordPress editor, as there's no need to mess with HTML in those. Elementor enhances the opportunities of standard WordPress and facilitates the performance of adjustments to websites. Below you'll see a video describing all the steps you need to follow in order to add Instagram Feed to WordPress website through the Elementor editor.
Find the page you need in your WordPress admin panel.
Select Edit with Elementor option or with the help of the list of pages or in the WordPress page editor.
Drag and drop the HTML element to the required page.
Embed the installation code of your social feed to the HTML Code field in the left-hand menu.
Select Update option in order to save the changes in both Elementor and WordPress.
With the help of this guide, you can add Instagram Feed to the HTML code of any WordPress website built through the use of Elementor.
Features of the Elfsight Instagram Feed widget
The process of embedding Instagram Feed in WordPress website's HTML by means of the Elfsight plugin is straightforward and instant. You also get full control over how the feed will look on your WordPress website. And below we've listed all the meaningful functional traits of the Instagram feed plugin:
Sources

Add the name of any popular profile or hashtag
Demonstrate a feed from your business account
Use the feed from your personal Instagram account

Filters

Wipe out undesired posts by hashtags
Hide posts from some specific authors
Weed out posts by specific URLs
Show some particular number of posts

Layout

Grid and Slider are among the most familiar layouts
Tile and Classic are there at your disposal as well
Change the number of columns and rows
Add or hide a Follow button
Switchable post elements: Likes Count, Comments, Text, Date, Location, and more.
Customize slider controls

Colors

12 readymade color schemes
Personalizable post colors: overlay background and text
Personalizable colors of a slider elements: arrows and arrow background

Other settings

Lots of languages available for you to speak the language of your audience
Customizable and switchable widget title
About Elfsight Instagram Feed customization
Now as you know how to work with the Elfsight Instagram feed plugin for WordPress and how to embed it to your website, you may start to wonder how this tool might look on your site. And we can definitely show you how as there are tons of professionally made templates for your Instagram feed that you are free to use if you want the plugin to look stunning. Watch and get inspired.
You can demonstrate posts from Instagram via several scrollable lines. It looks minimalistic and classy, and definitely blends with the overall website design. There's an option to alter the number of columns, so your Slider will demonstrate your Instagram content at its best.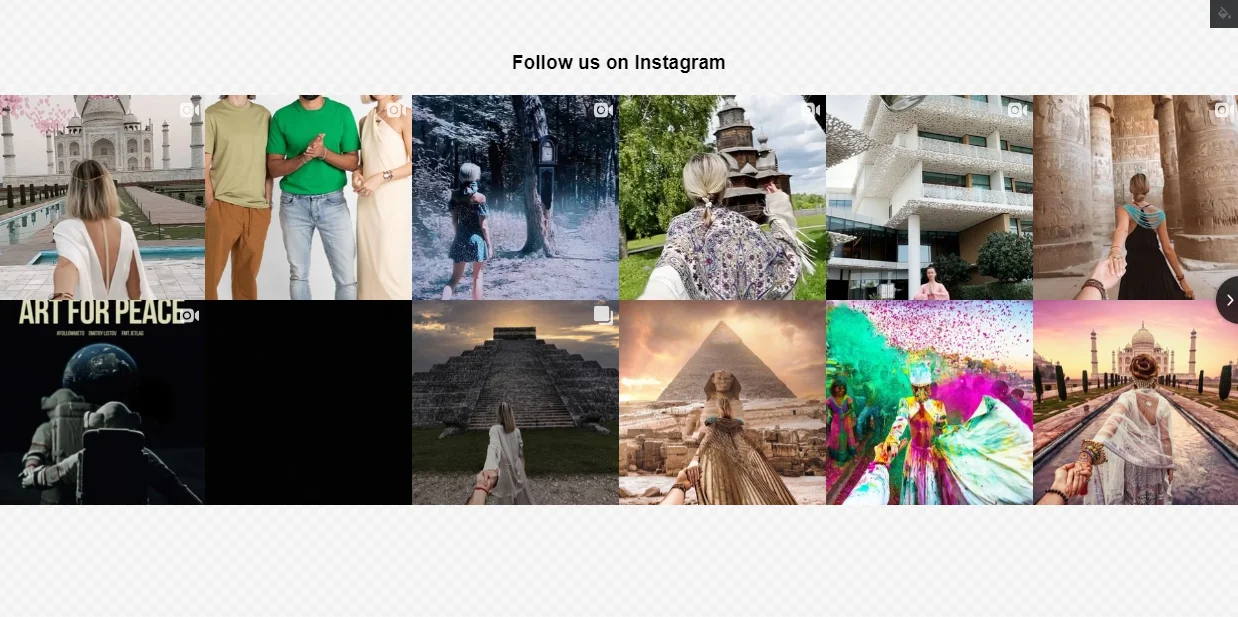 Display your Instagram posts using the Carousel layout. This interactive element can uplevel engagement on your WordPress website and increase the time spent on it. People will look through your Instagram posts with an increasing interest and enthusiasm.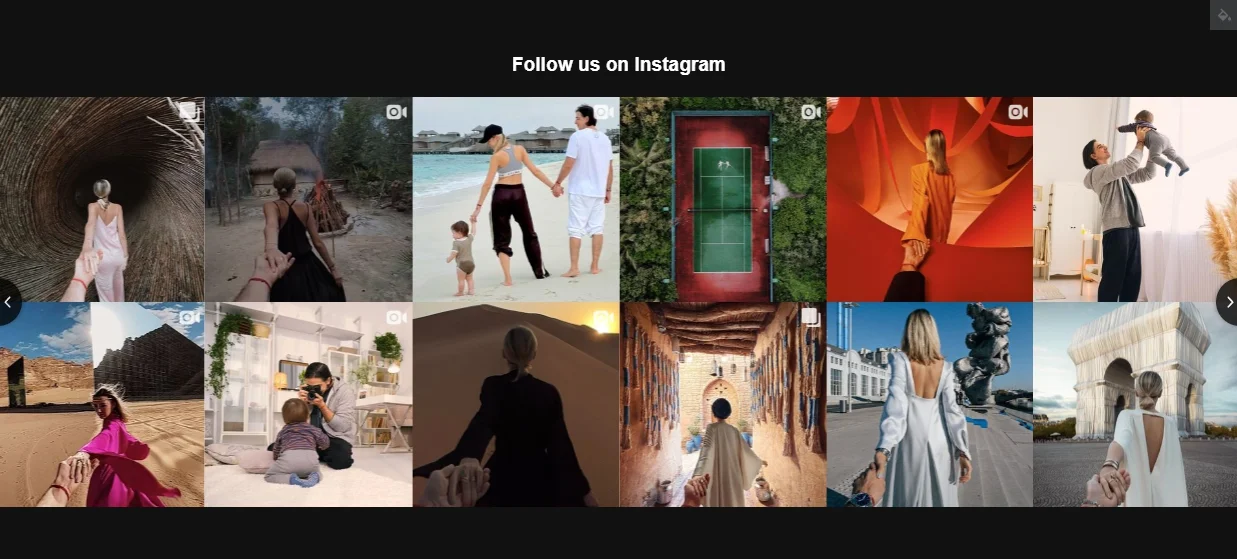 You can showcase a single Instagram post on your website, for instance, to illustrate some quote or sentence. This template is perfect for users who look for ways to draw most of the website visitors' attention to some unique post providing maximum information on a particular topic.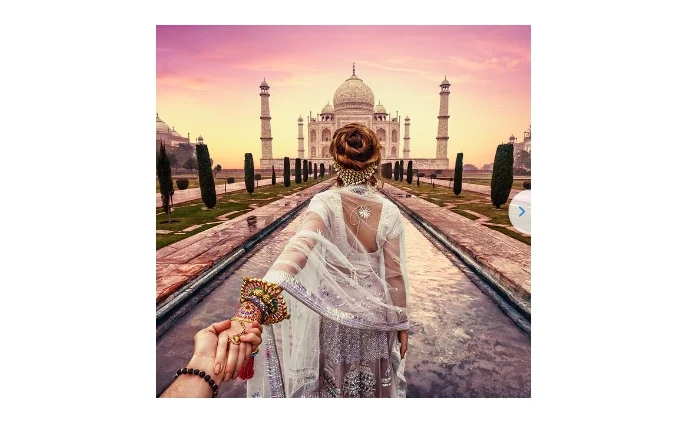 In case there's a need to display Instagram in the sidebar of your WordPress website, you can easily do it. Feel free to place the social feed plugin anywhere you wish, not only in the content area. Instagram Feed can turn into an integral part of your floating menu, simply select a small and elegant template for it.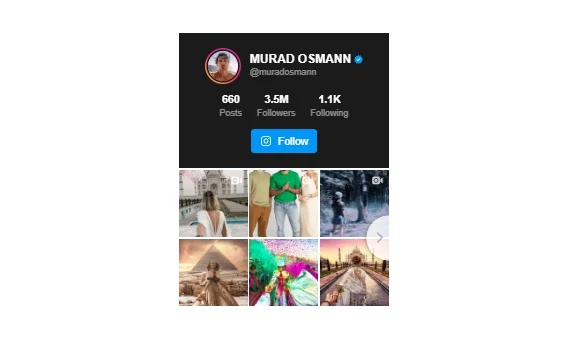 This stylish template is only a click of a mouse away from you. Photos and videos from Instagram here take a limited space, looking neat and minimalistic. A bright Load more option can easily make people spend more time on your website's page. All you have to do here is to share some fresh content on your Instagram profile, and it will automatically appear on your website in the form of an attractive grid.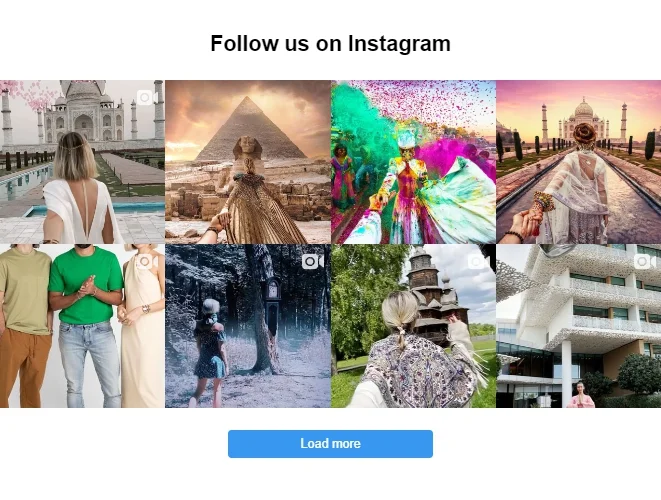 This Instagram plugin variant concentrates mostly on the profile description. To emphasize the uniqueness of some Instagram account, you can freely add such elements as the profile image, the name of the account, the number of posts, the number of followers and follows, and the Follow button.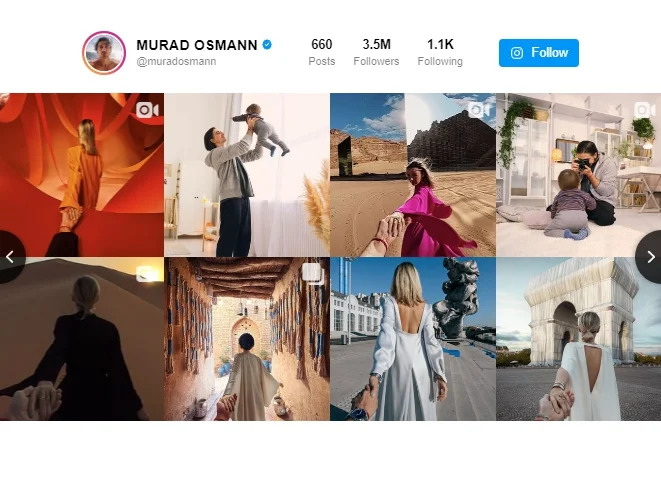 Instagram Feed by Elfsight is there to allow anyone to embed posts by a hashtag from all public accounts of the social media. You can simply add the name of a needed hashtag, and then filter the results by hiding posts by undesirable authors, and enjoy your amazing hashtag feed.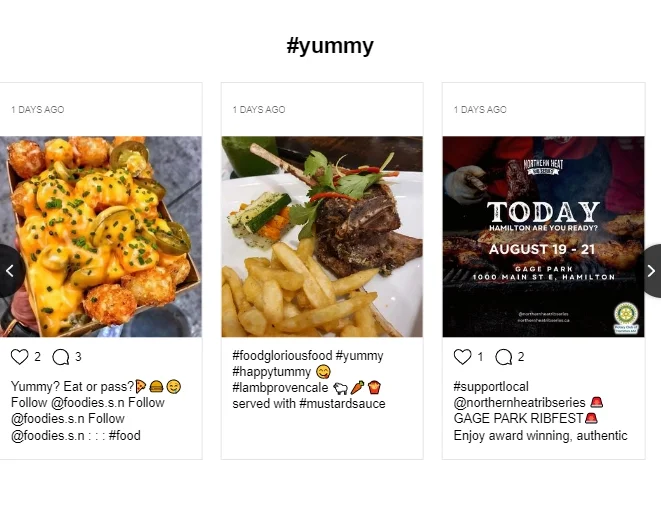 You can not only embed your Instagram feed to the content area, but also to the footer of your website. You are only limited by your imagination in terms of adding your widget to your WordPress website. Simply select a small and discreet design for your future Instagram feed and embed its installation code in the footer of your website.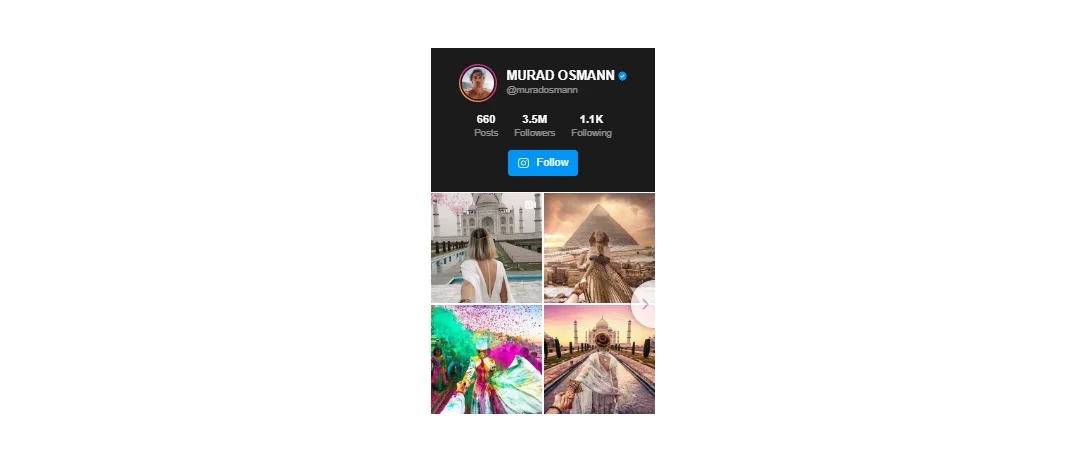 Why Instagram is important for your business: 14 reasons
Today, Instagram is not only a full-fledged trading platform, but also it offers a lot of opportunities for business development. Almost every online and offline business has long been using Instagram to increase their sales so far. Everything from clothing to makeup and more is sold there. Some creative artists and entrepreneurs will easily find their audience here. The popularity of this social media is growing every day, which makes it more and more attractive to promote your business.
An Instagram account can become an independent store. You can solve all the main business tasks here: advertise your product, publish engaging content, communicate with customers.
Instagram is a universal business assistant that helps to solve many problems. But which ones exactly? Let's find out below.
1. Increase brand awareness
Instagram helps increase your product awareness and improve your company's reputation. Recognition is affected by the number of followers in your account, as well as the frequency of mentions of your brand on Instagram through @ and through hashtags.
Average Instagram engagement rate will differ depending on the industry your brand belongs to. For Shopping and retail the engagement will be lower than that of some public figures.
2. Declare yourself as an expert
Maintaining your Instagram account allows you to reveal your expertise in your area of work. Bring useful information about a product or service to your audience, answer questions, consult, show the production process, demonstrate your experience. Let them see you as an expert – this increases the credibility of your personal brand on Instagram and not only there.
3. Collect data
Thanks to tools for interacting with the audience on Instagram, you can collect useful information. Draw conclusions about your work, find out the opinion of consumers about your product and their preferences. Statistics on Instagram allows you to analyze your audience – this information is useful for creating offers and advertising. In addition, on Instagram, you can collect information about competitors.
57% of people like seeing polls and quizzes from brands on Instagram. This may be of use for you as a brand owner.
4. Increase sales
With the help of Instagram, you can convey your USP, inform about promotions and discounts, introduce the audience to some new product and talk about the benefits you can provide your Instagram audience with. To do this, social media offers different formats: beautiful photos that showcase the product in all its glory, attention-grabbing videos and engaging texts. All this together works to warm up the audience and increase sales.
Instagram helps to generate leads, requests and orders. Perhaps this is the most tempting opportunity that social media offers to business. But you need to use it correctly. Still, Instagram remains, first of all, a platform for communication, and not for sales. So conversions here can have a delayed effect.
5. Engage your audience
Instagram allows businesses to constantly work with their customers. After all, working with a database is much cheaper than attracting new potential customers. Through this interaction, the brand on Instagram and the consumer come together. On Instagram, it is convenient to launch sales funnels. A funnel is the path a customer takes from meeting you to making a sale. Impulsive first-touch purchases on Instagram still occur, but more often the consumer needs time to make a decision. And engaging the audience through Instagram just allows you to accompany the client on the way to purchase.
44% of people use Instagram to shop weekly, using features like shopping tags and the Shop tab.
6. Showcase live
Instagram provides the opportunity to conduct live broadcasts. This can be extremely useful for educational projects, travel agents and many other companies that are ready to invite the client to the behind the scenes of the business. While on the air in your Instagram account, you can hold some activities, communicate with the audience, answer questions or give free consultations.
7. Connect with partners
The essence of social media, and Instagram as well is the search for new acquaintances and communication. A business can search on Instagram not only for potential customers, but also for partners and like-minded people. You can expand your network of contacts, offer cooperation with another brand or blogger.
8. Attract new users
You can use all the ways Instagram offers you to make the user easily find your account on Instagram: thematic hashtags, geolocation tags, keywords and so much more to make people easily find you.
The average Instagram business account grows its followers by 1.69% each month!
9. Show your brand to be human
Instagram allows you to make connections with customers more personal. An impersonal brand does not inspire confidence. But the association of business with specific people increases consumer loyalty. Therefore, fill the Instagram feed with the events of everyday work, introduce you to employees, get closer – and customers will be drawn to you.
10. Stay trendy
Instagram allows you to quickly share information. For example, use a newsbreak, respond to what is happening in your industry right now. Publish materials for a specific holiday or high-profile event that affects your audience. Use trends for promotions, contests, sales on Instagram. If you follow the trends, you will be able to attract new customers, keep the interest of the existing audience, and also show your active position in business and life.
81% of Instagrammers use the platform for researching new products and services.
11. Upgrade your SEO
Social media is the most powerful traffic aggregator in search. Instagram accounts appear on the first pages of search engines. That's why you shouldn't forget to post Instagram content on a regular basis if you want your content to appear at the top.
12. Use word of mouth
For any business, on Instagram as well, word of mouth is a powerful promotional tool. Of course, if the feedback from people is positive. In order for people to talk about you on Instagram, you need to have a good reason. It can be useful, creative or entertaining content that will be shared; flash mob, feedback contest, drawing of your product for repost, etc. Lots of options. And they all work great if you find the right approach to your target audience.
13. Advertise your products
Instagram offers various tools for promotion. In addition to word of mouth, it can be targeting, collaborations, native and direct advertising with influencers. You can read about the nuances of promoting a business on Instagram here.
14. Manage reputation
We have already mentioned how important customer trust is for business. Instagram allows you to win over potential buyers, you just need to build a competent positioning strategy. There are quite a few factors that form this very trust, for example: brand personality, expertise, demonstration of the work process, live communication, broadcasting of the brand philosophy, company image, social proof, etc.
All this adds up to a business reputation – a resource that allows you not only to stimulate sales, but even raise prices for your products. Customers are willing to pay more if they trust the brand.
Troubleshooting
During the process of embedding the Instagram feed on your WordPress website, you will probably face some questions. Therefore, we decided to mention some of them in this section and find the best answers to them so that you won't need to look for those on some third-party websites.
Are there any other ways to embed Instagram to my WordPress website?
Sure! You can use the native way of embedding Instagram posts to your WordPress site. To embed Instagram content, make sure that your account is public. The Embeds setting must also be on. If you want to embed a public Instagram profile or content from a public Instagram account into your website's HTML, you can only copy the embed code from Instagram.
Here are the steps you need to follow in order to embed Instagram content to your WordPress website:
Select the Instagram content you'd like to embed to your WordPress website, and click more actions (three dots) in the top right corner.
Choose the Embed option, then click Copy Embed Code. If you don't see the Embed option, this post or account may be private or they might also turn off the Embeds feature for this post or account.
The code of an Instagram post or feed will be copied to your clipboard and you can then freely embed this Instagram content to your website's HTML editor.
Any public Instagram account can turn off their Embeds feature, closing the option to embed Instagram content to some third-party website's HTML. But remember that if some of your Instagram content has already been added to some website, it may take some time for the link to be removed after you've turned this feature off.
Are there anyways to embed Instagram to my WordPress website on mobile?
Sure thing, you can use the official Instagram way. Just follow the steps below:
Tap three dots in the top right corner from the post or timeline you'd like to copy.
Tap Embed option, and then – Copy Embed Code. Just like on the desktop version, if you don't see the Embed option, it could mean that this content belongs to a private account.
The code will be copied to your clipboard. You can freely add it to your website's HTML editor.
That's it! You have successfully embedded the Instagram feed to your WordPress website's HTML.
Conclusion
Instagram helps to develop a business and provides it with a huge number of tools for this. The main thing is to find the right application for them and adapt them to your theme. There is no universal formula – every business requires an individual approach for Instagram, even in the matter of maintaining social networks. So don't be afraid to try and experiment. Then you will definitely find your formula for success.