What is a SaaS White Label reseller program?
White label reselling is a B2B business model involving providers who develop the product and resellers who take care of rebranding and sales. Digital products can be bought, brand and sold online in a few clicks, that's why SaaS reseller programs have gained so much popularity recently. They can provide you with:
essential services to create an online presence for any business
appealing subscription model (constant cash inflow)
high-quality technical support and further app updates
That means SaaS white label program is a right thing to start if you're searching for the option to offer more services for your clients or expand your product line, without spending time on the development.

SaaS white label product examples: web design/development tools, website builders, SEO tools, social media moderation/monitoring, e-commerce plugins, payment gateways and many more.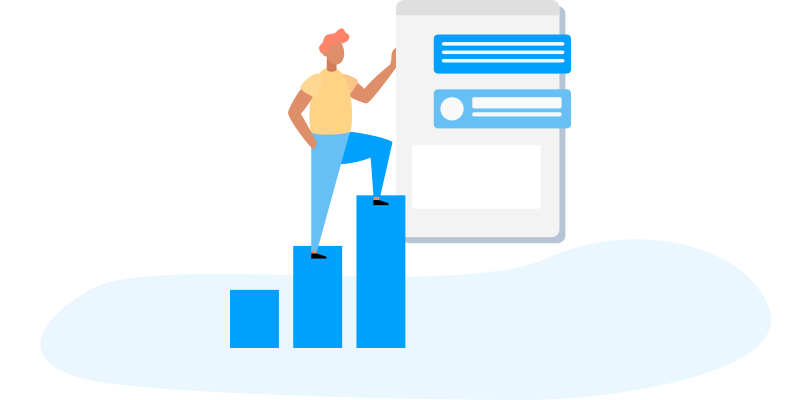 Benefits of SaaS White Label Program
Let's go over few main benefits of the white label l reseller partnership compared to developing a new product:
Create brand trust
SaaS white-label software of high quality can help you build your brand name, make your business credible and reliable.
Improve product diversity
Increase the number of your tools at a time without searching for new developers and designers for your team.
Better customer service
Rather than spending time on the development of new services, just offer the same solutions via white-label tools. Improve the quality of your support and services the easiest way.
Proven by experts
Smart entrepreneurs earn by tapping into other's expertise. Typically, white-label solutions have already been tried and tested by software experts and real customers.
Cost-saving tool
Save up on development and upscale your business in the direction you really need at the moment.
Your personal SaaS Reseller model
Feel free to create your brand just from scratch – provide assistance with setup or become an all-in-one platform for your customers.
Pricing is up to you
Set the pricing that will cover your costs and bring your revenue. Don't hesitate to set up additional fees for your professional assistance and the extra services you provide.
If there's a talented team who can create a product better than you, it is worth trying to become just a reseller to scale your own business and improve other development projects.
Best White Label Program: How to choose?
Don't hesitate to make research and contact as many SaaS white-label programs as you find interesting for you as a reseller. Regarding the business model, there are three types of agreement usually made between a provider and a reseller. Let's compare all their pros and cons at the table below:
SaaS White Label agreement types
Features
One-time model
Subscription
model
Commission
model
Costs
One-time fee + integration costs
Monthly/annual fees
Free
Your own price
+
+
% from sales

Technical Support
–
+
+
Promo materials
Guideline or help docs
+
+
These are the general types of the white label agreement. So you see, that the one-time purchase will beneficial if the fee is not high and the product is really worth selling. The subscription model is handier, as you have all the benefits of SaaS white label platform: setting up your brand and your price, freshest updates and unlimited support for you as a partner. Or there's an absolutely free but less profitable commission model – there you can re-brand the software, sell it and get only % share of the revenue. All it's up to you – so choose the best match according to your business tasks and goals.
Top 5 questions to choose White Label program
The business model is not the last thing you need to consider before the partnership contact sign-up. Go over these simple questions to make this white label partnership as much success as it can be.
Q#1 What SaaS products does my target audience need?
What is in high demand for your customers? Choose the services you can sell as ongoing offers or those that attract more audience attention.

➡ Tip: Take a survey/poll to explore the services or integration your clients really need.
Q#2 Is this product/service worth selling?
Don't forget that you're the first responsible for the quality of the final product and customer support. And if things don't go well, you'll lose your credibility and spend much time on the bug fixes.

➡ Tip: Read the clients' reviews or try free-trials yourself. Learn about how user-friendly and secure the product is before you start selling it.
Q#3 How easy to communicate with the provider?
Choose the white label company with similar goals and visions. Don't underestimate how personalized support is important especially during the onboarding/integration stage.

➡ Tip: Explore how well-organized and responsive their in-house team is.
Q#4 What customer service and support?
The experienced white-label program always provides thorough training courses and guideline resources for your easy and successful start.

➡ Tip: Ask for the guideline and set the future training session before you sign the contract.
Q#5 How accurate is their performance and tracking system?
It's essential to have full performance reporting to check if this SaaS white label program is valuable for your business.

➡ Tip: Choose SaaS white label platforms with tracking and reporting.

The more details you get, the easier it will be to integrate and start reselling the white-label program. Spend some time on research to choose the most cost-effective way and upscale your business using external resources.
How to become a White Label reseller?
This is a brief checklist of action you'll take to set your white-label account after you chose the SaaS product to sell:

✓ Set up your reseller account
Usually, there's an onboarding process, within which you integrate your services and set up your personal dashboard.
✓ Re-brand, re-price, re-sell
Brand your white-label product, create a valid price and marketing strategy and start selling.
✓ Create and configure the clients' accounts
Offer customers exceptional service and products all under your brand name.
Conclusion
We hope you'll get all the reasons that SaaS white label is a great way to invest in experienced web development and spend all saved resources on expanding your business and increasing your brand awareness.

However, if the white-label partnership seems to be complicated, as it still demands an experienced business approach, extra time and your internal resources, try out the reseller partner program instead.