WordPress Text Popup template
Harness the Text Popup template on your WordPress website to make an impactful statement. Whether you want to announce a discount, highlight a new item, or gather contact information, the easy-to-use interface allows you to design and customize your widget to match your preferences. Improve conversions and interaction with ease!
100% WordPress compatible
Features
12 Customizable Content Elements
Email Notifications via Form Fill-Out
5000+ Integrations
Modal, Slide-in, Pane Layout Styles
Sticky Popup Opening Button
Frequency Popup Display Settings
Exclude or Specify Pages for Displaying
Auto-Opening Trigger after Time Spent
Scroll Trigger On-Element or On-Click
Exit Intent Technology
Set Up Popup for Multiple Mobile Devices
CTA Button
Coupon Code & Redirect Link Creation
HTML & iFrame Fields
Image & Video Upload
Optimized for All Mobile Devices
Page-Speed Friendly Lazy Loading
Free-Coding Editor
Translation to Any Language
Custom CSS & JS Editors
Template Catalog
Need a Different Template?
Check out more ready-made templates for any use case or build your own!
Create a maximum customer engagement with push notifications using this popup widget.
Add a popup widget that takes advantage of the entire screen space to make a strong impression and drive conversions.
Add a professional touch to your website and communicate any terms with this popup template.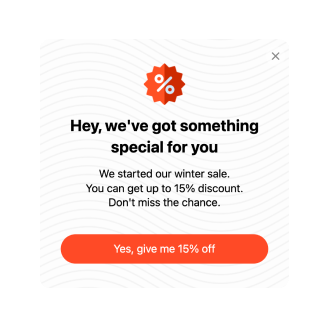 Create mutual trust within your website community and stay connected using this popup widget.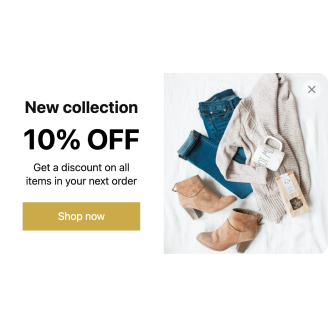 Add a popup widget to promote your special offers, discounts, or announcements with an eye-catching banner.
Create buzz around new product launches with this popup template for websites.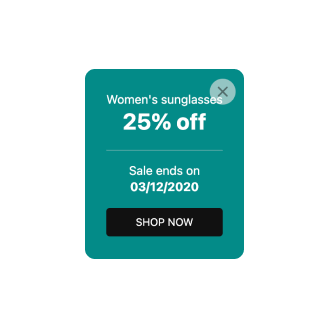 Help your visitors stay up to date with your future events by means of Elfsight Popup.
Create a popup widget to captivate website visitors with an engaging and interactive animation experience.
No Suitable Template?
You can easily assemble the widget you need using our simple-to-use configurator.
Here's what people say about Elfsight Popup widget
I've been actively utilizing the Popup widget for a few weeks now, and I cannot emphasize enough how phenomenal it has been. With Elfsight, I can seamlessly install on client websites to fulfill the required operations, even without the need for programming knowledge.
The user-friendly experience in developing personalized widgets has been a tremendous time-saver as I no longer need to manually write code for specific components on my WordPress website. Initially, I anticipated the product to work without any issues. However, the exceptional service and support I received caught me off guard. I highly recommend it!
The Text Popup has been successfully added to my website with no issues to report. I'm genuinely amazed with the customer support team too. They've been so supportive, promptly addressing all my questions within a matter of hours.
FAQ
How to create the Text Popup template for the WordPress website?
If you wish to make the Text Popup for your WordPress website, perform the following steps:
Choose the Text Popup template.
Customize the elements and features to satisfy your brand vision.
Sign in to your Elfsight account.
Receive the installation code.
How to add the Text Popup template to the WordPress website?
To embed the Text Popup on your WordPress website, take the following steps:
Customize the appearance of the Popup widget to complement the design style of your website.
Log in to your Elfsight admin panel or create a free profile.
Obtain the unique installation code.
Go to your website.
Put the code into your website editor. Voila!
To get more information, we suggest checking out our article on how to embed Popup on a website.
Do I need to have coding or programming skills to embed the Text Popup?
No. Coding skills are unnecessary. You can build and add the Text Popup to your website without any specialized background or prior experience.
Can I set up the popup to open automatically?
Absolutely, you can. In the building mode, opt for a trigger to display the Text Popup template at the appropriate time on your WordPress website. You can try multiple alternatives: on-page load, within a specific time spent on a page, on scroll, on scroll to element, on click, and on exit intent.
Can I use the Text Popup template for free?
Yes, certainly. There is no hurry to jump straight into the paid alternatives right away. Elfsight follows a tiered subscription model that includes Free, Basic, Pro, Premium, and Enterprise plans. Take your own pace and discover all the functionalities without restrictions using our Free tier. Remember, you always have an opportunity to upgrade and unlock extra perks!
Can I add a call-to-action button to the Popup widget?
Yes, you totally can! Just follow these steps:
Open the Popup editor.
Locate the "Blocks" section.
Add the "Button" element.
Arrange a call-to-action message, click functionality, and visual display.
What email integrations or tools does the WordPress widget support?
One of the key features of this WordPress widget is its ability to seamlessly link with third-party applications, including Mailchimp, Zapier, and Google Sheets. You can proactively make sure that no gathered data slips away.
Where can I add the Text Popup on my WordPress ?
The decision is in your hands. There are no set guidelines to adhere to. Just make sure that it is logical and strategically positioned in a high-traffic area, such as the main page or product page.
How to customize the Text Popup?
Limitless creative possibilities-personalize the look and feel of the whole widget to reflect your brand norms and drive conversions quickly:
Popup specifics
You can stack elements and create an array of limitless content blocks: header, text, CTA button, link, coupon, form, image, and video. Moreover, for an improved visual appeal, you can incorporate gaps, separators, and custom HTML and iFrame fields.
Display settings
Elfsight offers three choices: frequency, pages, and devices. Outline all the necessary criteria to maintain the desired level.
Custom elements and features
Moreover, there are endless possibilities to unlock: triggers, custom CSS, custom JS, redirect link, layouts, close buttons, background visuals, alignments, and so on.
For more clarification, contact our Customer Support Team to resolve any concerns and exclude confusion in the future!
Help with Text Popup Setup and Website Installation
If you are looking for additional information regarding the widget templates or assistance, check out the following resources:
Support
If there are any unresolved issues, we recommend you to contact the Elfsight Support Team or find relevant topics in the Help Center.
Forum
Gain additional backing from like-minded business owners by engaging in ongoing initiatives in our exclusive community.
Wishlist
Propose new and exciting ideas, features, and widgets by using the Wishlist.