WordPress Mailchimp Popup template
Supercharge your email marketing strategy with our Mailchimp Popup template for WordPress websites. Harness the power of rapid email list growth by linking your Mailchimp account with the widget. Engage your audience, improve customer retention, and boost conversions with this customizable and easy-to-use tool.
100% WordPress compatible
Features
12 Custom Content Elements
Email Notifications via Form Fill-Out
5000+ Integrations
Customizable Modal, Slide-in, Pane Layouts
Engaging Popup Opening Button
Adjustable Frequency Display Setting
Exclude or Specify Pages for Displaying
Auto-Opening Trigger after Time Spent
Scroll Trigger On-Element or On-Click
Exit Intent Technology
Set Up Popup for Multiple Mobile Devices
Call-to-Action Button
Coupon & Redirect Link Creation
HTML & iFrame Fields
Image & Video Upload
Mobile Optimized
Page-Speed Friendly Lazy Loading
Tech-Free Customization
Translation to Any Language
Custom CSS & JS Editors
Template Catalog
Need a Different Template?
Check out more ready-made templates for any use case or build your own!
Adding a popup widget is the best way to grow your email list and capture potential leads.
Create a popup widget and take your email marketing strategy to the next level.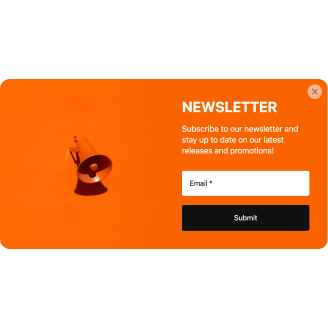 Adding a popup widget to your website can help you see the newsletter subscriber count soar for sure.
Add a popup widget to the website and collect valuable email leads with just a few clicks.
Create the best way to expand the mailing list and encourage website users to follow each step of your brand with this template.
Create a popup widget to maximize your email marketing efforts and grow newsletter subscriber numbers in no time.
Create a popup widget to boost your email list for Brevo and encourage visitors to take action.
No Suitable Template?
You can easily assemble the widget you need using our simple-to-use configurator.
Here's what people say about Elfsight Popup widget
I've been employing the Popup widget for a couple of weeks now, and I cannot emphasize enough how phenomenal it has been. With Elfsight, I can easily install on client websites to cover the necessary operations, even without any coding knowledge.
The user-friendly interface for developing personalized widgets has been a tremendous time-saver that would have otherwise been spent programming various elements on my WordPress website. I had great expectations for the product's flawless performance. But the exceptional level of service and support I received surpassed everything. I highly recommend it!
The Mailchimp Popup has been successfully embedded on my website without any hiccups. I must say, the customer support has left me highly satisfied. They've been incredibly supportive, promptly addressing all my questions within a short span of time.
FAQ
How to create the Mailchimp Popup template for the WordPress website?
If you want to make the Mailchimp Popup for your WordPress website, take the following steps:
Access the Mailchimp Popup template.
Modify the elements and features to match your branding.
Verify your Elfsight admin panel.
Obtain the installation code.
How to add the Mailchimp Popup template to the WordPress website?
To add the Mailchimp Popup to your WordPress website, follow the steps below:
Customize the appearance of the Popup widget to reflect the design choice of your website.
Sign in to your Elfsight dashboard or create a free account.
Obtain the unique embedding code.
Access your website.
Paste the code into your website builder. You're all done!
For more information, we recommend checking out our post on how to embed Popup on a website.
Do I need to have coding or programming skills to embed the Mailchimp Popup?
Not at all. You are not required to possess any coding skills. You can create and embed the Mailchimp Popup on your website, regardless of your familiarity or experience in coding.
Can I set up the popup to open automatically?
Yes, indeed. In the building mode, pick a trigger that will ensure the Mailchimp Popup template displays at the precise moment on your WordPress website. Here are the alternatives you have: on-page load, within a specific time spent on a page, on scroll, on scroll to element, on click, and on exit intent.
Can I use the Mailchimp Popup template for free?
Yes, indeed. There is no need to rush into the paid alternatives right away. Elfsight uses a tiered subscription model that offers Free, Basic, Pro, Premium, and Enterprise plans. Take your own pace and enjoy exploring all the functionalities without restrictions with our Free tier. Remember, you can always upgrade and gain access to extra benefits!
Can I add a call-to-action button to the Popup widget?
You can definitely do this! Simply follow these steps:
Access the Popup live demo.
Find the "Blocks" tab.
Add the "Button" content block.
Define a call-to-action message, click action, and appearance.
What email integrations or tools does the WordPress widget support?
The key feature of this WordPress widget is its synchronization capability with third-party applications: Mailchimp, Zapier, and Google Sheets. You can actively make sure and be confident that no collected data slips away.
Where can I add the Mailchimp Popup on my WordPress ?
The ball is in your court. There are no set criteria to meet. Nevertheless, make sure that it makes sense and is strategically placed in the highest traffic zone, such as the main page or product page.
How to customize the Mailchimp Popup?
The sky's the limit-customize the look and feel of the whole widget to reflect your brand values and accelerate conversions effortlessly:
Popup specifics
You can layer elements and create a versatile structure of content blocks: title, text, CTA button, redirect link, coupon, form, image, and video. Plus, to enhance visual aesthetics, you can include spacing, separators, and custom HTML and iFrame fields.
Display settings
Elfsight presents three choices: frequency, pages, and devices. Clearly outline all the criteria to ensure optimal performance.
Custom elements and features
And there's more to unlock: triggers, custom CSS, custom JS, redirect link, layouts, close buttons, background visuals, alignments, and so on.
To exclude misunderstandings and problems, reach out to our Customer Support Team to resolve any queries!
Help with Mailchimp Popup Setup and Website Installation
For more info regarding the widget templates or assistance, we suggest looking into the following options:
Support
For any unresolved issues, we recommend you to get in touch with the Elfsight Support Team or explore relevant topics in the Help Center.
Forum
Seek extra guidance from business people like you and join ongoing initiatives within our exclusive community.
Wishlist
Share your fresh concepts, functionalities, and widgets by using the Wishlist.