WordPress Disclaimer Popup template
Ensure legal compliance and protect your WordPress website with the Disclaimer Popup template. Display noteworthy information, terms, and conditions for users to agree to without breaking the rules. Customize the design to match your theme, and have peace of mind knowing that your legal requirements are met correctly.
100% WordPress compatible
Features
12 Custom Field Elements
Email Notifications via Form Submission
5000+ Data Export Integrations
Modal, Slide-in, Pane Layout Styles
Sticky Popup Opening Button
Adjustable Frequency Display Setting
Exclude or Specify Pages for Displaying
Timed-Display Trigger
Scroll Trigger On-Element or On-Click
Exit Intent Trigger
Set Up Popup for Multiple Mobile Devices
Call-to-Action Button
Coupon & Redirect Link Creation
HTML & iFrame Fields
Image & Video Upload
Mobile Optimized
Page-Speed Friendly Lazy Loading
Free-Coding Editor
Translation to Any Language
Custom CSS & JavaScript Editors










































Template Catalog
Need a Different Template?
Check out more ready-made templates for any use case or build your own!
Add a text popup to your website and attract attention to special promotions or other relevant events.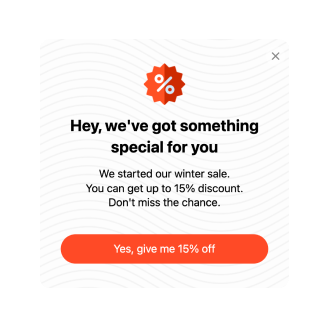 Create mutual trust within your website community and stay connected using this popup widget.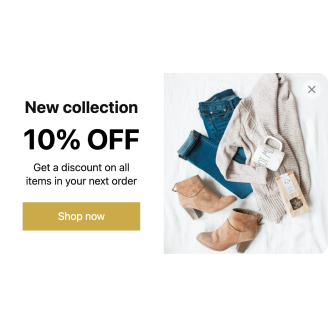 Add a popup widget to promote your special offers, discounts, or announcements with an eye-catching banner.
Create buzz around new product launches with this popup template for websites.
Create a maximum customer engagement with push notifications using this popup widget.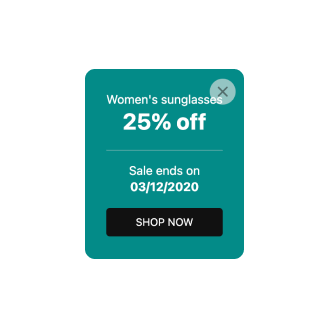 Help your visitors stay up to date with your future events by means of Elfsight Popup.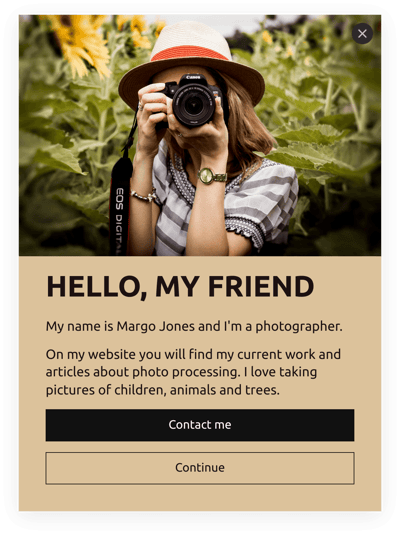 Create a heart-warming first impression and engage new visitors with the welcoming popup.
Add a popup template to your website and inform the users of big announcements and upcoming updates.
No Suitable Template?
You can easily assemble the widget you need using our simple-to-use configurator.
Here's what people say about Elfsight Popup widget
I have had the pleasure of employing the Popup widget for a few weeks now, and I must say it has been the optimal experience. Elfsight allows me to create a plugin without the need for any coding skills, which I can easily integrate into client websites to cover the needed functions.
The user-friendly experience in designing custom widgets has saved me valuable time as I no longer need to manually code certain elements on my WordPress website. Initially, I had high expectations for the product to work flawlessly. However, the exceptional service and support I received surpassed everything. I recommend it!
I have added the Disclaimer Popup to my website with no glitches encountered. I must say, the customer support has left me really impressed. They've proven to be extremely helpful, promptly solving all my inquiries within a short span of time.
FAQ
How to create the Disclaimer Popup template for the WordPress website?
To create the Disclaimer Popup for your website, follow these instructions:
Access the Disclaimer Popup template.
Adjust the elements and features to match your branding.
Log in to your Elfsight dashboard.
Obtain the installation code.
How to add the Disclaimer Popup template to the WordPress website?
To add the Disclaimer Popup to your WordPress website, take these steps below:
Personalize the look of the Popup widget according to your liking.
Sign in to your Elfsight dashboard panel or create a free profile.
Obtain the generated installation code.
Navigate to your website.
Insert the code into your website builder. You're good to go!
For a more in-depth guide, we suggest checking out our post about how to embed Popup on a website.
Do I need to have coding or programming skills to embed the Disclaimer Popup?
No, you don't. Proficiency in coding is not needed. You can build and add the Disclaimer Popup to your website, regardless of your familiarity or experience in coding.
Can I set up the popup to open automatically?
Definitely. In the building mode, opt for a trigger to showcase the Disclaimer Popup template at the precise moment on your WordPress website. Here are the alternatives you have: on-page load, within a specific time spent on a page, on scroll, on scroll to element, on click, and on exit intent.
Can I use the Disclaimer Popup template for free?
Absolutely. There is no rush to jump right into the paid choices. Elfsight uses a tiered subscription system that consists of Free, Basic, Pro, Premium, and Enterprise plans. Go at your own pace and enjoy exploring all the features without limitations with our Free tier. But remember, there's always an opportunity to upgrade and unlock extra perks!
Can I add a call-to-action button to the Popup widget?
Absolutely! Simply follow these steps:
Launch the Popup editor.
Find the "Blocks" menu tab.
Insert the "Button" element.
Configure a call-to-action message, click functionality, and visuals.
What email integrations or tools does the WordPress widget support?
The most significant benefit of this WordPress widget is its capacity to synchronize with external applications like Mailchimp, Zapier, and Google Sheets. You can take extra steps and be confident that no captured data will be lost.
Where can I add the Disclaimer Popup on my WordPress ?
This decision rests with you. There aren't any strict criteria to meet. However, ensure it is logical and positioned in the highest traffic area, like the main page or product page.
How to customize the Disclaimer Popup?
The sky's the limit-personalize the complete widget's look and feel to mirror your brand norms and achieve rapid conversion growth:
Popup specifics
You have the option to layer things up and create an array of limitless content blocks: title, text, call-to-action button, link, discount voucher, form, image, and video. Additionally, for an improved visual appeal, you can insert spacing, dividers, and custom HTML and iFrame fields.
Display settings
Elfsight provides three settings: frequency, pages, and devices. Clearly define all the requirements to ensure exceptional performance.
Custom elements and features
And there's still much more to discover: triggers, custom CSS, custom JS, redirect link, layouts, close buttons, background visuals, alignments, and so on.
To prevent misunderstandings and problems, reach out to our Support Team to resolve any queries!
Help with Disclaimer Popup Setup and Website Installation
For more info regarding the widget templates or guidance, check out the following resources:
Support
In case of any pending matters, we advise you to reach out to the Elfsight Support Team or search for relevant posts in the Help Center.
Forum
Receive additional guidance from business people like you by engaging in ongoing initiatives in our dedicated community.
Wishlist
Send fresh ideas, functionalities, and widgets by using the Wishlist.