WordPress Email Popup template
Drive more sign-ups and widen your customer reach with the Email Popup template for WordPress websites. Customize the design, frequency, call-to-action, and messaging to align with your brand and effectively engage your audience. Enjoy improved customer interactions and more effective marketing approaches.
100% WordPress compatible
Features
12 Custom Content Blocks
Email Notifications via Form Fill-Out
5000+ Integrations
Modal, Slide-in, Pane Layout Styles
Engaging Popup Opening Button
Adjustable Frequency Display Setting
Exclude or Specify Pages for Displaying
Timed-Display Trigger
Scroll Trigger On-Element or On-Click
Exit Intent Technology
Set Up Popup for Multiple Mobile Devices
Call-to-Action Button
Coupon & Redirect Link Creation
HTML & iFrame Fields
Image & Video Upload
Mobile Responsiveness
Page-Speed Friendly Lazy Loading
Free-Coding Editor
Multiple Languages Translation
Custom CSS & JS Editors
Template Catalog
Need a Different Template?
Check out more ready-made templates for any use case or build your own!
Adding a popup widget is the best way to grow your email list and capture potential leads.
Create a popup widget and take your email marketing strategy to the next level.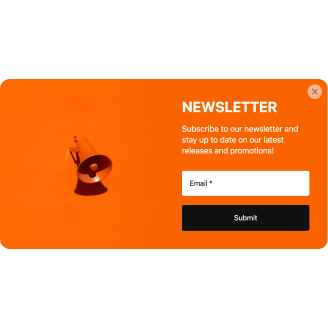 Adding a popup widget to your website can help you see the newsletter subscriber count soar for sure.
Create the best way to expand the mailing list and encourage website users to follow each step of your brand with this template.
Add a popup template to your website and use Mailchimp as the leading source for exporting data.
Create a popup widget to maximize your email marketing efforts and grow newsletter subscriber numbers in no time.
Create a popup widget to boost your email list for Brevo and encourage visitors to take action.
No Suitable Template?
You can easily assemble the widget you need using our simple-to-use configurator.
Here's what people say about Elfsight Popup widget
For the past couple of weeks, I have been actively utilizing the Popup widget, and I cannot emphasize enough how phenomenal it has been. With no coding knowledge, Elfsight allows me to create a plugin that I can easily integrate into client websites to cover the necessary operations.
The simplicity of designing custom widgets has significantly reduced the time from coding some of the components on my WordPress website. I expected the flawless performance of the product. However, what truly caught me off guard was the exceptional level of service and support. I strongly recommend it!
I have added the Email Popup to my website, and the experience has been problem-free. I'm highly impressed with the outstanding customer support I have received. They've been incredibly helpful, promptly responding to all my questions within a short span of time.
FAQ
How to create the Email Popup template for the WordPress website?
If you wish to create the Email Popup for your WordPress website, do the following:
Select the Email Popup template.
Modify the elements and features to align with your branding goals.
Sign in to your Elfsight account.
Get the installation code.
How to add the Email Popup template to the WordPress website?
If you want to embed the Email Popup on your WordPress website, take these steps below:
Personalize the appearance of the Popup widget to match your preferences.
Log in to your Elfsight dashboard panel or set up a free user profile.
Obtain the generated installation code.
Go to your website.
Put the code into your website builder. Voila!
For more information, we suggest checking out our article on how to embed Popup on a website.
Do I need to have coding or programming skills to embed the Email Popup?
No, you don't. Coding skills are unnecessary. You have the full capability to create and add the Email Popup to your website without any specialized background or knowledge.
Can I set up the popup to open automatically?
Certainly. In the building mode, opt for a trigger to display the Email Popup template at the appropriate time on your WordPress website. Below are the choices: on-page load, within a specific time spent on a page, on scroll, on scroll to element, on click, and on exit intent.
Can I use the Email Popup template for free?
Yes. There is no need to rush and start with the paid choices straightaway. Elfsight implements a tiered subscription system that includes Free, Basic, Pro, Premium, and Enterprise plans. Go at your own pace and test out all the features without restrictions with our Free tier. But keep in mind, that you can always upgrade and unlock benefits when you're ready!
Can I add a call-to-action button to the Popup widget?
Absolutely! Just take these steps:
Open the Popup builder.
Navigate to the "Blocks" menu choice.
Insert the "Button" element.
Configure a call-to-action message, click action, and visuals.
What email integrations or tools does the WordPress widget support?
The standout feature of this WordPress widget is its synchronization capacity with third-party applications: Mailchimp, Zapier, and Google Sheets. Rest assured, you can confidently take extra steps without the risk of losing any gathered data.
Where can I add the Email Popup on my WordPress ?
You have the freedom to choose. No strict criteria need to be followed. Just ensure that it is logical and positioned in a highly visited spot, such as the main page or product page.
How to customize the Email Popup?
The sky's the limit-tailor the visual presentation of the entire widget to reflect your brand standards and achieve rapid conversion growth:
Popup details
You can layer elements and create a versatile structure of content blocks: title, text, CTA button, link, discount voucher, form, image, and video. Additionally, to enhance the visual appeal, you can insert spacing, dividers, and custom HTML and iFrame fields.
Display settings
Elfsight presents three alternatives: frequency, pages, and devices. Clearly state all the preferences to uphold the desired standards.
Custom elements and features
And there's more to discover: triggers, custom CSS, custom JS, redirect link, layouts, close buttons, background visuals, alignments, etc.
For more clarification, contact our Support Team to address any queries and avoid confusion in the future!
Help with Email Popup Setup and Website Installation
For additional details on the plugin templates or assistance, take advantage of these resources:
Support
If you're facing any unresolved issues, we recommend you to get in touch with the Elfsight Support Team or browse related posts in the Help Center.
Forum
Connect with business peers and participate in ongoing events within our exclusive community for extra assistance.
Wishlist
Send brand-new ideas, functionalities, and widgets with us by using the Wishlist.