OpenCart Video Popups for website
Enhance your OpenCart website with an engaging twist by incorporating one of the Video Popups templates. From the YouTube Video Popup to the Twitch Video Popup, our template collection integrates with diverse platforms. Seamlessly integrate it onto your website, customize the appearance, and seize your users' attention—boost your performance to new heights!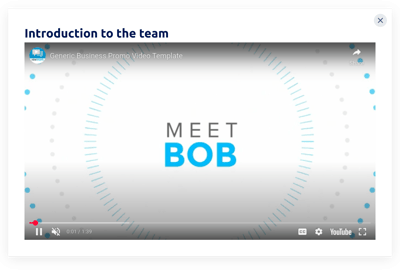 By means of Elfsight Popup you'll manage to create eye-catching widget that your audience won't miss.
Creating a loyal YouTube subscriber base is easy with this popup template for websites.
Create a popup widget for your website to promote and drive more followers to the Twitch channel.
Create a popup template to broadcast your interactive video content from YouTube.
Add a popup widget to showcase your Twitch live streams or recorded videos directly on your website.
Adding the Vimeo videos in a visually captivating way on your website can be easy using this popup widget.
Creating appealing video demonstrations of your products is the key using the popup template.
Add a popup template to provide step-by-step video tutorials for your website users.
No Suitable Template?
You can easily assemble the widget you need using our simple-to-use configurator.
Why are Elfsight OpenCart Video Popups the best?
Target your desired target market, generate intrigue among viewers, and make them fall for your business with the Video Popups templates from Elfsight. Create a
Popup widget
that accurately reflects your brand's identity, incorporating a powerful focused message that leaves an everlasting impact and an array of personalized visual elements. No longer will you require the coding background or any design skills to embed the widget-simply make adjustments, acquire the installation code, and integrate it into the OpenCart website.
It's as simple as that!
Start spreading the word, driving the demand, and becoming your own mastermind when it comes down to marketing special events or recent sales!

OpenCart Video Popups Features and Integrations
12 Customizable Content Elements
Email Notifications via Form Submission
Modal, Slide-in, Pane Layout Styles
Sticky Popup Opening Button
Frequency Popup Display Settings
Exclude or Specify Pages for Displaying
Scroll Trigger On-Element or On-Click
Set Up Popup for Multiple Mobile Devices
Coupon Code & Redirect Link Creation
Optimized for All Mobile Devices
Page-Speed Friendly Lazy Loading
Custom CSS & JavaScript Editors
How to create Video Popups template for OpenCart website
To create the Video Popups widget for your OpenCart website, you should follow these steps:
Pick the most desirable Video Popups template.
Click on the "Live Preview" button.
Customize the elements and features to fit your branding.
Sign in to your Elfsight dashboard.
Get the installation code.
Looking for extra help? Contact the specialists from the Support Team.
How to add Video Popups to OpenCart website
If you're looking to integrate the Video Popups into your OpenCart web page, see this guide:
Sign in to your Elfsight dashboard.
Copy the unique installation code.
Go to your OpenCart website editor.
Paste the code and save your edits. Done!
Please, feel free to ask the Elfsight Support Team for further assistance or refer to our blog post for a step-by-step guide on how to embed the Popup widget on a website.
FAQ
Can I embed the Video Popups without coders?
Absolutely! Elfsight offers you to embed the Video Popups plugin on your OpenCart website without requiring any coding expertise or an external support. Our team will generate a string of code for you to use.
What kind of triggers can I set to the popup widget?
Enjoy the flexibility of the Popup widget, which empowers you to take a personal method with a broad set of triggers: when the page loads, within a specific amount of time spent on a page, while scrolling, on scroll to element, on click, and on exit intent. It entirely depends on what your business needs and desires!
What website builders and CMS are compatible with the Video Popups besides OpenCart?
99.9% of website builders are suitable for our plugins.
What details can I include in the Video Popups?
Ensure the Video Popups template remains on track and allow yourself the space and time to tackle all the essential aspects-insert multiple marketing text blocks, attach the promo code, include a CTA button, and don't neglect the importance of visuals.
Can I sync my popup with other integrations?
Definitely! All you need to do is follow these guidelines:
Access the Popup live demo.
Find the "Builder" menu choice.
Include a new "Form" block or edit the existing one.
Go through options until you spot the "Integrations" tab, then click on it.
Opt for the integration option-Mailchimp, Google Sheets, or Zapier-and proceed with the further on-screen directions.
On what OpenCart website pages can I add the Video Popups?
The placement of the plugin doesn't follow rigid guidelines. The decision is entirely yours and can be tailored to your own preferences. As an example, you can opt for the most popular alternatives, such as the homepage, contact information page, and product display page.
What kind of display settings does the widget support?
The Video Popups templates have three options for displaying: frequency, pages, and devices. The frequency setting allows you to adjust the number of popups shown to align with your own business needs. Similarly, pages and devices can be selectively excluded or included, according to your preferences. The key is you have full control over the whole process and stay true to your branding standards.
Can I customize the Video Popups template for OpenCart websites?
Certainly! Beginning with the backdrop imagery and layout formats to the paddings and precise positioning-you have the flexibility to experiment with an array of custom elements and free-to-use features to find what suits your needs.
Do the Video Popups templates work on mobile devices?
Yes, certainly, the Popup templates embody this vital aspect to offer an exceptional encounter for all users. No matter the device used-the smartphone, desktop, laptop, or tablet-this OpenCart plugin is compatible with mobile format.