OpenCart Sales & Promotions for website
Elevate your income and conversions beyond the casual daily statistics by leveraging the power of our Sales & Promotions templates for your OpenCart website. From Promo Popups to Giveaway and Holiday deals, we offer an extensive range of ready-to-use designs that cater to your sales requirements. Capture the attention of your visitors with irresistible discounts, announcements, and promotions. Seize the moment and make history by maximizing festive opportunities!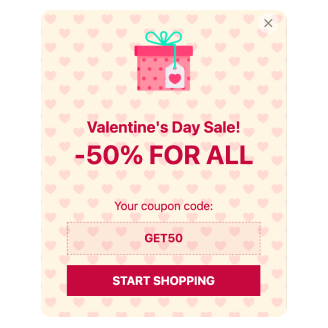 Add a bit of love in the air, show romantic gestures, and boost sales on Valentine's Day with this popup widget.
Add a discount popup to your website to draw attention and motivate users to make a purchase.
Create loyalty among the website customers by giving away exclusive Amazon discounts with this popup.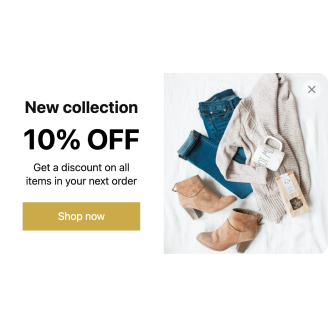 Add a popup widget to promote your special offers, discounts, or announcements with an eye-catching banner.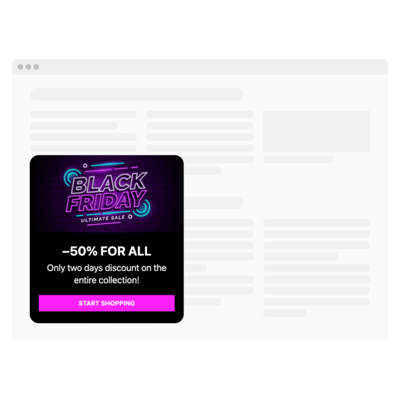 Add a popup template to ignite the shopping frenzy and make the most of the Black Friday sales.
Create a popup widget to celebrate the end of the year with website users and drive sales on Boxing Day.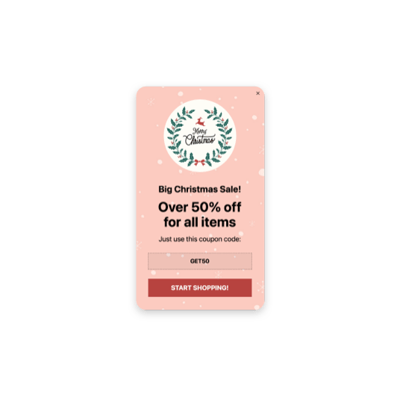 Add a pinch of a joyful shopping experience for the most festive sale period of the year—Christmas!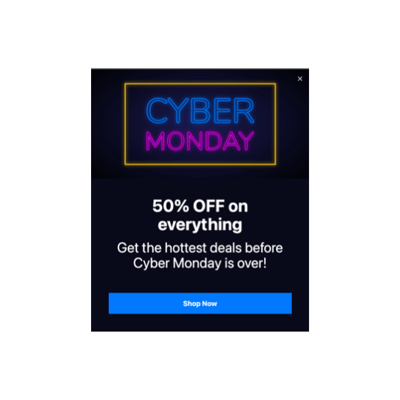 Create a popup to be part of the online shopping event—like Cyber Monday—to maximize your revenue and number of sales.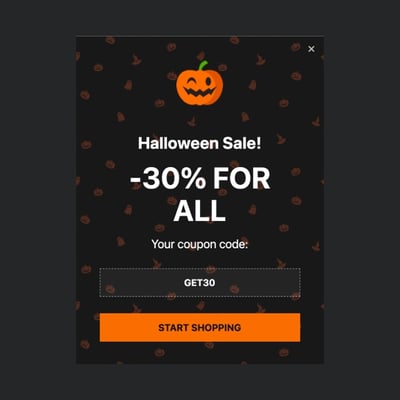 Create a memorable shopping experience for website users during the Halloween season with this template.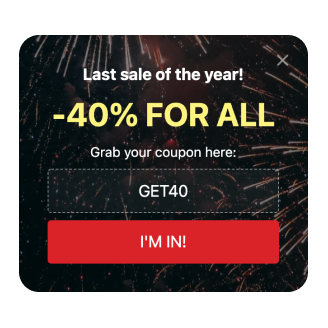 Adding a popup template can help you make the most out of the new year's enthusiasm and fuel the sales.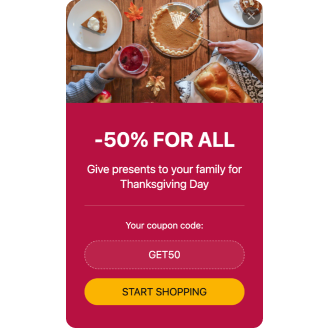 Create a popup and showcase genuine appreciation to the website users with Thanksgiving sale offers.
No Suitable Template?
You can easily assemble the widget you need using our simple-to-use configurator.
Why are Elfsight OpenCart Sales & Promotions the best?
Direct your efforts towards the ideal target market, spark the audience's enthusiasm, and captivate them with your business using the Sales & Promotions templates offered by Elfsight. Craft a
Popup widget
that aligns with your brand's identity, complete with a powerful core message that resonates and a variety of visually customizable elements. No coding knowledge or design expertise is needed for embedding-simply fine-tune, obtain the installation code, and integrate it into the OpenCart website.
Isn't it effortless?
Begin spreading the word, stimulating demand, and being your own mastermind when it comes down to marketing special occasions or recent sales!

OpenCart Sales & Promotions Features and Integrations
12 Customizable Content Elements
Form Fill-Out Email Alerts
Modal, Slide-in, Pane Layout Designs
Engaging Popup Opening Button
Frequency Popup Display Settings
Exclude or Specify Pages for Displaying
Scroll Trigger On-Element or On-Click
Set Up Popup for Multiple Mobile Devices
Coupon & Redirect Link Creation
Page-Speed Friendly Lazy Loading
Multiple Languages Translation
Custom CSS & JavaScript Editors
How to create Sales & Promotions template for OpenCart website
To create the Sales & Promotions plugin for your OpenCart website, you should complete the following steps:
Choose the Sales & Promotions template that you find the most suitable.
Click on the "Live Preview" button.
Adjust the elements and features to satisfy your brand vision.
Verify your Elfsight dashboard.
Get the installation code.
Need help? Reach out to the specialists from the Support Team.
How to add Sales & Promotions to OpenCart website
To incorporate the Sales & Promotions into your OpenCart website, complete the brief instruction:
Log in to your Elfsight account.
Receive the personalized setup code.
Access your OpenCart website editor.
Paste the code and save your edits. You're all set!
Please, contact the Elfsight Support Team for further support or take a look at our blog post on how to embed the Popup widget on a website.
FAQ
Can I embed the Sales & Promotions without coders?
Yes! Elfsight offers you to add the Sales & Promotions plugin to your OpenCart website without requiring any programming knowledge or an external tool. Our team will create a code for you to insert.
What kind of triggers can I set to the popup widget?
With the Popup widget, you are given the freedom to embrace a personalized method with its profound range of trigger options: when the page loads, after a specific amount of time spent on a page, while scrolling, on scroll to element, on click, and on exit intent. It entirely depends on what your business needs and desires!
What website builders and CMS are compatible with the Sales & Promotions besides OpenCart?
Our plugins are supported by almost all website platforms.
What details can I include in the Sales & Promotions?
Keep the Sales & Promotions template in check while granting yourself the flexibility to address all the key factors-insert various marketing text blocks, attach the coupon code, include a compelling CTA button, and remember about visuals.
Can I sync my popup with other integrations?
Certainly! Simply follow these steps:
Access the Popup live demo.
Locate the "Builder" menu.
Add a brand-new "Form" block or make edits to the existing one.
Scroll down until you spot the "Integrations" tab, then select it.
Pick the integration option-Mailchimp, Google Sheets, or Zapier-and follow the additional on-screen guidelines.
On what OpenCart website pages can I add the Sales & Promotions?
The placement of the plugin doesn't follow strict guidelines. The choice is primarily up to you and based on your needs. Some favored alternatives are the homepage, contact section, or merchandise page.
What kind of display settings does the widget support?
Our Sales & Promotions templates provide you with three options for displaying: frequency, pages, and devices. Through the use of frequency conditions, the amount of popups displayed goes under your own business needs. Similarly, you can make choices regarding the inclusion or exclusion of pages and devices. The key is you have the privilege to personalize the whole process in accordance with your branding standards.
Can I customize the Sales & Promotions template for OpenCart websites?
Certainly! You have the flexibility to explore a myriad of personalized elements and freely available features to find what suits your needs-starting from the backdrop imagery and layout styles to the paddings and accurate gaps.
Do the Sales & Promotions templates work on mobile devices?
Yes, certainly, the Popup templates address this fundamental aspect to offer a first-rate user experience. Regardless of the device used-whether it's a cellphone, pc, laptop, or tablet-this OpenCart plugin is designed to be mobile-friendly, ensuring an optimal display.