Kwanzaa Popup template for website
Celebrate and boost your sales with our customizable Kwanzaa Popup template. Capture the spirit of this cultural holiday with visually appealing designs, promote special offers, and engage with your customers. Unit and uplift your business by spreading joy around this week!
Works on 99.9% of websites
Features
12 Custom Content Elements
Form Fill-Out Email Alerts
5000+ Data Export Integrations
Modal, Slide-in, Pane Layout Designs
Sticky Popup Opening Button
Adjustable Frequency Display Setting
Exclude or Specify Pages for Displaying
Auto-Opening Trigger after Time Spent
Scroll Trigger On-Element or On-Click
Exit Intent Technology
Set Up Popup for Multiple Mobile Devices
Call-to-Action Button
Coupon & Redirect Link Creation
HTML & iFrame Fields
Image & Video Upload
Optimized for All Mobile Devices
Page-Speed Friendly Lazy Loading
Free-Coding Editor
Language Localization
Custom CSS & JavaScript Editors










































Template Catalog
Need a Different Template?
Check out more ready-made templates for any use case or build your own!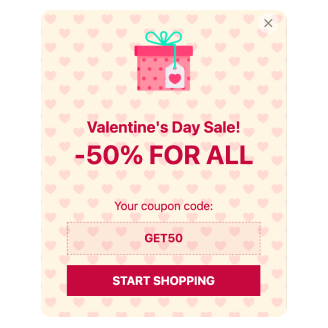 Add a bit of love in the air, show romantic gestures, and boost sales on Valentine's Day with this popup widget.
Create a festive atmosphere and uplift conversions during the most wonderful time of the year with this popup widget.
Add the warm feel of the autumn season to your website with special offers using this popup widget.
Creating a refreshing summer shopping experience for your customers is easy with this popup template.
Add a popup template to make Father's Day extra special with exclusive discounts, gift ideas, or personalized products.
Create a popup template to support our veterans and boost themed sales on your website.
No Suitable Template?
You can easily assemble the widget you need using our simple-to-use configurator.
Here's what people say about Elfsight Popup widget
I've been actively employing the Popup widget for a couple of weeks now, and I must say it's been a top-notch journey. Elfsight allows me to build a plugin without the need for any coding knowledge, which I can easily install on client websites to handle the needed operations.
The user-friendliness of developing customized widgets has saved me the valuable time that I spend manually writing code for certain components on my HTML website. Initially, I had expected seamless functionality from the product. But the exceptional level of service and support I received caught me off guard. I highly recommend it!
I have implemented the Kwanzaa Popup on my website with no challenges to report. I'm really amazed with the customer service as well. They've been incredibly supportive with any questions I've had and answered them within a short span of time.
FAQ
How to create the Kwanzaa Popup template for the website?
If you want to create the Kwanzaa Popup for your HTML website, do the following:
Pick the Kwanzaa Popup template.
Customize the elements and features to align with your branding goals.
Log in to your Elfsight dashboard.
Obtain the installation code.
How to add the Kwanzaa Popup template to the website?
To embed the Kwanzaa Popup on your HTML website, take the following steps:
Personalize the look of the Popup widget to match your preferences.
Sign in to your Elfsight dashboard panel or create a free profile.
Get the auto-generated embedding code.
Navigate to your website.
Insert the code into your website builder. That's it!
To gain a deeper understanding, we recommend checking out our blog post on how to embed Popup on a website.
Do I need to have coding or programming skills to embed the Kwanzaa Popup ?
No. Any prior coding skills aren't a must. You can create and add the Kwanzaa Popup to your website, regardless of your familiarity or experience in coding.
Can I set up the popup to open automatically?
Yes, you totally can. When you're in building mode, select a trigger that will ensure the Kwanzaa Popup template showcases at the precise moment on your HTML website. Below are the alternatives: on-page load, within a specific time spent on a page, on scroll, on scroll to element, on click, and on exit intent.
Can I use the Kwanzaa Popup template for free?
Sure. There is no need to rush and start with the paid options straightaway. Elfsight employs a tiered subscription model that includes Free, Basic, Pro, Premium, and Enterprise plans. Take your time and explore all the features without restrictions with our Free tier. But keep in mind, that you can always upgrade later to access additional benefits!
Can I add a call-to-action button to the Popup widget?
Absolutely! Simply take these steps:
Access the Popup editor.
Go to the "Blocks" menu.
Add the "Button" element.
Set up a call-to-action message, click functionality, and visuals.
What email integrations or tools does the widget support?
One of the main benefits of this HTML widget lies in its synchronization ability with external apps: Mailchimp, Zapier, and Google Sheets. You can actively make sure that no collected data slips away.
Where can I add the Kwanzaa Popup on my website?
This decision rests with you. No fixed requirements need to be followed. However, ensure that it makes sense and is placed in a high-traffic zone, such as the main page or product page.
How to customize the Kwanzaa Popup ?
Endless customization options-personalize the whole widget's look to showcase your brand ethics and increase conversions effortlessly:
Popup specifics
You can stack elements and create an extensive structure of content blocks: title, text, call-to-action button, link, coupon, form, image, and video. Moreover, to elevate visual aesthetics, you can insert spacing, separators, and custom HTML and iFrame fields.
Display settings
Elfsight gives you three choices: frequency, pages, and devices. Outline all the necessary preferences to maintain a high standard.
Custom elements and features
And there's more to discover: triggers, custom CSS, custom JS, redirect link, layouts, close buttons, background visuals, alignments, and so on.
To avoid confusion and issues, get in touch with our Support Team to resolve any concerns!
Help with Kwanzaa Popup Setup and Website Installation
For additional info regarding the plugin templates or assistance, consider these resources:
Support
If you encounter any unresolved problems, we suggest you contact the Elfsight Support Team or find relevant posts in the Help Center.
Forum
Gain further backing from business professionals like yourself by engaging in ongoing initiatives within our exclusive community.
Wishlist
Submit brand-new ideas, functionalities, and widgets through the Wishlist.