Mother's Day Popup template for website
Show your appreciation for moms everywhere with our heartfelt Mother's Day Popup template. Impress your website audience with visually stunning designs and irresistible offers that make every person feel extra special. Enhance customer engagement with this unforgettable shopping experience!
Works on 99.9% of websites
Features
12 Custom Field Elements
Mailchimp Email Notifications
Form with 5000+ Integrations
Modal, Slide-in, Pane Layout Designs
Sticky Popup Opening Button
Frequency Popup Display Settings
Exclude or Specify Pages for Displaying
Timed-Display Trigger
Scroll Trigger On-Element or On-Click
Exit Intent Trigger
Set Up Popup for Multiple Mobile Devices
Call-to-Action Button
Coupon & Redirect Link Creation
HTML & iFrame Fields
Image & Video Upload
Mobile-Friendly
Page-Speed Friendly Lazy Loading
Free-Coding Editor
Language Localization
Custom CSS & JavaScript Editors










































Template Catalog
Need a Different Template?
Check out more ready-made templates for any use case or build your own!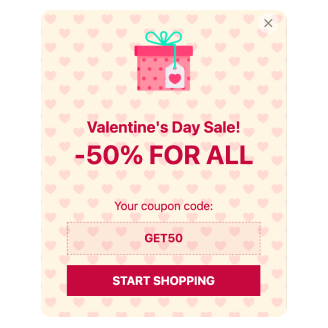 Add a bit of love in the air, show romantic gestures, and boost sales on Valentine's Day with this popup widget.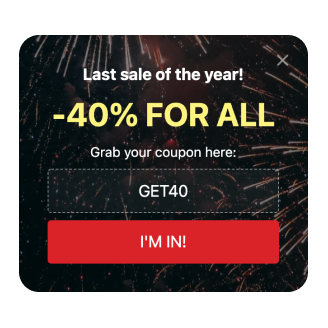 Adding a popup template can help you make the most out of the new year's enthusiasm and fuel the sales.
Create a festive atmosphere and uplift conversions during the most wonderful time of the year with this popup widget.
Add the warm feel of the autumn season to your website with special offers using this popup widget.
Creating a refreshing summer shopping experience for your customers is easy with this popup template.
Add a popup template to make Father's Day extra special with exclusive discounts, gift ideas, or personalized products.
Create a popup template to support our veterans and boost themed sales on your website.
No Suitable Template?
You can easily assemble the widget you need using our simple-to-use configurator.
Here's what people say about Elfsight Popup widget
I've been actively utilizing the Popup widget for a couple of weeks now, and I cannot emphasize enough how phenomenal it has been. With Elfsight, I can easily integrate into client websites to fulfill the necessary operations, even without any tech expertise.
The user-friendly interface for developing personalized widgets has saved me the time that I spend manually programming various components on my HTML website. Initially, I had high expectations for the flawless performance of the product. However, I was truly surprised to receive the top-notch service and support. I highly recommend it!
I have integrated the Mother's Day Popup into my website with no glitches encountered. The level of customer support I have received has been amazing. They've proven to be extremely helpful, swiftly resolving all my questions within a short span of time.
FAQ
How to create the Mother's Day Popup template for the website?
To make the Mother's Day Popup for your website, take these steps below:
Access the Mother's Day Popup template.
Modify the elements and features to match your branding.
Sign in to your Elfsight dashboard.
Get the installation code.
How to add the Mother's Day Popup template to the website?
To add the Mother's Day Popup to your HTML website, take the following steps:
Personalize the look of the Popup widget to suit the design style of your site.
Log in to your Elfsight admin panel or create a free user profile.
Obtain the generated embedding code.
Access your website.
Put the shortcode into your website editor. It's that simple!
For additional details, we advise reading our article about how to embed Popup on a website.
Do I need to have coding or programming skills to embed the Mother's Day Popup?
Not at all. There is no requirement for any coding expertise whatsoever. You have the full capability to build and add the Mother's Day Popup to your website without any specialized background or knowledge.
Can I set up the popup to open automatically?
Certainly. Pick a trigger in a building mode to display the Mother's Day Popup template at the right time on your HTML website. Below are the choices: on-page load, within a specific time spent on a page, on scroll, on scroll to element, on click, and on exit intent.
Can I use the Mother's Day Popup template for free?
Yes, indeed. There is no hurry to jump straight into the paid alternatives. Elfsight operates on a tiered subscription system that consists of Free, Basic, Pro, Premium, and Enterprise plans. Take your time and test out all the features without restrictions with our Free tier. But remember, you always have an opportunity to upgrade and access additional extras!
Can I add a call-to-action button to the Popup widget?
Absolutely! All you need to do is follow these guidelines:
Access the Popup live demo.
Locate the "Blocks" section.
Include the "Button" element.
Set up a call-to-action message, click behavior, and visual style.
What email integrations or tools does the widget support?
One of the most significant benefits of this HTML widget lies in its ability to seamlessly link with external applications such as Mailchimp, Zapier, and Google Sheets. Feel free to make an extra effort without any worry about losing any collected data.
Where can I add the Mother's Day Popup on my website?
It's up to you to decide. No strict criteria need to be met. But make sure that it makes sense and is strategically positioned in the most prominent area, like the main page or product page.
How to customize the Mother's Day Popup?
Limitless creative possibilities-customize the whole widget's visuals to reflect your brand norms and increase conversions rapidly:
Popup details
You can stack elements and build an extensive structure of content blocks: title, text, CTA button, link, discount voucher, form, image, and video. Plus, to elevate visual aesthetics, you can include gaps, dividers, and custom HTML and iFrame fields.
Display settings
Elfsight offers three settings: frequency, pages, and devices. Define all the necessary requirements to maintain a high standard.
Custom elements and features
But that's not all, there are still plenty of features to discover: triggers, custom CSS, custom JS, redirect link, layouts, close buttons, background visuals, alignments, etc.
For more clarification, contact our Customer Support Team to address any queries and prevent misunderstandings in the future!
Help with Mother's Day Popup Setup and Website Installation
If you need more information regarding the plugin templates or assistance, we suggest using these options:
Support
If you're facing any unresolved issues, we suggest you contact the Elfsight Support Team or browse relevant topics in the Help Center.
Forum
Connect with business peers and participate in ongoing events within our dedicated community for extra help.
Wishlist
Propose brand-new ideas, features, and widgets by using the Wishlist.