Magento E-commerce Popups for website
Skyrocket your marketing game and unleash the Magento website's untapped power with the E-commerce Popups templates at your disposal. Unveil the handpicked collection of popup designs for all your needs: coupons, welcoming, shipping, exclusive discounts, and many more. Rise above your competitors in the online retail industry and claim the quality over quantity mantra!
Create an attractive popup widget to prompt users to add items to their carts with a few clicks.
Create a popup template and encourage online shoppers to complete their purchases.
Add a popup template to your website and offer exclusive coupon codes or discounts to online shoppers.
Add a discount popup to your website to draw attention and motivate users to make a purchase.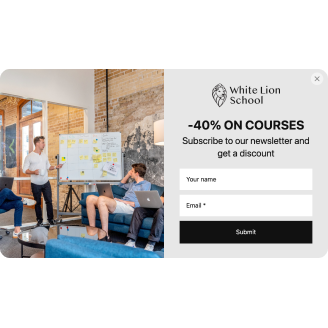 Create an engaging popup widget and start offering the best deal for your online customers.
Create loyalty among the website customers by giving away exclusive Amazon discounts with this popup.
Add a popup widget on your web page to boost the average order value and double the outcome.
Create a popup template to give the best product recommendations for online customers.
Adding a popup widget is the best for personalizing the shopping with tailored product suggestions.
Create a popup template to increase your average order value and upsell complementary products.
Create long-term relationships with your customers by embedding an easy-to-use popup widget.
No Suitable Template?
You can easily assemble the widget you need using our simple-to-use configurator.
Why are Elfsight Magento E-commerce Popups the best?
Focus on your relevant target market, spark the audience's interest, and make them fall in love with your business using the E-commerce Popups templates from Elfsight. Craft a
Popup widget
that accurately reflects your brand's identity with a compelling core message that leaves a lasting impact and a wide selection of visually custom elements. Bid farewell to the need for the coding knowledge or any design expertise to embed the plugin-simply fine-tune, obtain the installation code, and integrate it into the Magento website.
It couldn't be any simpler, could it?
Start spreading the word, generating demand, and becoming the mastermind of your own marketing strategy for special events or recent sales!

Magento E-commerce Popups Features and Integrations
Form Fill-Out Email Alerts
Form with 5000+ Integrations
Customizable Modal, Slide-in, Pane Layouts
Sticky Popup Opening Button
Frequency Popup Display Settings
Exclude or Specify Pages for Displaying
Auto-Opening Trigger after Time Spent
Scroll Trigger On-Element or On-Click
Set Up Popup for Multiple Mobile Devices
Coupon & Redirect Link Creation
Optimized for All Mobile Devices
Page-Speed Friendly Lazy Loading
Custom CSS & JavaScript Editors
How to create E-commerce Popups template for Magento website
To create the E-commerce Popups plugin for your Magento website, you need to complete the following guidelines:
Select the most desirable E-commerce Popups template.
Hit the "Live Preview" button.
Adjust the elements and features to align with your branding goals.
Log in to your Elfsight account.
Receive the installation code.
Would you like some additional help? Contact the experts from the Help Center.
How to add E-commerce Popups to Magento website
If you're looking to embed the E-commerce Popups on your Magento website, follow these steps:
Sign in to your Elfsight dashboard.
Get the installation code that's been automatically generated for you.
Go to your Magento website editor.
Insert the code and save the changes. Done!
Please, contact the Elfsight Support Team for further help or refer to our blog post for a step-by-step guide on how to embed the Popup widget on a website.
FAQ
Can I embed the E-commerce Popups without coders?
Certainly! With Elfsight, you can easily embed the E-commerce Popups on your Magento website without any programming expertise or a third-party application. Our team will create a generated code string.
What kind of triggers can I set to the popup widget?
The Popup plugin strives to support you in taking a personal approach by leveraging a versatile array of trigger options: upon page load, after a specific time spent on a page, on scroll, on scroll to element, on click, and on exit intent. Your business requirements and desires are the key factors!
What website builders and CMS are compatible with the E-commerce Popups besides Magento?
You can use our plugins on almost any website, with a compatibility rate of 99.9%.
What details can I include in the E-commerce Popups?
Ensure the E-commerce Popups template remains on track and grant yourself the space to tackle all the key factors-add multiple promotional content blocks, attach the discount code, include a CTA button, and ensure the presence of visuals.
Can I sync my popup with other integrations?
Certainly! Here's what to do:
Open the Popup builder.
Navigate to the "Builder" menu tab.
Add a new "Form" block or modify the existing one.
Browse downwards until you locate the "Integrations" tab, then select it.
Choose the integration-Mailchimp, Google Sheets, or Zapier-and follow the further directions shown on the screen.
On what Magento website pages can I add the E-commerce Popups?
The placement of the plugin doesn't follow rigid guidelines. You have the opportunity to choose what suits you best. For instance, you can place it on the most common alternatives, such as the homepage, contact page, and product page.
What kind of display settings does the widget support?
Our E-commerce Popups templates provide you with three display settings: frequency, pages, and devices. By adjusting frequency conditions, the popup number shown goes under your own business requirements. Likewise, you can decide regarding the inclusion or exclusion of pages and devices. The key is you have the privilege to customize the entire process ensuring it reflects your branding norms.
Can I customize the E-commerce Popups template for Magento websites?
Certainly, without a doubt! Starting from the contextual imagery and layout designs to the paddings and exact positioning-you can try out tons and tons of customized elements and freely available features to find what suits your needs.
Do the E-commerce Popups templates work on mobile devices?
Yes, indeed, the Popup templates cover this pivotal aspect to ensure a seamless encounter for all users. No matter the gadget-whether it's a cellphone, desktop, laptop, or tablet-this Magento tool is designed as a user-friendly application.