WooCommerce Cross Sell Popup template
The Cross Sell Popup template is a go-to alternative to grow your average order value and drive sales for business on the WooCommerce platform. Pick the related or complementary products and display them in the most convenient format without a need for coding skills. Start boosting your revenue today!
100% WooCommerce compatible
Features
12 Custom Field Elements
Form Fill-Out Email Alerts
Form with 5000+ Integrations
Modal, Slide-in, Pane Layout Designs
Sticky Popup Opening Button
Frequency Popup Display Settings
Exclude or Specify Pages for Displaying
Timed-Display Trigger
Scroll Trigger On-Element or On-Click
Exit Intent Support
Set Up Popup for Multiple Mobile Devices
CTA Button
Coupon & Redirect Link Creation
HTML & iFrame Fields
Image & Video Upload
Mobile Optimized
Page-Speed Friendly Lazy Loading
Tech-Free Customization
Multiple Languages Translation
Custom CSS & JavaScript Editors










































Template Catalog
Need a Different Template?
Check out more ready-made templates for any use case or build your own!
Create a popup template and encourage online shoppers to complete their purchases.
Create an attractive popup widget to prompt users to add items to their carts with a few clicks.
Add a popup template to your website and offer exclusive coupon codes or discounts to online shoppers.
Add a popup widget on your web page to boost the average order value and double the outcome.
Add a discount popup to your website to draw attention and motivate users to make a purchase.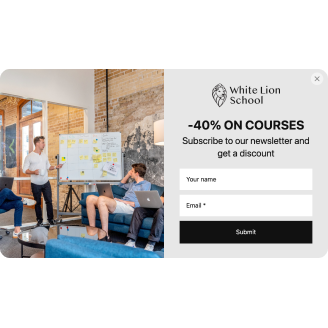 Create an engaging popup widget and start offering the best deal for your online customers.
Create loyalty among the website customers by giving away exclusive Amazon discounts with this popup.
No Suitable Template?
You can easily assemble the widget you need using our simple-to-use configurator.
Here's what people say about Elfsight Popup widget
For the course of the past few weeks, I have been actively utilizing the Popup widget, and I can honestly say it has provided me with an incredibly positive journey. With zero coding knowledge, Elfsight allows me to build a plugin that I can effortlessly install on client websites to fulfill the required tasks.
The effortless usability in designing personalized widgets has rescued me from the time-consuming task of writing code for certain elements on my WooCommerce website. I had great hopes for the product to function seamlessly. However, the top-notch service and support I received surpassed everything. Highly recommended!
I have embedded the Cross Sell Popup on my website, and the experience has been problem-free. I'm highly satisfied with the outstanding customer support I have received. They've proven to be so supportive, promptly resolving all my inquiries within a matter of hours.
FAQ
How to create the Cross Sell Popup template for the WooCommerce website?
To make the Cross Sell Popup for your website, perform the following steps:
Open the Cross Sell Popup template.
Customize the elements and features to satisfy your brand vision.
Authorize your Elfsight profile.
Get the installation code.
How to add the Cross Sell Popup template to the WooCommerce website?
If you wish to embed the Cross Sell Popup on your WooCommerce website, follow these directions:
Personalize the appearance of the Popup widget to suit the design style of your site.
Log in to your Elfsight dashboard panel or create a free profile.
Obtain the unique embedding code.
Go to your website.
Put the shortcode into your website editor. You're all done!
For further information, we suggest checking out our article on how to embed Popup on a website.
Do I need to have coding or programming skills to embed the Cross Sell Popup?
Not at all. Any prior coding skills aren't a must. You have the full capability to create and embed the Cross Sell Popup on your website without any particular background or prior knowledge.
Can I set up the popup to open automatically?
Absolutely, you can. Select a trigger while designing the Cross Sell Popup template to display it at the appropriate moment on your WooCommerce website. Here are your options: on-page load, within a specific time spent on a page, on scroll, on scroll to element, on click, and on exit intent.
Can I use the Cross Sell Popup template for free?
Sure. There is no chase to jump right into the paid choices. Elfsight utilizes a tiered subscription system that consists of Free, Basic, Pro, Premium, and Enterprise plans. Go at your own pace and enjoy exploring all the features without limitations using our Free tier. Remember, you always have an opportunity to upgrade and unlock extras!
Can I add a call-to-action button to the Popup widget?
Absolutely! Simply take these steps:
Launch the Popup editor.
Go to the "Blocks" menu option.
Insert the "Button" block.
Set up a call-to-action message, click action, and visual display.
What email integrations or tools does the WooCommerce widget support?
The greatest advantage of this WooCommerce widget lies in its ability to seamlessly link with third-party applications such as Mailchimp, Zapier, and Google Sheets. You can go the extra mile and have no concerns about losing any gathered data.
Where can I add the Cross Sell Popup on my WooCommerce?
You have the final say. There aren't any fixed regulations to adhere to. Just make sure that it makes sense and is strategically positioned in the most popular spot, like the main page or product page.
How to customize the Cross Sell Popup?
Endless opportunities await-tailor the appearance of the whole widget to mirror your brand norms and achieve rapid conversion growth:
Popup details
You can stack elements and build a versatile structure of content blocks: header, text, call-to-action button, link, discount voucher, form, image, and video. Additionally, for an improved visual appeal, you can insert spacing, separators, and custom HTML and iFrame fields.
Display settings
Elfsight gives you three alternatives: frequency, pages, and devices. Clearly state all the necessary requirements to ensure the highest standards are met.
Custom elements and features
And there's still plenty to explore: triggers, custom CSS, custom JS, redirect link, layouts, close buttons, background visuals, alignments, etc.
To avoid confusion and issues, contact our Customer Support Team to handle any queries!
Help with Cross Sell Popup Setup and Website Installation
If you find yourself in need of more details regarding the plugin templates or guidance, peruse these resources:
Support
If there are any unresolved issues, we recommend you to reach out to the Elfsight Support Team or browse relevant topics in the Help Center.
Forum
Connect with like-minded business owners and participate in ongoing events in our exclusive community for additional support.
Wishlist
Suggest innovative ideas, features, and plugins using the Wishlist.