Autumn Sale Popup template for website
Fall into savings with our captivating Autumn Sale Popup template for websites. Engage your audience with cozy custom visuals and drive sales by showcasing autumn-themed products, exclusive discounts, and limited-time promotions. Evoke feelings of comfort!
Works on 99.9% of websites
Features
12 Custom Field Elements
Mailchimp Email Notifications
5000+ Data Export Integrations
Modal, Slide-in, Pane Layout Designs
Engaging Popup Opening Button
Frequency Popup Display Settings
Exclude or Specify Pages for Displaying
Timed-Display Trigger
Scroll Trigger On-Element or On-Click
Exit Intent Trigger
Set Up Popup for Multiple Mobile Devices
CTA Button
Coupon & Redirect Link Creation
HTML & iFrame Fields
Image & Video Upload
Mobile-Friendly
Page-Speed Friendly Lazy Loading
Tech-Free Customization
Language Localization
Custom CSS & JS Editors










































Template Catalog
Need a Different Template?
Check out more ready-made templates for any use case or build your own!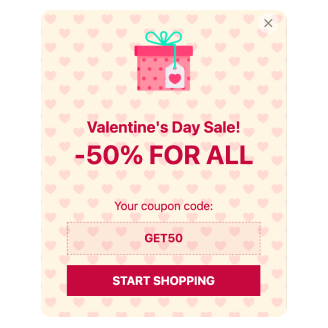 Add a bit of love in the air, show romantic gestures, and boost sales on Valentine's Day with this popup widget.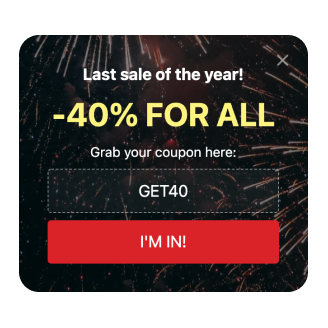 Adding a popup template can help you make the most out of the new year's enthusiasm and fuel the sales.
Create a festive atmosphere and uplift conversions during the most wonderful time of the year with this popup widget.
Creating a refreshing summer shopping experience for your customers is easy with this popup template.
Add a popup template to make Father's Day extra special with exclusive discounts, gift ideas, or personalized products.
Create a popup template to support our veterans and boost themed sales on your website.
Add a touch of luck to your website and capture the customers' attention with this popup widget.
No Suitable Template?
You can easily assemble the widget you need using our simple-to-use configurator.
Here's what people say about Elfsight Popup widget
I have had the pleasure of employing the Popup widget for a few weeks now, and I can confidently say it has been a phenomenal experience. Without any coding skills, Elfsight enables me to build a plugin that I can effortlessly integrate into client websites to fulfill the needed tasks.
The ease of use for designing custom widgets has saved me the valuable time that I spend manually writing code for specific elements on my HTML website. I expected the flawless functioning of the product. Yet, the exceptional level of service and support I received surpassed everything. I highly recommend their services!
I have integrated the Autumn Sale Popup into my website without any hiccups. I'm genuinely amazed with the outstanding customer support I have received. They've proven to be extremely informative with any questions I've had and delivered answers within hours.
FAQ
How to create the Autumn Sale Popup template for the website?
If you wish to make the Autumn Sale Popup for your HTML website, follow these directions:
Choose the Autumn Sale Popup template.
Modify the elements and features to fit your branding.
Verify your Elfsight profile.
Get the installation code.
How to add the Autumn Sale Popup template to the website?
If you wish to embed the Autumn Sale Popup on your HTML website, take the following steps:
Customize the look of the Popup widget to match your preferences.
Log in to your Elfsight dashboard panel or set up a free user profile.
Get the generated embedding code.
Navigate to your website.
Put the shortcode into your website builder. You're all set!
To get more information, we recommend reading our blog article on how to embed Popup on a website.
Do I need to have coding or programming skills to embed the Autumn Sale Popup?
No, you don't. Knowledge of coding is not needed. You can easily build and embed the Autumn Sale Popup on your website without any particular background or previous experience.
Can I set up the popup to open automatically?
Yes, sure. When you're in building mode, select a trigger to showcase the Autumn Sale Popup template at the precise moment on your HTML website. Here are the alternatives you have: on-page load, within a specific time spent on a page, on scroll, on scroll to element, on click, and on exit intent.
Can I use the Autumn Sale Popup template for free?
Of course. There is no rush to dive into the paid options right away. Elfsight implements a tiered subscription system that consists of Free, Basic, Pro, Premium, and Enterprise plans. Take your time and explore all the features without limitations using our Free tier. But keep in mind, that upgrading and unlocking additional benefits is always an option!
Can I add a call-to-action button to the Popup widget?
Certainly! Simply follow these steps:
Access the Popup builder.
Find the "Blocks" tab.
Add the "Button" block.
Arrange a call-to-action message, click functionality, and appearance.
What email integrations or tools does the widget support?
The standout feature of this HTML widget lies in its capability to synchronize with third-party applications such as Mailchimp, Zapier, and Google Sheets. Feel free to go out of your way without the risk of losing any gathered data.
Where can I add the Autumn Sale Popup on my website?
You have the final say. There are no specific regulations to follow. Just make sure it makes sense and is positioned in a high-traffic spot, like the homepage or product page.
How to customize the Autumn Sale Popup?
Endless customization options-personalize the complete widget's look to showcase your brand ethics and enhance conversions effortlessly:
Popup specifics
You have the option to stack elements and construct an infinite array of content blocks: title, text, CTA button, redirect link, discount voucher, form, image, and video. Additionally, to enhance the visual appeal, you can include spacing, separators, and custom HTML and iFrame fields.
Display settings
Elfsight provides three options: frequency, pages, and devices. Outline all the necessary criteria to maintain the set quality level.
Custom elements and features
And yet, you still have so many things left to discover: triggers, custom CSS, custom JS, redirect link, layouts, close buttons, background visuals, alignments, and so on.
For more clarification, get in touch with our Customer Support Team to address any concerns and exclude misunderstandings in the future!
Help with Autumn Sale Popup Setup and Website Installation
For more info on the widget templates or guidance, look into these resources:
Support
For any unresolved problems, we advise you to get in touch with the Elfsight Support Team or browse related topics in the Help Center.
Forum
Gain additional backing from business people like you and join ongoing initiatives in our dedicated community.
Wishlist
Propose new and exciting ideas, functionalities, and widgets with us by using the Wishlist.