Feel free to build your custom customer reviews widget for Shopify. This is a no-code solution to help new visitors focus on your product's best qualities and find real feedback. Empower your Shopify with Elfsight's free widget for reviews.
Create Your Custom Reviews Section
Sharing reviews on a website is a common way to build trust between you and the customer. People tend to shop more when they see that someone has bought the same product before. It is especially true if there is a nice review over the purchase pointing out its top qualities.
Elfight has developed a versatile All-in-One Reviews Widget for Shopify so that your business can easily display its merits, no matter what kind of activity you are performing. With the magnificent widget you can collect your customer feedback from Google, Facebook, Amazon, Airbnb, Booking.com, Yelp, AliExpress, eBay, Google Play Store, Etsy, Apple App Store etc.
You can use filters to adjust your widget for Shopify websites, in order to display the most suitable reviews. Thus you can achieve several important business goals:
Create an enhanced credibility. Your product will evoke more trust when described in a positive way by other users.
Show your proficiency. Having a list of reviews on website pages will prove your experience and customer-oriented approach of doing business.
Secure wise purchasing. Allowing your customers to read all features of your product or service on the site will help them make their purchase with full understanding of their intentions.
We will discuss more advantages of the widget and reasons to embed it into your Shopify site further on. At this stage, we would like to help you create your first reviews collection in just several steps. Here is a brief guide with a live demo for a smooth start:
At first, choose one of our carefully tailored templates for Shopify sites.
Adjust the widget concerning its content, services, filters and design.
Receive and embed the free HTML code of your widget into your site.
The no-code customer reviews widget is successfully created! Now you can showcase your best customer experiences on Shopify website to every visitor.
Benefits from Using Customer Reviews App on Websites
When we develop our apps for sites we focus on benefits for both businesses and their clients. We always try to ensure a win-win situation for those who use or see Elfsight's apps.
We composed a list of some typical advantages that you and your customers receive when our no-code reviews app is on your Shopify website.
Benefits for business holders
| | |
| --- | --- |
| Illustrative presentation of products | Sometimes, describing the product with your own words is not enough. So, detailed and elaborated customer reviews on website can add more truthfulness to your business. Embedding this Elfsight's app into your site changes your customers into brand promoters. Basically, they will describe the product for you sharing the look from their perspective. |
| Focus on positive sides of your business | By reading the reviews from other customers, your website visitors can find their own reasons to make an order or purchase. For various types of clients different aspects of a product matter. Therefore, your customers representing various categories of shoppers can contribute with their unique vision. |
| Inspiring customer reviews | Your section with feedback on Shopify site can form a chain of continuous loyalty. As a result, you grow sales of certain products, categories and increase overall performance of your business. This happens because customer reviews boost sales, while sales generate new reviews. Therefore, you have a chance to create a loyal community of regular real shoppers. According to customer behavior research, embedding reviews for products increases sales by 18%. |
| Adjustable filters | With Elfsight's customer reviews you can create a fine app with the required type of feedback. This enables you to promote certain products or put an accent on the interesting aspects of your business. Display fresh reviews or hide reviews without comments – you have a powerful app to control your feedback section. |
| Flexible design options | You can surely change layouts and design options. Recolor any element of your reviews app for Shopify and pick a suitable theme. We have everything to help you create a harmonious result within our editor. Moreover, you don't need to code anything, since all the changes are being applied online when you click options or fill in fields. |
| Shopify compatibility | Your no-code reviews app is totally compatible with Shopify in what concerns appearance, as well as proper functioning of the app on website pages. |
| More customer reviews CTA | You can receive fresh customer reviews to your platforms, by means of adding a CTA button with "write your review" text on it. In a word, the reviews app for Shopify doesn't only show feedback but also helps you to collect new opinions. |
Benefits for site customers
| | |
| --- | --- |
| Increased trust to other people's opinions | Before making a purchase people tend to explore other customers' reviews to find more certitude and conviction. With the brilliant free no-code customer reviews app for Shopify you can help them make a decision, upon researching opinions of those who interacted with your business earlier. |
| In-depth understanding of the product | Reading a few reviews in your app's section can make customers more informed about what you offer and provide. You decrease the level of post-purchase disappointment, by letting your website visitors have the whole spectrum of unbiased information. |
| Vivid ambiance of the business | Numerous customer reviews from multiple services that our app pulls into your Shopify website can form that ambiance of vivid business infrastructure. The fact that you attract customers and encourage them to leave feedback turns your business into a system that nurtures itself. |
| Useful content | Adding an Elfsight no-code customer reviews app is a simple way to diversify your Shopify website pages' content. Apart from written passages, the site visitors will see a stylish bar with feedback over your products. As a result, the site will create an impression of something more than an e-store with information and goods. With this app on your e-store you can achieve more conversions resulting in sales and customer credibility. |
| Possibility to share feedback | As we have already mentioned, a business can benefit from the "write a review" CTA button to gather more opinions. At the same time it is a solution to enhance loyalty among your customers. The free customer reviews app for Shopify gives them a chance to openly share their experience when this button is enabled. |
To sum up, the no-code customer reviews app is a perfect idea not only for Shopify website holders and businesses, but for their customers as well. The app doesn't irritate your site visitors as an overwhelming spam. Instead, it helps them understand your business better, get information smoothly and find solutions quickly.
How do I Better embed the Plugin?
Various business goals require flexible decisions to be made. When you place your no-code customer reviews plugin on Shopify website pages, you need to be aware of the strategy you are pursuing. In this section we will try to consider when it is a good idea to display your customer reviews plugin for the website visitors.
Embed the plugin into your website's homepage
When you want to grab the audience's attention to your website immediately, you can embed the no-code customer reviews plugin right into your Shopify e-store's homepage. This way, your section with feedback will be impossible to miss or ignore.
In the first place, it can be a good idea for those website holders who have a lot of reviews on their one or numerous platforms to boast of. It is especially important to demonstrate what people think about your business when credibility is your key advantage against your competitors.
Another reason to integrate the no-code plugin into your website's homepage is to gain an instant trust boost. This is crucial for sensitive products or services in terms of credibility. People often hesitate to make a complicated, expensive or unfamiliar purchase for an average customer. Hurry up to calm down your potential customers, by embedding a reviews plugin into your Shopify website's homepage to make them stay and explore.


Incorporate the plugin into your website's product pages
This is a less intrusive way to announce your customer reviews on the Shopify website. In case you have more spectacular content to share in the first place, you can leave the reviews plugin for website's specific product pages.
When you embed your customer reviews this way, you can promote your products and services in a more concentrated manner. Using adjustable filters of the free Elfsight's reviews plugin for Shopify, you are able to focus on certain positive sides of your product or of the processes when people make an order. In a word, such reviews can be a tip to your products reminding your Shopify customers that they are in the right place.
Embed the plugin into a special reviews page on the website
Another way to add the customer reviews plugin to your website without bothering the audience too much is to add it to specially designed pages saying something like "our reviews" or "opinions about us" etc.
This way, the website visitors won't encounter your customer reviews unless they are willing to see them and to find out more information about your business activity. This is also an option when your significant pages are already cluttered with content and can't contain more elements.


Incorporate the plugin into all pages of your Shopify website
You need to be confident in your product quality to go on with this option. The customer reviews plugin will thus follow your website visitors on any page they visit. This can suit some small websites with not so many pages, so that the result wouldn't look awkward on any of them. The content of your website pages should be reasonable, and correspondingly it must be clear for the visitors why they see the reviews on each page.
Also, it can be a good strategy for those businesses who are actively collecting reviews and whose key goal at this stage is to grow credibility and customer pool.
How to Incorporate Plugin Into Shopify Websites
At this point, we have learnt about strategies of incorporating the plugin to websites wisely to accomplish certain business objectives. This is a correct time to provide you with tutorials on how you can do that in practice. Learn about adding the customer reviews to different website areas here:
How to add customer reviews to a website's specific page of your Shopify website
Here's the tutorials on how you can quickly put the plugin on a specific webpage:
Firstly, access the visual editor of your website and navigate to the online store section. From there, click on "Customize".
Then, select the "Custom Content" section and put it on your website page.
Find the "Sections" option in the left-hand menu and click on "Add new section".
Assign a name to the section, then continue a further customization.
Insert the HTML code of the free customer reviews plugin into the editor, and don't forget to save your changes in the Shopify admin dashboard.
How to add customer reviews to Shopify store template
Just follow these steps to form a template on your Shopify store website:
Log in to your Shopify account and select the store where you want to integrate the free customer feedback solution.
Navigate to "Actions" and choose "Edit Code" to access the code editor.
Locate the theme.liquid file in the "Layout" section to start editing.
Insert the HTML code of your custom customer reviews plugin for Shopify right before the closing tag.
Finally, save your modifications, and the job is done!
How to add customer reviews to Shopify website product pages
This is how you incorporate the application into any of your website's product webpages:
Firstly, log in to your Shopify and access the admin dashboard of your website.
Head to the online store section and choose "Edit Code" in the "Actions" menu tab.
Then, access the template for your product pages.
Look for the "Product Template File" in the "Sections".
Find the perfect spot on the template to showcase the no-code customer reviews plugin.
Finally, insert the installation code into that spot and save your changes.
Find your Perfect Template to Effortlessly Make Custom Plugin
As we have written earlier, creating a plugin with Elfsight is as easy as 1-2-3. However, we have formed a collection of templates to make this process totally convenient for everyone. Actually, you can just use any of our free templates for your own project without changing the settings. Equally you can change any of the templates in the most unrecognizable way. In a word, it all depends on your creativity and business objectives.
Examples of What You Can Build with Elfsight
Example 1. List
Transform your Shopify reviews into a sleek, minimalistic list on your website page. By removing the header and enabling Auto width and height adjustments, as demonstrated in this instance, the widget seamlessly adapts to the available space on your webpage, giving it a native appearance. You can further refine the display by utilizing filters to limit the number of elements, showcase only those with positive ratings, or hide those containing specific keywords.


Example 2. Masonry
Present your rating elements in an elegant Masonry grid format, intelligently arranging them based on their height. The addition of a custom color scheme gives the grid a distinctive and eye-catching appearance. The star ratings accompanying each review serve as a testament to the high praise received from satisfied customers.


Example 3. Grid
Combining the Grid layout with the Spotlight review template results in a refined and polished widget. The linear design and centered review text draw maximum attention. Moreover, the adaptability of the Grid layout allows it to seamlessly match with any other review template, making it highly versatile.


Example 4. Carousel
Utilize the Slider layout to showcase a dynamic carousel with autoplay functionality. This is particularly effective for the homepage of a website. The Slider layout offers various navigation options, including arrows, drag, or pagination, and allows you to customize the number of elements displayed per slide.


Example 5. Slider
Highlight each review individually to capture maximum user attention. In this scenario, the Spotlight template dictates the arrangement of elements, placing the author's picture and rating above the review text, all of which are center-aligned. Users can easily navigate through other opinions by dragging or using arrow buttons.


Example 6. Slidebar
Here's a brilliant example of seamlessly integrating a widget into your website, even within a limited space. Positioned as a sidebar, this widget showcases only essential elements, maintaining responsiveness for various screen sizes, and preserving all functionality.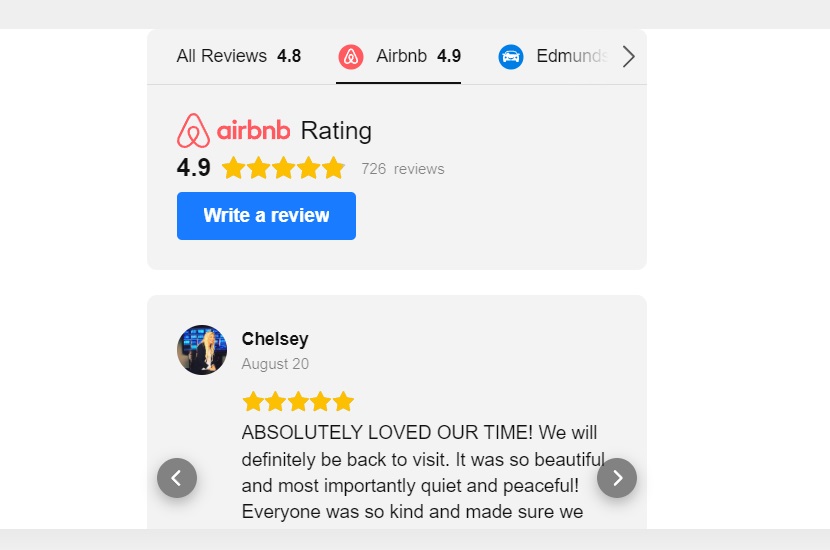 These are just a few of the possible outcomes that you may reach when making the widget in the editor. Feel free to use any of these ideas to build a personal no-code customer reviews app for Shopify websites. The settings of the editor are flexible enough to help you form a perfect solution for your website's content and design.
Get More Efficiency with Customer Reviews: Tips
For those who reached this section, we would love to share some advanced ideas on how to better manage your no-code customer reviews plugin for Shopify.
Use real reviews on your website. Fake reviews damage your reputation just as much as real ones increase it. If people notice that your feedback section is not true, they would think that your business is not actually doing well.
Select opinions from relevant platforms. Elfsight customer reviews offer 30+ platforms you can take people's opinions from. Focus on the most relevant reviews for your business and type of product. Various pages may also need various reviews depending on their topic and content.
Adjust filters to display the most interesting opinions. Our marvelous product allows you to adjust filters for your feedback section to showcase the most suitable opinions in each corresponding area.
Upload certificates for more credibility. You can enhance your e-store with more products from Elfsight. For instance, you can add even more credibility to your reviews section, by incorporating a PDF file or a PNG scan with your achievements. With Elfsight's File Insert, you can upload neat documents with a preview option to your Shopify website. Find more information on incorporating and using this solution on websites.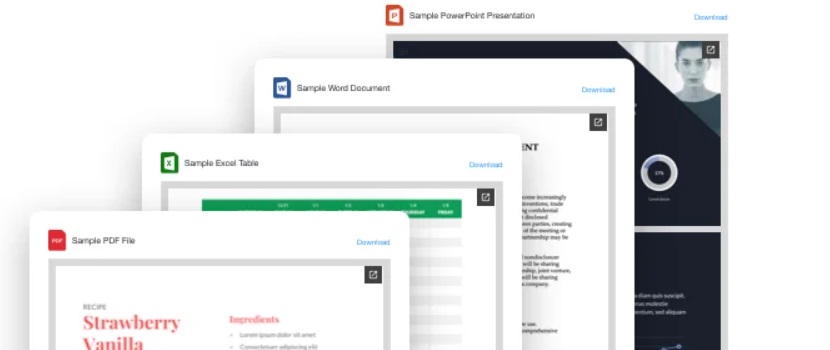 Add FAQs about your products. Furthermore, you can add Elfsight's FAQ lists that improve navigation and help people learn more details about your business. Together with customer reviews this FAQ widget can entirely describe the required products and processes. In case it is a suitable idea for your website, learn about putting and benefiting from FAQs on any website.
Inspire customers to leave reviews. You obviously need customer reviews to make a nice and useful widget for your website. Ask your customers to leave feedback. For example, you can offer coupons for the next purchase in return for an opinion over your business. Don't forget that our product also has a CTA button to attract more feedback.
Add reviews wisely on correct website pages. As we found out, you can add the customer feedback to any section of your website. Always keep in mind your business objectives. You sometimes need to bring attention to a certain product, while another time you want to broaden your review collection or raise credibility among new users.
Conclusions on Shopify Customer Reviews
In conclusion, our exploration of the Elfsight no-code customer reviews widget has been a journey through its efficiency, creative apps, and advantages of adding it to Shopify websites. We began by uncovering the widget's remarkable efficiency, a Shopify tool that not only showcases customer reviews but does so with elegance and functionality.
In the following sections, we delved into real-world examples of the application in action, demonstrating how it can be tailored to form visually appealing and informative displays. We discovered its adaptability with Shopify in presenting reviews in diverse layouts, from sleek lists to eye-catching grids and dynamic carousels. These examples illustrated the application's capacity to suit a wide range of website styles and preferences.
Furthermore, we took a step-by-step approach to learning how to build and seamlessly add the Elfsight all-in-one reviews to Shopify websites, ensuring that it enhances user experience across various pages. We addressed many of the questions that may arise during this process, providing practical insights and solutions.
Join Elfsight for More Cool Features
As we wrap up, we invite you to explore our Help Center, where you can find in-depth guides, tutorials, and valuable tips to further enhance your experience with the Elfsight customer reviews for Shopify websites. Whether you're a seasoned user or just getting started, our resources are designed to empower you in maximizing the product's potential.
Additionally, we encourage you to join our vibrant Community, a dedicated forum section where users come together to share their experiences, exchange ideas, and engage in meaningful discussions. It's a place where you can connect with fellow users, learn from their insights, and find inspiration for new and innovative ways to make the most of your Elfsight all-in-one reviews for Shopify websites. Together, we can continue to build outstanding online experiences.