JQuery Information Box Popup template
Enhance the user experience and deliver key points with our Information Box Popup template for jQuery websites. This visually appealing and responsive widget provides the perfect format to present essential details in a sleek and professional manner. Engage your visitors and increase conversions with this easy-to-use and customizable tool!
Features
12 Customizable Content Elements
Email Notifications via Form Fill-Out
Form with 5000+ Integrations
Modal, Slide-in, Pane Layout Designs
Sticky Popup Opening Button
Frequency Popup Display Settings
Exclude or Specify Pages for Displaying
Auto-Opening Trigger after Time Spent
Scroll Trigger On-Element or On-Click
Exit Intent Trigger
Set Up Popup for Multiple Mobile Devices
Call-to-Action Button
Coupon & Redirect Link Creation
HTML & iFrame Fields
Image & Video Upload
Mobile Optimized
Page-Speed Friendly Lazy Loading
Tech-Free Customization
Language Localization
Custom CSS & JS Editors










































Template Catalog
Need a Different Template?
Check out more ready-made templates for any use case or build your own!
Add a text popup to your website and attract attention to special promotions or other relevant events.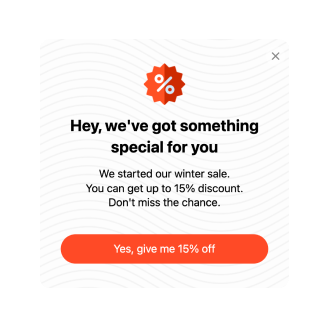 Create mutual trust within your website community and stay connected using this popup widget.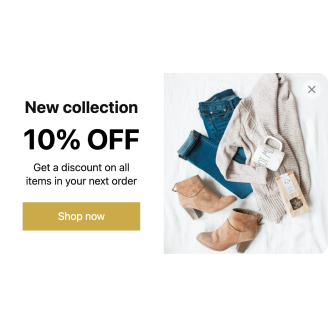 Add a popup widget to promote your special offers, discounts, or announcements with an eye-catching banner.
Create a maximum customer engagement with push notifications using this popup widget.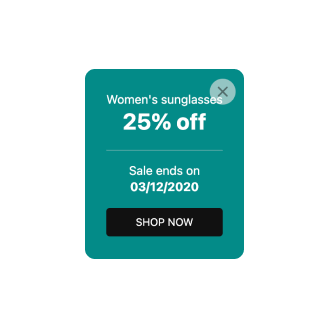 Help your visitors stay up to date with your future events by means of Elfsight Popup.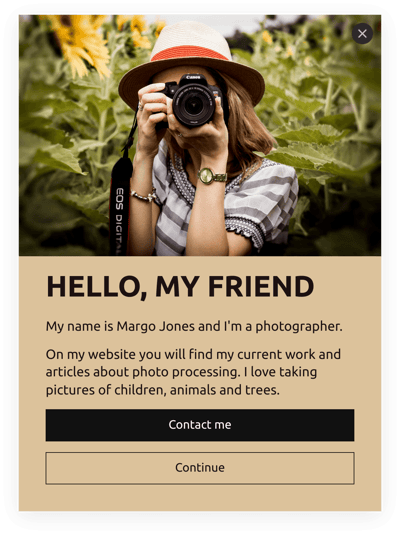 Create a heart-warming first impression and engage new visitors with the welcoming popup.
Add a popup template to your website and inform the users of big announcements and upcoming updates.
Add a professional touch to your website and communicate any terms with this popup template.
No Suitable Template?
You can easily assemble the widget you need using our simple-to-use configurator.
Here's what people say about Elfsight Popup widget
I've been using the Popup widget for a couple of weeks now, and I must say it's been the optimal experience. Elfsight empowers me to create a plugin with no need for any coding skills, which I can effortlessly integrate into client websites to address the needed tasks.
The ease of use for designing personalized widgets has significantly reduced the time as I no longer need to manually write code for certain elements on my JQuery website. I had anticipated seamless functionality from the product. Yet, I was truly surprised to receive the exceptional level of service and support. Highly recommended!
I have implemented the Information Box Popup on my website and haven't encountered any problems at all. I must say, the customer service has left me thoroughly satisfied. They've been extremely informative with any inquiries I've had and delivered answers within a matter of hours.
FAQ
How to create the Information Box Popup template for the JQuery website?
To create the Information Box Popup for your website, take the following steps:
Choose the Information Box Popup template.
Personalize the elements and features to align with your branding goals.
Authorize your Elfsight profile.
Receive the installation code.
How to add the Information Box Popup template to the JQuery website?
To embed the Information Box Popup on your JQuery website, take these steps below:
Customize the appearance of the Popup widget to suit the design style of your website.
Sign in to your Elfsight admin panel or set up a free user profile.
Get the unique embedding code.
Navigate to your website.
Insert the code into your website builder. Done!
For additional details, we advise reading our blog article about how to embed Popup on a website.
Do I need to have coding or programming skills to embed the Information Box Popup?
No. You are not required to possess any coding skills. You have the full capability to create and add the Information Box Popup to your website without any specialized background or knowledge.
Can I set up the popup to open automatically?
Certainly. When you're in building mode, opt for a trigger to display the Information Box Popup template at the right time on your JQuery website. Here are your options: on-page load, within a specific time spent on a page, on scroll, on scroll to element, on click, and on exit intent.
Can I use the Information Box Popup template for free?
Yes, absolutely. There is no hurry to dive straight into the paid alternatives right away. Elfsight operates on a tiered subscription model that offers Free, Basic, Pro, Premium, and Enterprise plans. Take your own pace and explore all the functionalities without limitations with our Free tier. But remember, you can always upgrade and access perks when you're ready!
Can I add a call-to-action button to the Popup widget?
Absolutely! Just follow these steps:
Launch the Popup configurator.
Navigate to the "Blocks" menu option.
Insert the "Button" element.
Define a call-to-action message, click behavior, and visuals.
What email integrations or tools does the JQuery widget support?
The primary perk of this JQuery widget is its synchronization ability with external applications: Mailchimp, Zapier, and Google Sheets. You can go the extra mile and be assured that no captured data slips away.
Where can I add the Information Box Popup on my JQuery ?
The final call is yours to make. There are no specific regulations to meet. Nevertheless, ensure it makes sense and is placed in a highly popular spot, such as the homepage or product page.
How to customize the Information Box Popup?
Wide-ranging options are available-personalize the complete widget's look to mirror your brand ethics and accelerate conversions rapidly:
Popup details
You can stack elements and create an array of limitless content blocks: header, text, CTA button, redirect link, coupon, form, image, and video. Also, for an improved visual appeal, you can include spacing, separators, and custom HTML and iFrame fields.
Display settings
Elfsight offers three alternatives: frequency, pages, and devices. Specify all the requirements to uphold the desired standards.
Custom elements and features
But that's not all, there are still many more possibilities to discover: triggers, custom CSS, custom JS, redirect link, layouts, close buttons, background visuals, alignments, and so on.
For more clarification, reach out to our Support Team to address any queries and prevent misunderstandings in the future!
Help with Information Box Popup Setup and Website Installation
If you need additional details about the widget templates or assistance, we suggest looking into these resources:
Support
In case of any pending matters, we advise you to contact the Elfsight Support Team or browse related topics in the Help Center.
Forum
Connect with business professionals like yourself and participate in ongoing events in our exclusive community for extra assistance.
Wishlist
Suggest your creative concepts, functionalities, and plugins by using the Wishlist.