Blogger E-commerce Popups for website
Level up your marketing efforts and unleash the full potential of the Blogger website with the E-commerce Popups templates at your disposal. Discover the thoughtfully curated selection of popup designs for all your needs: coupons, welcoming, shipping, discounts, and many more. Stand out as a premier online retailer and embody the mantra of delivering quality over quantity!
Create a popup template and encourage online shoppers to complete their purchases.
Create an attractive popup widget to prompt users to add items to their carts with a few clicks.
Add a popup template to your website and offer exclusive coupon codes or discounts to online shoppers.
Add a discount popup to your website to draw attention and motivate users to make a purchase.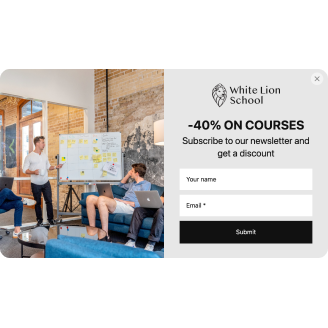 Create an engaging popup widget and start offering the best deal for your online customers.
Create loyalty among the website customers by giving away exclusive Amazon discounts with this popup.
Add a popup widget on your web page to boost the average order value and double the outcome.
Create a popup template to give the best product recommendations for online customers.
Adding a popup widget is the best for personalizing the shopping with tailored product suggestions.
Create a popup template to increase your average order value and upsell complementary products.
Create long-term relationships with your customers by embedding an easy-to-use popup widget.
No Suitable Template?
You can easily assemble the widget you need using our simple-to-use configurator.
Why are Elfsight Blogger E-commerce Popups the best?
Reach your appropriate target market, pique the audience's curiosity, and make them captivated by your business using Elfsight's E-commerce Popups templates. Design a
Popup widget
that embodies your brand's identity using a compelling central message that leaves a lasting impact and a variety of visually personalized elements. No coding knowledge or design expertise is needed for embedding-simply tweak it accordingly, get the installation code, and add it to the Blogger website.
Doesn't it sound effortless?
Start spreading the word, generating demand, and becoming the mastermind of your own marketing strategy for special events or recent sales!

Blogger E-commerce Popups Features and Integrations
Email Notifications via Form Submission
5000+ Data Export Integrations
Customizable Modal, Slide-in, Pane Layouts
Sticky Popup Opening Button
Adjustable Frequency Display Setting
Exclude or Specify Pages for Displaying
Scroll Trigger On-Element or On-Click
Set Up Popup for Multiple Mobile Devices
Coupon & Redirect Link Creation
Page-Speed Friendly Lazy Loading
Multiple Languages Translation
How to create E-commerce Popups template for Blogger website
To create the E-commerce Popups plugin for your Blogger website, you can complete this tutorial:
Select the most desirable E-commerce Popups template.
Click on the "Live Preview" button.
Modify the elements and features to fit your branding.
Sign in to your Elfsight profile.
Obtain the installation code.
Looking for extra help? Get in touch with the specialists from the Help Center.
How to add E-commerce Popups to Blogger website
In order to embed the E-commerce Popups on your Blogger web page, complete the uncomplicated tutorial:
Log in to your Elfsight dashboard.
Get the personalized installation code.
Access your Blogger site editor.
Insert the code and save your edits. Well done!
For further assistance, please, contact the Elfsight Support Team or refer to our blog post on how to embed the Popup widget on a website.
FAQ
Can I embed the E-commerce Popups without coders?
Yes! With Elfsight, you don't need to have any programming knowledge or a third-party application to help you install the widget. This means that you can embed the E-commerce Popups using the generated code snippet provided by our team.
What kind of triggers can I set to the popup widget?
With the Popup widget, you are given the flexibility to adopt a customized approach with its diverse set of trigger options: on-page load, after a specific time spent on a page, while scrolling, on scroll to element, on click, and on exit intent. Your business requirements and preferences are the key factors!
What website builders and CMS are compatible with the E-commerce Popups besides Blogger?
Our widgets are supported by 99.9% of websites.
What details can I include in the E-commerce Popups?
Stay on track with the E-commerce Popups template while granting yourself the space to cover all the key factors-insert various marketing copy blocks, attach the coupon code, incorporate a persuasive CTA button, and don't forget about visuals.
Can I sync my popup with other integrations?
You can definitely do this! To do so, follow these steps:
Access the Popup live demo.
Find the "Builder" tab.
Add a new "Form" block or modify the existing one.
Scroll down until you reach the "Integrations" tab, then click on it.
Select the integration-Mailchimp, Google Sheets, or Zapier-and proceed with the additional directions on the screen.
On what Blogger website pages can I add the E-commerce Popups?
There are no rigid regulations when it comes to positioning the widget. It solely depends on what you prefer. Some favored alternatives are the main landing page, contact information page, or merchandise page.
What kind of display settings does the widget support?
With the E-commerce Popups templates, you have access to three configurable display options: frequency, pages, and devices. The frequency setting allows you to have the flexibility to adjust how often popups appear depending on your unique business decisions. Likewise, you can make choices regarding the inclusion or exclusion of pages and devices. The crucial aspect is you have the advantage of complete customization and staying true to your branding standards.
Can I customize the E-commerce Popups template for Blogger websites?
Yes, sure! Beginning with the contextual visuals and layout designs to the paddings and precise alignment-you can venture into a wide range of personalized elements and free-to-use features to identify what works best.
Do the E-commerce Popups templates work on mobile devices?
Yes, the Popup templates embrace this vital aspect to offer a top-notch encounter for each user. No matter the gadget-the phone, desktop, laptop, or tablet-this Blogger plugin is compatible with mobile format.