Discover a blog post about a coding-free form creator to set up a form for your website in no time. Learn how to easily create a custom form for any CMS.
How to Streamline Form Creation Process
Developers offer a ready-to-use solution to simply create custom forms. With an intuitive functional interface and a plethora of form elements, you can create forms that fit your needs best in minutes. It has a wide range of features, such as auto-sending emails, forms with custom fields, and multi-step forms. This way, you can easily customize your form for maximum user engagement. Let's get started getting familiar with a Form Creator by Elfsight to set up a form straight away.
Form Creator lets you generate and add form to web page immediately:
Sign in to your Elfsight account or create a free one if you don't have it yet.
From the widget list, pick up Elfsight Form Creator.
Choose a form template and design it with colors and fonts.
Save the changes and copy the code that pops up at the end of the process.
Embed the code into the website in a flash with no complexity.
Add advanced settings for GA, CSS, Zapier or JavaScript (optional).
Amazing! Your personalized form is live and operational on your website within moments, at no cost to you!
Features of Elfsight Form Creator
Elfsight Form Creator is a comprehensive tool for website owners to create forms without dealing with code. It offers a wide range of features designed to help create beautifully-looking and effective forms. Among these are:
| | |
| --- | --- |
| Pre-filled fields | The form creator provides website owners with the ability to pre-fill or autopopulate form fields based on customer data that's already available, making it easier for them to fill in their information. |
| Multi-step forms | The form creator allows website owners to create multiple steps in a single form, thus providing the user with an easier and more intuitive experience when filling out their information. |
| Responsive design | The form creator ensures all forms look great on any device, regardless of size or resolution. |
| Customizable colors and fonts | The form creator allows website owners to customize colors and fonts in order to match their brand identity. |
| Multiple languages | The form creator supports multiple languages, allowing customers from different countries to fill out the form in their native language. |
| Online analytics | The form creator provides detailed insight into how customers interact with forms and what actions they take, helping website owners tweak their design for maximum impact. |
| Easy integration options | The form creator integrates seamlessly with popular web platforms such as WordPress, Joomla, Drupal, etc., making it easy for website owners to deploy forms on any site quickly and easily. |
All in all, Elfsight Form Creator offers a wide range of features for easily creating custom forms for your website, regardless of your coding or technical knowledge. Its great features make it a popular and user-friendly choice for any website within business owners of all sizes.
Thorough Guide to Creating Custom Website Form
You do not need any coding skills to create and customize a form for any website. The process is now made simple and straightforward.
With Elfsight Form Creator, making a responsive custom form for your website is free and straightforward, even if you're unfamiliar with code:
Once you've built and embedded the form, it will automatically function online without any additional effort.
Plus, you can make any adjustments directly in the online creator, without having to edit your website platform's code.
The best part is that configuring its design and functionality via the online creator is free of charge.
To get a visual guide on how to create the responsive form and add it to any CMS, watch the accompanying video:
First, let's create and set up a design for your custom form. The process is the same for any website platform you might be using. Then, after having your custom code, the process to add the form to your web page may vary from platform to platform. Please follow the text guide to see how simple it is to create and add it to your web page yourself:
Go to Elfsight's website and create a free account or log in if you already have one.
Once you're logged in, choose Elfsight Form Creator and click on the "Create Form" button to start a new form.
Now, select a template for your form. You can choose one that best suits your needs, or create a blank form if you prefer to start from scratch.
After selecting a template, you'll be taken to the form creator. Here, you can add and customize different form elements such as text fields, dropdown menus, checkboxes, and more. In the online creator, you can also drag and drop elements to rearrange them as needed for your website.
To edit an element, the best way is click on it and you'll see the editing options on the right-hand side of the online creator. Here, you can change the label, description, and other settings for each element.
Once you've added and customized all your form elements, you can adjust the form settings by clicking on the "Settings" tab. Here, you can configure options such as form submission behavior, email notifications, and more.
After setting up your form, click on the "Publish" button to generate the embed code for your form.
Copy the embed code and paste it into your website's HTML code.
Finally, save your changes and test the form to make sure it's working as intended.
That's it! With Elfsight Form Creator, you can easily create and customize forms for your website without any coding knowledge. More than that, you can also add them to your website with no effort.
Customization Tips for More Form Efficiency
Customization is essential for creating a form that not only meets your specific requirements but also provides a positive user experience. Here are some customization tips for Elfsight Form Builder:
Use a website's branding color scheme
Use a color scheme that matches your website's branding to make the form look more cohesive with the rest of your website.
Add custom CSS
Through the form maker, add custom CSS to the form so that it looks more unique and visually appealing.
Use images or icons
Use images or icons to make the form more engaging and user-friendly.
Add validation rules
Add validation rules in the form maker to ensure that users enter the correct information in the form.
Create custom submission behavior
Customize the submission behavior to specify what happens after a user submits the form.
Create custom confirmation message
Customize the confirmation message to provide feedback to the user after form submission.
Use the 'thank you' page option
Use the 'thank you' page option to redirect users to a custom landing page after they submit the form.
Add custom CSS to the 'thank you' page
Add custom CSS to the 'thank you' page to create a more visually appealing and engaging look.
By using these customization tips for Elfsight Form Builder, you can create a form that is not only functional but also visually appealing and user-friendly. Having it on your web page can help you build more engagement within your users.
Create Any Form Within One Tool
Elfsight Form Builder is a comprehensive tool that allows you to create a wide range of customizable forms, including contact forms, surveys, quizzes, and more. Its intuitive interface and advanced features make it the best solution for businesses that want to streamline their workflows, generate leads, and optimize their website's processes.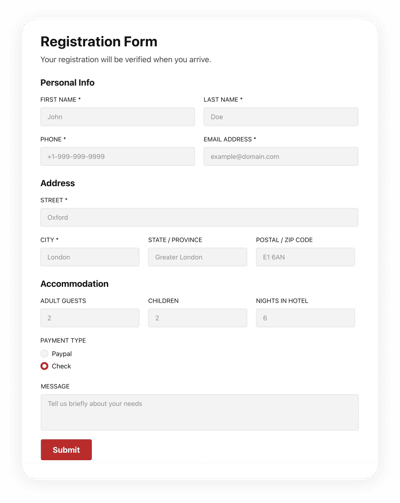 How Businesses Can Benefit From Having Form on Website
Elfsight Form Creator is a powerful tool that can be used by website owners for a variety of purposes. Here are five examples of how businesses can benefit from having custom forms on their website:
Retail store owners who have physical shops can use an online contact form to receive customer inquiries and feedback. This is especially helpful for customers who are unable to visit the shop in person due to time constraints or distance.
Human resource departments can create online forms for job applications, allowing potential employees to provide necessary information and documentation in an efficient and organized manner.
Event organizers can create registration forms for their attendees, making it easy for participants to submit all required information at once.
Charities, non-profit organizations and other similar institutions can generate donation forms, providing a convenient way for supporters to contribute funds or goods with just a few clicks.
Bloggers and vloggers can construct feedback forms, allowing readers and viewers to share their thoughts on posts or videos without needing to leave lengthy comments.
No matter the purpose, Elfsight Form Creator offers the flexibility and convenience needed in creating professional custom forms quickly and easily.
Further Assistance Resources
If you're looking for help with creating forms for your website, Elfsight's Form Creator makes the process easy and efficient without requiring any knowledge of HTML code. If you have any questions about the free Form Creator or need further assistance, there are several options available to you:
If you found the blog post useful, you can see more related posts or share the information with someone who might need it. And certainly there will be new posts to look forward to. Thank you for your time and see you again soon!