Find out how to create custom forms on your Magento website with ease. Streamline your form creation process and enhance your Magento website's functionality with a ready-to-use solution. Discover benefits, customization advantages, and step-by-step instructions for creating a form that meets your requirements. Follow this guide to get started today.
How to Create Form on Magento in Minutes
Creating a custom form on your Magento website doesn't have to be difficult. Instead of coding it from scratch, you can leverage an intuitive and user-friendly Form Builder extension to simplify and streamline the process. Programmers offer one that is a perfect choice for Magento users, as well as the wide range of customization options to alter the look, feel, and function of your forms. You can find a comprehensive guide on how to create and add a form extension to Magento straightaway in this blog post.
Create a form on Magento in a flash
The process to set up a form on a Magento website is now made simple:
Create an account on Elfsight for free.
Install the Form Builder module on Magento.
Choose the form type in the online creator.
Set up a design of your form module.
Configure the needed form settings.
Publish the form on your Magento website.
Amazing! In just a few moments, you can already enjoy the form you've created on Magento.
Form Builder Benefits and Limitations
Elfsight Form Builder, while a versatile tool, does have some limitations that users should be aware of. Here is a table to keep in mind while considering whether or not to use Elfsight form extension:
| | |
| --- | --- |
| Benefits | Limitations |
| Range of form types: With the extension, users can create different types of forms including contact, purchase, reservation, and registration forms. | Limited free plan: The free plan has only basic features of the builder and may not be sufficient for some Magento users. |
| Customizable: Elfsight online creator allows for customization of layout, colors, and fonts of the form to match the website's style. | No annual or lifetime subscription: Users are limited to monthly subscription plans, which may be inconvenient for those who prefer to pay for a longer period upfront. |
| Real-time notifications: Users can receive notifications in real-time when someone fills out a form. | Performance impact on Magento websites: The use of Elfsight Form Builder code can cause a slight decrease in performance rating on Magento websites in the early stages of use. |
| Advanced features: The extension offers features such as CAPTCHA, file uploads, and conditional logic fields to improve user experience and website security. | |
| Integrations: Elfsight Form Builder integrates with popular third-party apps and services such as Mailchimp and Google Sheets. | |
A Step-by-Step Guide to Creating Form on Magento Website
Creating forms on Magento websites using Elfsight Form Builder can help you engage with customers more effectively and provide them with an intuitive and user-friendly way to share information with you. Plus, the module is straightforward and easy to use, requiring no coding or programming knowledge, making it the perfect choice for any Magento user. For those looking for a comprehensive guide to creating forms on Magento websites, here's a step-by-step breakdown.
Customizing your Magento website has never been easier:
With the ability to create a custom form with a unique design, you can enhance your website's functionality without any extra cost.
Once created and installed, the module's performance on Magento is automated and requires no additional work on your part.
Moreover, any modifications to the form can be made directly in the Elfsight creator, eliminating the need to edit your platform code.
Plus, reviewing the custom form functionality and configuring the design won't cost you a dime.
Elfsight's module allows you to effortlessly create personalized forms on Magento that cater to your unique requirements, even if you have no prior experience in coding. Check out the text tutorial to see for yourself how easy it is to use and go through it step by step while creating the form:
Step 1. Log into your Magento account and navigate to the Elfsight Form Builder module.
Step 2. In the Elfsight module creator, choose a form template and start adding elements, such as text fields, checkboxes, and dropdown menus.
Step 3. Personalize your form with your logo or images, customize form styles, and design page redirects after successful submission.
Step 4. Test the form to make sure it works the way you want it to.
Step 5. Once your form is ready, you can publish it directly to any page within the Magento admin interface.
There you have it! Your custom form is now up and running on your Magento website. If you encounter any issues or difficulties with the builder, don't hesitate to reach out to the Elfsight Support Team for assistance.
Taking Advantage of Customization Options With Elfsight Form Builder
You don't have to be an experienced coder to create a beautiful form on your Magento website that meets your customers' needs. With Elfsight Form Builder, you can customize your form from scratch or use the provided templates to get started quickly.
Elfsight Form Builder has multiple useful features that will make the process easier:
AJAX submit and real-time validation. This enables your customers to check if their inputs are correct without having to reload the page or wait for a response from you.
Color palette customizations, allowing you to match the form with the theme of your website.
ReCaptcha integration for additional security to prevent spam and other malicious activities.
Easy installation on Magento with a few clicks of a button.
All these features will make your forms more user-friendly, while still following Magento's guidelines and standards. By taking advantage of these customization options, you can ensure that your customers have a positive experience when they visit your site and make sure that their data remains safe and secure.
Understanding Magento Forms
Creating a form on a Magento website can be both simple and complex. It requires technical knowledge and basic understanding of the data to be obtained and how it will be used. Here are the three whats to consider when creating a form on Magento:
What type of form?
There are different types of forms such as contact, purchase, reservation, and registration forms. Knowing the purpose of your form will help you select the most suitable type for your website.
What kind of information?
Once you've determined the type of form, consider what data your customers need to provide. This will help you decide how many fields your form should have and what data should be included in each field.
What additional features?
Features such as CAPTCHA, file uploads, or conditional logic fields can enhance the user experience and improve Magento website security.
A Versatile Tool for Creating Any Type of Form
Elfsight Form Builder is a versatile solution that enables users to create customized forms, quizzes, surveys, and other types of interactive content. With its intuitive interface and robust functionality, the builder is ideal for businesses seeking to capture leads, automate tasks, and optimize workflows.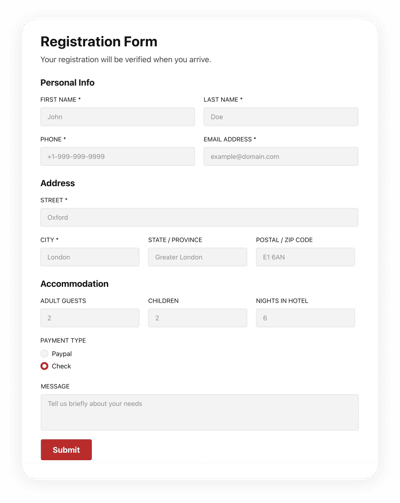 Troubleshooting Common Issues With Magento Forms
At times, you may run into issues while creating a form on your Magento website. Here are a few common custom issues and how to troubleshoot them:
Issues With Storing Custom Data
If you're having issues with storing data in your form, make sure you have the right permissions set up for the database. You may need to update user permissions or adjust other security settings as needed to make sure the form is able to access the database correctly.
Troubleshooting Code Errors
If you're seeing code errors while working on your form on Magento, double check your code syntax and make sure all of the code is correctly formatted and free from typos. If needed, consult an experienced web developer or a coding expert for help with resolving this issue.
Form Not Submitting Properly
If your form isn't properly submitting information, make sure that all of the required fields are filled out correctly. Additionally, check for any validation errors that could be preventing the form from being submitted successfully.
Unresponsive Design Elements
Sometimes elements within a Magento-built form can become unresponsive and difficult to use. To resolve this issue, try refreshing the page or clearing your browser's cache and cookies to see if that helps with improving responsiveness on any design elements within your form.
If these troubleshooting efforts don't work, then it might be time to consider using a specialized extension such as Elfsight Form Builder to simplify the process of creating forms on Magento websites.
Have More Questions? Here Are Some Resources
Creating forms for your Magento website with Elfsight is a breeze, thanks to the responsive module that lets you design any type of form you need. If you have any additional questions, there are several resources to help you out:
Thank you for reading the blog post to the very end. There will be even more useful articles coming soon, stay updated!