Learn how to quickly create and customize forms for any purpose. Read about a ready-to-use solution with a variety of templates to easily create, customize, and manage forms.
How to Create Form on Drupal Website for Free
If you're looking for a way to easily create a custom form on your Drupal website, there is a perfect solution. Developers offer a simple and intuitive Form Builder module that will quickly help you build a form of any complexity without delving into coding. You'll be able to add various interactive elements to the ready-made template of your forms, for example, multi-choice questions, text fields, file uploads, and more. You'll also be able to customize the design of your forms so that they seamlessly fit within your Drupal website. This guide is made to explain how easy it is to set up a form in minutes.
Create a form on Drupal in a blink of an eye
Create a costless Elfsight account.
Access the Elfsight Form Builder.
Pick the template suited for your website needs.
Create your custom form and save it.
Copy the generated code from the pop-up window.
Include the code to your Drupal website.
Wow, that was easy! A few moments passed, and you can already enjoy the created form on Drupal.
Benefits of Elfsight Form Builder Module
Elfsight Form Builder benefits businesses by offering a wide range of powerful marketing tools, such as:
Customized forms tailored to specific needs increase the chances of generating high-quality leads.
Responsive design and customizable templates improve user engagement and experience, increasing the likelihood of form completion.
Integration capabilities automate workflows, streamline processes, and save time, increasing website productivity.
Data analysis tools track and analyze form submissions, identifying potential issues or areas for improvement.
Personalized forms with conditional logic create more targeted and effective forms to improve conversion rates.
Multilingual support enables those running web businesses on Drupal to reach a wider audience and collect data from visitors anywhere.
Customizable templates create a professional-looking form design that match branding, increasing brand awareness.
Easy embedding onto Drupal web page allows for data and lead collection without requiring visitors to leave the website.
Secure data collection and storage blocks malicious attacks and protects sensitive custom information.
Affordable pricing plans make it accessible to businesses on Drupal of all sizes, making it a cost-effective marketing tool.
What Features Does Elfsight Form Builder Have?
Building any type of form on a Drupal website is made effortless with the Elfsight Form Builder, even for those who have no prior experience with coding. The module is packed with a host of user-friendly features that are easy to navigate, making it accessible to Drupal website owners with limited technical expertise.
| | |
| --- | --- |
| Multi-step forms | This powerful tool allows you to create some of the most complex forms like multi-step forms, as well as simpler ones. Whether you need a single-page or multi-step form containing simple or complex elements – this module will let you easily guide users through the process of data submission whatever it is about! |
| Over 20 form elements | There are more than 20 different form elements available to add to the form template such as text, checkboxes, and dropdowns. This way you can easily customize your form to fit your website's design and purpose. |
| Extensive form styling | You can customize the color palette of your template, as well as font style and size of your forms according to your taste or website's design. You'll also be able to adjust the size of the form itself and make it responsive in one click. |
| Capabilities to create any form type | No matter how complex your requirements are, this module allows you to create any form type with ease. So whether it's a contact form for customer inquiries or a survey for collecting feedback from customers—you'll be able to embed forms within no time. |
| Security | The builder has all the necessary safeguards in place to protect against spammers, like reCAPTCHA for extra security, stopping malicious attacks. |
| E-mail notifications | The form creator also allows for various email notifications – you can send yourself an email containing the form details or an auto-responder email after a customer completes the form. |
| Polyglot forms | Any language can be implemented into your custom form – many top languages are supported such as Spanish, French, Italian, Portuguese and Serbian. |
Full Guide to Create Form on Drupal Website
The process of creating a form with Elfsight Form Builder for your Drupal website is straightforward and can be accomplished in just a few steps.
Create a custom module with a unique design for your Drupal website – it is both free and simple!
Once built and installed, the module's performance on Drupal is automated and requires no extra work.
Additionally, any changes to the form can be made directly in the Elfsight module creator, eliminating the need to edit your platform code.
Best of all, there are no charges for configuring the design and reviewing the custom module functionality.
With the module, you can quickly and easily create customized forms that are tailored to your specific needs, without any prior coding experience. Please watch the video with installation example to make sure:
Here's also a comprehensive guide in a text format to get you started:
Step 1: Install and activate Elfsight Form Builder
Log in to your Drupal website and navigate to the "Extend" block menu.
Click on "Install new module" and upload the Elfsight Form Builder module.
Once the custom module is built and installed on Drupal, activate it.
Step 2: Create a new form
In the Drupal dashboard, click on the "Elfsight Forms" menu and select "Create new form".
From the ready examples, choose a custom template or start to build a unique design from scratch.
Give your form a name and select the fields you want to include.
Step 3: Customize your form
Use the drag-and-drop editor to add and remove fields, as well as to change the design of your template.
Customize the appearance of your form by adding your own branding, colors, and fonts.
Configure advanced template settings, for example, notifications, confirmation messages, and integrations.
Step 4: Publish your form
Once you're happy with your form, click on the "Publish" button.
Choose how you want to embed the form on your Drupal website (e.g. through a shortcode, widget, or block).
Preview your form to make sure it looks and functions as intended.
Step 5: Monitor and manage submissions
Elfsight Form Builder comes with a built-in submissions manager that allows you to view, filter, and export form submissions.
You can also set up email notifications to receive alerts whenever someone submits a form.
That's it! You can enjoy the form on your Drupal website now. And if you encounter any difficulty, the Elfsight Support Team is always there to give you a helping hand.
How to Customize Your Form With Elfsight Form Builder
Elfsight builder allows you to customize your forms quickly and easily, so you can get back to what matters most – running your business.
Here are ten ways to customize your form with Elfsight Form Builder:
Start quickly by choosing customizable templates including contact, feedback, and survey forms.
Revamp your form's color scheme, font, and background to align with your brand identity and impress users.
Personalize your form by adding or removing fields based on your specific needs.
Use conditional logic to show or hide form fields based on user responses for a seamless experience.
Fine-tune your form's appearance with custom CSS for advanced users.
Switch up the template layout with various options to ensure user-friendliness.
Alter your thank-you message for a warm and personalized experience.
Set up custom email notifications to stay on top of every lead.
Allow file uploads for collecting necessary information.
Preview and test your form before launching it to ensure everything works as intended.
Some Examples of Forms to Create on Drupal
Creating forms for a Drupal website with Elfsight Form Builder is an easy and effective solution for boosting your website's visibility and generating leads. With the help of Elfsight Form Builder, you can easily build and embed the following forms on your Drupal website:
Contact Forms – collect leads, feedback, and client questions in a single place.
Registration Forms – register user accounts conveniently and safely.
Feedback Forms – gather customer feedback at all stages of the buyer journey.
Order Forms – simplify order process; let visitors make purchases without having to leave your site.
Subscription Forms – capture subscription information, including email addresses, to build up a mailing list of potential customers.
Survey Forms – determine customer needs and preferences with targeted questions tailored for your specific target market.
Newsletter Forms – extend reach and increase engagement by collecting email addresses from visitors interested in receiving updates from your business.
All-in-one Tool to Create Any Form Type
Elfsight Form Builder is an all-in-one solution for creating custom forms, quizzes, surveys, and more. With its user-friendly interface and powerful features, it's the perfect tool for businesses looking to collect leads, automate workflows, and streamline their processes.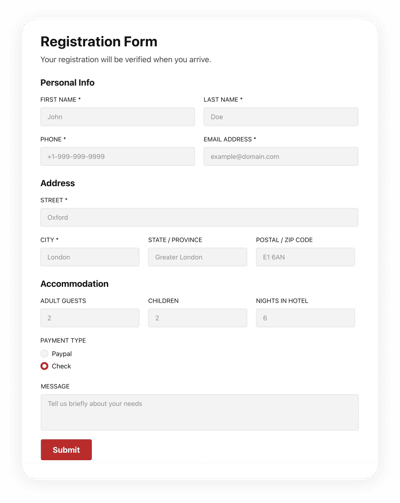 Elfsight Form Builder Integrations
With Elfsight builder's wide range of integrations, you can easily automate your workflows and streamline your processes, saving you time and increasing your productivity.
| | |
| --- | --- |
| Email marketing services | With Elfsight Form Builder, you can easily integrate your forms with popular email marketing services like Mailchimp, Campaign Monitor, GetResponse, and Sendinblue, allowing you to automatically add new subscribers to your email list. |
| CRMs | The builder also offers integrations with popular CRMs like HubSpot CRM, Zoho CRM, Pipedrive, and Salesforce, so you can easily add new leads and contacts to your CRM. |
| Payment gateways | If you're selling products or services online, Elfsight Form Builder also integrates with popular payment gateways like PayPal and Stripe, allowing you to easily collect payments through your forms. |
| Social media platforms | In addition to these integrations, Elfsight Form Builder also supports integrations with social media platforms like Facebook, Twitter, and Instagram. |
| Google services | Moreover, you can integrate forms with Google services, including Google Sheets, Google Drive, and Google Analytics. |
| Zapier | You can also integrate your forms with over 2,000+ apps and services using Zapier, or receive form submissions in your own system via a webhook. |
| Drupal modules and plugins | Finally, Elfsight Form Builder supports integration with various Drupal modules and plugins, such as Views, Rules, Webform, and more, allowing you to extend the functionality of your Drupal website even further. |
Frequently Asked Questions About Using Elfsight Form Builder on Drupal
This article will answer some of the most common questions about using the Elfsight form module on Drupal.
Do I need coding experience to use Elfsight Form Builder?
No, Elfsight Form Builder is designed to be user-friendly and does not require any coding experience. You can create and customize forms using the drag-and-drop interface.
Is Elfsight Form Builder mobile-friendly?
Yes, Elfsight Form Builder is fully responsive and mobile-friendly, ensuring that your forms will look and function properly on all devices.
Can I integrate my forms with other tools or services?
Yes, Elfsight builder offers integrations with various tools and services, including email marketing services, CRMs, and payment gateways. You can also integrate your forms with Drupal modules and plugins.
How much does Elfsight Form Builder cost?
Elfsight Form Builder offers a range of pricing plans, starting from $6.99 per month. There is also a free plan available, which allows you to create up to three forms.
What kind of customer support does Elfsight Form Builder offer?
Elfsight Form Builder offers various customer support options, including email support, live chat, and a knowledge base. They also offer a 30-day money-back guarantee if you are not satisfied with the product.
For Further Questions if Any
Creating forms for a Drupal website builder is easy and efficient, and Elfsight's responsive module enables you to create any form you need. If you have any further questions, there are several options available, including:
Thank you for taking the time to read the blog post. Hoping you found it informative and valuable and looking forward to seeing you next time!