Shopify Sales Popup template
Our Sales Popup template is the perfect solution to increase your Shopify website store's deals. Use it to showcase your latest offers, discounts, or new products to your customers. With its eye-catching design and customizable features, you can grab your customers' attention and encourage them to make a purchase.
Features
12 Custom Field Elements
Email Notifications via Form Fill-Out
5000+ Integrations
Customizable Modal, Slide-in, Pane Layouts
Engaging Popup Opening Button
Frequency Popup Display Settings
Exclude or Specify Pages for Displaying
Auto-Opening Trigger after Time Spent
Scroll Trigger On-Element or On-Click
Exit Intent Support
Set Up Popup for Multiple Mobile Devices
CTA Button
Coupon & Redirect Link Creation
HTML & iFrame Fields
Image & Video Upload
Optimized for All Mobile Devices
Page-Speed Friendly Lazy Loading
Tech-Free Customization
Language Localization
Custom CSS & JS Editors
Template Catalog
Need a Different Template?
Check out more ready-made templates for any use case or build your own!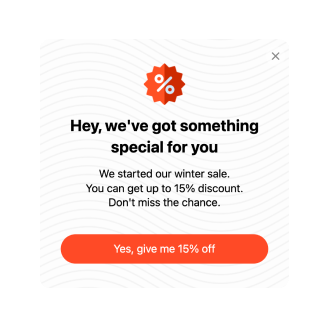 Create mutual trust within your website community and stay connected using this popup widget.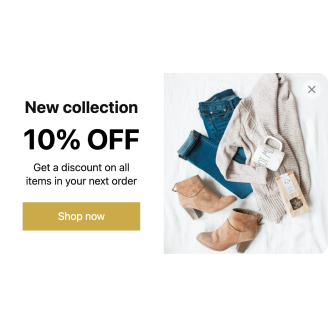 Add a popup widget to promote your special offers, discounts, or announcements with an eye-catching banner.
Create a maximum customer engagement with push notifications using this popup widget.
Adding a popup widget is the best way to grow your email list and capture potential leads.
Add a popup widget on your web page to boost the average order value and double the outcome.
No Suitable Template?
You can easily assemble the widget you need using our simple-to-use configurator.
Here's what people say about Elfsight Popup widget
For the past few weeks, I have been actively employing the Popup widget, and I cannot emphasize enough how phenomenal it has been. With Elfsight, I can seamlessly install on client websites to cover the needed tasks, even without any coding expertise.
The ease of use for designing custom widgets has saved me the time that I spend manually writing code for specific elements on my Shopify website. Initially, I had anticipated seamless functionality from the product. Nevertheless, I was truly surprised to receive the top-notch service and support. I recommend it!
I have embedded the Sales Popup on my website without experiencing any challenges. The level of customer support I have received has been impressive. They've proven to be extremely supportive with any inquiries I've had and delivered answers within hours.
FAQ
How to create the Sales Popup template for the Shopify website?
If you want to create the Sales Popup for your Shopify website, do the following:
Pick the Sales Popup template.
Adjust the elements and features to match your branding.
Sign in to your Elfsight account.
Receive the installation code.
How to add the Sales Popup template to the Shopify website?
If you want to add the Sales Popup to your Shopify website, perform the following steps:
Personalize the appearance of the Popup widget to your preferences.
Sign in to your Elfsight dashboard or register a free account.
Obtain the unique embedding code.
Access your website.
Insert the code into your website editor. You're all set!
For a more in-depth guide, we advise checking out our blog post about how to embed Popup on a website.
Do I need to have coding or programming skills to embed the Sales Popup?
No, you're not obliged to have them. There is no need for any coding expertise whatsoever. You can create and add the Sales Popup to your website, even without any specialized background or previous experience.
Can I set up the popup to open automatically?
You can definitely do this. In the building mode, choose a trigger that will ensure the Sales Popup template displays at the right moment on your Shopify website. Your available alternative choices include on-page load, within a specific time spent on a page, on scroll, on scroll to element, on click, and on exit intent.
Can I use the Sales Popup template for free?
Definitely. There is no need to hurry and start with the paid choices straightaway. Elfsight utilizes a tiered subscription system that offers Free, Basic, Pro, Premium, and Enterprise plans. Take your own time and discover all the functionalities without restrictions with our Free tier. But keep in mind, that you can always upgrade later to unlock extra options!
Can I add a call-to-action button to the Popup widget?
Certainly! Here's how:
Open the Popup configurator.
Navigate to the "Blocks" tab.
Add the "Button" content block.
Arrange a call-to-action message, click functionality, and appearance.
What email integrations or tools does the Shopify widget support?
The key feature of this Shopify widget is its synchronization ability with external apps like Mailchimp, Zapier, and Google Sheets. You can make an extra effort and be confident that no captured data is lost.
Where can I add the Sales Popup on my Shopify?
The choice is up to you. No fixed requirements need to be followed. Just ensure it is logical and strategically placed in the highest traffic spot, like the homepage or product page.
How to customize the Sales Popup?
The world is yours to explore-customize the visuals of the complete widget to embody your brand principles and accelerate conversions in no time:
Popup specifics
You can stack elements and create an array of limitless content blocks: title, text, CTA button, link, coupon, form, image, and video. Additionally, to enhance visual aesthetics, you can include gaps, dividers, and custom HTML and iFrame fields.
Display settings
Elfsight provides three alternatives: frequency, pages, and devices. Clearly state all the necessary criteria to uphold the desired standards.
Custom elements and features
And there's still plenty to discover: triggers, custom CSS, custom JS, redirect link, layouts, close buttons, background visuals, alignments, and so on.
To exclude misunderstandings and problems, reach out to our Customer Support Team to solve any questions!
Help with Sales Popup Setup and Website Installation
For more details regarding the widget templates or guidance, check out these resources:
Support
For any unresolved problems, we recommend you to reach out to the Elfsight Support Team or search for related posts in the Help Center.
Forum
Connect with business professionals like yourself and join ongoing events within our dedicated community for extra help.
Wishlist
Propose fresh ideas, features, and widgets via the Wishlist.