Discover the convenient payment facility for your Shopify website. You can quickly create and embed a PayPal button widget to ensure transactions via your Shopify e-store. Add a customizable PayPal button for quick regular and single payments.
What is Shopify PayPal Button Widget?
If you provide products or services via your Shopify e-store, you surely need to enable payment options. Thus, you will make the purchasing process easier for both you and your customers. Try Elfsight's PayPal button for Shopify, since it is a free no-code solution that you can easily connect to your payment systems right on the website page.
The PayPal widget is undoubtedly a versatile and customizable tool to add. For example, you can change the design of the button and its elements. Also, you can adjust details like tax and shipping fees. The PayPal button can provide single or regular payments and donations. In addition, you can offer a link to "success" or "thank you" pages after PayPal payment is performed.
Find these and many other features, exploring our button's demo.
Demo creator for your free Shopify PayPal button
Start with one of the templates you like more.
Explore settings to connect your PayPal and customize the button's style.
Then continue and get the free HTML code of your PayPal widget.
Finally, take this code to your website and embed it into the desired page.
Wasn't that easy? You can henceforth promptly accept payments and donations with your PayPal button for Shopify pages.
Brief FAQ Before We Start
We would like to cover some of your potential concerns, before you move on adding our PayPal solution for Shopify pages.
Is PayPal button for Shopify free to add?
Certainly. You don't need to pay for adding the PayPal button to any Shopify website within the free tariff plan. You can benefit from all the templates and settings at no cost. For a more profound experience with PayPal widget for Shopify and many other solutions from Elfsight, you can see our Pricing section.
Can I adjust additional fees and costs within my Shopify PayPal button?
You surely can. There is a tax field that you can fill with the required data. Also, you can provide shipment details using a corresponding field for your PayPal solution.
Will the PayPal button suit my Shopify website pages?
Firstly, the PayPal button is totally compatible with Shopify platform. Therefore, you don't need to worry about the correct operation of PayPal on your Shopify website pages. Moreover, you can make flexible adjustments concerning design of the PayPal button, in order that it will blend in with your website's appearance.
Tutorials on Creating PayPal Button for Shopify
This section will be dedicated to a deeper investigation of the Shopify Paypal button. To begin with, we will explore the widget's various settings and adjustments.
Step 1: Payment settings
When you define the preferred template to start building your PayPal widget for Shopify websites, you will see the first section with settings straightaway.
In this Payment section, you need to enter your business email address. Then you are up to make the principal choice concerning your type of payments.
Choose PayPal Checkout option for a single translation to sell an item or service
Pick Donation option to receive voluntary payments from your website visitors
Select Subscription option to adjust periods of regular payments for your services
Depending on the PayPal payment type you have chosen for your Shopify pages, you will see a various range of extra settings: such as tax or shipping fee and billing intervals. You will also see adjustments, available for each type of payment, such as redirect links, localization and currency settings.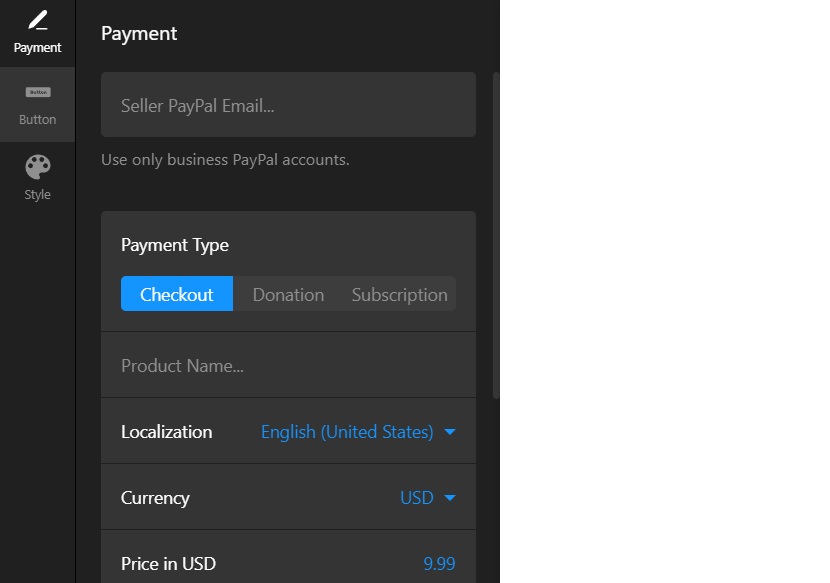 Step 2: Button menu
This is certainly a more casual menu to set. Here, you can make changes to the PayPal button and its elements. Also, you can add, enable or disable texts, PayPal and payment systems icons.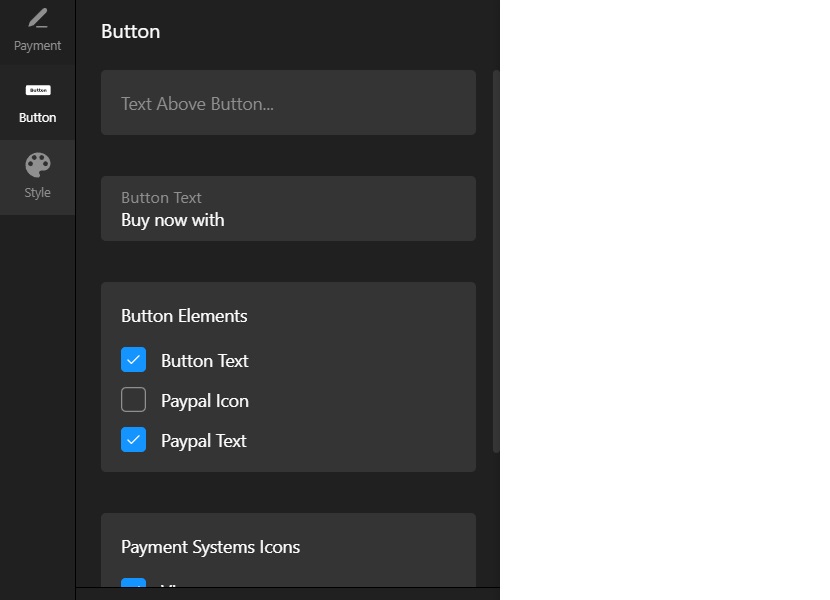 Step 3: Style
In this tab you can define the PayPal button's parameters. As you can see, there are flexible options to make it match your website's design. Define color, shape and size of your website's payment solution.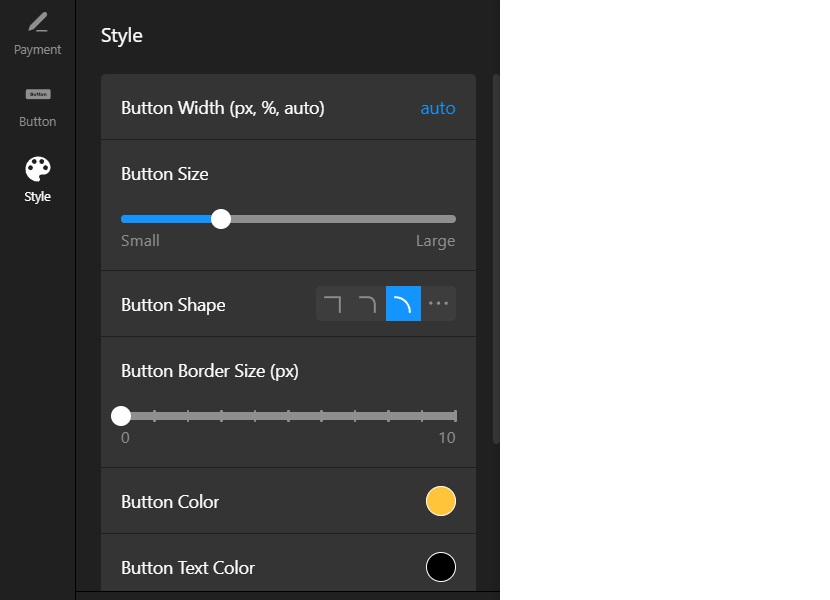 Step 4: Registration
If you started building your PayPal widget for Shopify pages in demo, you will need to create an account on Elfsight. In case you are already an Elfsight user, you will be moved to your dashboard upon logging in. If you were creating the widget in your dashboard, you won't need this step at all.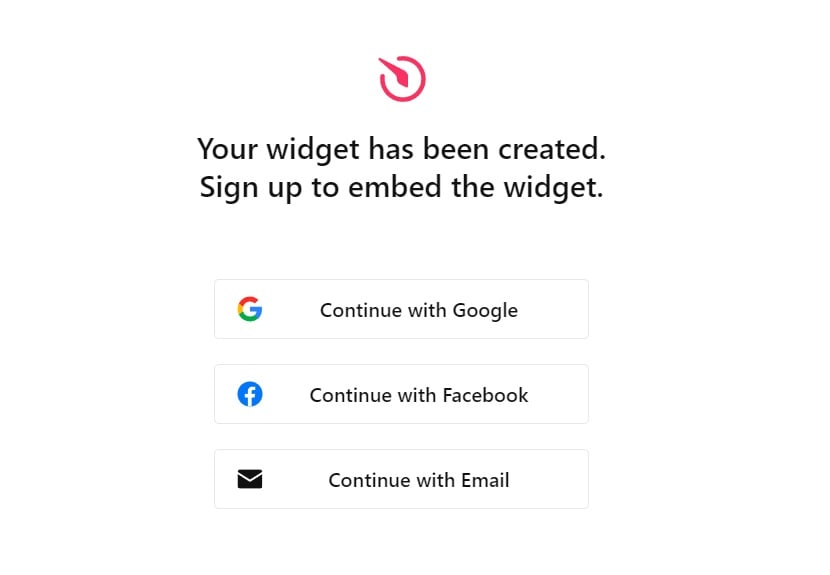 Step 5: Your widget's HTML code
Receive the HTML code of your Paypal button for Shopify website pages. Consequently you can integrate this code into your Shopify CMS to display the button widget on a desired website page. Basically, this code contains all the necessary adjustments that you have made to the initial template of your Shopify PayPal button.
Embedding your Shopify PayPal Button into Website Pages
Finally, you have your HTML code snippet to add to any Shopify website. The process doesn't require any special coding skills and we will give you tutorials on how to embed the PayPal widget into your website built on Shopify.
To begin with, we invite you to watch a YouTube video on how to connect the plugin. This will give you understanding of how you can quickly add and connect the PayPal button to your Shopify platform and receive payments from your customers.
In case any questions appear about the installation process on your Shopify website, you can contact our Help Center to receive assistance.
Also, we would like to continue with a text guide that you can copy and use whenever you need to add an Elfsight widget to your website pages. We will learn to integrate the widget into a specific page or to all pages simultaneously. Choose the option that better suits your business needs.
PayPal button for a specific Shopify website page: Online Store 2.0
Firstly, access your Shopify website's visual editor.
Log in to your Shopify admin panel and navigate to Sales Channels → Online Store.
Then click on the "Customize" button.
By default, the visual editor opens the homepage. If you want to work on a different page, select it from the dropdown list at the top of the page.
To integrate a widget, click on the "Add Section" option.
From the list of available options, choose "Custom Liquid".
Paste the installation code into the designated "Custom Liquid" field. Additionally, you can customize the color scheme and adjust top or bottom paddings if necessary.
Eventually, don't forget to save your changes after making modifications.
PayPal button for a specific Shopify website page: Vintage Themes
Begin by logging in to your Shopify website's backend. Next, navigate to Online Store → Themes, and select "Customize".
Upon entering the visual editor, the default page displayed is the homepage. If you wish to work on a different page, simply locate it within the dropdown list located at the top of the page.
To connect the widget, initiate the process by clicking on the "Add Section" option.
From the available list of sections, choose "Custom Content".
If necessary, you can further customize the "Custom Content" block by clicking on any additional sections and selecting the "Remove block" button.
Next, proceed by pressing the "Add Block" button and opt for the "Custom HTML" option.
PayPal button for all Shopify website pages
If you are using the Online Store 2.0 theme, navigate to Sales Channels → Online Store. If you are using Vintage themes (those predating Online Store 2.0), you can find it in the left-side menu.
Then click on the ellipsis (…) button and select "Edit Code".
Locate the "theme.liquid" file within the Layout section.
Paste the widget installation code just before the closing </body> tag.
Finally, save the changes to finalize the widget installation.
Now you know how to add and connect the PayPal widget to various Shopify websites and their pages. These instructions are also relevant for other Elfsight widgets that we recommend to try for the enhancement of your e-store rates.
What is So Good about PayPal Button Widget?
The Shopify PayPal button by Elfsight brings a range of powerful features that can significantly enhance your e-store or website's payment functionality.
Whether you need a quick payment solution, subscription management, donation processing, or a localized and stylish payment button, this widget offers a comprehensive solution that can help you streamline transactions, boost customer engagement, and ultimately increase your sales. Let's see a list of reasons to get this widget for your Shopify e-shop, focusing on Elfsight's special features to satisfy your needs.
| | |
| --- | --- |
| Payments on-the-go | With the PayPal button for Shopify, setting up a payment button on your website pages becomes incredibly fast and effortless. Basically, all you need to do is specify the item's name and price, and the payment button is instantly connected. Besides, you have the flexibility to include tax and shipping costs. Additionally, you can direct customers to a specific page after a successful PayPal transaction. Consequently, this feature streamlines the checkout process, reducing friction for your customers and increasing the likelihood of completed purchases. |
| Subscribing made easy | For businesses offering subscription-based products or services, the PayPal button provides a seamless solution. By selecting the Subscription payment type, you can easily configure subscription parameters such as the billing period. Eventually, this allows your customers to subscribe quickly and conveniently. Moreover, with the recurring payment option, you ensure that your clients never miss a payment, helping you maintain consistent revenue from subscriptions. |
| Smooth way to donate | Embedding a donation process into your website pages is simple with the PayPal widget. Minimal adjustments are required, and it takes only seconds to set up. You can choose a fixed donation amount or allow donors to determine their own contribution, making it easy for them to support your cause. Whether it's for charitable purposes or simply to "buy you a coffee," this feature encourages user engagement and philanthropy. |
| Built-in localization for your country | To cater to your diverse audience, the PayPal widget includes localization options. You can choose the country and language that match your target audience and set the preferred currency for transactions. As a result, this feature ensures customer convenience and helps you expand your reach to a global audience while maintaining a personalized experience. |
| Elements of notable style | Beyond the functional aspects, the Elfsight Shopify PayPal button offers extensive style customization options for your button on pages. You have the freedom to select the button's size, shape, and the elements it displays. Also, you can edit the button text and fine-tune the color scheme to match your branding. This level of customization not only ensures a seamless integration into your site's design but also helps create a cohesive and visually appealing user experience. |
| Handy and simple payment procedure | The goal of the PayPal button is to provide a convenient and straightforward payment process for your clients on pages. This not only enhances customer satisfaction but also contributes to increased sales. By offering a user-friendly payment solution, you reduce cart abandonment rates and encourage repeat business. |
| Enhanced Security and Trustworthiness | Connecting the PayPal button to your website page adds an extra layer of security and trust for your customers. PayPal is a globally recognized and trusted payment gateway. By offering it as a payment option, you reassure your customers that their financial information is protected. This trust can particularly lead to higher conversion rates, as users are more likely to complete transactions when they feel their data is secure. |
| Reduced Cart Abandonment | One common challenge for e-commerce shops is surely cart abandonment. The PayPal button on pages can help combat this issue by providing a familiar and efficient checkout process. Customers who have PayPal accounts can log in and make a payment with just a few clicks, reducing the time and effort required to complete a purchase. As a result, this streamlined checkout process often leads to a decrease in cart abandonment rates, translating into higher conversion rates and increased revenue. |
| Mobile-Friendly Payments | As an increasing number of users shop and browse on mobile devices, it's crucial to provide a seamless mobile payment experience. The PayPal widget for Shopify website pages is optimized for mobile use, ensuring that customers can easily make payments from their smartphones and tablets. This mobile-friendliness of your connected PayPal button can significantly improve conversion rates for mobile users, thus contributing to overall website success. |
| Detailed Transaction Reporting | Undoubtedly, businesses need insights into their sales and transactions to make informed decisions. The PayPal widget offers robust transaction reporting and analytics features. You can access detailed data on sales, revenue, and customer behavior. This information can help you refine your marketing strategies, optimize product offerings, and identify trends, ultimately leading to improved site performance and increased sales. |
Adding the PayPal button to your website pages not only simplifies payments but also offers a range of benefits that can positively impact your business. From bolstering security and trust to reducing cart abandonment, catering to mobile users, and providing valuable transaction insights, this widget is a valuable tool for enhancing your site's rates and overall performance.
Consider Some Examples
We suggest visualizing what we have learned about the widget. You already know plenty of features that the PayPal widget for Shopify pages has. Let's see some examples of what you are able to create for various business goals. Without a doubt, this list of examples can be a foundation for your own idea for the PayPal button on Shopify websites.
Example 1. Shopify PayPal checkout button
In this instance, you can craft and connect a PayPal checkout button using the original colors, which will be instantly recognizable to users. The button's label cleverly combines a custom call-to-action with the PayPal name. Additionally, beneath the button, you'll find icons representing the most widely used payment systems, including Visa and Mastercard. Moreover, each checkout button offers the flexibility to include tax and shipping fees.

Example 2. Shopify PayPal donate button
Implementing an attractive donate button can effectively encourage donations on your site. In this particular example, the button prominently displays the PayPal logo and a concise custom label. Above the button, you'll notice a title adorned with emojis, serving as a compelling and emotional call-to-action for users. When configuring donation buttons, you have the option to choose either a fixed donation amount or allow donors to decide how much they wish to contribute.

Example 3. Shopify PayPal subscription button
Tailoring a subscription button via PayPal to match your website's style and color scheme is effortless. Here, you can observe a rectangular button with rounded corners, featuring a color scheme that has been adjusted to blue and white. Subscription buttons also offer flexibility in terms of billing periods and the option for automatic renewal after each period concludes.
These examples showcase the versatility and customization options provided by the PayPal button by Elfsight, allowing you to seamlessly add payment and donation solutions to your website while aligning them with your site's aesthetics and user experience.
Conclusions and More Ideas
Before we finish, let's draw some conclusion over the magnificent PayPal button connected with Shopify. First of all, we hope that you found tutorials from this article useful for your Paypal widget experience on Shopify website pages.
Altogether, you learnt to create and connect this widget to any Shopify e-store, using a range of our templates and adjustments. As we have written, we hope that our examples will help you use the widget's setting at its best. However, there are a few more details we want to communicate to you about the PayPal widget for Shopify.
Useful research
We really find this PayPal widget adorable and hope that it will bring revenue to your activity. Since the CTA button facilitates payments, it reduces hesitations and abandonment rates. At Elfsight we follow trends and update our products to keep them relevant. You can also follow the link to read about PayPal trends and opportunities in 2023 learning more expertise for your digital transactions on Shopify.
Try more Elfsight widgets
When you try our PayPal for Shopify, you will certainly find it simple to manage and efficient to use. We are confident that the widget will increase your conversion rates, because you show more care about your customers providing neat solutions.
At the same time, you can achieve even better results combining the PayPal button with other Elfsight products to heat the visitor.
For example, you can use a Countdown Timer for Shopify to urge sales. Together with the convenient PayPal button, a ticking clock can remind customers about some limited offers. Thus, you can help them click the button more decisively.
Try to add your TikTok Feed to Shopify e-stores. This will increase loyalty and interest to your activity. People will likely buy more products from you or donate to encourage your online appearance.
In general, people don't love to give money via the internet in case they are not sure about your business. Integrate Google Reviews for your Shopify pages to gain more trust. Vivid positive feedback will make the visitors more confident about clicking links to pay you online.
Wishlist
At this point we would love to introduce you to our special forum section. Wishlist is where we collect your feedback and development ideas. In case you believe that our PayPal button lacks some important features or settings, you can write to us. In addition, you can vote for new product development to make us launch a new interesting product for your Shopify e-shop. We are careful about updates and new launches, whereas we stay open to any fresh ideas from the customers.
Community
Another way to reach us quickly is writing to the Community. In a word, it is a place to share ideas, experience and expertise. Basically, our customers come there to discuss products like this PayPal button and their efficiency in different business strategies. For more inspiration don't hesitate to find us at the Community.
To sum up, we are always ready to strengthen our cooperation and communicate. We wish you good luck and brilliant business results with our PayPal widget!