Instagram content can make your visitors feel more engaged as they see entertaining photos worth watching. Moreover, such content is able to attract new followers to your social profile in case of presenting it on a website. That's exactly what
Instagram widget InstaLink
does. Our article will show you how to set it up and how to manage it. Let's get busy!
3 Steps to Embed Instagram Profile
It's actually very easy to install our app thanks to Weebly drag & drop editor. You don't require any specific skills! Just use the existing online masterpiece and a bit of creativity. The rest is up to the user-appreciated profile gallery. The preparatory phase is to find product's page in the app center and click "Add" 😉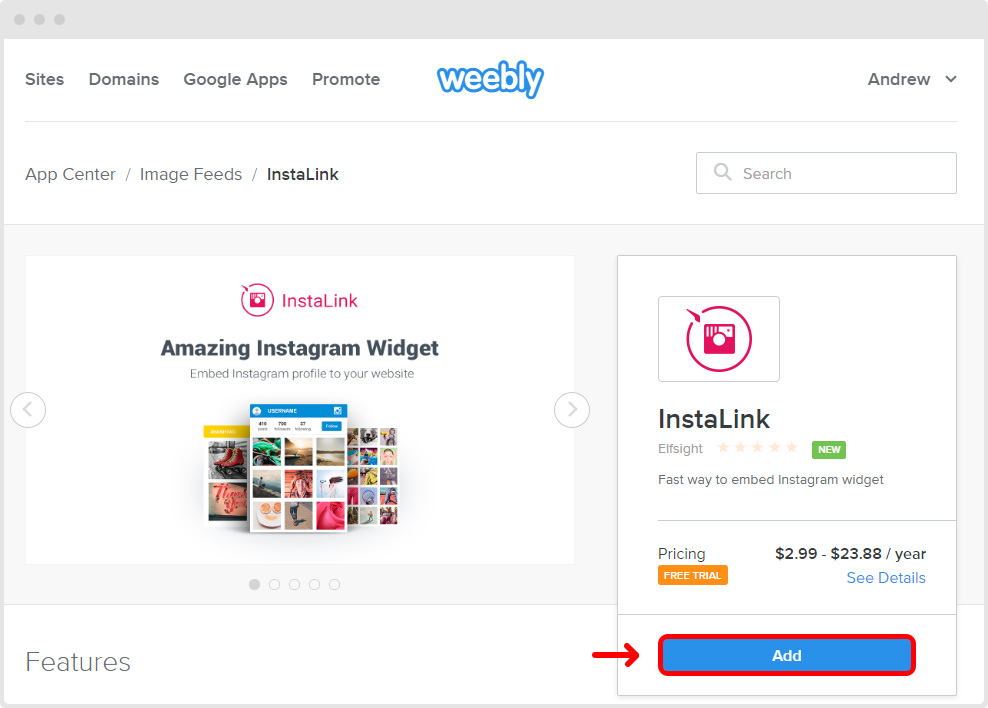 In fact, setting up Weebly
Instagram Feed Widget
can be accomplished in three quick steps:
Place InstaLink in Weebly Editor
Choose a proper area to set the app
Adjust settings and start promoting your account
Video Guide
We've also made a video tutorial on our YouTube channel. Please, turn on subtitles as they will help you install the recent Elfsight app!
By the way, If you want to get more detailed instructions concerning the instructions on how to
embed Instagram
, scroll the page. All actions are also described below.
1. Set InstaLink in Weebly Editor
First of all, you should place the application in Weebly editor. There you can modify settings and adapt your photo grid. Note that if you have several sites on Weebly service then the pop-up window will appear. Select the wishful website for the widget and click "Continue" button.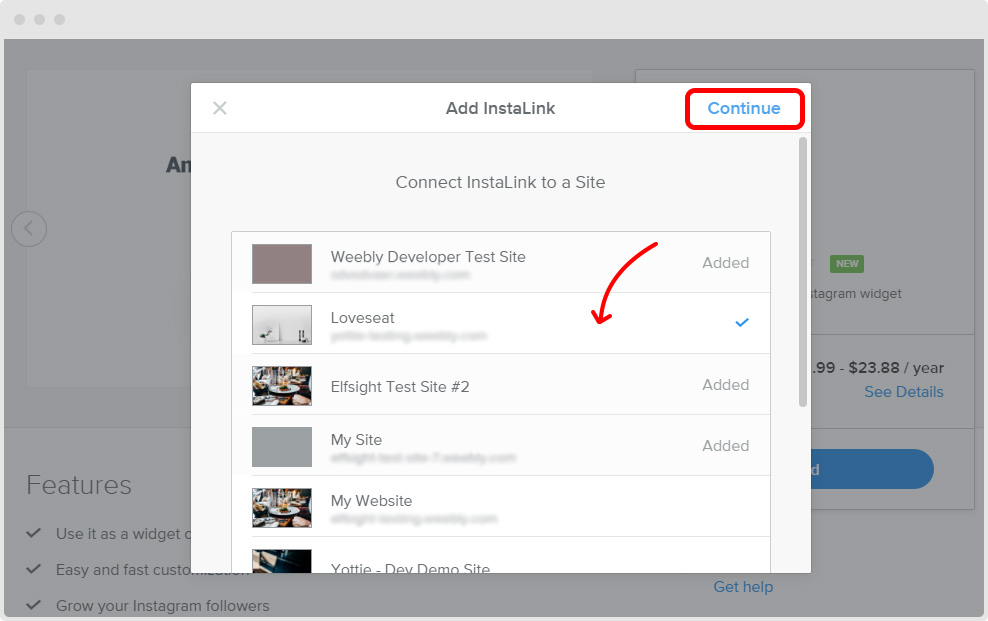 Afterwards, you will be notified about plugin's addition to your web resource. The notification shows what actions Elfsight app can take. Is everything okay? If you agree with all statements then press "Connect".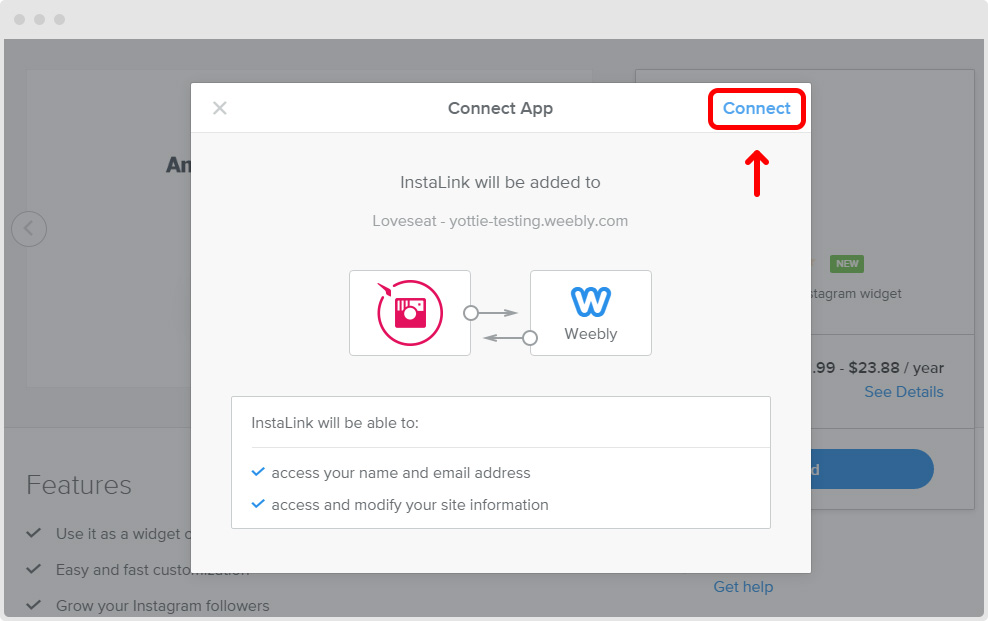 Now wait a second till your redirection to Weebly editor. Our responsive widget is already waiting for you there!
2. Add InstaLink to Pages You Want
Weebly has a user-friendly editor for a clear site customization. Open the list of your web pages and select pages where you'd like to embed your social profile. Choose InstaLink icon in "Installed Apps" section in the left sidebar. Then drag it to any area.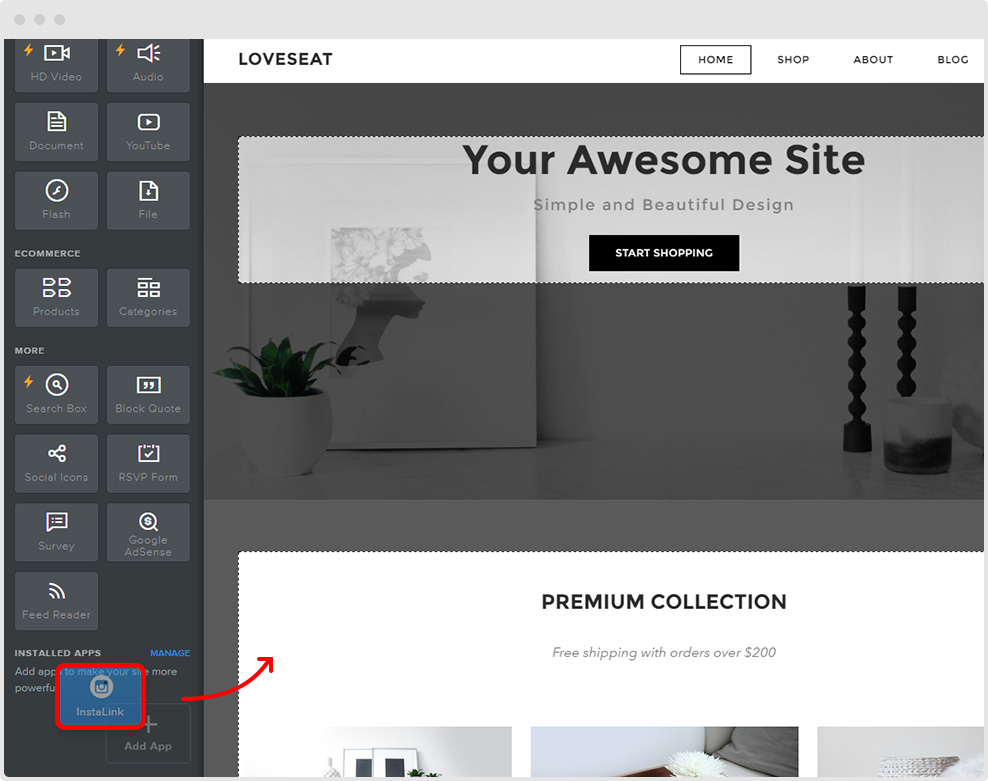 You can use various parameters for each grid!
Do you want to set more than one Instagram widget on your website? It's not difficult at all. InstaLink can be embedded as many times on one site as you want.
3. Personalize Your Weebly App
When you choose the needed place for the plugin, there is an opportunity to set up your grid. Make it an eye-catching element that will attract web visitors to your Instagram account and content. To open settings is very easy. Click any area of InstaLink and its settings will appear in popup.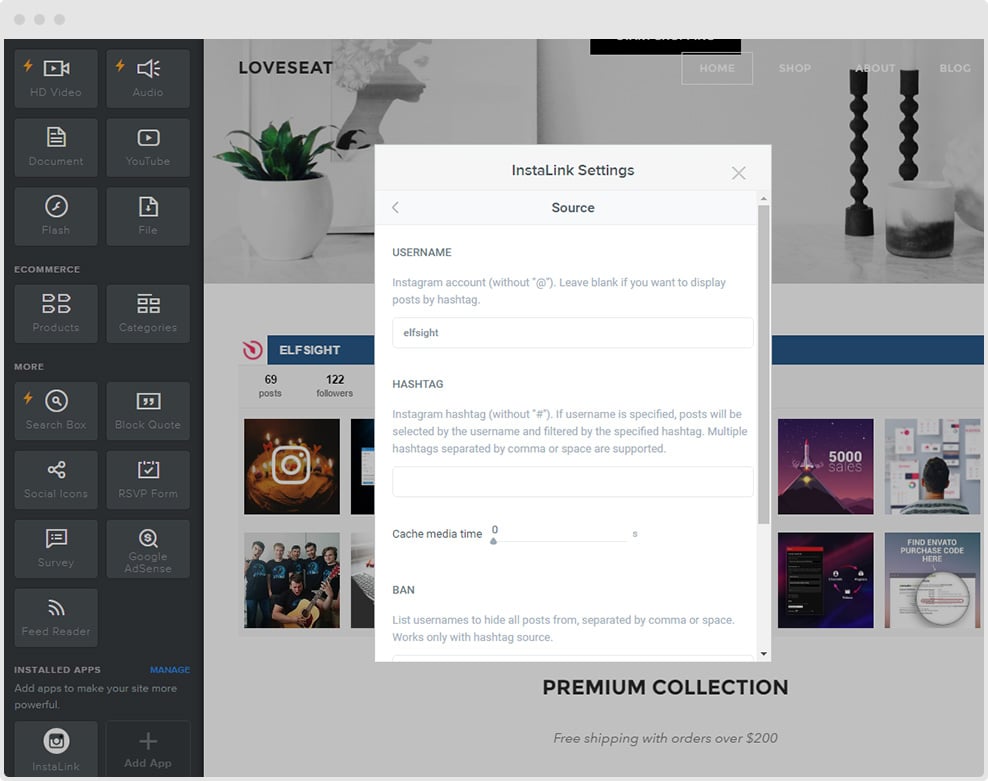 Remember that you possess around 20 flexible parameters, including:
Sources (username, hashtag or username filtered by tag)
Source filter
UI and color customization
Widget/Gallery mode
16 languages for multilingual usage of the social widget
All improvements and changes will be automatically applied. Now you can see the pre-final result. It's only left to be published! Don't forget to press "Publish" in order to get expand your Instagram influence among web surfers.
Installation Is Successful
Hurray, you made it! All actions are completed and your Instagram tool is ready to engage guests and bring new followers to your Instagram account.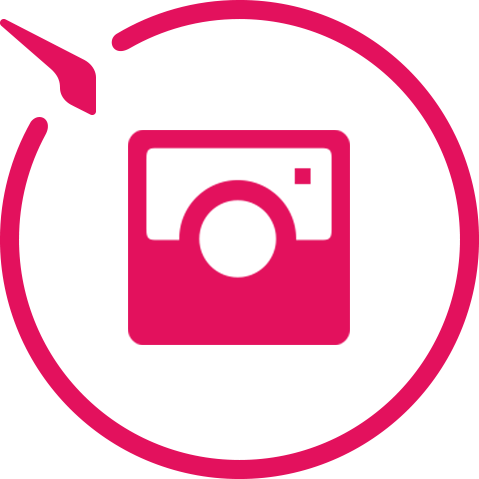 By the way, you will get a
5-day trial period
after adding Elfsight solution to your site. Then you can operate with the Weebly app for $2.99/month or 23.88/year and make the best use of all its benefits. Namely, you will receive the following advantages:
Display your username or any tag for showing specific content
Promote the social profile on your website
Increase audience engagement and average time on the site
Achieve new followers in Instagram
Best Quality Granted by Professionals
Our team invests all our skills and knowledge in developing the best plugins. Thus, when you purchase Elfsight product, be sure that you'll also obtain:
Reliable and effective support
New versions that include new awesome features
The highest quality of the installed item
Got stuck or face some issue in your plugin? We are always ready to help you. Submit a ticket in Elfsight Support Center and our team will solve any issue.