Elfsight sees its goal in creating plugins that develop your business. This aspiration encourages us to present awesome products. And today we are ready to introduce you the ultimate Instagram-based solution for your Shopify store. Please, welcome
Shoppable Instagram app
from Elfsight.
Check the hottest Shopify

Instagram Feed Widget

from Elfsight!
We strive to provide Shopify users with the highest-quality app that will be able to improve their sales. So that it will come in handy for anyone who aims at selling products via his own Instagram profile. It becomes possible with our Shoppable Instagram feed. Just choose any Instagram photo and make it shoppable in your store.
Create Your Online Store with Shopify
Shopify is a comprehensive service for anyone who catches an idea of selling some goods on the Internet. More than 300 000 people use the service each day and sell their products worldwide. If you haven't yet decided how to enter eCommerce business, take a closer look at Shopify. The Canadian service has lots of advantages. Here are the most important ones: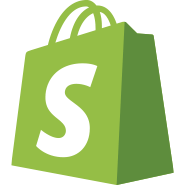 Complete control over the appearance of your store
Vast marketplace with useful apps for all occasions
Easily run all business on one platform
Ability to manage stores from mobile devices
Easy and clear UI for site owners
So, yeah. Shopify is worth installing in order to become a sole trader. And great service requires great apps. That's why let's proceed to the brand-new Elfsight Shoppable feed!
Instagram Photos That Will Make Money for You
Our plugin serves effectively to
embed Instagram
and hits the main target – your customer. Shoppable Instagram plugin for Shopify will give you're the following opportunities:
Draw attention to social photos in your store
Tag products and allow customers to shop your Instagram posts
Redirect visitors to the desired product's page and convert them into satisfied clients
Persuade to buy here and now by using New, Sale and Bestseller labels
Shoppable Instagram app is the best at what it does. And what it does is profitable.
Online audience will definitely catch the sight of your shoppable Instagram feed. No one can pass by its fetching appearance. Just tag items in each eye-catching photo and customize gallery's UI. Then your potential customers will be able to explore products through the feed.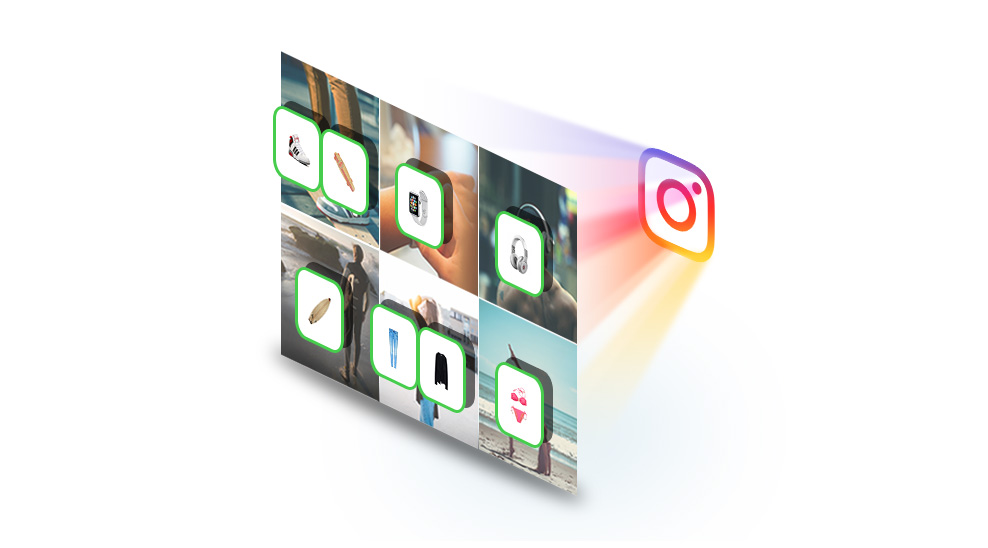 Moreover, give people true emotions from using your products. Show items in action and promote brand's lifestyle through products. The shopping Instagram app will do the rest and display a "Buy" button right in the Shoppable widget. In a word, create a thought of "OMG, I want this too!"
All-New, All-Customizable Features
Our Shoppable Instagram feed is truly flexible. It includes lots of customizable parameters for the best user experience. Make manual changes in your Instagram gallery. Yep, you will be able to adjust whatever you want:
Customizable Look Adjust gallery's sizes and colors for the best customers experience in your online store.
Adjustable Price Tags Show prices of the desired items after clients open any image in popup. Make them shop Instagram app!
Status Info of Products Is your item on sale now? Or maybe it is in trend? Display this alongside the product list in popup.
Social Sharing Buttons Expand your presence in Instagram and increase popularity. Clients will be able to share the liked photo in popular networks.
Product Previews on Hover Let customers check tagged products by hovering on any image. Moreover, increase conversion with the built-in CTA.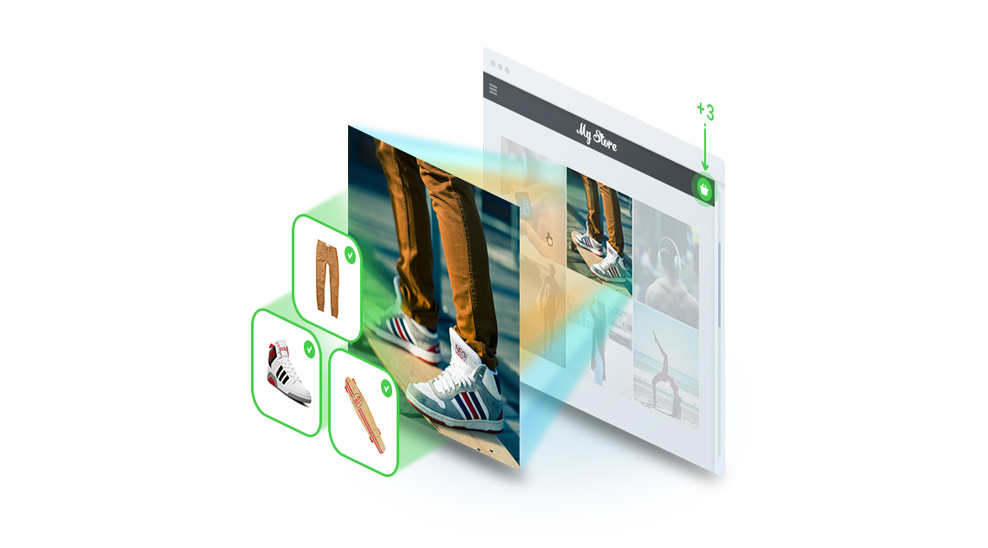 Sell not just a product. But a whole new look which anyone would want. Our Shoppable Instagram feed will increase an average order amount. Link several products to a post and entice customers to buy more than one item.
Premium Support for Our Customers
We aim at developing the best solutions on the market. Therefore, when you purchase Elfsight product be sure that you'll also get:
Fast and effective support
New versions with useful features
The highest quality of the selected item
Our developers are ready to help you with any issue that arises in your plugin. Just
submit a ticket
in Elfsight Support Center. The answer will come in 24 hours.
Get Shoppable Feed and Boost Sales
Grab Your Shoppable App for free!
Hey, psst… Keep it between us – Elfsight Shoppable Instagram app is waiting for you! Note that our app is in beta right now. Thus, we'd like to collect more user feedbacks and give our customers a chance to use it for free while it's in the test mode. But you can already use all features for free and make money with your social profile. Yes, one more thing! Your opinions and reviews are important for us. Let us know your impression from Shoppable feed for Shopify. Leave a comment below or rate the widget on the marketplace 😉