Why do I need Elfsight Google Album Gallery?
Be in a client's proximity. Create an online identity
Increase engagement with customers
Captivate clients by selecting the best content for your gallery to prolong the average time on a page and uplift activity
Point out your proficiency
Display the best work and promote products to showcase your expertise
Take your content to another level
Create a clean look for the gallery and provide high-quality content for a better user experience
Join 1,078,753 customers already using Elfsight Apps
You can start with creating your first Elfsight Google Album Gallery widget for free.
What makes Elfsight Google Album Gallery special?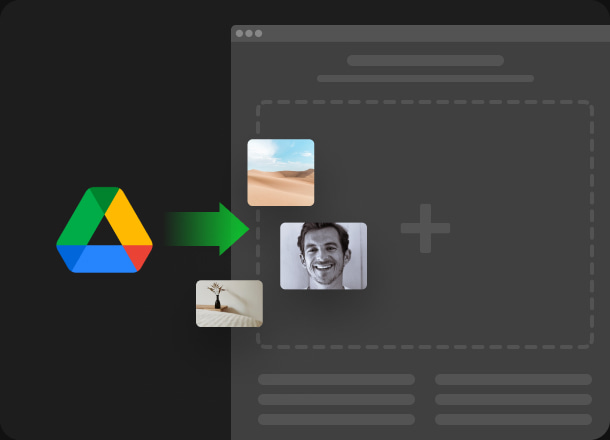 FUNCTIONALITY
Turn your website into a gallery with ease
With the Google Album Gallery widget creating and embedding a photo or video gallery is super easy. In one click, link your Google Drive album to the plugin, and you're ready to start. You'll be able to make an unlimited number of galleries and group them together. It fully supports photo, video, and audio content. The widget is mobile-friendly and responsive to screen sizes. In addition, you will get the lazy loading option to improve the website's performance.
STORAGE
Use only Google Drive for storage
The Google Album Gallery widget uses one storage space – Google Drive. You no longer have to upload photos and videos to your website by hand or buy storage space from a third-party app. It's as easy as it sounds and safe as it is. You are in control of access, and it's your decision with whom you will share it. Bear in mind that all the changes made within Google Drive will be automatically displayed in the gallery.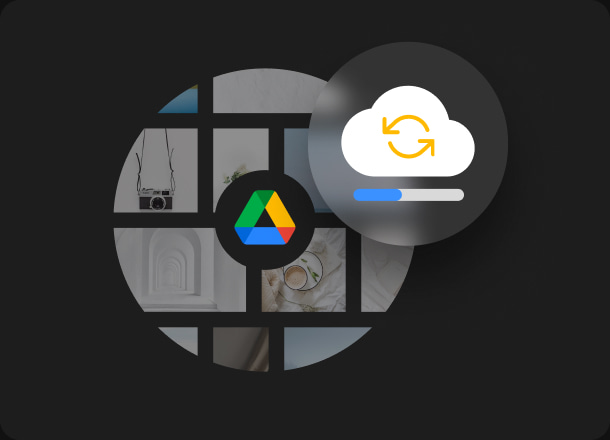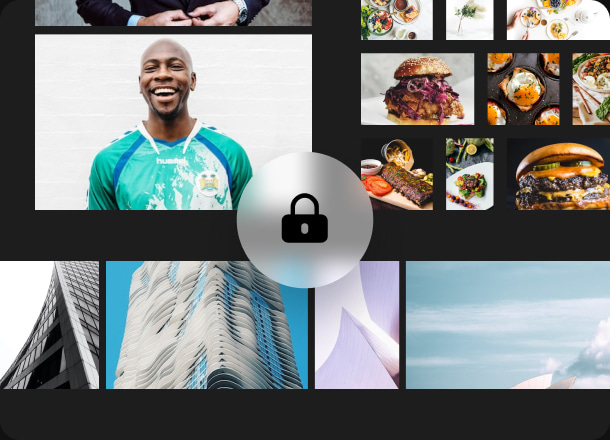 PROTECTION
Keep your images and videos safe and sound
Don't let anyone steal your photos or videos without permission by attaching the watermark sign. You can customize its size, text, color, transparency, and position in the Google Album Gallery widget builder. Allow all credits to belong only to you, and think of the watermark as a marketing tool to advocate your digital work.
STYLE
Emphasize your uniqueness with customizable options
It's your call to personalize the widget to develop a strong connection with clients. Google Album Gallery has a wide selection of features. You can modify the layout and grid. For example, make it a carousel, mosaic, or even blog-styled. You can apply themes and visual effects or change the color scheme. There is also a text option for captions, titles, and descriptions. But no matter what you pick, it will be quick and easy as no coding skills are required.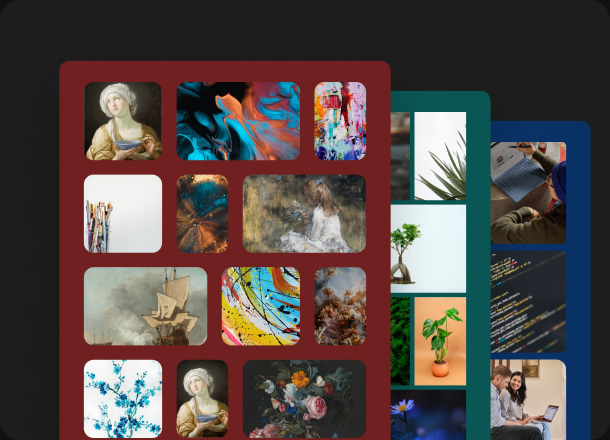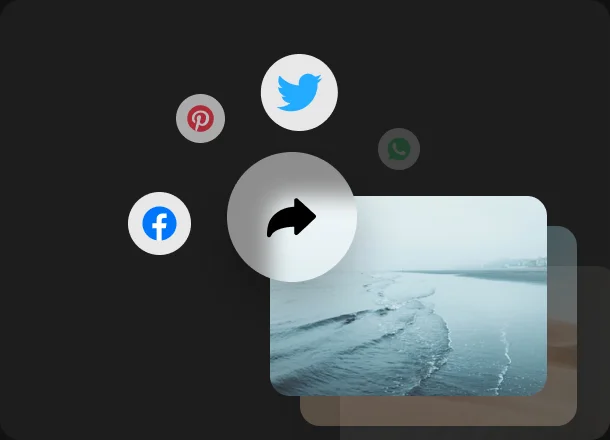 PROMOTION
Introduce yourself to the clients
Whether your gallery is private or public, Elfsight Google Album Gallery will offer to promote it to enhance engagement on your website. You can add the sharing button and allow users to advertise your gallery content on social media platforms or in direct messages. Plus, the widget is SEO-friendly and can help you attract organic traffic.
STAY TUNED!
There is so much more to come – wait and see!
Elfsight developers and designers are still working on the widget's appearance and functionality to build a competitive product in the market and offer the best to our clients. But to reassure you, there would be a lot of cool features to use and test. Stay in touch for our updates!
What our customers say ❤️
Amazing customer service - they answer much faster than any other customer support service I've ever used. The plugin is super easy to set up, has plenty of options, and looks astonishing. Would definitely recommend this tool.
This is awesome! The plugin impresses with the simplicity of configuration and the well-thought-out layout. I highly give a good word for it. It's amazing!
Great plugin with a wonderful feature set and clean design. Plus, their customer support team has been incredibly patient and helpful.
Frequently Asked Questions
What is a Google Album Gallery widget?
Google Album Gallery is a widget that allows creating a gallery on your website by linking it to Google Photos. You can use it to display products, your client's experiences with your services, for entertainment purposes in blog posts, or to make a portfolio with works. Surely it will help to attract users' attention!
Which way to get the widget's code for installation?
You can get the code after building your widget via the free demo or directly in the admin board after sign-up. After that, just copy the code and place it on your website.
How can I integrate the Google Album Gallery widget into my website?
To integrate the Google Album Gallery widget into your website, you need to complete the following five steps:
Use Elfsight editor and start building your custom-made widget.
Personalize the widget's characteristics and save the required edits.
Receive your personal code, which appears in the notification.
Enter the plugin code into your website and click to save.
Well done! The Elfsight Google Album Gallery widget was successfully installed on your website.
Have you got any questions left about the setup process? Reach out to our customer support team. We will be happy to assist you!
Is the Google Album Gallery compatible with my CMS or website builder?
Yes, it is. The Google Album Gallery is compatible with any content marketing systems and website builders. Our widgets fit 99% of popular websites. See the list below:
Blogger, Magento, Webnode, Webflow, WordPress, Weebly, jQuery, WooCommerce, OpenCart, Elementor, HTML, Google Sites, BigCommerce, Drupal, ModX, Adobe Muse, Wix, Shopify, Facebook Page, iFrame, Squarespace, Joomla, and so much more.
Is the Google Album Gallery mobile-friendly?
Yes. The Google Album Gallery widget is designed to work on mobile devices.
What are the best ways to use the Google Album Gallery on your website?
We composed a list of the best ways. Check them out:
Display your products and services
Share the client's feedback and experiences with your services
Add it to your resume
Create a professional portfolio
Add it to your blog posts
So it's a multipurpose widget and can be installed anywhere you want!
Is there a way to adjust the Google Album Gallery?
Yes, of course! If you wish to make any changes to your widget or add sources, you can via the admin panel. Apply all the modifications, press the save button, and they will be automatically applied to your site. If it doesn't work out, contact our Support Team.
Join 1,078,753 customers already using Elfsight Apps
Get the taste of 80+ powerful apps by Elfsight. No credit card. Joining is free!