Why do I need Elfsight Clock?
Display time and date of your local place. Enhance your website.
Let people reach you out in your working hours
Specify the exact time when you work, so people can see your local time and contact you while you are at the office
Create a world time clock widget
Add several world clock to the website showing different time in particular parts of the globe by selecting a country or time zone
Choose the proper time format
Decide whether you want to display the time in 24-hour or 12-hour format, need to show minutes or seconds
Join 1,078,753 customers already using Elfsight Apps
You can start with creating your first Elfsight Clock widget for free.
What makes Elfsight Clock special?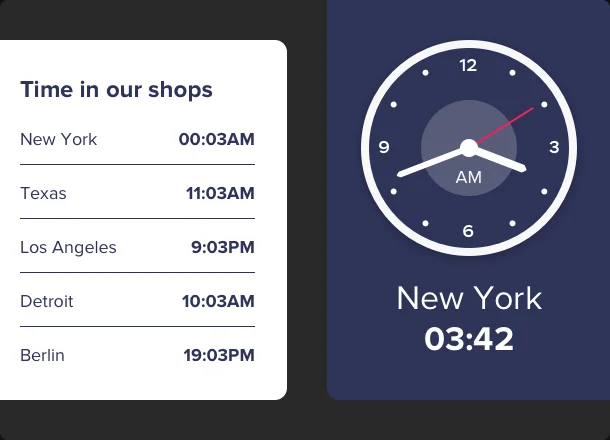 CLOCK
Display a clock depending on your time zone
Create an interactive clockwork for your website and enhance its functionality. The world clock widget will be able to present the user's real-time despite the time of their device. Also, there will be an opportunity to display the local time for a chosen time zone and make several clocks in a row for different locations. Finally, you'll have a chance to choose the time format and widget type: digital, analog, or text.
CURRENT TIME
Show your local time and improve interaction with your users
Let website visitors know whether you are available or not. By using the world time clock plugin, you'll be able to upgrade your website and publish more precise information about the working hours. If you have several offices in different time zones, you'll have a chance to tell people about their business hours by placing multiple clocks on one web page.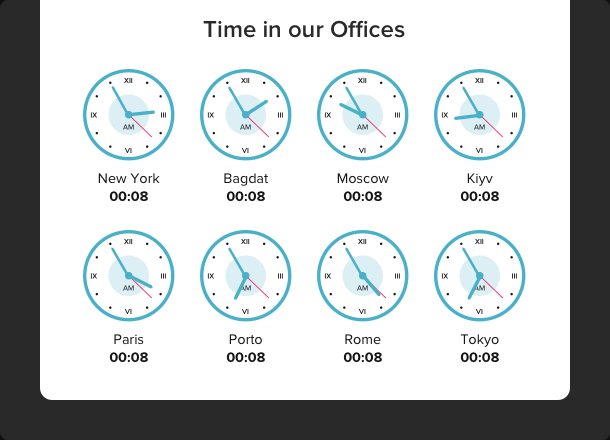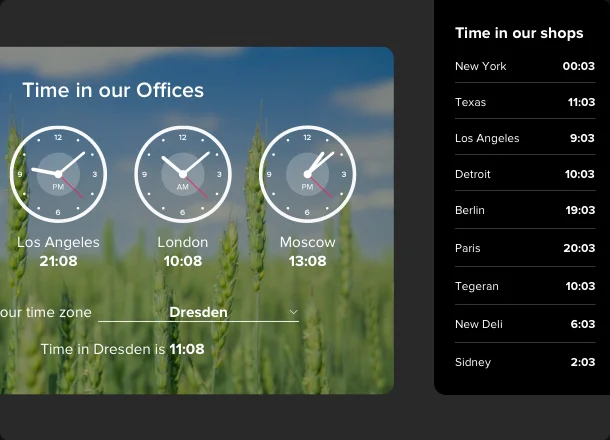 STYLE
Choose a ready-to-use color palette or create your own conception
We offer a unique instrument for those who value their time - a Color Theme Generator that'll create a design for your clock automatically. Simply choose either a Light or Dark mode, main color, and allow the auto color designer to do all the magic for you. In addition, if you need a peculiar design, you can continue to modify all the widget's constituents individually: clock face, colors, background, and so forth. See all changes in real-time in a free configurator with no need to code.
STAY TUNED!
Tons of amazing functional and styling settings upcoming soon
Elfsight awesome teams of programmers and designers are currently working up the widget structure and functionality. There would be a large array of adjustments, it'll be possible to tailor your time widget the way it becomes a complete section of your website. You'll be able to create the world time widget and test all the functions very soon, wait for it!
What our customers say ❤️
All the Elfsight plugins are easy to embed and work exceptionally on any website! Had a problem and the support service reply was exceptionally quick and punctilious.
The widgets are exceptional and have an easy to understand interface. 100% personalized and integration is a breeze. Their customer support is always responsive and helpful.
Wonderful customer support - they response much more faster than any other support I've ever used. The plugins are a breeze easy to embed and have wide range of features.
Join 1,078,753 customers already using Elfsight Apps
Get the taste of 80+ powerful apps by Elfsight. No credit card. Joining is free!