Instagram Shopping is a great way for online business owners to take advantage of the platform's large potential customer base. This guide will teach you all about Instagram Shopping — including what it is, how to set up your shop on Instagram, how to tag products, benefits of using it for business owners, and how to embed an Instagram shop on your website with the Elfsight's plugin.
What Is Instagram Shopping?
Instagram Shopping is an advanced sales feature that allows businesses to sell products through posts, reels, and stories, create product collections, add product details, and direct followers to check out right in the app using only an Instagram account. Overall, Instagram Shopping enables you to leverage the power of visual marketing by using photos and videos of your products to draw attention and encourage people to shop for your business.
At this moment, this feature is available in over 50 countries, such as the United States, Canada, Brazil, France, Singapore, and more. For further and more complete information, follow the advice to check the full list of eligible countries for Instagram Shopping.
Bear in mind that Instagram may determine the ability to tag products if they notice a violation of rules. It's better to follow the policy to avoid being restricted.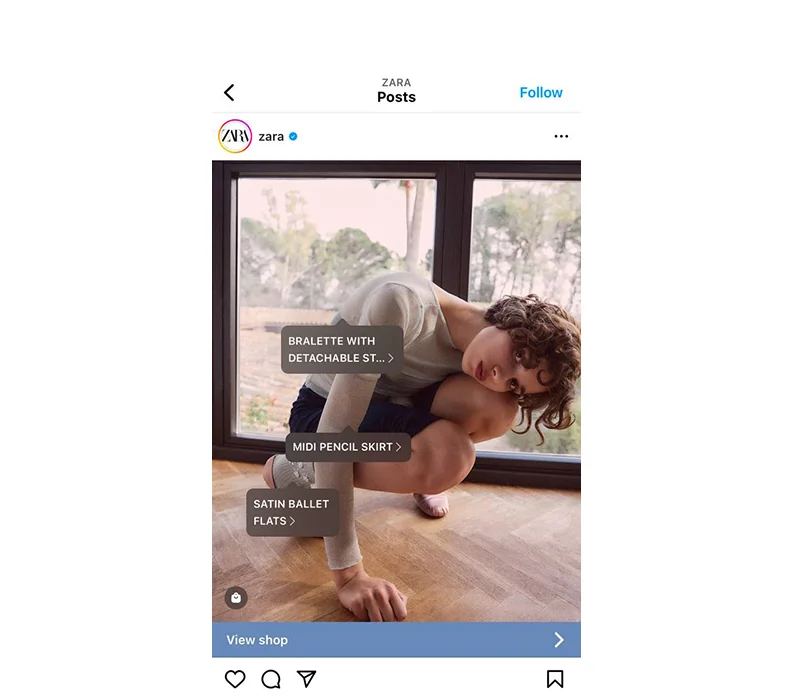 Let's introduce how Instagram Shopping works in a few words to keep it short and sweet. To make your content shoppable, you need to use product tags. Their looks may remind you of stickers with product names and placement on an item in a photo. By tapping on them, users are taken to the product description page, where they can follow the link to complete purchasing on your website.
You can employ a checkout page directly in the app if your business is US-based.
Adding these tags is pretty similar to how you tag a friend or family member in a post. Instagram keeps it simple and doesn't make your head spin around. Your followers can access the product catalog by tapping a View Shop button on your profile or via a content piece with a product label.
For example, take a closer look at the @zara account: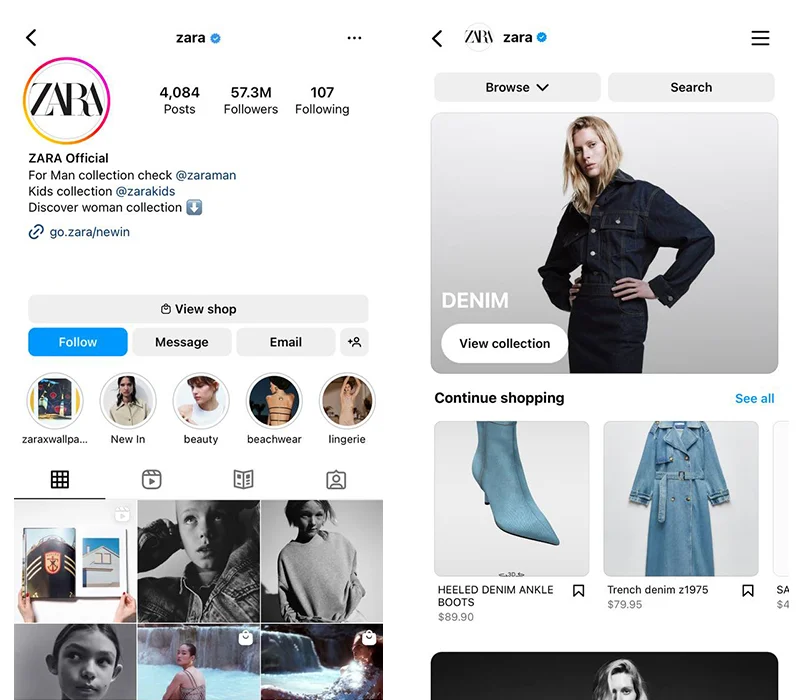 Instagram Shopping is an effective tool for increasing sales at once from your website and Instagram profile. If you want to learn about benefits, how to properly set up a shop, and how to promote your product by embedding the Instagram Feed on your website, keep reading!
What Are the Benefits of Instagram Shopping?
Instagram Shopping brings numerous advantages for business owners to sell more products and be noticed. So here are the top five marketing benefits of owning an Instagram shop:
Boosts visibility & reach. Applying the basics of visual content marketing can get you a better response, make a long-lasting impression, and grab the attention of a new audience. By combining photos, videos, and shoppable tags, Instagram Shopping enables brands to evoke a feeling of needing the product here and now.
Groundbreaking deals with social media influencers. Integrate the influencer marketing content strategy to drive up sales and spread brand awareness. People love to look up to role model figures and get close to their lifestyle as much as possible. So everything they wear or use may seem like the key to success. Just make sure to choose the affiliates that work for the same target audience as you do and have a high reach.
Enhances product discovery. Once again, Instagram takes everyone by surprise and streamlines the buying experience directly in the app. It has become much easier for customers to discover products they like while browsing feed posts or scrolling reels. Thanks to Instagram algorithms!
Simplifies product purchasing. With shoppable tags, potential customers have easy access to buying the product. They don't need to go through external websites that might make it difficult to find desired products or browse millions of pages to realize that the product is sold out. Now it is so straightforward and all in one place.
Enhances customer experience. With interactive media such as stories or reels, brands can bring their content alive by providing detailed descriptions of their products with engaging visuals.
How to Set Up Instagram Shop: Short Guide
The time has come to talk about how to create one for yourself. The setup process of Instagram Shop requires a few important steps, and it can be done in no time.
Step 1: Make Sure You Fit into the Requirements
The first step is to check your business store meets the requirements:
You already have a business website with a registered domain.
Your business is located in a supported market.
You sell only physical products, as Instagram doesn't provide an option to sell services yet.
You have installed the latest app update.
It's essential to have everything on this list. Otherwise, it would be impossible for you to have a shop. If everything is okay, let's move on to the next step.
Step 2: Create, Prepare, and Sync All Accounts
The next step is to create a Facebook Business Manager account and a Facebook Business page if you still don't have them. Then convert your Instagram personal account to a business account to unlock ad targeting and be able to open a shop. To do so, follow the instructions:
Open the Instagram account of your brand.
Hit the hamburger symbol (three horizontal lines) in the right corner.
Choose Settings first, then click Account in the menu tab.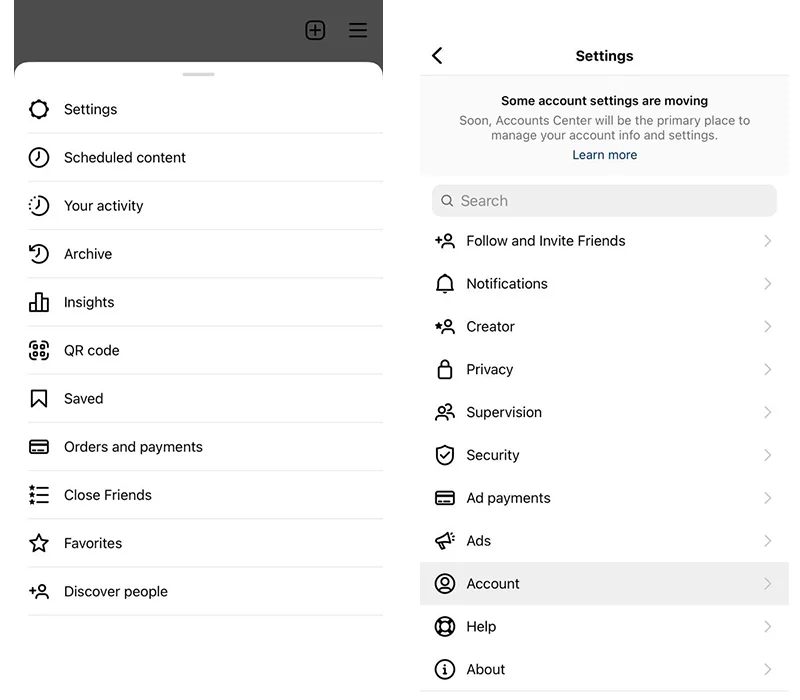 Navigate to the Switch account type button and press it.
Pick the Switch to business account option. And that's it!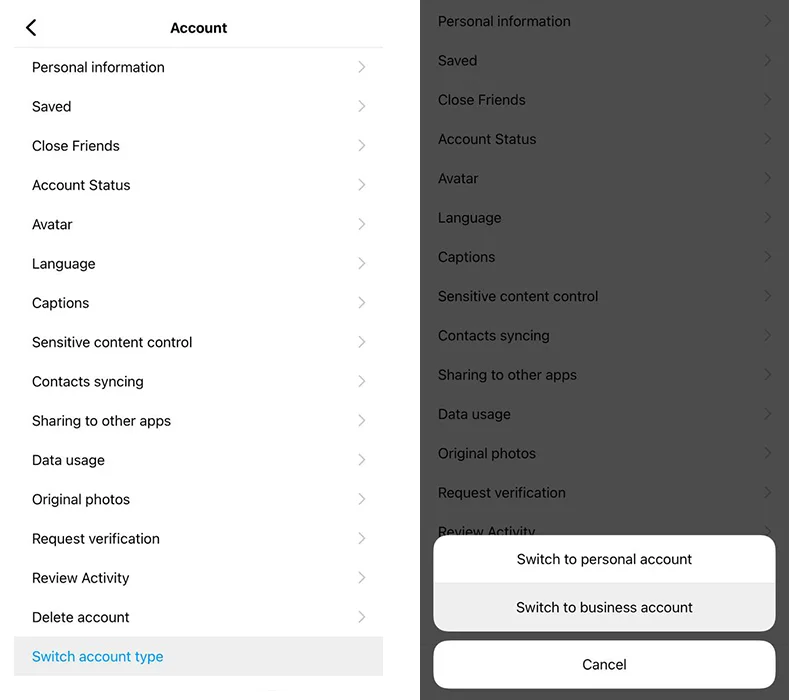 After that, connect your Instagram business account and Facebook page. This is done by logging into your Facebook page using your username and password or through the Instagram app. By the way, don't forget to sync your catalog too, or start creating it within the app!
Step 3: Start to Tag Products
Once the accounts have been linked and verified, you can begin tagging products on posts to make them eligible for shopping.
By following the simple steps above, you can set up an Instagram store in a blink of an eye and rest knowing that your products will be easy to find and purchased quickly and conveniently.
How to Add Shopping Tags in Instagram Posts, Reels & Stories
Tagging products on Instagram is a powerful way to make sure customers can find the items and make an impulse purchase. But here's the thing, the approach to adding tags differs depending on the content type. Right now three most popular content formats are in demand and have successful outcomes:
Post. It's all about sharing traditional photo and video content on the Instagram Feed.
Stories. This format delivers content that disappears from your profile in 24 hours.
Reels. Short-length videos with interactive and dynamic storytelling.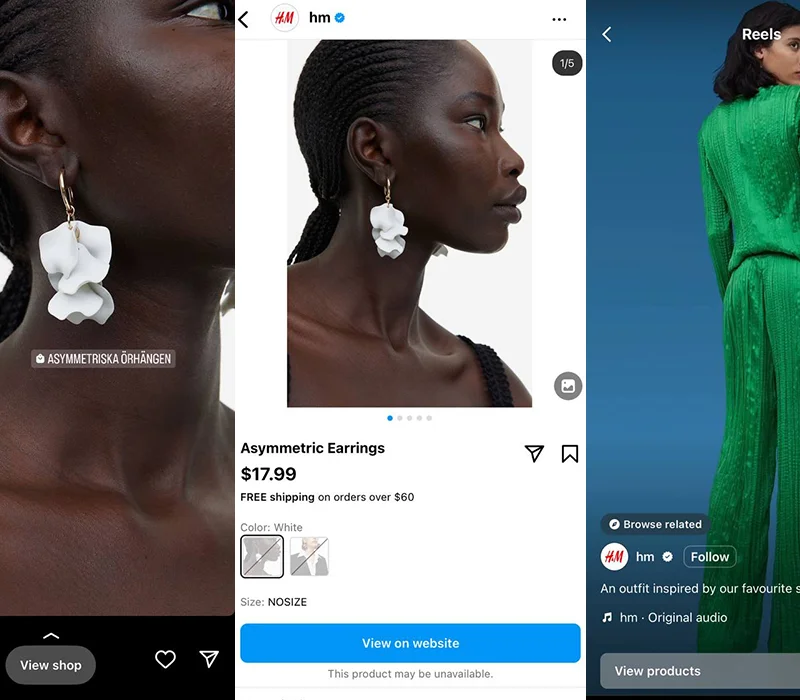 But no matter which one you choose to share, here are three tutorials for each case:
Shopping Tags in Instagram Posts
To add product tags to your feed post, follow these steps:
Before publishing a new post, choose the Tag Product option in the menu.
Tap everywhere you like on an image to insert a tag.
Search for the specific product in your shop catalog and select the needed one.
Press Done and share a new piece of content with everyone else!
Note: You can tag up to five products in one image and twenty if you have a carousel of five photos.
Shopping Tags in Instagram Reels
To add product tags to your reels, follow these steps:
Choose the Tag Product menu option.
Look for a product you want to promote and click Add.
Hit the Done button and share the reel with your audience.
Shopping Tags in Instagram Stories
To add tags to your stories, follow these steps:
Pick an image or a video to upload.
Tap on the sticker icon.
Select a product option and search for the item in a catalog.
Publish your promoting story!
How to Change or Delete Instagram Product Tags
Sometimes products go out of stock, or mistakes may occur in tagging the wrong product. And that is perfectly fine, and there is nothing to worry about because Instagram lets you fix these problems quietly.
Let's show you how you can make some quick edits to Instagram posts:
Go to the post with the product tag that has to be changed or deleted.
Tap on the three dots in the right corner to open the menu.
Choose Edit.
Make changes to the tag or entirely delete it.
To save changes, click on Done.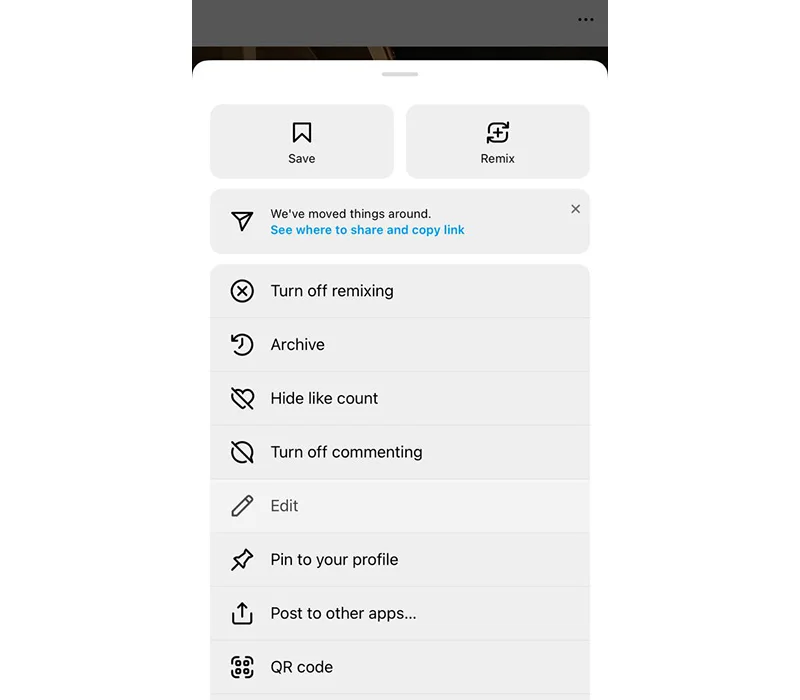 How Selling Products with Instagram Shopping Works
Getting customers to trust your products and explore what you have to offer them is a big part of making a sale. One way to do that is by giving customers examples of product images or videos. You can do this with the Instagram Shopping feature, which allows you to tag products in posts and stories, giving your followers a snapshot of your product.
But to understand the full picture of the buying process for customers, let's see how exactly the shopping feature works for them with the help of the @zara shop account:
When potential customers visit your profile for the first time, they will notice a View Shop option and a carefully curated feed of posts with a shopping bag icon. Both options work fine and provide access to the product catalog.
If they choose to tap on the liked post, they will face a photo with View Shop and tag labels.
Once users click on the tag, they will be taken directly to its product page with sizes, prices, and other descriptive information.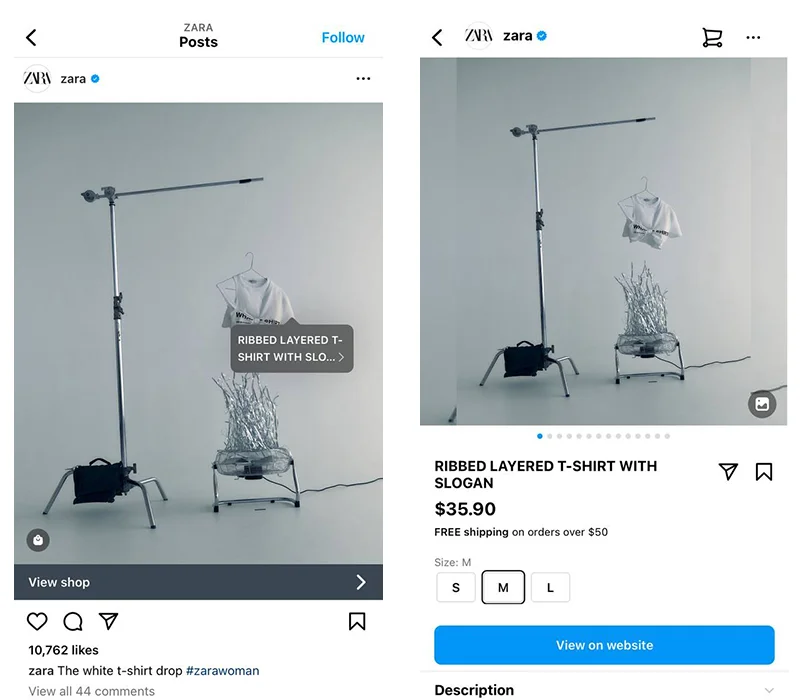 Then after tapping on the View on website button, they will be redirected to a website store to complete the buying process and pay for the product.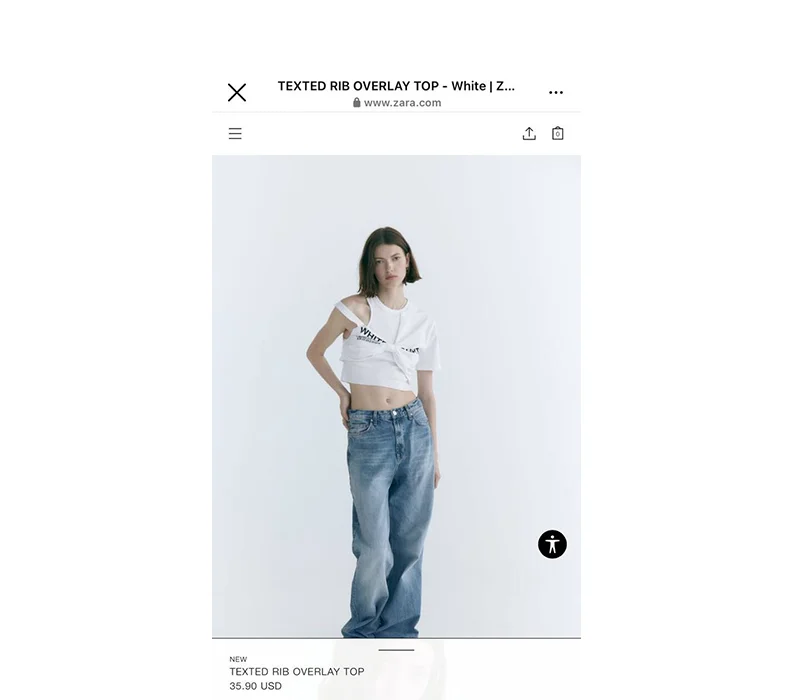 Altogether, tagging helps create an organized structure for your posts, reels, and stories. So potential customers can browse through all the tags easily instead of hunting through the comments section for product information, which can be annoying.
Embed Your Instagram Shop on Website: Instagram Feed Widget
Bring your Instagram storefront to your website using the Instagram Feed widget from Elfsight and be ahead of the game. Get more insights into customer behavior to make data-driven marketing decisions and let more potential customers discover and buy your product in both channels.
The installation doesn't require coding skills and takes too little time out of your day. It's four simple steps:
Log in to your Elfsight account and open the Instagram Feed plugin's configurator.
Make some edits and add custom twists to match your website's style.
Save changes and get the installation shortcode.
Copy the code and paste it into your website builder.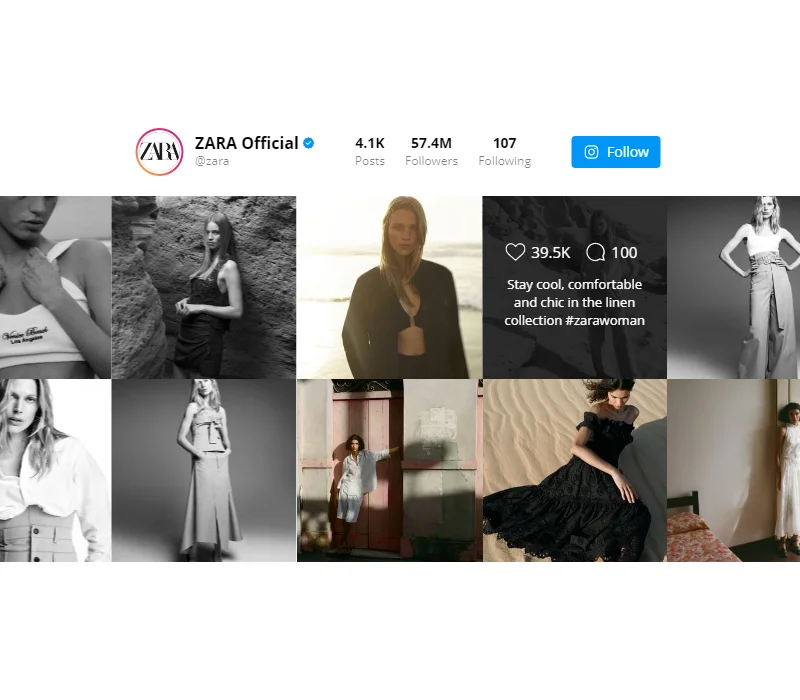 Full customization is welcomed here! Starting from a classic grid to a slider, choose any layout and post format you like. Specify the source filter and add shoppable links to product pages, so your users will be intrigued by the look of the call-to-action button.
Stay up-to-date with current trends and showcase the legibility of your brand. Start using all the channels that bring you profit and take the first step to have more success by trying out the Instagram Feed plugin.
Conclusion
Instagram Shopping is an incredibly powerful tool for engaging shoppers, showcasing products, and boosting sales. Setting up a shop requires a little effort and care to ensure that shoppers can use the platform effectively, but the rewards far outweigh the time investment.
With the assistance of Elfsight's solutions, business owners can quickly and easily embed their shop on their website, allowing shoppers to explore and purchase products from both their website and Instagram with ease.