InstaShow Version 1.2.0 – Non-Square Photos Support, Cache Time and More
InstaShow Version 1.2.0 – Non-Square Photos Support, Cache Time and More
Any product needs updates to stay up-to-date with the recent requirements of potential customers. We don't avoid this fact. So, get ready for the new version 1.2.0 of InstaShow. Believe us, it is worth seeing! Everything you should know about the update is here.
InstaShow – our latest
Instagram Feed for WordPress
on Codecanyon. After its release our team got many great reviews, different requests and interesting ideas of improving InstaShow from our customers.
Dear friends, we appreciate each of you for your feedback!
So, we've prepared new features in 1.2.0 update based on the customers' wish list. Prepare you widgets for the spectacular version!
InstaShow 1.2.0 Change Log
1.2.0 is one of our biggest update for
Instagram Feed Widget
right now. The most popular options were added to InstaShow – it's the first serious step towards the further improvement of our widget. The new version is rich with the following
fresh useful features
:
non-square images support
popup deep linking
popup video play icon
option to set cache time manually
autosave in Shortcode generator
We don't forget about existing bugs of our product. In addition to new features,
we've fixed 2 issues
, namely:
popup animation shaking
@username, #hashtags links in description and comments
Non-square Photos
Everyone was waiting for this for so long. With the recent Instagram update Instagram users can show photos and videos in both portrait and landscape orientation. It gives a free hand to many people who have great photos with non-square sizes. Still, there are no advantages without shortcomings. Instagram widgets have faced the problem of displaying new types of photo's orientation. Enormous space between photos is not looking good especially for high-quality widgets. Thereby, the idea of our fresh feature is simple. Now you can turn on the option of cutting any image to the square layout in the feed. At the same time, an image has the original proportions while opening it in popup. As a result, you get the amazing appearance of every photo and the gallery itself.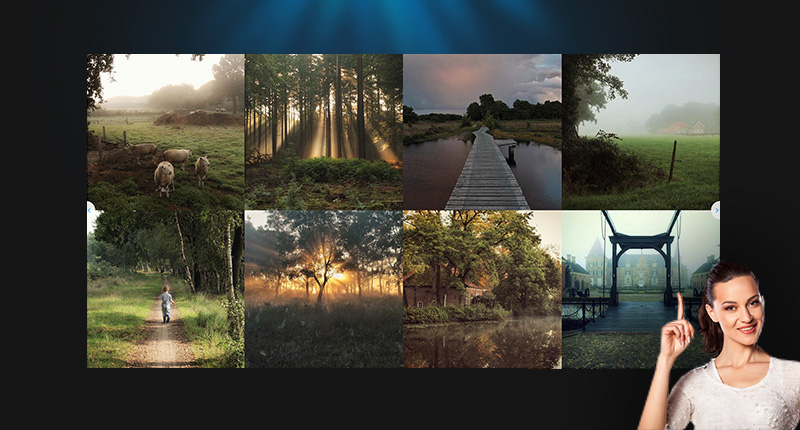 We've prepaired special article about Instagram non-square photos issue. You can read it for more details.
Popup Deep Linking
Deep linking will come in handy for those who would like to share the chosen picture from his Instagram plugin. For example, you have a good photo in your feed and it would be great to share its URL on other resources and to give a link to your Instagram widget's photos.
The new feature allows pointing the URL of the photo in the gallery to spread your Instagram photos out and attract additional traffic to your website.
Just open the desired photo in popup and copy the URL displayed in your input field. Easy, fast and useful feature to
embed Instagram
.
Popup Video Play Icon
With InstaShow you can share your videos from Instagram. It's perfect for showing everyone what's going on in your life and be free to express yourself. A short Instagram spot is a good way to increase your follower number. We understand the importance of videos for Instagramers. That's why it's
more comfortable now for your audience to surf through your feed
. They can easily distinguish videos from photos. As a result, the conversion rate will raise. Now just search for a video play icon in pop-up window and click on it. The video starts. Here you are! Your gallery became video-addict.
Cache Time
Previously in InstaShow: all uploaded images were cached automatically for one hour. It means that they stay in your browser's local storage. It decreases the loading time of a webpage and increases its work speed. We decided to add a special option for setting a cache time.
With the help of this new option, you are able to choose the appropriate time when the loaded image is being cached.
This setting enlarges adjustable abilities of the widget for the complete customization. You can also define the cache time as "zero". In that case, none of Instagram images in the grid will be saved at all.
Shortcode Generator Autosave
The next feature will be helpful for those who change the settings of InstaShow. When you change any parameter in shortcode generator,
the parameter will be saved automatically
in it. If you reload the web page or would like to change the previous shortcode then you don't have to set again all features. As you can see all the features are up-to-date and ready for some work. Now there is only one small step ahead.
Update Your InstaShow and Stay in Touch!
Behind each update, there is a hours-long work. We strive to create the
best Instagram feed
, which will meet any requirement. Our newest improving version is only one of further updates.
Check your InstaShow and be sure to use the latest version.
Don't forget to leave comments about your thoughts concerning this update. Furthermore, if you have any idea what should be improved in InstaShow then reach us through
Elfsight Support Center
. We will consider them and get in touch with you.
We do our best to deliver the great-performing Instagram widget.