Have you ever thought about this brilliant idea – to share Instagram photos on a WordPress website? If yes, our article is a must-read. Here you will learn everything for achieving the successful result. And our
Instagram feed InstaShow
will help you with it.
Expanding Instagram Potential
Instagram attracts millions of people around the world. They are ready to post absolutely anything in their feeds. So, yeah, social activity is fabulous. Companies, bloggers and many other online publishers have long been using #1 photo-sharing network in promotion and marketing campaigns. Why? In fact, images transfer information more efficiently than words. It is no surprise that Instagram became a perfect way to reach out to your target audience. Indeed, many publishers want to enlarge the influence of their online presence and
embed Instagram
to present user-generated content on websites. Here is why you might want to display Instagram photos on your website:
Increase in audience engagement on your website
Boost in conversion of visitors into customers
Higher awareness of products and services
Strong credibility through photos and videos
New followers in Instagram
Do you think of achieving these benefits? Then check out

Instagram Feed Widget

. Team Elfsight developed the responsive Instagram widget for displaying eye-catching galleries.
Our company strives to let anyone easily embrace the full power of our product. That's why we are going to show how to carry out the setup gradually. Don't feel nervous! It will take just a few minutes and will require no additional tools. Let's find out how to embed Instagram widget on WordPress!
Installation of Instagram Gallery
WP plugin InstaShow requires no coding skills or development experience. Nothing but you and your keyboard. You can succeed in setting up the photo gallery just in several minutes by following these steps. We divided the guide into four steps.
Comprehensive Video Guide
We've also created a video tutorial on Elfsight YouTube channel. It will help you set up InstaShow even quicker. Don't forget to turn on subtitles – they contain important infromation concerning installation process!
1. Download InstaShow.zip File
Start by making sure that you've got the copy of our photo plugin on CodeCanyon. It keeps the needed file for installation. Finding it is very easy. Go to the "Downloads" section of your Envato account (no doubt you are logged in).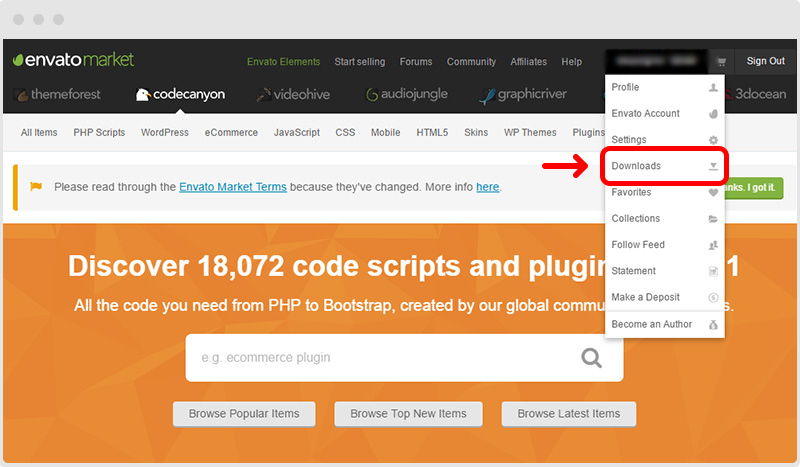 After that, find your purchased license and click "Download" tab. You should choose "Installable WordPress file only" from a drop-down list.
You don't have even to open this file as it contains everything for installation.

2. Install Instagram Feed in WordPress Admin Panel
Congrats, you've got the Zip file. Now it's time to add your Instagram plugin to the WordPress admin panel. For that click the "Plugins" section and choose "Add New". Afterwards, find the shining blue button "Upload Plugin". A new window will appear where you will be asked to pick the obtained InstaShow.zip file.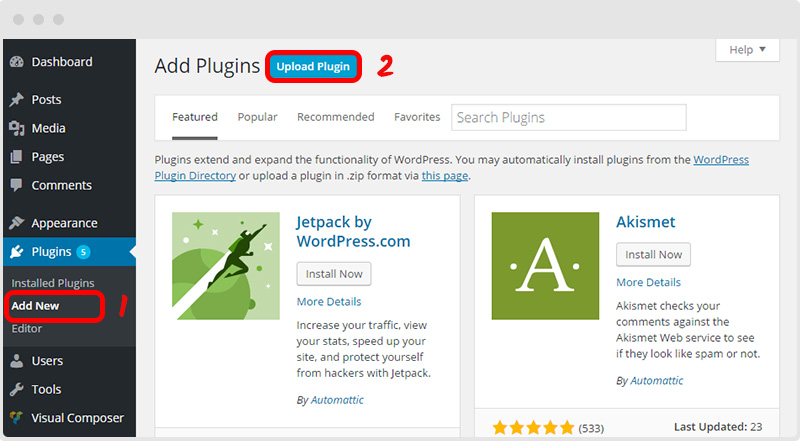 After that, click "Install Now" button and you will see InstaShow in the plugins list. There you should activate the plugin. This will do the trick and Instagram feed logo will appear in your left sidebar. Now you are able to customize your new plugin and embed Instagram on WordPress web pages.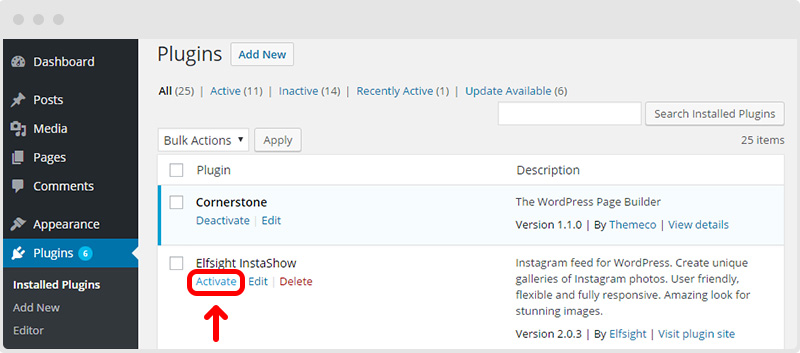 By the way, don't forget to actuate InstaShow by using your Envato purchase code. You can learn how to find this code in
our article
. Thus, you will get additional benefits, including:
Simple Live Updates
Premium Support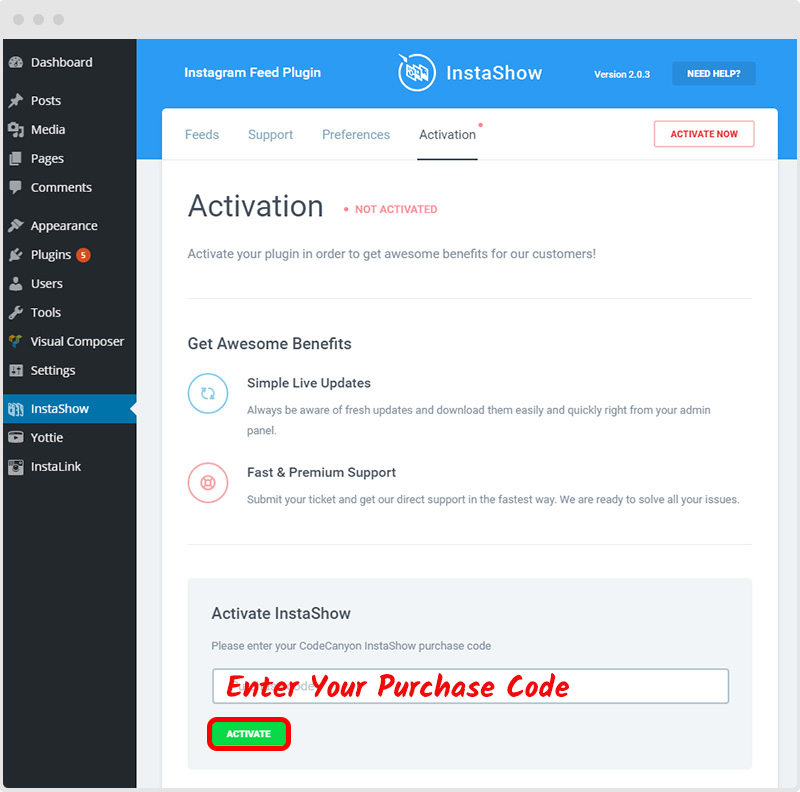 3. Customize Your First Instagram Gallery
Pay attention that InstaShow allows embedding as many Instagram galleries on one website as you want.
Okay! For now, you can create the first Instagram widget on your website. Find InstaShow logo in the sidebar menu and proceed to the Feeds tab. There you will be able to display photos from Instagram on your WordPress website. Firstly, you should give a name to the brand-new element of your site. Anything you want – numbers, letters, symbols – just so that you could find this particular feed in no time. The chosen name will be shown only in your admin panel and nowhere else.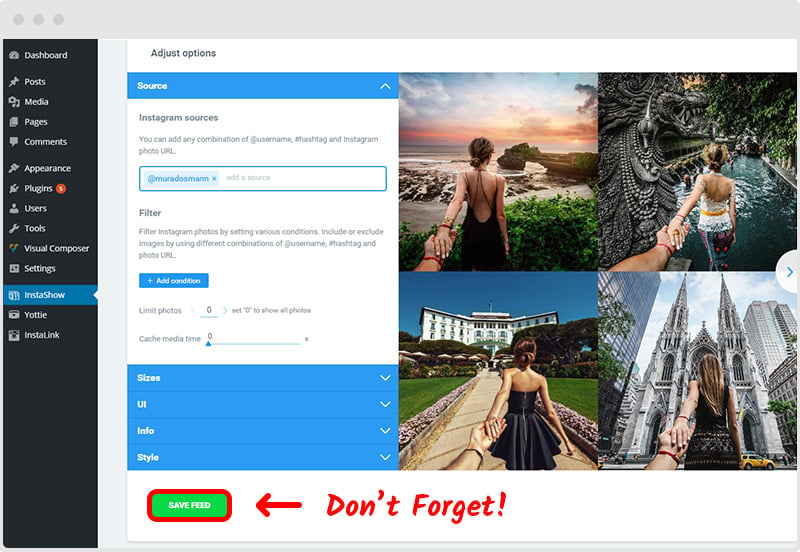 A particular customization can be made as well before you add Instagram to WordPress. Our customers are free to edit the following parameters:
Sources – to specify the content (usernames, hashtags and photo URLs)
Sizes – to change dimensions (width, height, gutter, columns, rows)
UI – to give audience the best user experience
Info – to show additional data from Instagram (likes, dislikes, comments, Instagram link)
Style – to color your plugin
Moreover, make sure you save your creation after all adjustments are done.
4. Copy and Paste The Code Into Any Page
You are close to the victory! Now you have to embed your Instagram widget on the web page or post. To do this you need a special shortcode. You will it in the Feeds list. Choose any page or post where you'd like to add your Instagram feed and paste the code.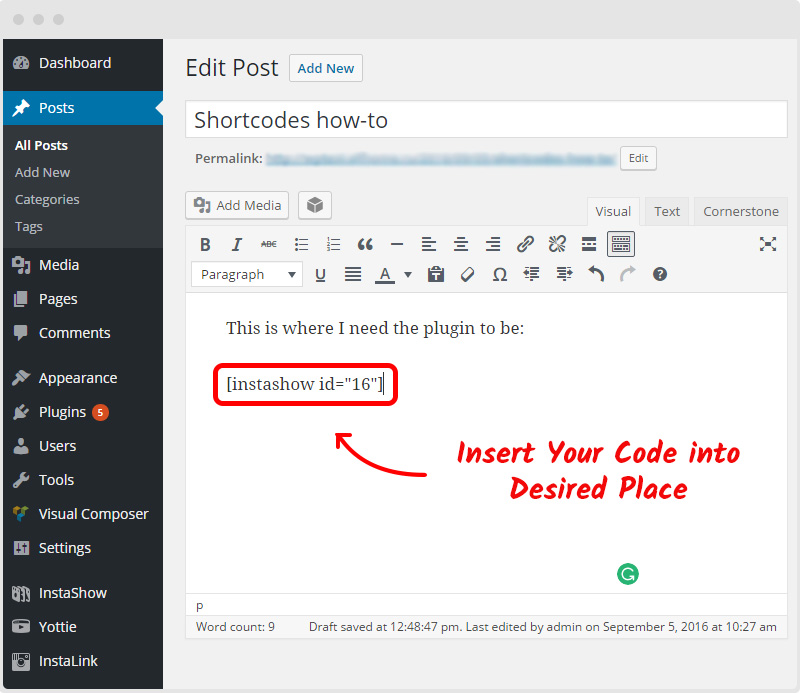 Our screenshot shows only an example of a WordPress page. Your case might maintain a lot more text and extra codes. You can insert the received shortcode at the beginning/end of the page or just between some content (for example, between paragraphs).
That's all! You've successfully learned how to get Instagram feed for your website. Use InstaShow advantages and boost audience engagement ;).
Call Us for Help
We provide support for all our customers. If you faced any issue with our plugins, Elfsight support team will come to the rescue.
Submit a ticket
in our Support Center and we will help you settle all questions.
Learn Everything about InstaShow
By the way, we are preparing full Instagram feed manual. It will consist of three comprehensive articles. Hence, you have the opportunity to study all options of our top-trending app and to add the plugin from Elfsight in seconds. Master its use step by step:
InstaShow "UI" Tab Guide (coming soon)
InstaShow "Info & Style" Tabs Guide (coming soon)