Announcing Elfsight YouTube Plugin for Weebly: Make Videos Work for You
Announcing Elfsight YouTube Plugin for Weebly: Make Videos Work for You
We continue developing new versions of our plugins. So you will be able to improve your website no matter what website platform you use. Elfsight team has recently released the Weebly version of top-trending
YouTube Plugin Yottie
. For now, you can display social videos right on your Weebly site.
Check the newest Weebly app from Elfsight!
We strive to provide Weebly users with the highest-quality YouTube app. So that it will come in handy for anyone who aims at attracting web audience with video content. YouTube generates tons of recordings. And you can choose any video that fits your website.
W for Weebly
Weebly is a web-hosting service available in more than 10 languages. It features a drag-and-drop website builder that operates in client's web browser. Users are able to drag and drop all elements and examine changes before publishing the page. The service also creates automatically a mobile version for user's website. Moreover, developers can build up any kind of shops with online payments. In all, distinctive features of Weebly service are:

Ability to create any website you'd like including ecommerce
Advanced shopping tools
Built-in email marketing
Google SEO analytics
Site editor that is available on any device
Weebly store full of useful apps
Achieve Multiple Benefits from Yottie
Let's start with the most important aspect – advantages that Yottie can provide you with:
Add YouTube videos to your Weebly blog, site or store
Boost audience engagement with topical videos, product reviews and presentations
Show content that will persuade people to stay on your website
Popularize your YouTube channel and earn new subscribers
Do you run a standalone site or an online store? Are you interested in driving new audience and turning them into your loyal audience? Of course, you are 😉 Otherwise, the site is useless if no one visits it. Among various ways of increasing attention to your development masterpiece, YouTube is increasingly popular.
Show how-to videos, product reviews and more on Weebly!
This video hosting contains any sort of videos for any taste. And it becomes a solid marketing partner. As of today, YouTube can drive more than 50% of the Internet traffic to a website. Thus, it's a very valuable resource in your hands. Elfsight offers you to go further and integrate YouTube into your Weebly site using simple Yottie app.
Key Features for Maximum Result
We did our best to present our customers one of the most complete Weebly apps. Elfsight YouTube plugin includes, without false modesty,
more than 100 adjustable parameters
. Each parameter can be manually tuned depending on your preferences. Of course, you will be able to modify whatever you want in the video gallery: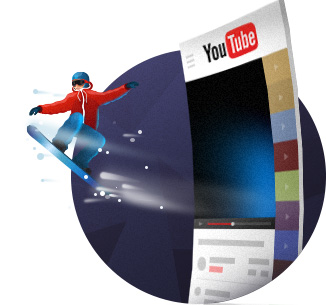 Sources Display any channel, share any YouTube video and choose it from any playlist. You will be able to organize the entertaining and informative web page.
Video Groups Divide videos into custom groups and name them yourself. Give your visitors a structured playlist for the clear and comfortable navigation.
Google AdSense Support Earn extra cash for showing advertisements inside video plugin. The adjustment of ads will take just a few minutes and will give you lots of benefits.
Flexible UI Customization Customize Yottie header. Change the number of columns, rows and gutter. Set navigation parameters. Adjust Yottie as you wish for the best user experience.
Video Layout Settings Select one of three layouts (Classic, Cinema, Horizontal) and decide what information should be shown on the preview image.
This is great and simple to use Elfsight app for those who are active in video marketing.
Install Yottie and Drive New Traffic
Share your YouTube channel. To do this, simply set the needed URL in the source tab. Demonstrate reviews of your products to your audience and
increase audience engagement
. Otherwise, create a playlist of different videos, which you'd like to show, and group them for better browsing. There is a lot more to do along with our newest Weebly widget!
Use Yottie 5-day trial period and create your unique video gallery!
Yottie can be useful for you if you want to awake audience interest in your website. For example, you can use the following types of video content:
Reviews and descriptions of your products
Testimonials from your satisfied clients
Tutorials and guides
Interesting moments of your work
Premium Support for Our Customers
Your opinions and reviews are important for us. Let us know what is your impression from YouTube app for Weebly by leaving a comment below or rating Yottie on the marketplace. We aim at giving you fast and effective support. That's why we are ready to help you with any issue in the plugin. Just
submit a ticket
in Elfsight Support Center.