Looking for a way to link to your Spotify account or album in your Instagram bio? It's simple, just install the desktop application of the service on your computer. You can also look at Elfsight's Audio Player – and also embed a cool music player right into your Instagram bio. How? Let's figure it out together!
A free tool to add Spotify tracks to your Instagram bio
Sharing an URL to your Spotify profile on your Instagram account is simple and requires only a few simple steps. And once you figure out exactly what goals you want to achieve by adding a link to your Spotify account, you can move on to finding tools that will allow you to do this. And we have such a solution. You can take advantage of Elfsight's Audio Player. Here are the steps you are to follow if you want to create a highly customizable Audio Player and put a link to it to your Instagram bio:
Create or log in to your account at Elfsight Apps.
Select Audio Player from the apps list.
Manage the style of the widget and press Save.
Switch to Share link option and copy it from the appeared popup window.
Go to your Instagram account to add the URL.
The benefits of choosing Elfsight
Tip: Link in bio is a clickable URL that you can add to your Instagram profile. Most popular social media platforms usually provide users with an option to put a link in bio to redirect users to some other websites. In case you need more details, you can always get them in our article on Instagram Link in Bio.
In case you've decided to switch to Elfsight in order to create Spotify link for your Instagram bio, here's the list of the most prominent benefits you'll get: 
The Audio Player will be totally compliant with any screen size
You'll have a broad range of customization opportunities
Scalable Audio Player will fit into any website page and design
It suits both for personal pages and popular brand pages
How to share Spotify link to Instagram bio
So, you have already created a link to your Audio Player and are ready to add it to your bio in your Instagram account. It's really easy to do, just follow a few simple steps. Here's what you need to do:
Go to your Instagram account.
Find the Edit profile button and click it.
You'll see the Add link option there.
Select the External link option.
Paste the link to your Audio Player to the URL field.
Write a caption for your link if required.
Tap on the Tick above to save the changes.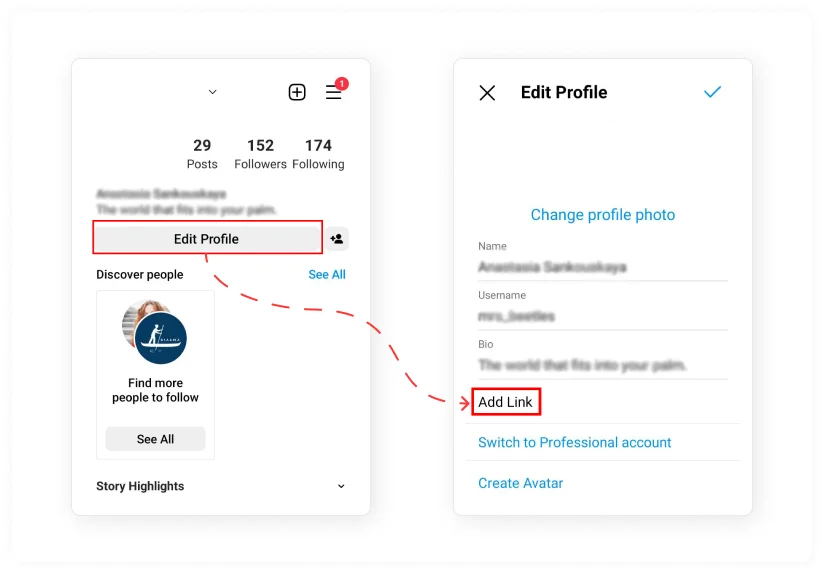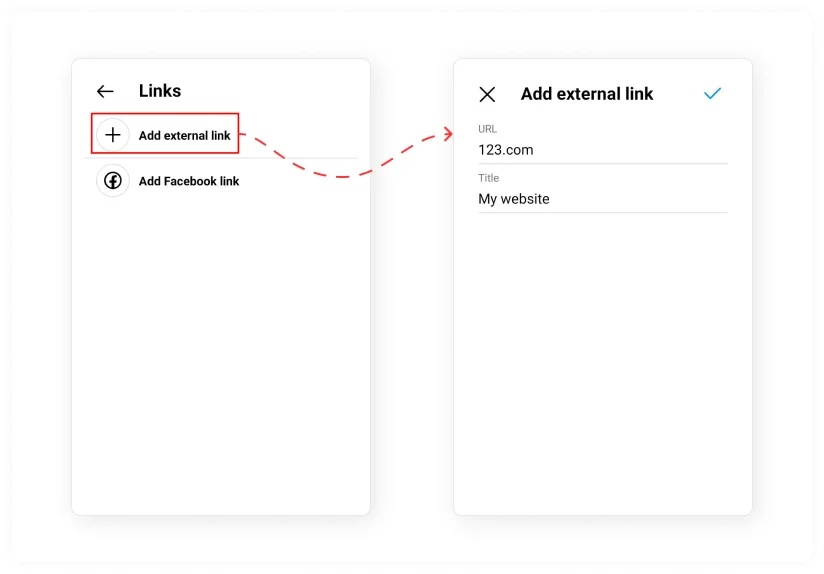 The most popular use cases: add link to your Spotify profile to Instagram bio
If you want to add a link to Spotify in your Instagram bio, then you should know that it is quite easy to do. However, first of all, figure out the purpose for which you want to add this URL there, because if you do this without a reason and some explanation, users simply will not understand you. Always try to pay attention to this link in posts and stories, and so it will work even better, completely fulfilling the task assigned to it.
Before you go to copy the link to your Spotify profile or track, make sure you have the desktop application installed, as copying the link from there will be much more convenient in almost any case.
Copy your artist link
So, you want to share your Spotify artist link in your Instagram bio. It's easy, however, in this case, you will have to use the Spotify desktop application.
Follow these steps:
Open your Spotify desktop app and visit the Artist profile.
Click three dots next to the artist name.
Select the Share option.
Copy the link from the appeared window.
That's it! This is how easy it is to copy an artist link on Spotify. But what if you want to present your Spotify profile on Instagram bio section? Let's find out how you can do it.
Copy a Spotify album link
Released a new album and want to share a link to it in all social media? There is nothing complicated here either, just follow these steps, and you will succeed:
Find your album on the Spotify desktop app.
Click on three dots next to your album name.
Select the Share option and copy your album link.
As you can see, copying a link to your album, and indeed to any other, in Spotify is quite simple and easy. But what if you need a link to a specific track? Now let's find out how this can be done.
Copy a track link
Copying a link to a track in Spotify is as easy as copying a link to an album or artist. You will need to follow these steps:
Open your desktop Spotify app.
Find the album that contains the track you want to share the link of.
Click on the three dots on a song and choose the "Copy Song Link" option.
As you can see, copying a Spotify link is quite easy and requires little effort on your part. Now let's look at how you can link to Spotify in your Instagram bio if you decide to choose Elfsight's Audio Player widget for this purpose.
The most prominent Link in Bio Spotify Templates for Instagram
Well, now it's high time to consider in detail what design options for your Audio Player you have if you have chosen a widget from Elfsight to post a Spotify link in your Instagram bio section. Keep in mind that these options are only a small part of the customization possibilities you'll get, as Audio Player has got for you a lot of those. All of the templates we've mentioned below suit for any purposes – from posting on a personal Instagram page to any business profile.
Template 1: Music Playlist
This player is designed in dark colors, which allows you to make it a stylish element of your website. Located on the right side of the page, it won't take up much space, which will keep your website visually clean and free of space for other details that your audience might find useful.

Template 2: Meditation and Ambience
This is a great template for Instagram lifestyle pages. If you dream of becoming a lifestyle influencer or are already making your way towards that goal, adding a cool meditation playlist to your Instagram bio is a great idea. Users will be able to enjoy relaxing tracks right on your page, while you don't have to make any special efforts to create the right mood for meditation. And the minimalistic, but still attractive design of the widget only adds to its advantages in the eyes of users.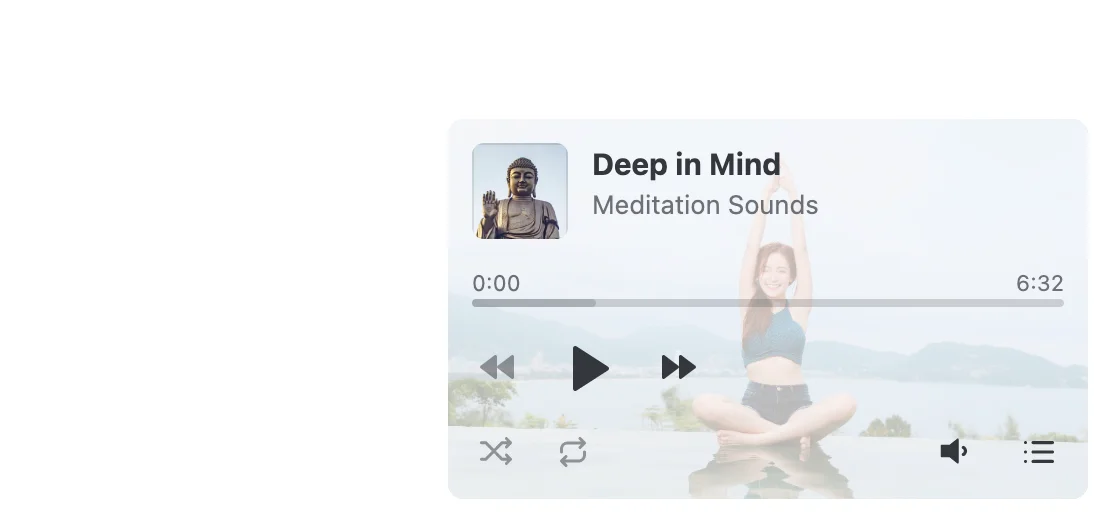 Template 3: Nature Sounds
Are you a wildlife photographer or do you just love everything related to nature? So why not put together a cool wildlife sound playlist for your audience and add a link to it in your Instagram bio? This widget is designed in natural colors, which emphasizes its theme. This allows you to create the right mood among users, and brings relaxation and calm. This is also a good option for lifestyle influencers who want to please their audience with an interesting novelty.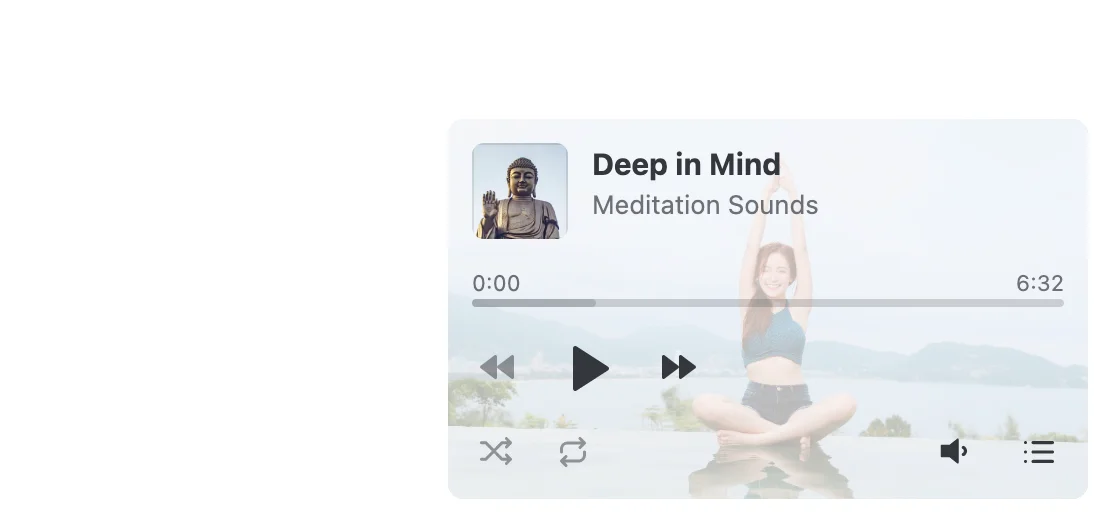 Template 4: Single Track
Don't want to clutter up your website page with unnecessary details? Then a single track playlist is perfect for you. Despite the minimalist design, the widget is designed quite attractively. Located at the bottom of the page, the widget perfectly complements the design of the web page and adds variety to the functionality, while saving space at the same time. Users will definitely appreciate this add-on and will definitely want to listen to the track that you share with them.

Troubleshooting
Sometimes when adding an URL to an Instagram bio, there can be situations where something goes wrong and the link doesn't work as expected. Let's see why this might happen.
Why is my Instagram link not clickable?
Most often, the problem may be that you have added a link in the wrong field. While it's common for users to add a link to their profile description field when they say "Link in Bio", you shouldn't add it there. You should follow the steps in the instructions we posted above and then the link will work as expected.
Why is my Spotify link not working?
There are many options for why the link to your Spotify profile is not working. For starters, you simply may have copied it incompletely, and it is displayed incorrectly in the profile. In addition, problems may be related to the fact that you have added a link in a field that is not intended for it. Therefore, we recommend that you go through all the steps to add a link again.
Why is Spotify not playing?
In case you're having some technical issues with Spotify, you can try the following:
Restart the Spotify app.
Try to update the app
Reinstall the app
Make sure your internet connection functions
Update your device's operating system
Clear your device's cache

Keep in mind that after reinstalling the app you will need to re-download all the tracks and albums you've downloaded previously.
How do I restart my Spotify app?
You can force-close and then restart Spotify. Start the app in the usual way. In most cases, this will be enough for solving a problem that might occur.
[faq_item question_tag="h3" question="What if I accidentally deleted my Spotify playlist?"]
This is a fairly common problem among all users. Of course, this can be very frustrating, because creating a playlist can take a lot of time and effort, choosing the right tracks that create the right mood. Therefore, if you accidentally deleted it, you can restore it. It's easy, just log in to your Spotify account, then go to Recover Playlists > Restore.
Conclusion
Adding an URL to your Instagram profile link in bio can be critical for your community in this app. If you already have a formed audience on Instagram, you will probably want to attract them to Spotify as well, because it would be wrong to miss out on such an important part of your followers. Also, linking to Spotify in your Instagram profile bio can just be a vehicle for breaking some important news about your community, which may be quite handy for users who can't always communicate on Spotify but still want to know about all the updates quickly.
And if you are looking for information on how to add links to other social media platforms on Instagram, then we have prepared some useful guides for you. Learn how you can add links to: