Find out how you can easily add a free Social media aggregator to your website to demonstrate events from your social media account. Increase engagement on your website with only a single widget.
How does social media aggregator works
Social Medial Feed widget is a premium tool that helps you collect all the content from your social media channels on your website through the use of one widget. The widget updates in real time as your social media pages get updated with new content. This plugin works as a post collector and can collect data from different sources, not just Facebook and Instagram. You are free to choose which posts the social media aggregator will collect, as it also allows you to moderate the feed manually.
You can see a little more about how the social media aggregator works in the video below.
Now you have figured out how a social media aggregator works, so let's see what benefits it can bring to your business, since the advantages of an interactive feed on their website are not immediately obvious to everyone.
As you can see, there are quite a lot of pluses, and this list can be continued almost indefinitely. However, we will not waste your precious time and get down to business – we will figure out how to add a social aggregator widget to your site.
How to create your first personal social media aggregator for your website
People who are engaged in web development will not be embarrassed by the task of installing a social media feed on the site, but we advise everyone else to pay attention to widgets and plugins. This is the best solution for those who don't know where to start. As a rule, they are very easy to set up, many of them are free, in a word – there are only pluses, isn't it? So let's take a look at how to add one of the best social media aggregators to your website. It's simple, just follow these steps:
Personalize a template you find the best for your website.
Get the installation code at Elfsight apps and copy it.
Integrate it in the required place on your website's page.
And you can try to create your first widget right here and now through the use of our demo!
How your website can benefit from social media aggregator
Not sure if you need a social media aggregator on your site? But what if we say that it has advantages for almost any business? What? Yes! This is why you should definitely consider embedding this tool in your website content:
How can you use Social aggregator on your website: examples
So, you have decided that a social media aggregator is exactly what your website was missing in terms of content. Therefore, you just need to see how the widget might look on your site. Below we have collected some cool examples that you are free to use when creating your plugin. Watch and be inspired!
Template 1: Grid aggregator
A familiar but still quite flashy and prominent social media aggregator option for those who are willing to dedicate a lot of free space to social content on their website. With a grid plugin on your website, you can easily create a living collection of content by hashtags, links, and more, thereby increasing your audience's engagement with your content.
Template 2: Masonry dark social aggregator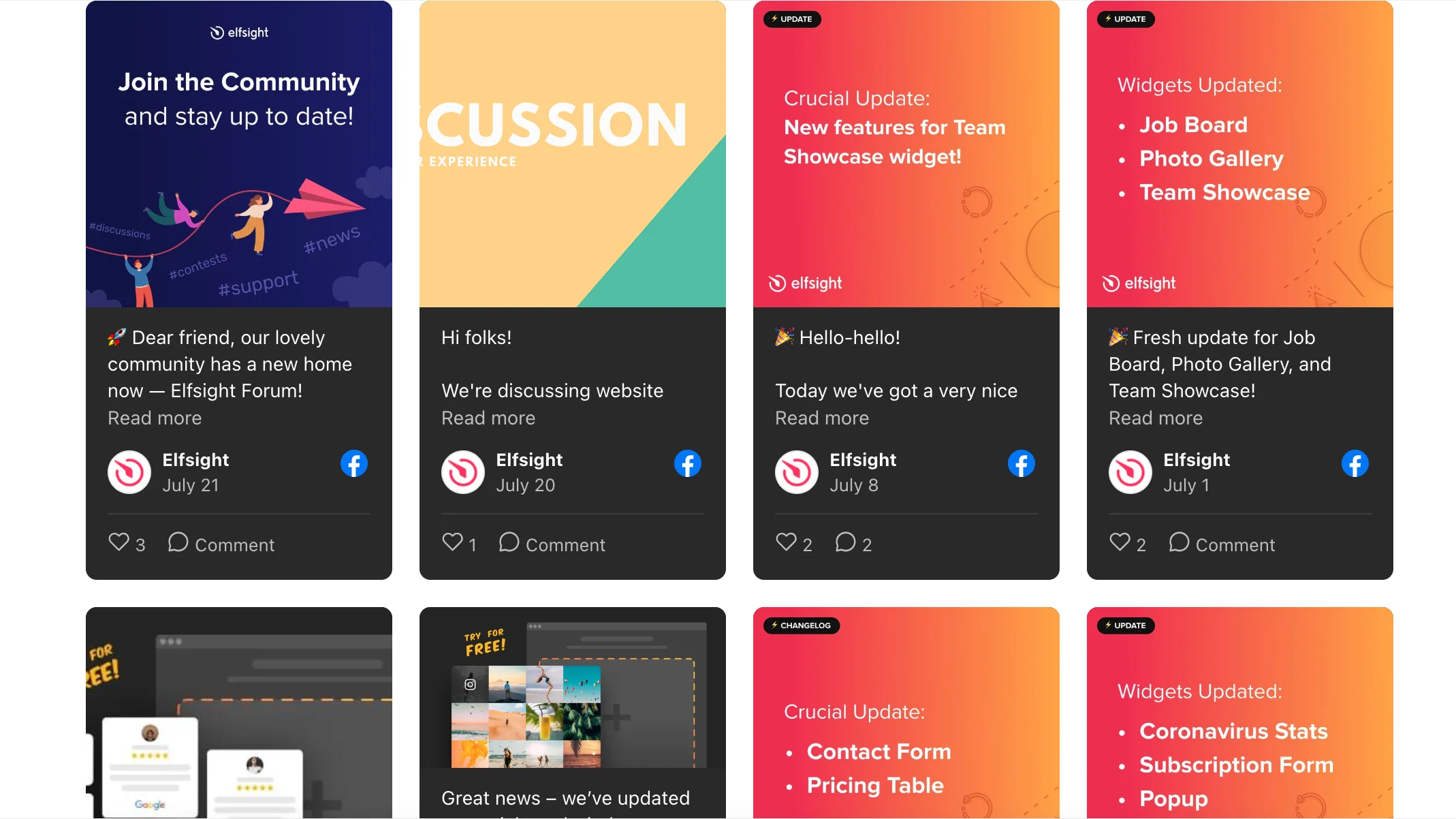 Another interesting option for setting up a social media aggregator for your website. This plugin is shown in dark colors, which allows you to focus on the content of your social network feed with the help of contrast. If you don't know where to start creating your best widget, we advise you to take a look at this example, as it is one of the most memorable uses of a widget to complement your website content.
Template 3: Small social media aggregator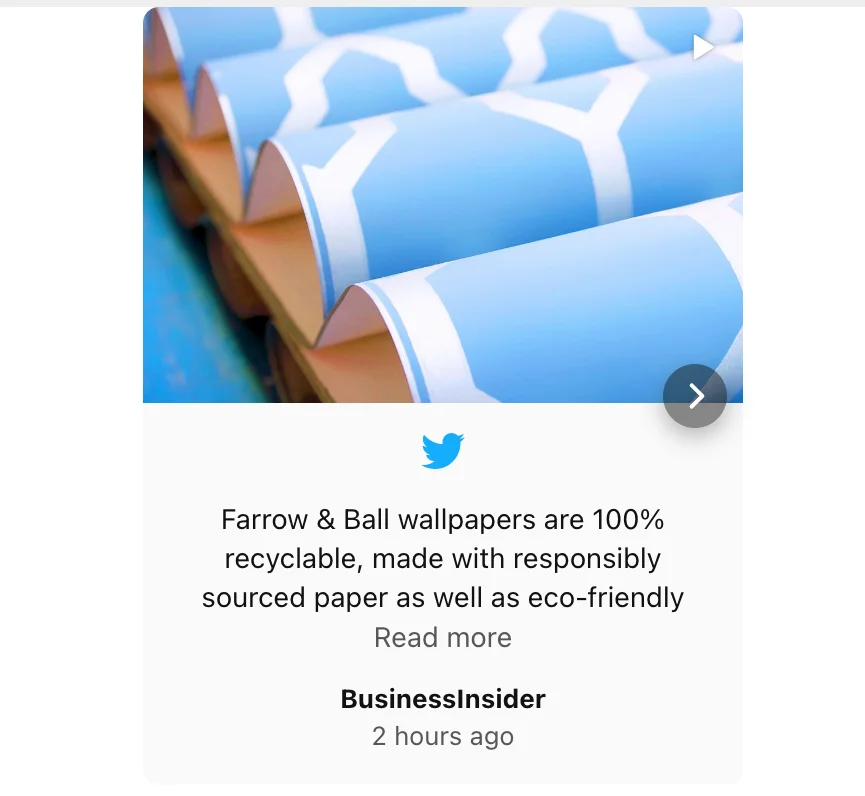 If you are a minimalist, then a small widget is your best bet. Looks great on any page on your site, especially if it doesn't have room for new social media content and you still want to diversify the user experience.
Template 4: Slider social media aggregator

A timeless slider will be appropriate on any website that decides to embed a social aggregator widget. If you want to add some interactivity to your content, but at the same time can't allocate too much space to the widget on your site pages, this option is perfect for you. All events, hashtags and other content that the widget will show are clickable, and at the same time look compact. A great option for a social aggregator.
Template 5: Full width carousel social media content aggregator
Display your content feed with a full-width carousel layout and stay up to trends across the Internet. Not only will it make your website feel more expensive with interactive and dynamic content posts, but it also will logically separate website blocks to bring up user experience.
Template 6: Single source social media feed aggregator
If you want to post content from one social media platform, then the single-source plugin is your ideal choice to present posts in a feed or carousel format. Keep your lifestyle or business feed looking put together, and dedicate as much website space as you would like to engage your users.
Template 7: Video feed social media aggregator
Last but not least is the video feed! Capture video content from various social media platforms and present them on your website in high definition. It's even more helpful for some who are bloggers or post videos on YouTube or Vimeo platforms. Just imagine you have another channel that will draw more subscribers!
We also have a whole page with amazing examples of using the social media aggregator. Well, now, after you figured out how you can style your social media content aggregator – photos, videos and hashtags, let's see how different brands do it.
Social media aggregator: how brands use it
The social media aggregator is a great tool for both large brands and small companies. The thing is that it can equally well display a large number of content and hashtags that are produced by large brands, but also a small number of posts from not so big brands. Let's see what can inspire you right now.
Masonry social aggregator by Fujifilm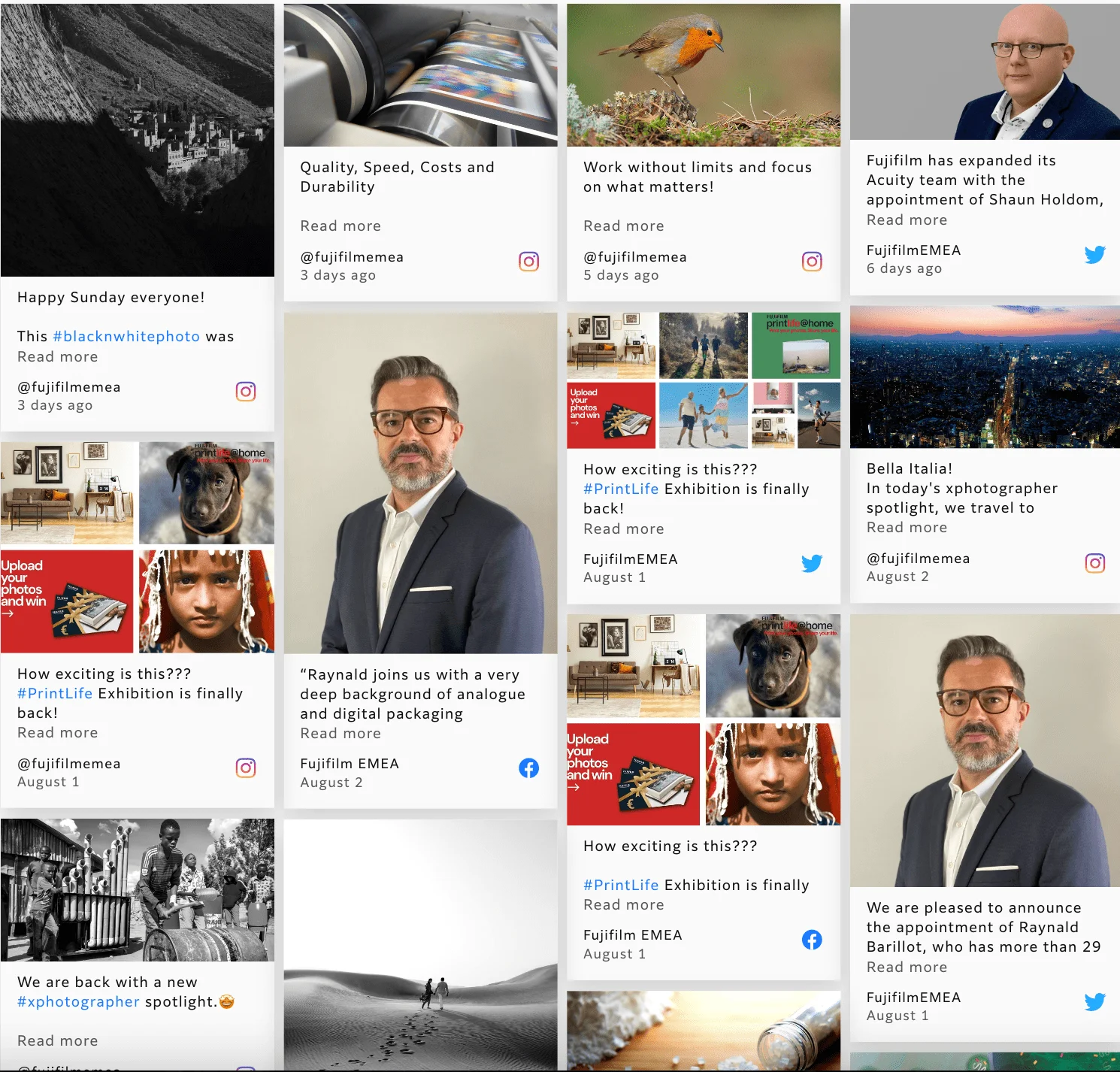 A cool example of using the Masonry grid on a website. Fujifilm collected in its plugin posts from three social media sites at once – Instagram, Facebook and Twitter. And you can do exactly the same! Just look how great this content looks in an awesome widget. Ww want to press like immediately!
Classic Grid by Bärner Brocki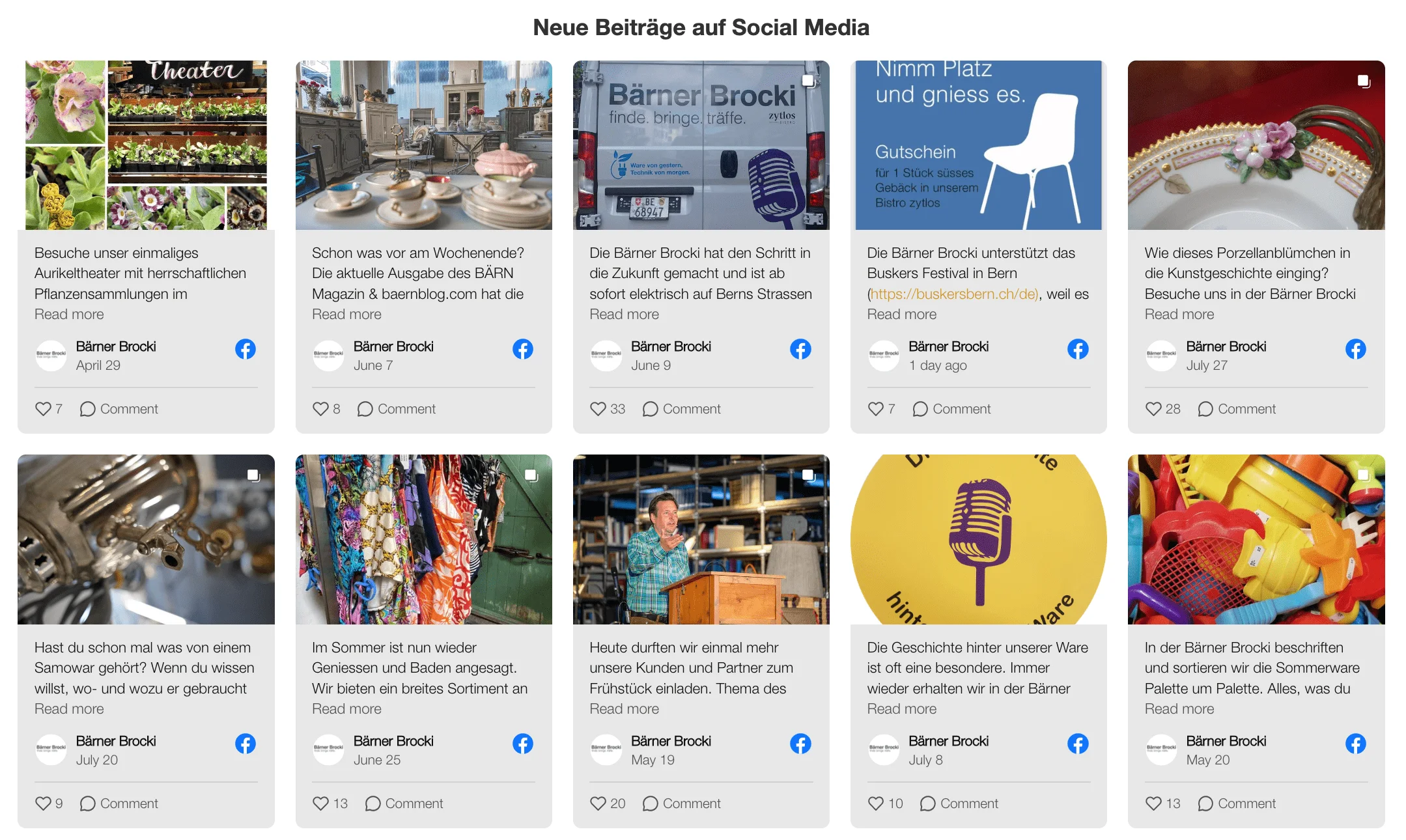 This brand has opted for a more classic look and feel for the social media aggregator plugin. The widget collected all the company's content from Facebook and placed it in a prominent place on the website so that no user misses important and interesting information. A great solution for those who want to push social content forward.
Slider by by Autopilot.is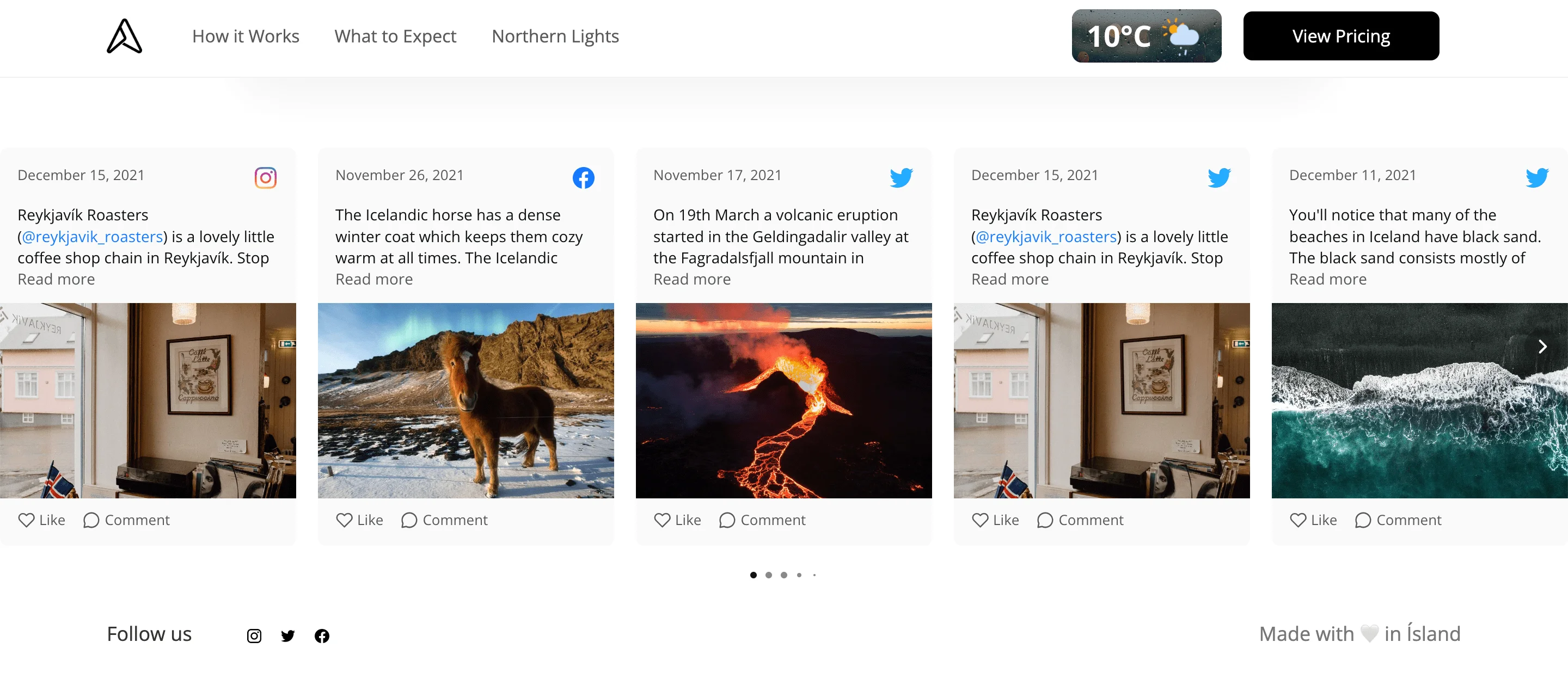 Our selection of examples would be incomplete without a social media feed presented in the form of a slider. In this case, the widget has collected a feed from different social channels of the company, which adds variety to the displayed content. By the way, you can manage the feed manually, specifically selecting certain posts or hashtags for it – and only they will be displayed on your website.
Dark theme by Eurofood

Just see how the dark widget design changes the social media feed and makes it incredibly stylish. You can also make the same social media aggregator by simply choosing the appropriate template and specifying the color scheme that suits you in the settings. Voila, you have a stylish social media feed on your website in just a couple of clicks.
Slider by Scooter-Attack

There are never too many sliders! Guys from Scooter-Attack agrred, and added a social media feed to their website with the help of our cool widget. The feed is a selection of photos, and text content and hashtags are shown when you hover over the feed. The minimalist design makes it easy to fit the social media feed aggregator into any website.
How to embed social feed aggregator on your website
Now that you have seen examples of using the social media feed aggregator for websites, as well as the most outstanding use cases,iIt's time to find out how you can add a social media feed to your website. It's easy, and first we'll figure out how to add it to your website's HTML code.
HTML can help users build a website for any purpose. Although the creation of the website itself may not seem that demanding, when dealing with adding extra elements like social feed aggregator, you might want to look for assistance from the third-party tools. All that needs to be done here is to employ a handy editor and then integrate the installation code to the site or some specific page on it.
If you are looking for more specific instructions for your website, then below we will provide you with recommendations on how to install the social media feed aggregator on popular platforms.
How to add social media aggregator to WordPress website
There are several options to add the social feed aggregator to the WordPress website. For example, you can apply a video guide with an installation given closely.
Below are the steps you have to follow in order to add the social aggregator plugin through the use of WordPress admin panel:
Use the free Elfsight configurator and start building your customized plugin.
Choose the needed form and functional traits of your WordPress live plugin and apply the corrections.
Copy the individual code which appears in the special form on Elfsight Apps.
After the customization of your personal feed plugin is done, copy the individual code at the appeared box and save it for later use.
Start using your Social feed aggregator plugin on your WordPress website.
Add the code saved recently into your website and apply the edits.
Done! The embedding is fully finished. And look at the more thorough guide on creating a Social wall for WordPress →.
How to add social media feed aggregator to Joomla website
There are multiple options to embed the social media aggregator to the Joomla website. For example, you are welcome to watch a video instruction with an installation process described in full.
And below are the steps you have to follow if you need to embed the social media aggregator app by means of Joomla administrator panel:
Open the Joomla website editor and open Templates.
Find the index.php file, find Body tag and paste the first line of your installation code right after <div class>. Save to apply changes to your Joomla website.
Get back to your Control Panel. Click Articles in the left-hand menu of your website and choose the page in the Articles section where you'd like to display your live widget.
Click the HTML Code icon, paste the second line of your installation code, then click Ok and Save the changes.
Done! The embedding is fully accomplished. Here you can check out the full guide on creating a Social wall for Joomla →.
How to embed social aggregator to Elementor
You have several options to embed the social media aggregator widget to the Elementor site. For example, you are welcome to use a video guide with an installation described at great length.
Below are the steps you are to follow in order to add the social media aggregator app with the help of Elementor administrator panel:
Log in to your WordPress admin panel, go to the Pages section and find the page where you'd like to add the plugin.
Click Edit with Elementor to start working with your page.
Drag and drop the HTML element to the page.
Add the installation code to the HTML Code box, and click Update.
Done! The embedding is successfully performed. If you need a more thorough guide on installing the widget to Elementor, visit this page →.
How to customize a social media aggregator for your website
It doesn't take a lot of timing and effort to fit the social media hashtag aggregator to your website aesthetic. Shortly, you need to choose the specific template and layout. But to get more in detail, look out for these elements when you're creating a widget:
Sources. When creating a feed plugin, you need to know which social media platforms' content you're going to use. The list of options is impressive and includes Instagram, Facebook, Twitter, TikTok, Pinterest, YouTube, and others. Pick the ones that display your online presence, or stick to a single source.
Layout. This is where you decide how the widget app will look on your website. While choosing the layout format, keep in mind how much space on your webpage you're ready to use for the widget. Plus, feel free to change the width and add an eye-catching header to attract more users and increase engagement.
Post format. Select the perfect way of displaying the posts with five styles. They can be animated and dynamic or still and simple. Both options will make your feed look pleasing and desirable to tap on. Can you already hear the sounds of clicks?
Appearance. To make the content feed more original and unique, try changing the color scheme from light to dark, choosing accent colors, and modifying the button. Here's for you to highlight your brand's identity and spread your core message through visual effects.
Language. The plugin can be localized in over 20 languages. Figure out what audience will see the feed, where they are from, and what language they speak. It will enhance the chances of delivering the right content and getting more feedback and followers.
Whether you need a WordPress social media aggregator or Elementor social media aggregator, the customization process stays the same for each website. So you wouldn't get lost changing the elements and not knowing what to do with them. It's simple as it seems!
Why your business will benefit from social media aggregator
Recent studies show that users are spending more and more time online. There is a feeling that this trend will definitely continue in the coming years. That is why you should definitely consider increasing your social media presence, including by adding a social media feed to your website. Below we have tried to summarize all the benefits that your business will receive from this tool.
Increased engagement

Social aggregator is there to heaten up users' participation in your company's activities
Your brand grows stronger

Creating more relevant content

You can let users generate content for you
Leave your competitors behind with the help of UGC

Feeling your audience

Your social media aggregator can turn into a powerful analytical tool
You are free to change your business strategy in accordance with the mood of your users

Better lead generation

Find users that are more likely to collaborate with your brand
Detect potential customers with the help of social media aggregator tool
Need something more specific? We've got Facebook, Instagram and others
Have you carefully looked through all the pros and cons, and realized that for now you are ready for a more narrowly focused tool? No problem, we have something to offer you. Choose from Instagram Feed, TikTok Feed, Facebook Feed, Twitter Feed, and many more. Try all of them and see which one works best for you!
Get started with all-in-one social media feeds with the Social media aggregator widget by Elfsight!

In case of any questions
Remember that representatives of our support team are always happy to receive feedback from you – they will be happy to help solve any of your questions that may arise in the process of working with the social media aggregator widget. If you want to discuss existing functionality , then we are glad to see you on our forum! And in case you have some cool feature idea for any of the widgets we offer, you are welcome to our wishlist.