Social media is the great opportunity to build a strong relationship between business and masses with the mouse click. Thus, if you run corporate social profiles, the only way they will prove useful to you is to inform people about such accounts. And your website is the very first place where social media icons can be displayed.
Organizing your social presence for business is a crucial task. A strong social media presence is a crucial base component to include in any branding efforts. Using social media icons on the main website for business will almost certainly help to promote the variety of social media accounts that any online business alike will manage. More popular social media accounts will result in more interaction with customers and potential customers, in turn increasing the interest in any products and services and potentially leading to increased sales. This is where Social Media Icons enter the game. Below we will explain what benefits you get using them and how to embed them to your site.
What Are Social Media Icons
Social icons allow developers to display various social logos (like Facebook, Twitter, etc.) on some notable area of your website. Doing so you will be able to communicate with new customers and keep in touch with those you already have.
Show your presence on Social Media!
All in all, there are two major types of social icons depending on the installation process:
Special plugin that can be set up in your admin panel without the actual need of coding
Separate icons (SVG, PNG or other) that you should add manually to the page, post or theme
In short, it's all about cross-channel promotion, which positively impacts online influence. Social icons on your site should grow your presence in the wishful networks. And your social media content should make its best to attract audience to your site at the same time. Now let's dig deeper into benefits you get from using social media icons for business.
Advantages for Your eCom Shop
Make people revisit your store 😉
Web traffic is essential for any online shop. The more you have it – the more potential clients you've got on the list. Social icons will invite your web guests to company's profiles where they could follow you and be aware of the latest offers, products and trends. Using social icons is a great way to ensure that people can easily and quickly find your profile(s) and to encourage any potential sales possibilities.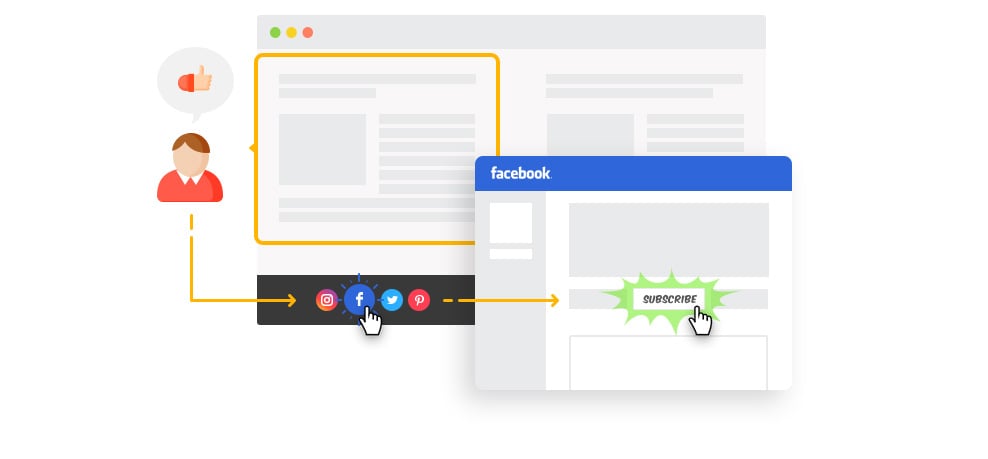 Your audience gets the access to your brand in an entertaining and convenient way. Make so that they won't forget about you. By having readers follow your active social media profiles, you'll pop up there to help stay top of mind. As a result, you will be able to return them to your shop for purchasing more.
Don't forget, to tell web guests why they should follow you!
But wait, that's not all. Social icons enhance customer service by giving your business direct contacts with people. They can easily find help by visiting your profile and writing a message right in it. So you can answer any question and solve issues in a flash. Here are all solid reasons why you should take icons into account:
Return of customers for buying new items
New followers and subscribers in your networks
Direct contact with your customers
By the way, it's important to monitor your social media on a daily basis. Doing so your clients (who seek immediate feedback) will get answers as quickly as possible and will rejoice over fast and helpful support. This will be an enjoyable experience and the additional reason to come back to your online store.
Which Networks to Show
Although almost any social network can suit the needs of online stores, some services are more relevant than others. Much depends on what products you sell and what marketing strategy you pursue. Either way, you should analyze pros and cons of each network. For example, the first thing to consider is the number of active users. Below you can see networks ranked by this parameter. And Facebook is an ultimate champion with almost 2 millions of users. For any online shop it means the great opportunity to hook new customers.
Find more statistics at Statista
Indeed, Facebook is practically one of the best social platforms that will help you build brand awareness and interact with clients every day. Moreover, Twitter is acceptable for encouraging interaction with customers and the hashtag feature makes it easier to share valuable content. It's worth noting that Google Plus isn't so rich with users base so your posts will reach fewer viewers than on Facebook or Twitter. Who is next? Take a look at Pinterest. The whole network is based on visualization that stands above text format. Do not discount this platform as people use it as a digital wish list. And of course, YouTube can be a perfect case if you'd like to use videos to promote your brand. Oh! We saved the best bit till last – Instagram. It can be applicable for almost any online shop. Just find out the right approach to your audience and create an eye-catching visual content that will convince of buying items on the photo. See for yourself!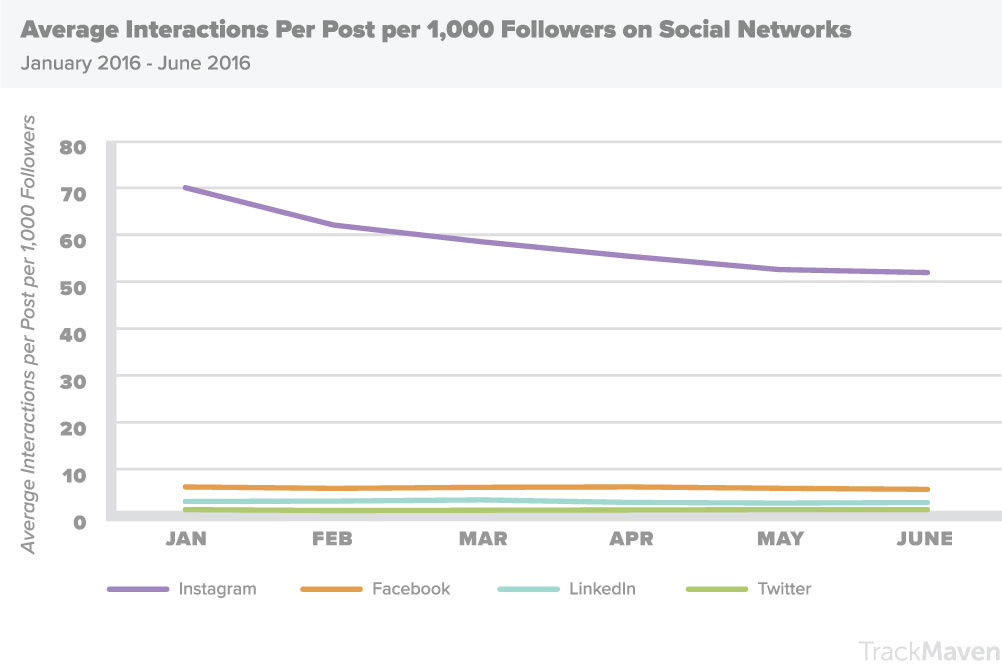 Instagram dominates them all. According to
TrackMaven research
Instagram achieves the greatest engagement per follower. It results in getting the higher number of new clients from each post in terms of maximizing company's work in social media. In summary, networks that we've recently listed above are not the only ones that can be used as an effective social marketing tool. There are also other resources (LinkedIn, Tumblr, etc.) that will be of use if you manage them properly. After all, it depends on your decision on which social platform you'd like to set your sights.
How & Where to Install
As we've already noticed you can install social icons in two different ways. And all it comes down to your personal preferences. You can make the use of third party plugins like our
Social Media Icons
as the quickest method of arranging icons. Or you can find various bundles of icons on the web and do everything by hand. No matter how you install icons, the most important aspect – everyone should notice them. To achieve attention not only icons should be visible and attractive, but you should choose a proper place for installation. Therefore, they should not be littered around the page, but have a definite location. Check out the example of placing icons to the left of the post. Here we used WordPress as a platform to show you the case.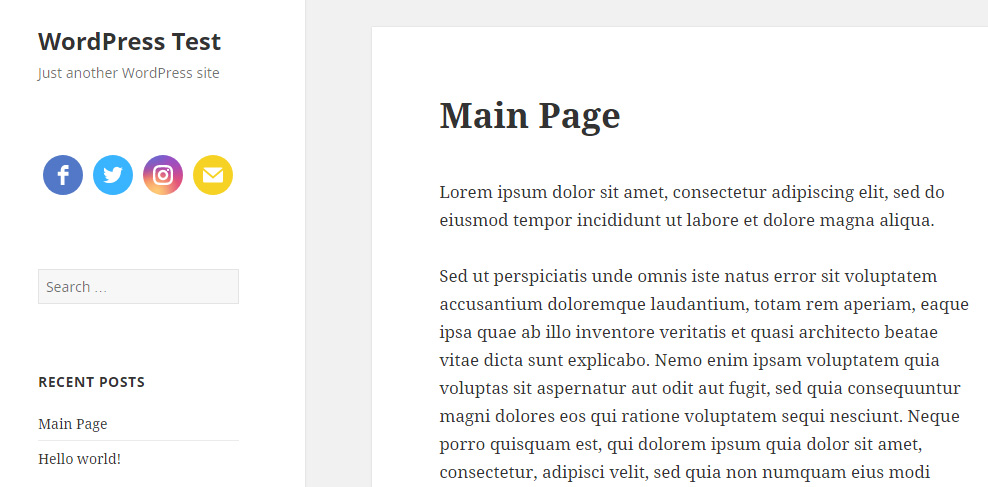 A good area to place social icons is somewhere close to the top of the page. In other words, choose the place that any guest of your store can catch without scrolling down. The further down visitors have to scroll, the less likely anyone will notice your business profiles By the way, there more than one place for social media icons. We gather all variants together so that you can select the most appropriate or combine several at a time:
In the header of your website You can find such location on commercial websites. Icons are often placed on the right side of headers
On top of your page Probably the most visible place on the whole website. Be sure that your audience will notice links and follow them.
On the left sidebar It really makes sense to place icons right here, because visitors read text from left to right.
In the footer of your website What information is presented in footers? We bet contacts is a widespread case. So social icons will be a great addition.
Despite the popularity of one or another approach, much depends on specifics of your online shop and audience.
The Easiest Way to Embed Social Icons
Elfsight team developed the app that will assist you in implementing social media icons for commercial use. It is available in our Elfsight Apps service. And you can
try its features
right now! Our social plugin supports all the leading networking sites so that you can quickly set it up and increase awareness of your social presence. Moreover, you can install the plugin almost anywhere on the site due to simple copy-paste code.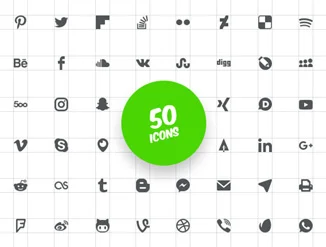 And of course, our app rocks with advantages:
Free to start and use
50+ SVG social icons
1 500+ customization combo
Simple and user-friendly widget editor
Installation that takes no time
Professional help any moment you need
The plugin is available for installation at Elfsight Apps for free. Yeah, this means that icons are cloud-based and they can be implemented almost on any website.
Let's Sum Up
Social media influence increases and so does the number of active users of all popular networks. You can benefit from this trend. That's why social icons is an essential part that any website owner should pay attention to. The use of special plugins will let you install such icons in several minutes without the need of coding. Show the most popular social platforms that are relative to your business sphere. Facebook, Twitter, YouTube and Instagram are on the top of the list. And don't hesitate to make experiments to find out the effective solutions. Furthermore, keep an eye on the visual location of icons on your commercial site. Displaying them on the left side of web pages will comply with natural reading from left to right and make them visible.
Create Your Social Icons for Free
Customize settings and get awesome icons right here!