Why do I need Elfsight Twitch Gallery?
Enhance your presence on Twitch. Get new subscribers.
Better interaction with the audience
Attract users to your Twitch profile with engaging videos and make them want to spend plenty of time on your platform of use.
Increased lead count
Post live streams from Twitch, embed your channel directly on a website to grow the audience that much more.
Promote and advertise games
Embedding Twitch streams on the website is an additional idea to tell website visitors about the games you play and get more from advertising them.
Join 1,078,753 customers already using Elfsight Apps
You can start with creating your first Elfsight Twitch Gallery widget for free.
What makes Elfsight Twitch Gallery special?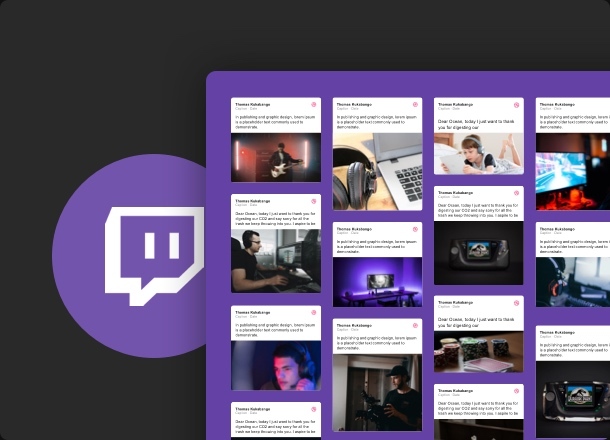 VIDEO GALLERY
Your gallery's best videos. The new interaction stage.
With Elfsight Twitch Gallery you'll have an opportunity to add any live stream to your website and build a genuinely entertaining video gallery. By using the widget you'll be able to find and fetch the best videos by URL. The popup mode would open any video on the web page with all the detailed information as well as options for commenting and sharing it.
Learn more
PROMOTION
Improve interaction with fans by promoting a Twitch channel
The widget would not only help to advertise the channel on your web page. Twitch Gallery will expand your network, you'll gain more visibility and get more followers. The header of the widget will tell users all the info about your channel and will allow them to subscribe right away.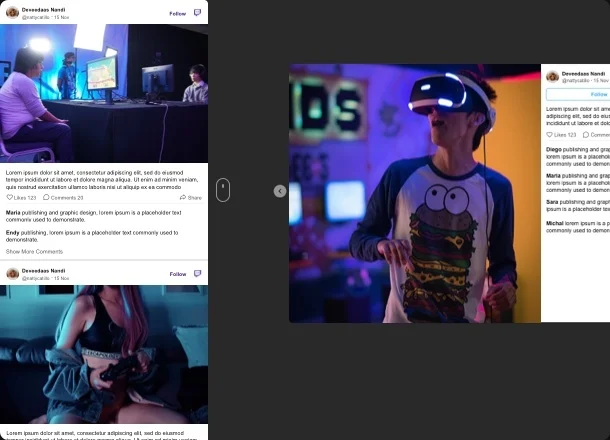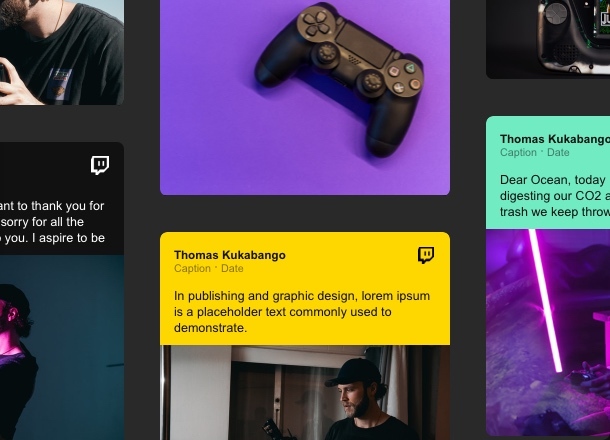 STYLE
Use a ready-made color palette or create your own design
We offer an exceptional tool for those who value their time - a Color Theme Generator that'll create a scheme for your widget all by itself. Just select brand color, a Dark or Light mode, and permit the built-in color designer to do all the magic for you. In addition, if you need a unique look of the widget, you can further customize all the elements separately: head section, popup, background, video stream area, and so on. See all changes instantly in a free configurator with no need to code.
STAY TUNED!
Many more functional and styling options are coming soon
Our exceptional development and design teams are working up the widget appearance and functionality at this stage. There would be a wide range of adjustments, it'll be possible to customize your live streams so that they turn into a complete section of your website. You'll be able to build the widget and test all the functions in the near future, wait for it!
What our customers say ❤️
I am amazed by the customer support staff, offered features and wide design customisation options allowing me to adjust all the widgets to match the site design. Thank you, for creating it!
I used Elfsight widgets to replace the existing ones on my website. Really easy to construct and less overpriced than the previous widgets I used. Recommended.
Super adjustable and customizable widgets that display elegantly. It doesn't derange or decelerate my page, which is absolutely great!
Frequently Asked Questions
The Twitch Feed is a simple widget allowing you to display Twitch content in a form of a feed right on your website.
How do I embed Twitch Gallery to my website?
In order to add the plugin, apply all the steps from the clear instruction below:
Launch Elfsight demo and start building your own tool.
Customize the widget functionality and save the essential corrections.
Acquire your unique code revealed in the window.
Integrate the app code into your website and click to save.
You've added Elfsight app on your page.
Came across any troubles with the installation? Don't hesitate to address our client support team and they'll be delighted to give you a hand.
Best way to use the Twitch Feed on my website
For the maximum efficiency of the widget, select the Masonry layout and place it at the homepage of your website.
Is your app suitable for the theme my website is using?
Of course! The tool is absolutely qualified for themes and page builders that satisfy the standard WordPress requirements. And if it's not WordPress you're using, we will give you a helping hand.
What other widgets are coming to Elfsight soon?
We suggest you to wait a while till the following plugins come out:
Grid
,
Gift
,
Reading Progress
.
And if you didn't get what you needed, then be sure to contact us straight or write us at the wishlist section!
Is there a way to transform the widget's colors?
If you wish to perform any modifications to the plugin or add sources, you are free to do this in the admin board. Perform all the changes, click save button and they will be automatically
Can I embed a Twitch widget on Wordpress?
Sure. The integration of the Twitch plugin to WordPress is simple and won't require any knowledge of js or HTML. Simply check our instructions above and you're done. Your Twitch plugin for WordPress will be ready to use.
Join 1,078,753 customers already using Elfsight Apps
Get the taste of 80+ powerful apps by Elfsight. No credit card. Joining is free!