WooCommerce Coupon Popup template
The Coupon Popup template for WooCommerce websites plays the role of lightkeeper for your sales volume rate and guides the potential clients toward the desired actions. It goes way beyond showcasing exclusive discounts and coupons in an eye-catching format. It adds a physiological factor for building urgency that eventually leads to more organic traffic, higher revenue, and brand credibility.
100% WooCommerce compatible
Features
12 Custom Content Elements
Email Notifications via Form Fill-Out
5000+ Data Export Integrations
Modal, Slide-in, Pane Layout Designs
Sticky Popup Opening Button
Frequency Popup Display Settings
Exclude or Specify Pages for Displaying
Timed-Display Trigger
Scroll Trigger On-Element or On-Click
Exit Intent Support
Set Up Popup for Multiple Mobile Devices
CTA Button
Coupon Code & Redirect Link Creation
HTML & iFrame Fields
Image & Video Upload
Mobile Responsiveness
Page-Speed Friendly Lazy Loading
Tech-Free Customization
Multiple Languages Translation
Custom CSS & JS Editors
Template Catalog
Need a Different Template?
Check out more ready-made templates for any use case or build your own!
Create a popup template and encourage online shoppers to complete their purchases.
Create an attractive popup widget to prompt users to add items to their carts with a few clicks.
Add a popup widget on your web page to boost the average order value and double the outcome.
Create a popup template to increase your average order value and upsell complementary products.
Add a discount popup to your website to draw attention and motivate users to make a purchase.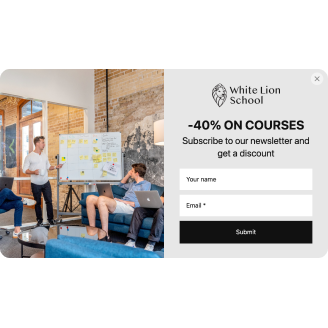 Create an engaging popup widget and start offering the best deal for your online customers.
Create loyalty among the website customers by giving away exclusive Amazon discounts with this popup.
No Suitable Template?
You can easily assemble the widget you need using our simple-to-use configurator.
Here's what people say about Elfsight Popup widget
For the course of the past few weeks, I have been using the Popup widget, and I cannot emphasize enough how phenomenal it has been. Without any programming skills, Elfsight empowers me to create a plugin that I can seamlessly install on client websites to address the needed functions.
The ease of use for developing customized widgets has been a tremendous time-saver, eliminating the need for manually coding various components on my WooCommerce website. Initially, I expected the seamless functioning of the product. Yet, the exceptional service and support I received took me by surprise. I strongly recommend it!
The Coupon Popup has been successfully added to my website with no glitches encountered. I must say, the customer support has left me highly satisfied. They've proven to be extremely helpful, swiftly solving all my questions within a few hours.
FAQ
How to create the Coupon Popup template for the WooCommerce website?
If you want to create the Coupon Popup for your WooCommerce website, perform the following steps:
Pick the Coupon Popup template.
Personalize the elements and features to align with your branding goals.
Log in to your Elfsight profile.
Receive the installation code.
How to add the Coupon Popup template to the WooCommerce website?
If you want to add the Coupon Popup to your WooCommerce website, do the following:
Customize the appearance of the Popup widget to match your preferences.
Sign in to your Elfsight dashboard or create a free user profile.
Obtain the generated embedding code.
Go to your website.
Paste the shortcode into your website builder. You're good to go!
For a more in-depth guide, we suggest reading our article about how to embed Popup on a website.
Do I need to have coding or programming skills to embed the Coupon Popup?
Not at all. You are not required to have any coding skills. You have the full capability to create and add the Coupon Popup to your website, even without any specialized knowledge or previous experience.
Can I set up the popup to open automatically?
Yes, sure. In the building mode, pick a trigger that will ensure the Coupon Popup template showcases at the right moment on your WooCommerce website. You can try multiple alternatives: on-page load, within a specific time spent on a page, on scroll, on scroll to element, on click, and on exit intent.
Can I use the Coupon Popup template for free?
Yes, of course. There is no need to rush into the paid choices right away. Elfsight employs a tiered subscription system that offers Free, Basic, Pro, Premium, and Enterprise plans. Go at your own pace and test out all the features without limitations using our Free tier. But keep in mind, that upgrading and unlocking additional extras is always an option!
Can I add a call-to-action button to the Popup widget?
Absolutely! Simply take these steps:
Open the Popup configurator.
Navigate to the "Blocks" tab.
Include the "Button" element.
Define a call-to-action message, click action, and appearance.
What email integrations or tools does the WooCommerce widget support?
The standout feature of this WooCommerce widget is its synchronization ability with external apps such as Mailchimp, Zapier, and Google Sheets. With this, you can confidently take additional steps without any concern of losing any captured data.
Where can I add the Coupon Popup on my WooCommerce?
The choice is in your hands. There aren't any strict regulations to meet. But ensure it is logical and positioned in a high-traffic section, like the main page or product page.
How to customize the Coupon Popup?
Limitless creative possibilities-customize the whole widget's look and feel to reflect your brand standards and increase conversions effortlessly:
Popup specifics
You can layer things up and build an unlimited array of content blocks: header, text, call-to-action button, redirect link, discount voucher, form, image, and video. Also, to enhance the visual appeal, you can include gaps, separators, and custom HTML and iFrame fields.
Display settings
Elfsight gives you three settings: frequency, pages, and devices. Specify all the preferences to uphold the desired standards.
Custom elements and features
But that's not all, there are still plenty of possibilities to explore: triggers, custom CSS, custom JS, redirect link, layouts, close buttons, background visuals, alignments, and so on.
To prevent misunderstandings and problems, get in touch with our Support Team to handle any concerns!
Help with Coupon Popup Setup and Website Installation
If you need additional info about the widget templates or guidance, explore the following resources:
Support
If you encounter any unresolved problems, we advise you to reach out to the Elfsight Support Team or search for relevant topics in the Help Center.
Forum
Receive extra guidance from like-minded professionals by engaging in ongoing activities within our dedicated community.
Wishlist
Send new and exciting ideas, features, and widgets via the Wishlist.