Why do I need Elfsight Navigation Menu?
Better user experience. More satisfied customers.
Increased visit duration
The better the navigation, the longer your visitors stay on your website which increases the chance of a conversion
Better responsiveness to call-to-actions
An easy to navigate website will help you build trust with among your visitors, which means that people will be more willing to respond to your CTAs
Reduced bounce rate
A helpful navigation plugin will explain to users where to go next and will reduce the chance of them to leave your website
Join 2,078,753 customers already using Elfsight Apps
You can start with creating your first Elfsight Navigation Menu widget for free.
What makes Elfsight Navigation Menu special?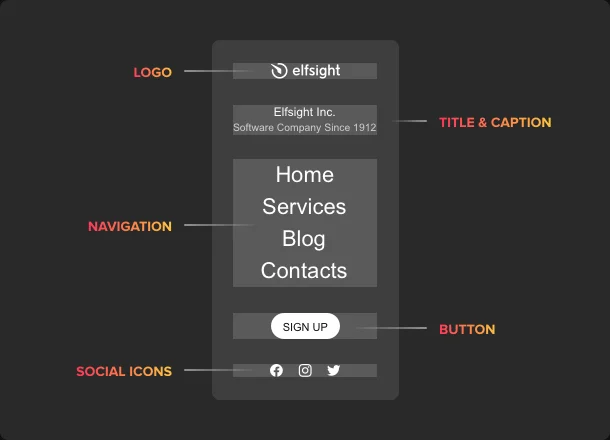 ELEMENTS
Simple and clear sections that can be organized as you like
Depending on your goals, you are free to create menus of varying degrees of complexity and nesting. There can be many tabs in the menu, which you can accompany with your company's logo, a caption, buttons that redirect users to other sections of your site and more. The menu also provides the ability to even embed your custom content - it can be, for example, a weather widget. In addition, our widget is absolutely device-friendly so you won't need to bother about your mobile performance.
LAYOUT
Seamless and smooth embedding of the menu on your website
To make the integration of the menu as convenient as possible, we're offering you lots of layouts to choose from. You can place the widget just where you need it - at the top of your website, in the left or right corner with the help of the Floating option, in the footer using the Embed variant, or even in the center so that users could see it by clicking on the special button. Find the option that suits you and make your website really comfortable to use.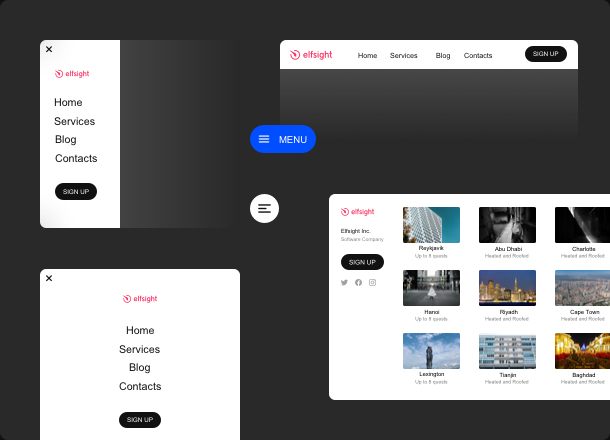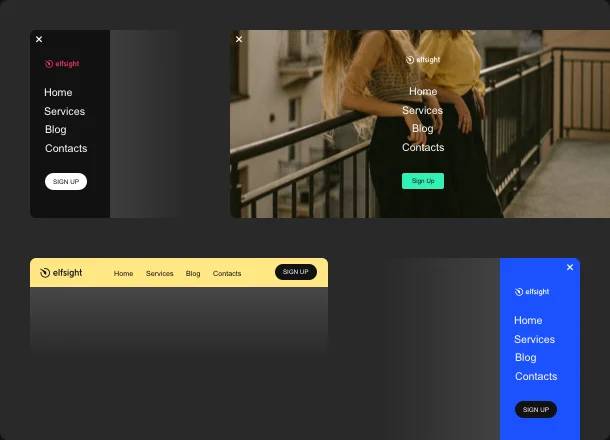 STYLE
Ready-made style solutions and absolute creative freedom
Blend the menu in your website's style in a few clicks. Manage the width and height. Select the most suiting colors, keeping in mind that if you have any difficulties with choosing an accent color, you can always rely on automatic selection - our widget will set everything up by itself and you will not have to change anything. In addition, the menu can be accompanied by explanatory icons and images to make it even more convenient for your audience.
STAY TUNED!
Lots of new features and style solutions upcoming soon!
The Elfsight team is currently working on the widget performance and design to include other useful features and make it 100% efficient and user-friendly. With our updated configurator you'll be able to build your personalized menu suiting all your aims and requirements. Please stay tuned and be the first to explore all the features of the new Navigation Menu widget by Elfsight!
What our customers say ❤️
Their apps give me precisely what I was looking for: good quality sections for my shop! Everything is super-customizable.
I absolutely adore their apps, they fit perfectly with my theme. Highly customizable, and no doubt more than enough for the one who really wants to play around with their widget.
We use their widgets for customer's stores and can't say enough about how great their apps are as well as the customer service whenever we need it.
Frequently Asked Questions
What is a Navigation Menu?
It's a widget allowing you to integrate a handy menu bar on your website. Using it, you'll make it much easier for your users to navigate different areas of your website.
How can I obtain the widget's code?
You are free to obtain the code after forming the app making use of the online demo or forwardly in the Elfsight admin panel after registration.
How to embed Navigation Menu to my site?
In order to embed the widget, apply the points from the detailed guideline:
Launch Elfsight configurator and start creating your custom app.
Modify the app aspects and apply the essential corrections.
Acquire your individual code appearing in the notification.
Insert the app code into your website and save it.
Congratulations! You've embedded a new widget on your website.
Came across any difficulties with the setup? Address our customer support group and we'll be happy to assist.
Does it go with my site builder or CMS?
Sure thing. The apps are adaptable with any popular CMS. Check the list below:
Can I alter the widget's colors?
If you wish to apply any edits to the widget or adjoin sources, you can do this via the admin panel. Make all the alterations, press save and they will be automatically implemented on your site. If it doesn't work the proper way, address our Support Department.
Join 2,078,753 customers already using Elfsight Apps
Get the taste of 80+ powerful apps by Elfsight. No credit card. Joining is free!