Instagram Widget Features
Explore all the features of Elfsight Instagram Widget and how they can help you create the most effective widget.
Adding account by username
With our widget, you will effortlessly display your own or any other public Instagram account on your website. Just insert the username into the source box, and the widget will automatically reveal all the images on your web page. Content updates are also automatic, new photos will show on your site as soon as they appear on Instagram.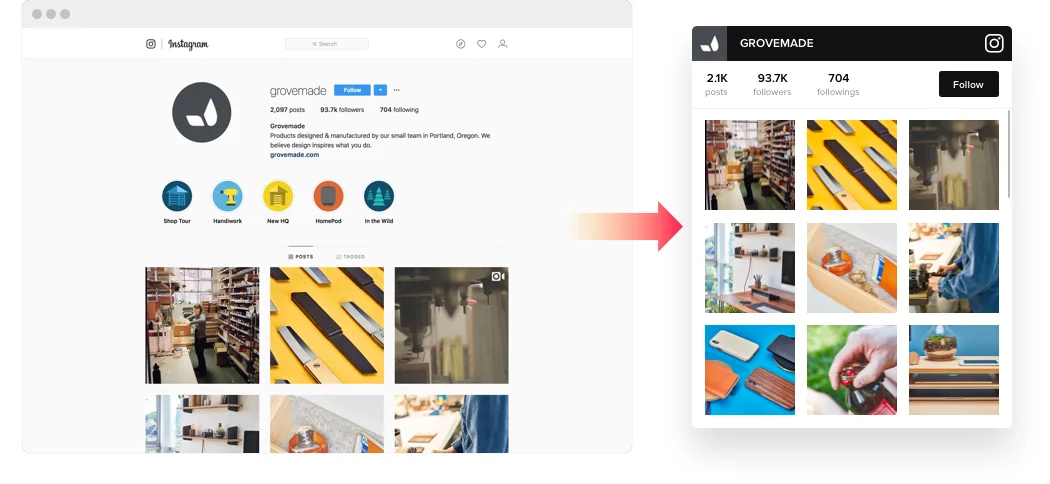 Flexible header helps promote your account
Using our widget, you can not only display your Instagram account, but have an additional way to promote it and increase popularity. The header will show your account name and icon, so that every user will get to know you. These elements are clickable and will open your Instagram account in a new browser tab. The counts of followers and posts on the header will prove your high social trust and recognition. The header can be switched off to achieve minimalist look.
Tip: If you have lots of posts and followers, boast it and show the heading with numbers. Users will see your social proof and that will make them interested. If you are just starting, you can switch the header to hide the numbers.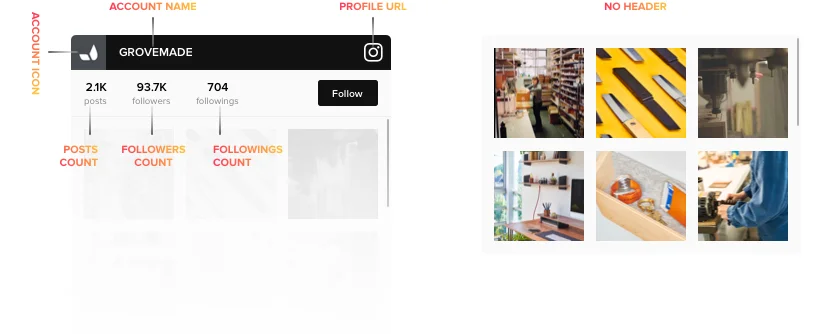 Follow button to get new followers
Your website audience can be a source of many new followers of your Instagram account. With Follow button on the header of the widget, becoming your follower is seamless and quick – a click will lead straight to your account. Now you have an easy and working way to broaden your Instagram community.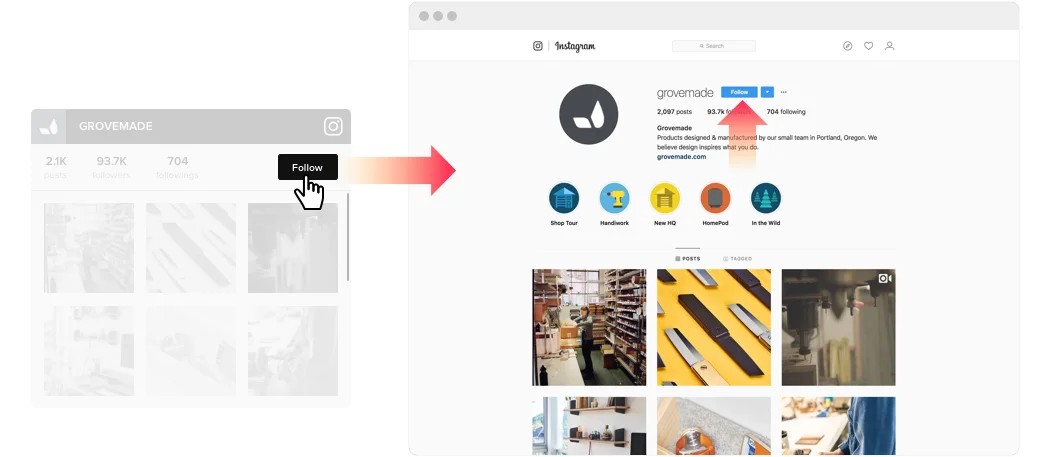 Username
Adding images by hashtags
There's nothing easier than creating galleries and theme collections of photos, with Elfsight Instagram Widget. Choose the images you want to display on your website and add them to the widget by hashtags. Make the best use of Instagram resources to create sections of photos that will engage visitors, promote ideas, showcase products and services and more.There's scroll option, that will help users navigate through the depths of your collections.
Tip: Introduce scroll and show more pictures, attracting your visitors further and further to the depths of your Instagram Account.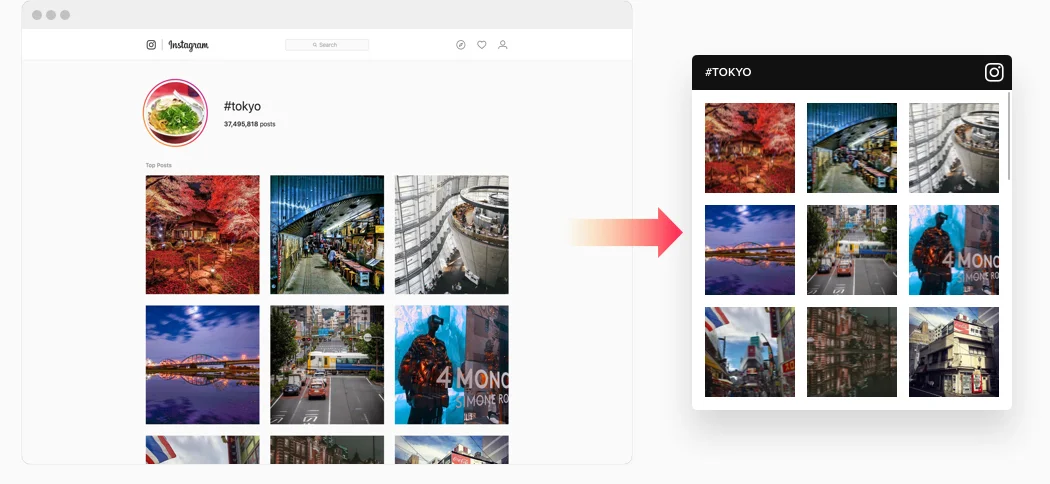 Username filter for content selection
Elfsight Instagram Widget features Exclude filter, which will help you carefully select images for your website. To use the filter, enter the usernames, whose photos you would like to hide from your feed, and they will be excluded. This gives you a possibility to manage the content more precisely and display exactly what you want.
Tip: Make sure your website and Instagram account reflect the same concept. "Exclude by username" filter will help you show only relevant pictures that shape the face of your business.

Hashtag
4 options of image size
Elfsight Instagram Widget offers you four variants of the size of the images. From S to XL, you can choose your option in one click. Thanks to the responsive interface, the parameters of the content grid will automatically adjust, altering the number of images in columns and rows. Your widget will look flawless in any case!

Adjustable width and height
Our widget is absolutely flexible, and you can give it the proportions that you need straight for your use case. Set width and height of the widget yourself – for this just enter the number of pixels. If you leave Auto, the widget will automatically adjust to find the best proportions on your page.

Paintable elements of the interface
Color is what can change your widget to make it truly unique. With Elfsight Instagram widget, you can choose your own colors for the header and the Follow button on it, the background of the content and the text. Create a widget that will blend with the website, reflecting its colors; or paint your feed contrasting colors to attract attention from the first glance.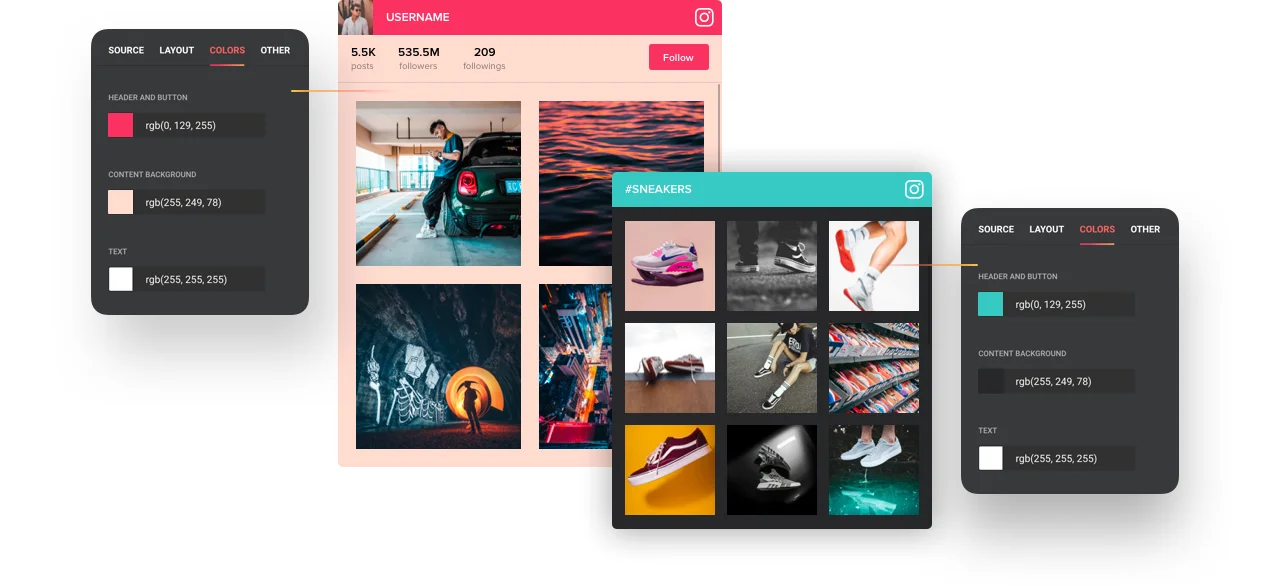 Style
Join 1,078,753 customers already using Elfsight Apps
Get the taste of 80+ powerful apps by Elfsight. No credit card. Joining is free!