Instagram Testimonials Features
Explore all the features of Elfsight Instagram Testimonials and how they can help you create the most effective widget.
Add infinite customer reviews
You can demonstrate as many customer reviews from Instagram as you need on your webpage. Elfsight Instagram Testimonials allows adding infinite number of posts, simply copy the links of the needed ones and paste them into boxes in the editor – make your testimonials unit or page abundant and full of customer impressions!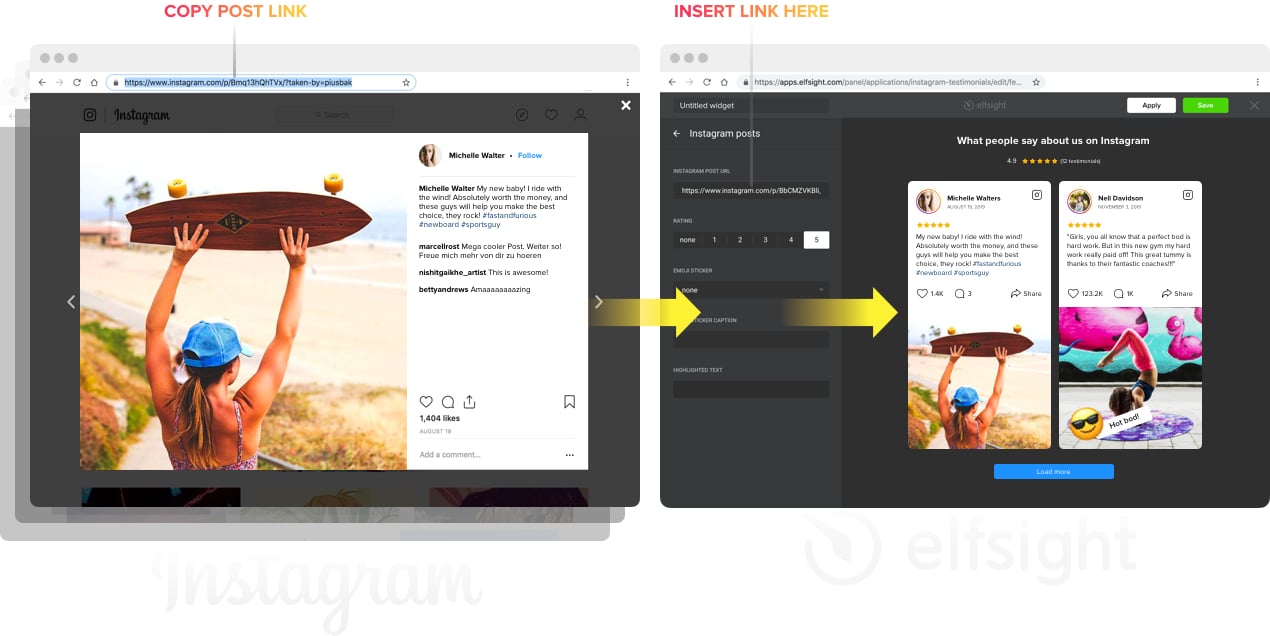 Set rating to show more approval
You can give rating to each post, choosing from the scale from one to five in the post settings. The rating will show as the number of stars on the post and demonstrate high customer approval. And more to that, you can switch on the total rating and the widget will count it automatically to display under the title.
Tip: Display ratings of posts. When your visitors see that the posts are rated highly by other people, it increases their trust too and boosts social proof of your brand.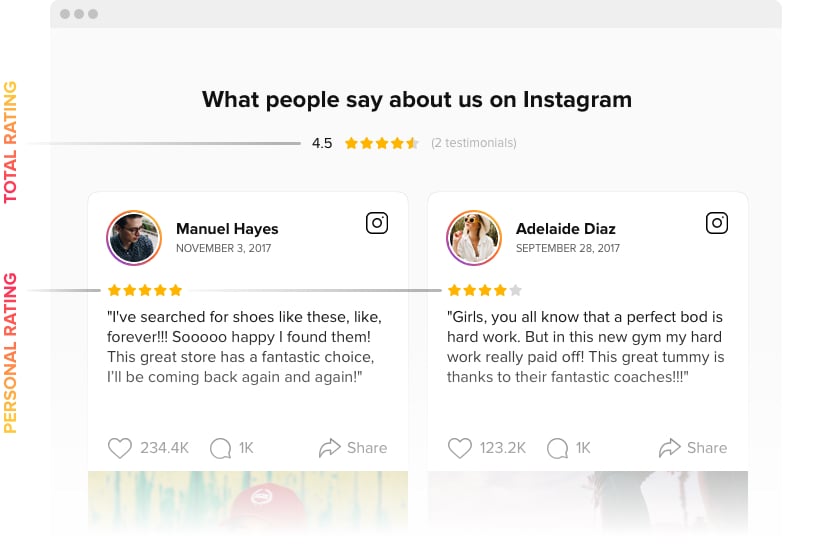 Add emoji to brighten it up
Elfsight Instagram Testimonials has 12 most popular emoji stickers embedded. You can choose one for each post and it will appear on the picture to brighten up the look of your widget and make it look more emotional.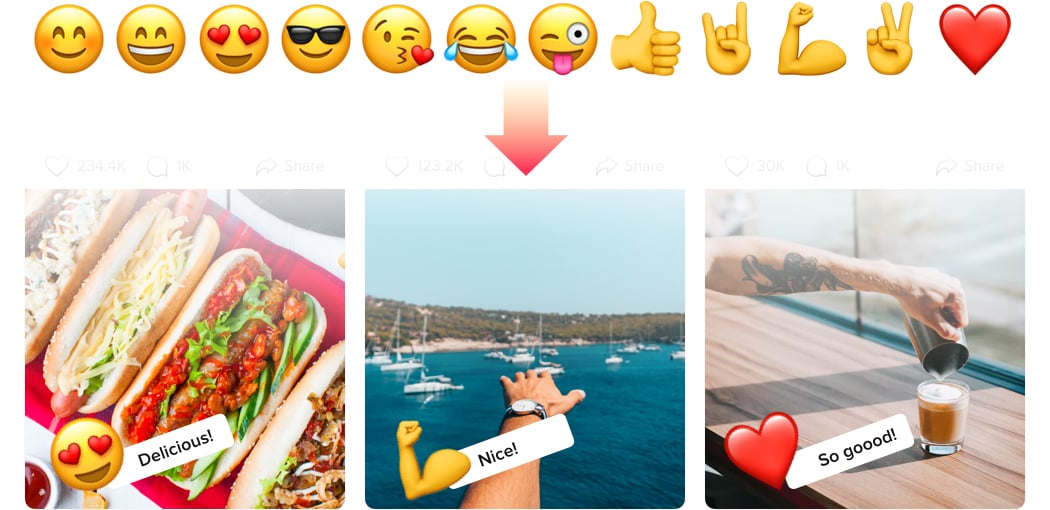 Put the right accents with highlights
Make sure your visitors will get the message of each testimonial – use highlight option to put focus on the main words or phrases of the testimonials texts and it will not go unnoticed for sure!

TESTIMONIALS
Usage examples
See a selection of real examples to explore the full potential of Instagram Testimonials for your website.
See in action
Live demo
Try all the features of Instagram Testimonials in live demo now. No fees. No registration. No coding.
Try now
Slider layout for optimum space usage
Enjoy a perfect way to place your testimonials as a free-standing unit on a page and save space. Elfsight team has embedded Slider layout to help you integrate Instagram posts into your page space-effective. Choose any control type and your visitors will slide through the testimonials placed as horizontal unit.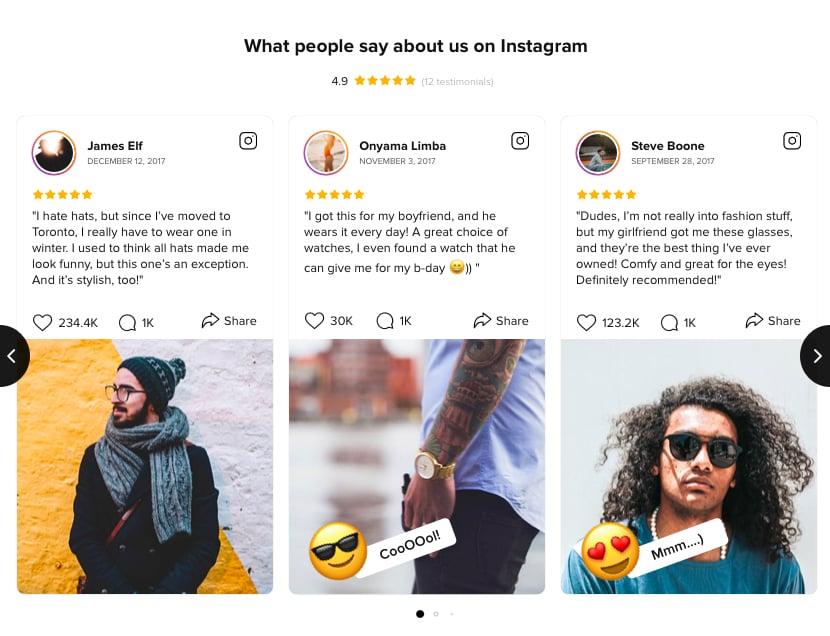 Grid layout for impressive testimonials page
Display your approving Instagram posts to the fullest with Grid layout. It is a perfect solution if you wish to dedicate a full page to your customer reviews and make it handy for readers and well-organized. In this layout your posts will be set in grid and users can scroll down the page to see more.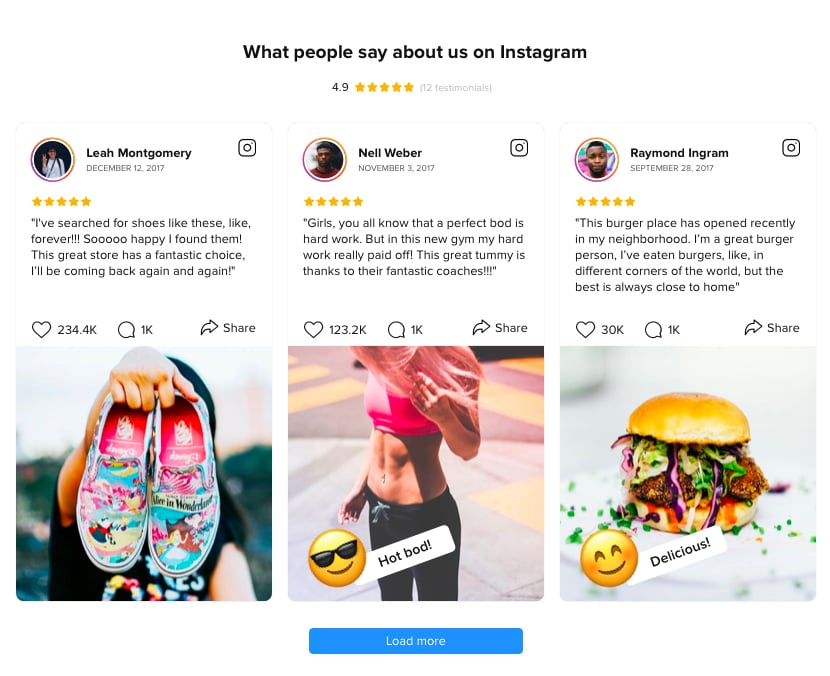 Make your custom widget title
It's a matter of high importance how your testimonials unit or a whole page will be called. And for this reason, we give you a chance to create your own title! It's easy to change it right in the editor, by typing in the box – you only need to use your creativity and come up with a good phrase!

Attract more reviews with call-to-action
Use Instagram Testimonials not only as a way to boast high approval of your business, but also as a way to get more reviews. There is a special box in the editor where you can type a call-to action for your users to share their own testimonials. Write an inviting phrase, add a hashtag, and one-click redirection to Instagram is here!
Tip: Create a strong call to action. Reveal what you would like your visitors to perform: like the content, share it, or leave a comment about your product or company. Add a link to your account and it will help visitors to respond to your call.

Multiple navigation options
Elfsight Instagram Testimonials has several navigation control types and you can set those you think necessary. Slider layout offers switchable pagination, arrows to see more posts on click and dragging; while Grid has "Load more" button available. All these options are switched on and off just in one click.

Layout
Usage examples
See a selection of real examples to explore the full potential of Instagram Testimonials for your website.
See in action
Live demo
Try all the features of Instagram Testimonials in live demo now. No fees. No registration. No coding.
Try now
Classic template for a recognizable look
A sleek and universally known post template that is familiar to all Instagram users. If you like to keep it classic, this layout is for you. It shows posts just like on Instagram, with picture under the text, so they look maximum familiar and authentic.
Tip: Use classic layout, which shows the text above the picture, if you want to focus visitors' attention on the text of the testimonial.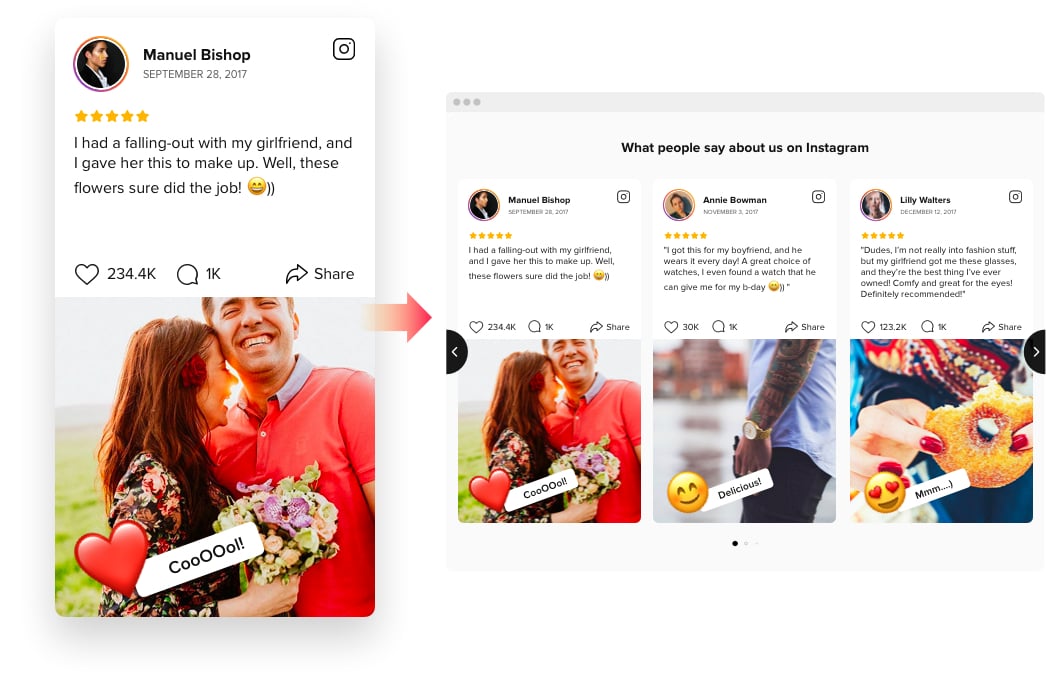 Poster template with focus on photo
This template places photo above the text so that all visitors' attention will be directed to the picture. Author name and info are aligned center under the picture together with description, likes count and Share button, while rating and Instagram symbol stay above on the picture.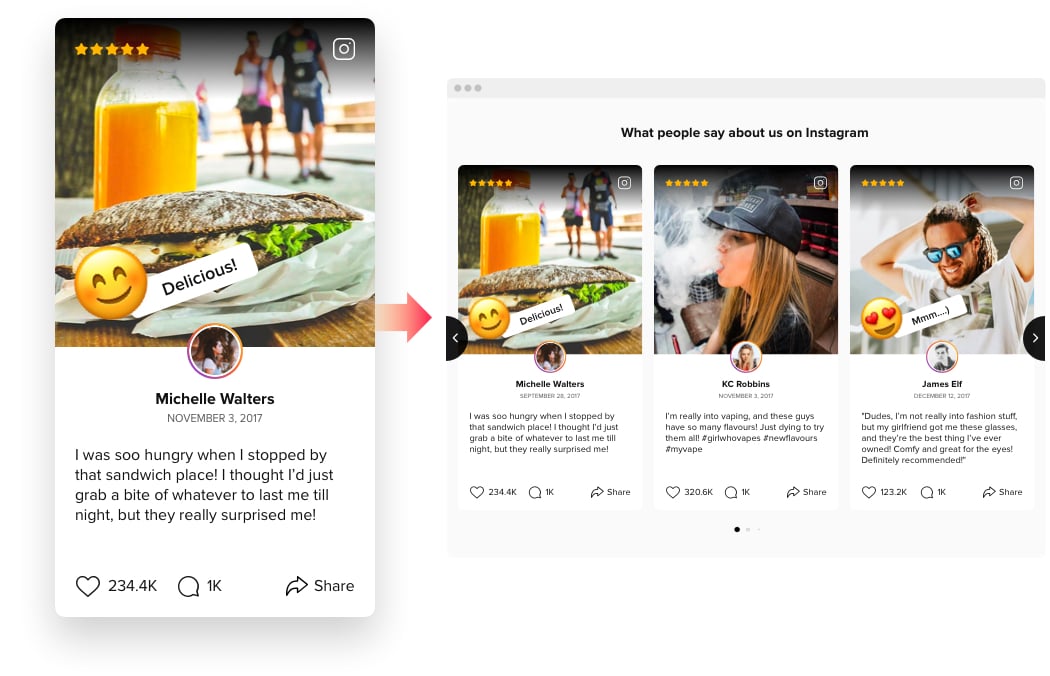 Horizontal template for balanced slider look
Horizontal template makes a perfect match with Slider layout, if you need to create a space-effective unit with customer testimonials. In this template, picture and text go in line side to side with description and author info aligned center for a more refined look.

8 switchable elements
Elfsight Instagram Testimonials allows you to customize not only choosing post template, but also switching on or off diverse post elements. All in all there are eight elements that you can enable or disable, including user picture and name, date, comments and likes counts, Instagram icon and more – so you can configure your own post variant.
Post data:
Username
Post date
User picture
Rating
Likes count
Comments count
Post picture
Emoji sticker and caption
Instagram icon
Post sharing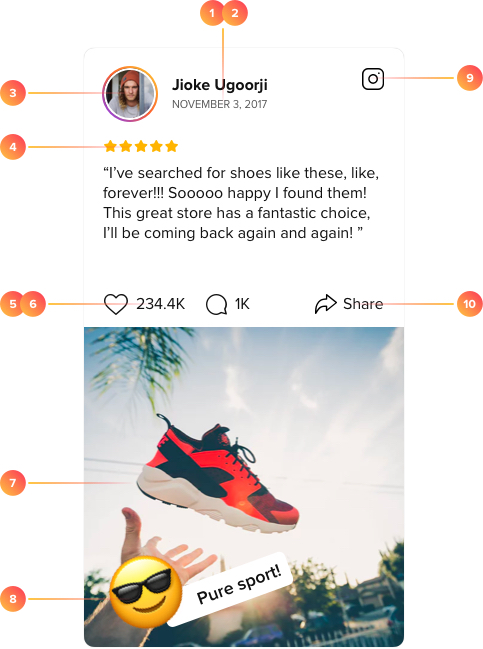 Templates
Join 1,078,753 customers already using Elfsight Apps
Get the taste of 80+ powerful apps by Elfsight. No credit card. Joining is free!