Best School Website Builder 
How to create a School website from the scratch or upgrade the one you've already built on the basis of any CMS or website builder
Step 1
Specify your prospective website aims
Step 2
Pick suitable website platform
Squarespace
Construct your enjoyable School website employing a responsive premade Squarespace template.
WordPress
Make your amazing website employing an adaptable pre-made WordPress template.
Wix
Build your qualified School website using flexible readymade Wix templates.

Overall ratings
Shape your best website builder for schools with the most relevant site builders. With the help of the comparison chart below, you can control the vital components of the platforms and select the one that fully fits your needs for the future site.
Squarespace
WordPress
Wix
Free Plan
trialv
free
free
*limited functionality
Paid From (mo.)
$12.00
free
$13
Overall
4.4 out of 5
4.3 out of 5
4.2 out of 5
Quality of Support
8.5
7.7
7.9
Ease of Setup
8.8
8.1
7.9
Templates
10+
1000+
* most are paid
75+
Our widgets
for Platforms
Widget List
Plugin Catalog
App library
All the information has been collected from the publicly available channels. Elfsight does not have the responsibility for authenticity of the information demonstrated. On condition of detecting any inconsistencies, please, contact our team.
Just as you select a Site Builder for creating a School website, always draw attention to website's overall functionality and best value for money. Employ a trial period or free version to look into the service. This is one of the best ways to determine if the Website Builder is true as user-friendly and useful as they picture it.
Step 3
School website examples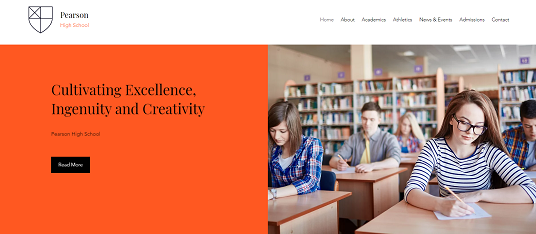 Example 1: High School website
If you're digging for a great starting point, utilize this smooth, yet very powerful business template. Attach a few widgets to upgrade its overall look and performance and begin evolving your business today.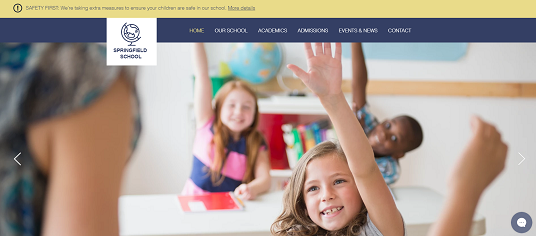 Example 2: Elementary School website
It's a great design and this template includes only what is crucial. Also, calls-to-action are located well, worded simply, and contrast with the rest of the page.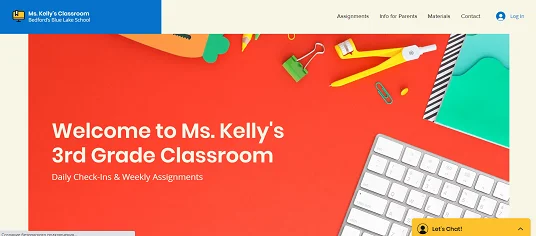 Example 3: Remote Learning Classroom website
With the benefit of this template, you'll surely get a face to your company! The page offers stunning colors without being laden with details and makes it easy to recognise what the business is about.
Step 4
Fill in your school site
This page contains all the necessary info for students, their parents and all newcomers. Usually, here you can find updates, admission information, calendar with all the holidays marked, main contacts. It can also be accompanied with some photos from recent events to make it more attractive.
Most schools encourage their students take part in some extra-curricular activities, for instance, sports matches and other competitions. All the info about events should be presented in the convenient way in the special section of the website. Photos from past events can also be found in this section.
Here school postal address, maps, all the phone numbers and emails are listed. Make sure this section is not buried among others and can be easily found on the site. A conventional location for contact information in websites is in the header and in the footer as well.
Each school requires tons of paperwork – that's why this section is a must. All the policy documents, handbooks, permission slips in PDF format can be found here for better user convenience.
This page includes the current staff list provided with photos and emails to make communication between students, teachers and parents easier.
Teachers of subject areas can post here homework, due dates, assignments, different project requirements. This section, as well as the others, should be updated on regular basis.
Test your mobile efficiency.

Nowadays it's greatly important that your website performes and looks good on mobile devices as more than half of your visitors will browse it with their mobile phones.

Attach your logo.

If you still haven't got it, create it with the help of a logo generator, like, Tailor Brands.

Connect your domain.

If you haven't got it when you worked with the site builder, you definitely need to buy it. Use GoDaddy to start with.

Review the functionality

All slides, pop-ups, CTA buttons or social media buttons should work in due course, otherwise, users will close your site in a bit of a hurry.

Announce your website launch on social media.

Twist the online audience into real customers. Adjoin a link to your website to your social media accounts in order that your followers could see it. Yet another reason to visit you for lunch.

Done! 🏆

Congrats! Now you're a website owner. Now share the link to your resource with friends and all clients and start collecting the feedback – it will help you to have more visitors. And don't stop upgrading your content and functionality to attain even greater success.