Best Crowdfunding Website Builder 
 How to create a Crowdfunding website from the scratch or upgrade the one you've already built on the basis of any CMS or website builder
Step 1
Specify your future website aims
Step 2
Pick the best website builder
Wix
Shape your highly professional Crowdfunding website with the help of adaptable premade Wix templates.
Squarespace
Create your beautiful Crowdfunding website employing a responsive premade Squarespace template.
WordPress
Make your wonderful Crowdfunding website using a malleable premade WordPress template.
Overall ratings
Form your ideal website with the most relevant website builders. Using the comparison chart below, you will check the significant components of the platforms and choose the one that absolutely fits your needs for the coming website.
Squarespace
WordPress
Wix
Free Plan

trial
free
free
*limited functionality
Paid From (mo.)
$12.00
free
$13
Overall
4.4 out of 5
4.3 out of 5
4.2 out of 5
Quality of Support
8.5
7.7
7.9
Ease of Setup
8.8
8.1
7.9
Templates
10+
 1000+
* most are paid
75+
Our widgets
for Platforms
Widget List
Plugin Catalog
App library
All the data has been taken from the public channels. Elfsight does not have the responsibility for authenticity of the info presented. On condition of detecting any inconsistencies, feel free to contact our team.
When you pick a Website Builder for shaping Crowdfunding website, always draw attention to give an eye to overall performance and good value for money. Employ a trial period or free version to check the service. This is the only way to determine if the website builder is really as conductive and functional as they picture it.
Step 3
Crowdfunding website examples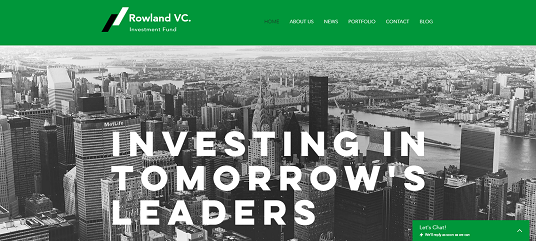 Example 1: Investment Company website
By means of this template, you'll unquestionably build a face for your brand! The page offers stunning colors without being weighed down and makes it easy to recognise what the site is referring to.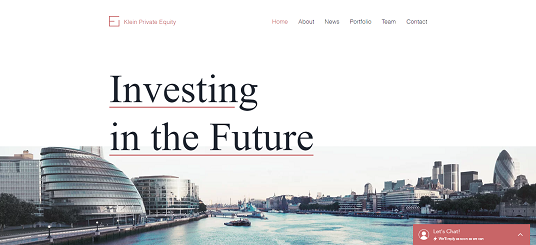 Example 2: Investment Company website
This is a multiuse template that's an exceptional way to get your brand shine out! Accompanied by some of our widgets, it will surely assist you stand out against your competitors.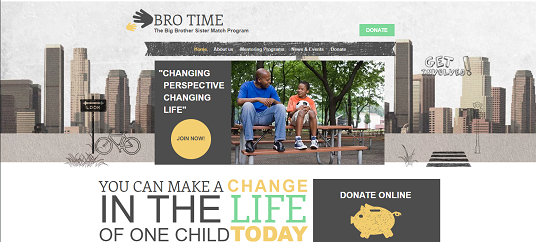 Example 3: Teen Volunteers website
If you're in a search of a perfect starting point, utilize this uncomplicated, yet very profitable business template. Implement a few widgets to improve its overall look and performance and begin evolving your business without delay.
Step 4
Fill in your crowdfunding website
Homepage →
This page can be a crucial moment to turn your website audience into your investors. Place all the possible details of your future project and prove it's really worth spending money on. FAQ section will be a great idea to cover major questions. Tell about the project in numbers: preliminary or future results, benefits if it'll succeed or any other things to ensure your audience to donate right on the website, And, of course, don't forget about the donate button – it must catchy and noticeable.
About us →
If you want to raise money as fast as possible, use the ways that will introduce and bring you closer to your audience. Tell your story about how your project or company started out. To increase your credibility level, place one of your social media feeds to showcase progress in real-time or just create a photo portfolio with your works. Reveal all the reasons, why people should invest in your ideas. To spread this content and draw more attention to your crowdfunding campaign, place social media share buttons as well.
Contacts →
Provide detailed contact information: at least, your email and phone number. Thus, people can reach you and offer not only money but the services and help to achieve your goals faster.
Connect your domain

If you haven't obtained it when using the website builder, you need to buy it. Use GoDaddy to start with.

Test your mobile performance

These days it's exceedingly important that your website works and looks excellent on smartphones because more than half of your visitors will open it with their smartphones.

Add your logo

If your website crowdfunding is for business, certainly create your personal logo. You can easily do it, using a logo generator, for instance, Tailor Brands.

Control the functionality

All interactive elements like counters, FAQ accordion, CTAs or social media buttons must work in due course, otherwise, your visitors will leave your site in a rush.

Announce your website launch on social networks

To make the fundraising campaign successful, announce about it in the popular social media. Adjoin a link to your website to your social network accounts so that your subscribers could see it.

Done! 🏆

Congrats! Now you've created a crowdfunding website on your own. Don't stop upgrading your content and performance to reach even greater success.