Best Classroom Website Builder
How to create a Classroom website from the scratch or upgrade the one you've already built on the basis of any CMS or website builder
Step 2
Choose the best Сlassroom website builder
Squarespace
Form your splendid Classroom website employing a responsive readymade Squarespace template.
WordPress
Make your amazing Classroom website using a malleable premade WordPress template.
Wix
Create your professional Classroom website utilizing flexible readymade Wix templates.
Overall ratings
Form your dream website by applying the most relevant website builders. In the comparison chart below, you may control the important features of the platforms and select the one that entirely fits your needs for the coming website.
Squarespace
WordPress
Wix
Free Plan
trial
free
free
*limited functionality
Paid From (mo.)
$12.00
free
$13
Overall
4.4 out of 5
4.3 out of 5
4.2 out of 5
Quality of Support
8.5
7.7
7.9
Ease of Setup
8.8
8.1
7.9
Templates
10+
1000+
* most are paid
75+
Our widgets
for Platforms
Widget List
Plugin Catalog
App library
Right after you choose best platform to create a classroom website, always pay attention to give an eye to website functionality and best value for money. Use a trial period or free version to check the service. This is the only way to realize if the website builder is really as comfortable and useful as they picture it.
Step 3
Classroom website examples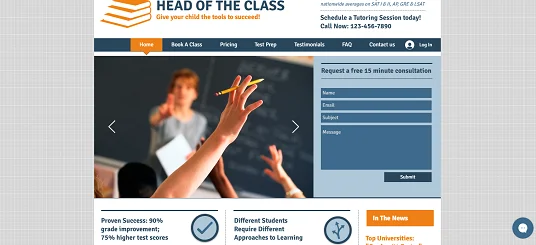 Example 1: Tutoring Company website
This splendid template gets you to learn more about products| and services offered. It also has great design that shows a adaptable arrangement.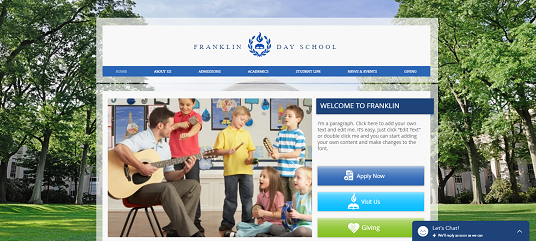 Example 2: Country Day School website
In case you're in a search of a wonderful starting point to create a classroom website for elementary teachers, use this simple, yet very powerful business template. Add a few widgets to boost its overall style and performance and commence developing your business without delay.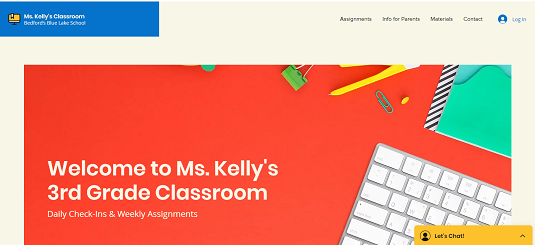 Example 3: Remote Learning Classroom website
If you're digging for a wonderful starting point, use this uncomplicated, yet very efficient business template. Adjoin some of our widgets to boost its overall style and functionality and begin developing your business right away.
Step 4
Structure your content
The starting page of your digital classroom should contain the most important details, like lessons or activities schedule, news and useful links on previously published materials.
How to create a free classroom website to engage more students? Include interactive elements to the lessons: quiz, polls, video or audio to diversify the learning process. Make an easy to navigate collection with the most popular topics and exercises to practice it. Let your students know, they will find all useful materials and handouts to prepare for the next lessons.
Here you as a teacher can post your professional insights and tips about the modern educational process, tell about your students' projects and share fun about past field trips. Post amazing photos and video to create a vivid atmosphere in your digital classroom.
Organize home-to-school communication the most effective way – add a chat button with the most popular messengers to always stay in touch with the students and their parents.
Connect your domain

In case you haven't got it while you worked with the website builder, you have to buy it separately. Use GoDaddy to start with.

Test your mobile performance

Presently it's exceedingly important that your site performs and looks great on smartphones because more than half of students and parents will browse for homework and lessons on their mobile phones.

Attach your logo

The logo is a great and free way to make your classroom website stand out among others. If you haven't got one, produce it using a logo generator, like, Tailor Brands.

Announce your website launch

Make sure you provided all your students and parents with the link to your website. Also, you can promote your website in your social media accounts.

Look over the functionality

All interactive elements, like buttons, chats, calendars must work in due course, otherwise, students won't spend much time online.

Done! 🏆

Congratulations! You're a website owner of the digital classroom environment. Keep up upgrading your content and functionality to attract as many young learners as possible and encourage them to reach even greater success at learning.