Best Booking Website Builder
How to create a hotel Booking website from the scratch or upgrade the one you've already built on the basis of any CMS or website builder
Step 1
Specify your prospective website tasks
Step 2
Select the most relevant website platform
Wix
An understandable and time-saving platform with premade design tools.
WordPress
Easy-to-use platform with responsive themes for your free booking website.
Squarespace
Suits all business owners who seek for custom design and blogging feature.
Overall ratings
Build your flawless website utilizing the most relevant website builders. With the help of the comparative chart below, you can control the crucial aspects of the platforms and pick the one that absolutely fits your needs for the coming site.
Squarespace
WordPress
Wix
Free Plan

trial
free
free
*limited functionality
Paid From (mo.)

$12.00
free
$13
Overall
4.4 out of 5
4.3 out of 5
4.2 out of 5
Quality of Support

8.5
7.7
7.9
Ease of Setup
8.8
8.1
7.9
Templates
10+
1000+
* most are paid
75+
Our widgets
for Platforms
Widget List
Plugin Catalog
App library
All the information has been obtained from publicly available sources. Elfsight does not have the responsibility for truthfulness of the info demonstrated. Supposing you detect any inconsistencies, please, contact us.
When you pick a Website Builder for shaping Booking website, always draw attention to pay regard for overall performance and good value for money. Employ a trial period or free version to check the service. This is the only way to determine if the Website Builder is really as conductive and functional as they picture it.
Step 3
Booking website examples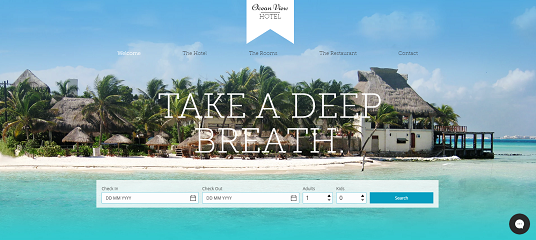 Example 1: Island Hotel website
This the best hotel booking template website that gets you to know more about the merchandise and services provided. It also has an exceptional design that shows a flexible arrangement.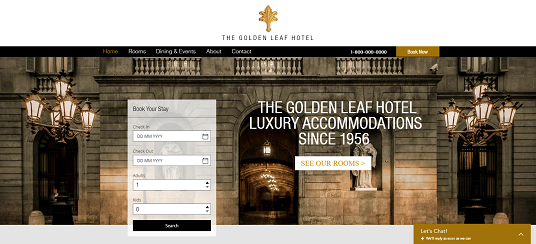 Example 2: Luxury Urban Hotel website
In case you're looking for a perfect starting point, utilize this clean, yet very powerful business template. Embed several widgets to upgrade its overall look and performance and commence evolving your business without delay.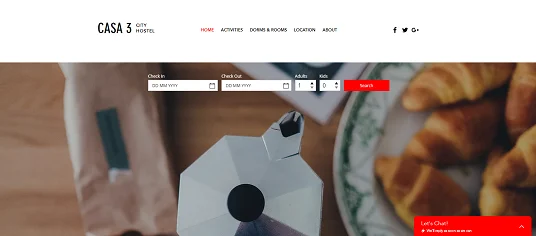 Example 3: City Hostel website
Supposing you're in a search of a great starting point, utilize this simple, yet very efficient business template. Implement a few widgets to enhance its overall look and functionality and begin growing your business without delay.
Step 4
How to make and fill the structure of a booking website
Headlines →
Invite users to visit your place from the first seconds spent on your website. Put a slider or photo gallery to impress them with the beautiful view, charming landscapes and stylish interiors. To make your offer trustworthy, don't forget about reviews from your previous guests – let them share experience and have more guests this season.
Pricing →
Create a clear pricing list or table with all additional information, room size, interior photos and services like room cleaning or laundry charges, city taxes and etc. Implement the toggle mode, if you need to display the price according to the high or low season.
Make a reservation →
Add online booking to your website via handy booking forms, thus you'll know not only arrival and departure times but also some guests' preferences to be better prepared for their visit.
About us →
Tell a bit more about your place, staff and facilities. You can add history details, or describe all activities your guests can take part in, using interactive event calendars. Attract more visitors to your hotel or apartments.
Contacts→
Provide customers with a few fastest ways to stay in touch with you: your contacts, email address, social media buttons and live chatbox. Also, don't forget to place an interactive map, so the users can evaluate your convenient location and can easily get to your hotel.
Connect your domain

If you haven't got it when you worked with the site builder, you definitely need to buy it. Use GoDaddy to begin with.

Test your mobile efficiency

Presently it's extremely important that your site performs and looks great on smartphones – more will search for hotels via their smartphones.

Add your logo

If you haven't got it, create it using a logo generator, like, Tailor Brands.

Do a check of the functionality

All slides, pop-ups, CTA buttons or share buttons should work in due course, otherwise, your users will close your site in a rush.

Announce your new site launch on social media

Twist the online audience into real clients. Adjoin a link to your website to your social media accounts in order that your subscribers could see it.

Done! 🏆

Congrats! You've just created your own booking website. Now share the link to your resource with friends and all clients have more guests!